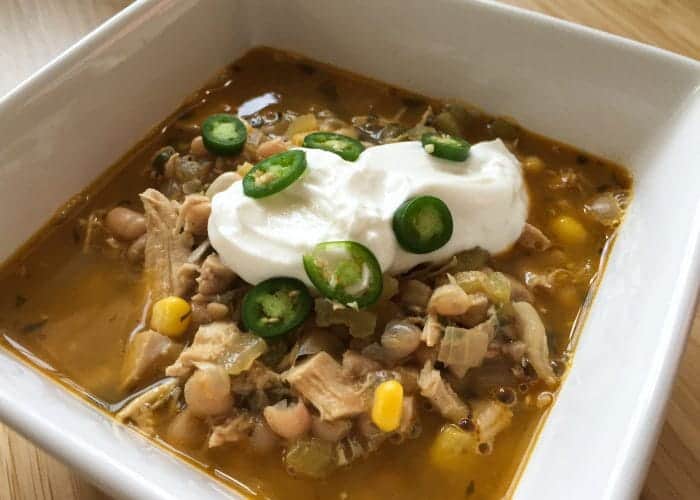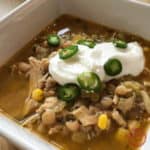 I love chili and was in the mood for some hearty soup the other night, so I decided to try a lighter version and make one with white beans and chicken instead of my traditional beef recipe. It's super hearty and so flavorful, and really easy to make. I chose to use an already cooked rotisserie chicken to save on time, but you can use cut-up chicken pieces; just increase the cook time a bit to make sure that the chicken is cooked through.
This soup makes a great lunch option, but it's also hearty enough for dinner – maybe with or over a baked potato and topped with some shredded cheese. Yum.
(This recipe was originally published here on 03/02/2015)
Ingredients
how to
Heat the oil over medium heat in a large, heavy bottomed soup pot. Cook the onion and jalapeno until the onion begins to soften - about 5 minutes. Add the garlic and cook for another minute or two.
Add the cumin, oregano and chili powder and cook for a couple more minutes. Stir in the broth, green chilies, and 2 cans of the white beans. Empty the third can of beans into a small bowl, and use a fork to mash them into a paste, then add this to the pot with the chopped chicken, and stir well to combine.
Allow the soup to cook for about 20 - 30 minutes to allow the flavors to combine, then add the corn and cilantro and cook for an additional 5 - 10 minutes.
Serve garnished with a dollop of sour cream and/or some extra chilies and shredded cheese.