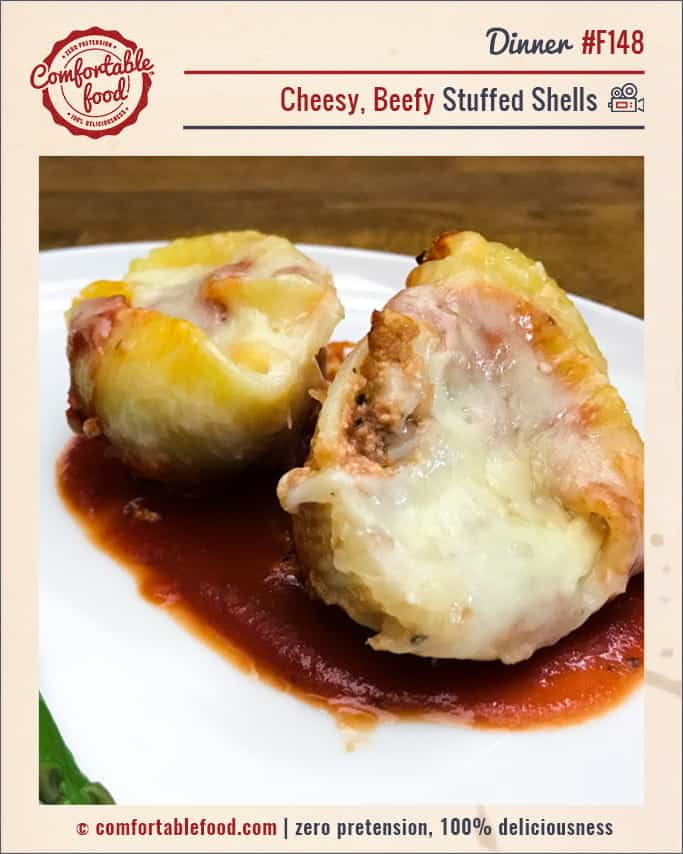 I pretty much love pasta in any shape or form, and these Stuffed Pasta Shells with Meat are pretty much no exception.  They're pretty much like little pockets of deconstructed lasagna deliciousness – what could possibly be wrong with that?  They don't require near as much prep time a a lasagna however, and they are every bit as good.  Make sure you use a good quality tomato sauce (homemade if possible), it makes all the difference in how these turn out. I'm a huge fan of Mutti products, their tomato sauces and purees are the best, in my opinion. There's a link a little further down if you want to check out some other things they make.
I have made these a thousand times (ok, almost) and each time to some seriously rave reviews.  If this is your kind of food (and I think it should be), I highly encourage you to try this recipe.  It's easy and they truly are ridiculously delicious.  Scroll down and watch the video of me making them and you can see for yourself how simple this recipe is to make.
These Stuffed Shells take about 30 minutes to prep and stuff, and they bake in the oven for another 1/2 more, so you can have this dinner ready to serve up in about an hour. The recipe makes enough for 4 – 6 people and you might have some filling left over. It freezes super well, or toss it with some pasta the next day for a delicious lunch.
here are a couple other super easy, super hearty dinner ideas:
here's a video showing how to make these Stuffed Pasta Shells:
Cheesy, Beefy Stuffed Shells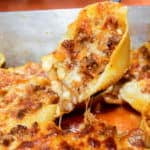 Print
Nutrition facts

(per portion)
Nutrition facts
(per portion)
Calories: 582
Carbohydrate Content: 54.6g
Cholesterol Content: 130mg
Fat Content: 20.7g
Fiber Content: 2.9g
Protein Content: 45.1g
Saturated Fat Content: 8.6g
Serving Size: 6
Sodium Content: 1067mg
Sugar Content: 3.4g
Ingredients
how to
Preheat oven to 350 F (175 C).
Cook the pasta in boiling water for about 1 minute less than the package suggests.  Drain and run cool water over the shells.   (to keep the shells from sticking together, I added about 1 tbsp olive oil to the water, and stirred them gently often.)
While the pasta is cooking, heat the olive oil in a large skillet over medium heat.  Add the onion, generously add salt and pepper and sauté until softened - about 4 - 5 minutes.  Add the garlic and cook for another minute or two.
Add the beef and cook until browned, breaking it up as it cooks.  When the beef is almost cooked through, sprinkle the Italian herbs over it and stir in about 1 cup of the spaghetti sauce, then remove from heat.
In a small bowl, combine the ricotta, mozzarella, parmesan and egg - mix together well, then mix into the beef mixture.
Grease a 9" x13" baking dish and spread the remaining sauce evenly in the bottom.  Spoon the filling carefully into each shell and arrange them on the sauce, then sprinkle with additional mozzarella and parmesan cheese.
Bake for about 25 - 30 minutes, or until heated through.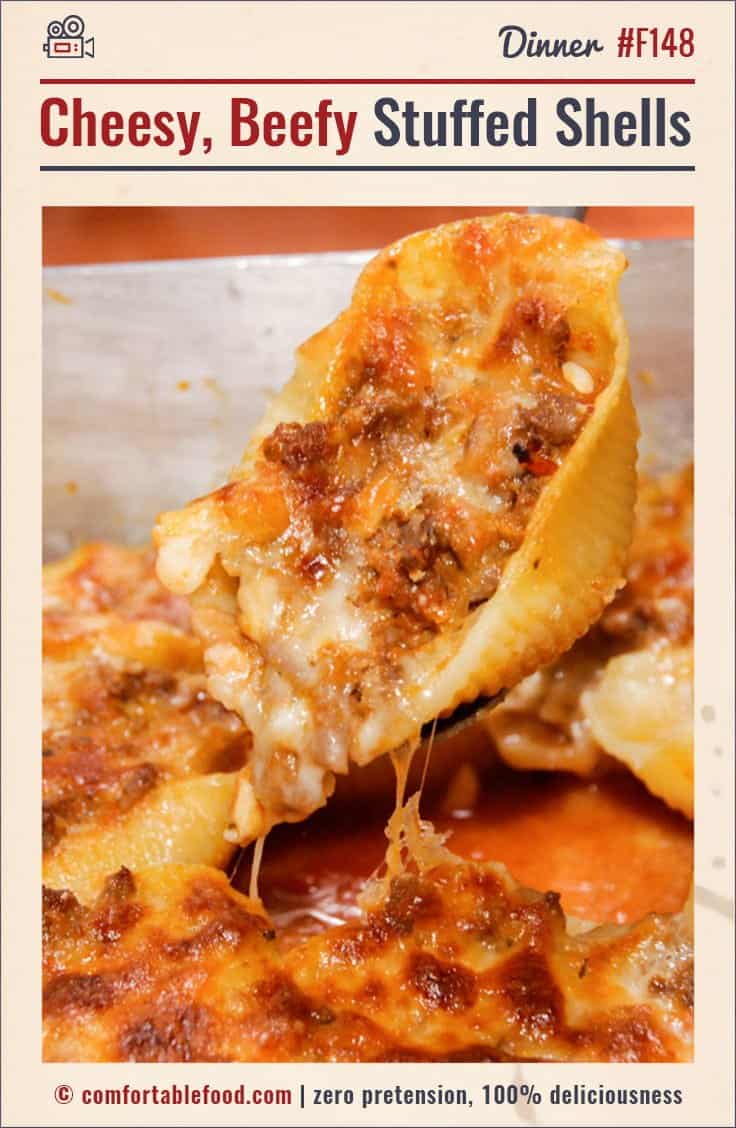 this post contains affiliate links
4.75

stars - based on

4

review(s)