This classic italian stuffed rigatoni recipe is filled with creamy ricotta cheese and served in a herby tomato sauce that leaves everyone at the dinner speechless.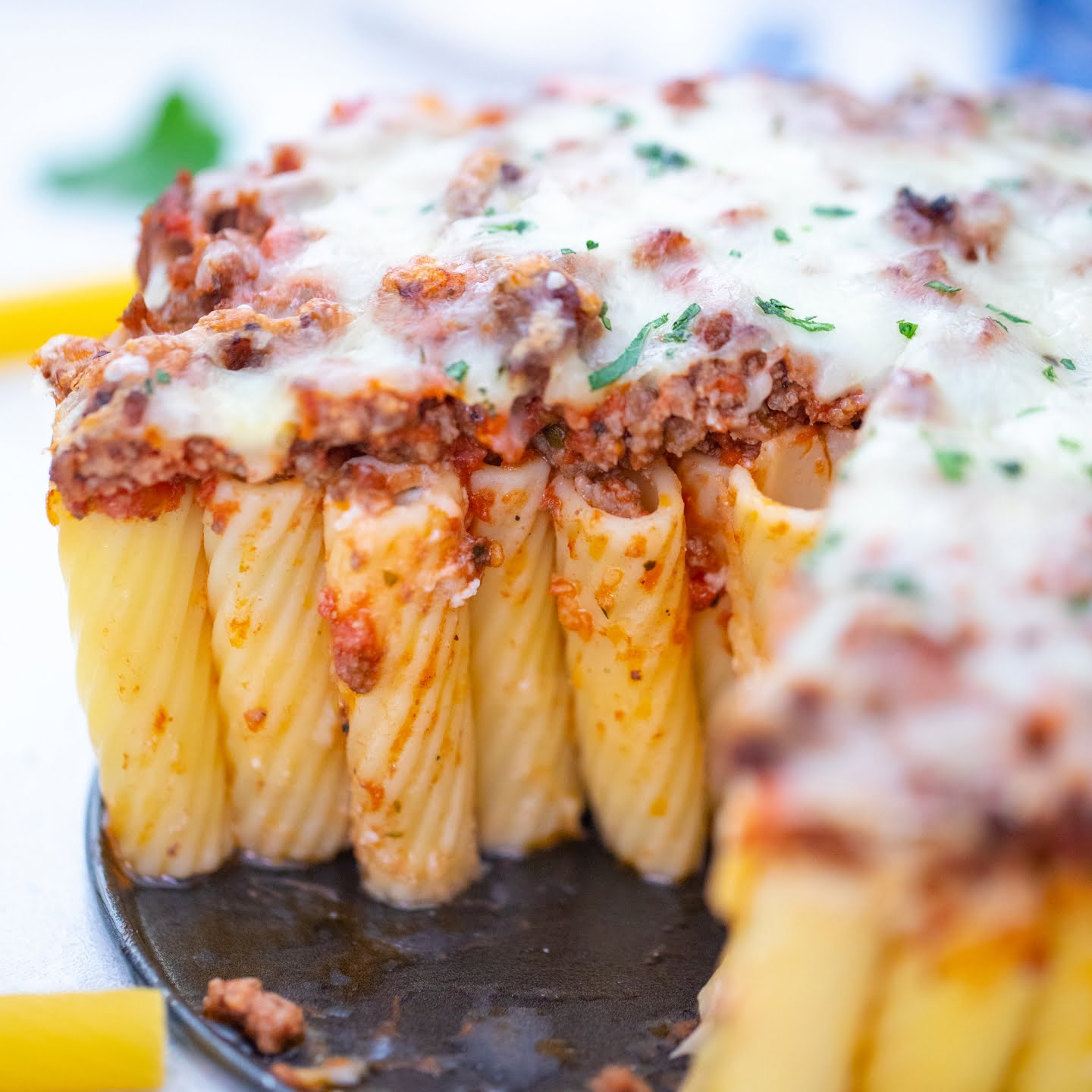 Serve this bruschetta with mozzarella as an appetizer or alongside this stuffed rigatoni dish. The bruschetta's fresh basil and lightness help balance out this heavier pasta recipe.
As pasta recipes come, this oven-baked dish is timeless comfort food. I enjoy making this with loved ones, and this recipe works great for family dinners. And the presentation of the stuffed rigatoni creates a perfect honeycomb pasta held together with meat, sauce, and cheese is fantastic.
Contents
⭐ Fall in love with an Italian Classic
Out of all the Italian recipes that I have tried over the years, I would say this ricotta-stuffed rigatoni oven bake is in my top 3 dishes of all time. It is the perfect comfort food for a weeknight dinner that has lots of cheesy, meaty, and herby tomato flavors running through the pasta tubes.
Though this dish might be a bit technical for some home cooks and requires more patience and time to fill the pasta tubes with the cheese mixture, it is a great recipe to make with other people, like kids or your partner.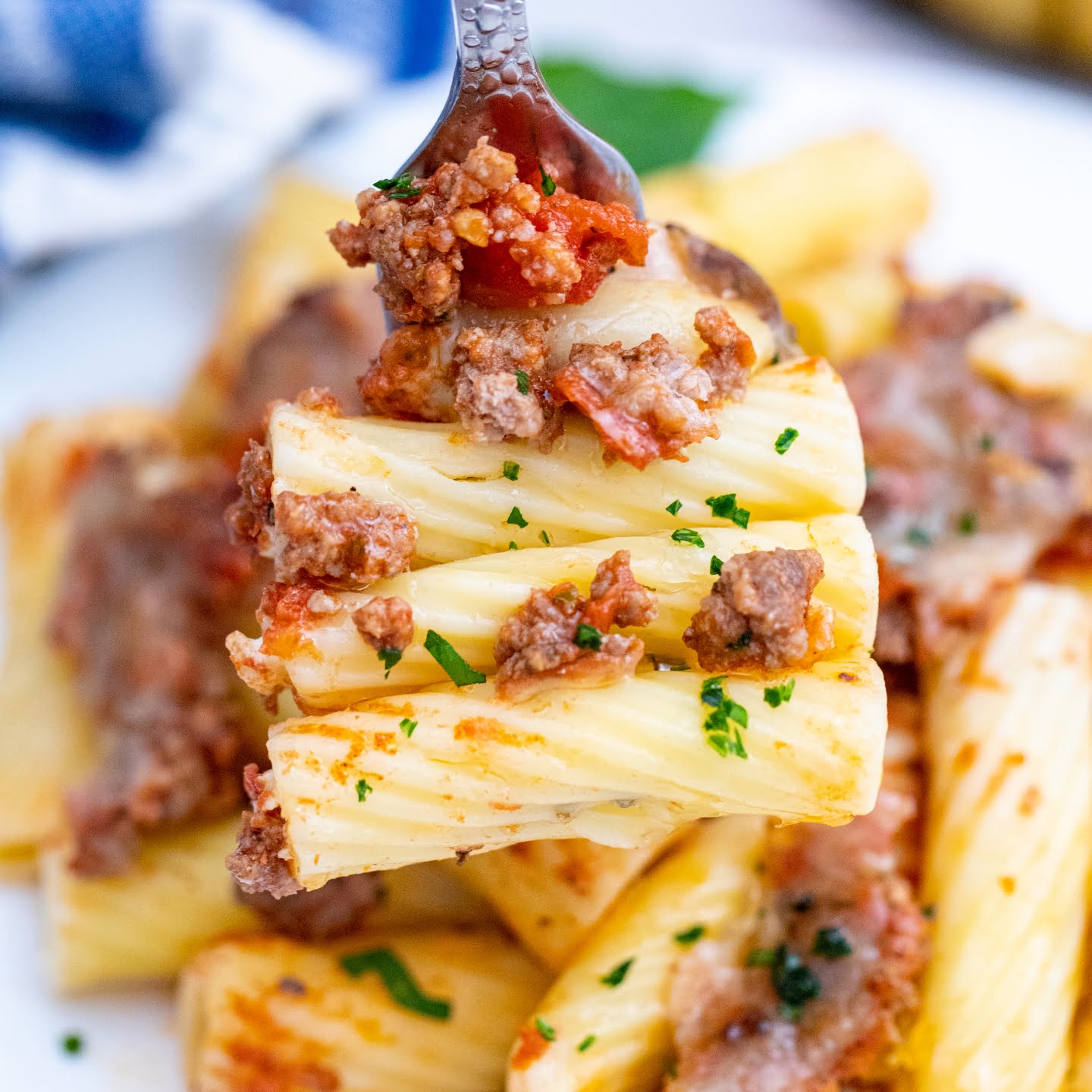 On the other hand, my easy stuffed shells and no boil lasagna with ground beef are stellar options for weekday dinners. For busy weekdays check out my collection of best pasta recipes with few ingredients.
I made this rigatoni pie the other night with my kids as they love to fill the pasta tubes with ricotta mixture because it's quite fun for them and saves me around 20 minutes if I did it myself.
So if you have some extra hands to help out in the kitchen, it makes the experience much more enjoyable.
Busy week? You should try my mouth-watering salisbury steak recipe ready in only 30 minutes!
🍽 Key ingredients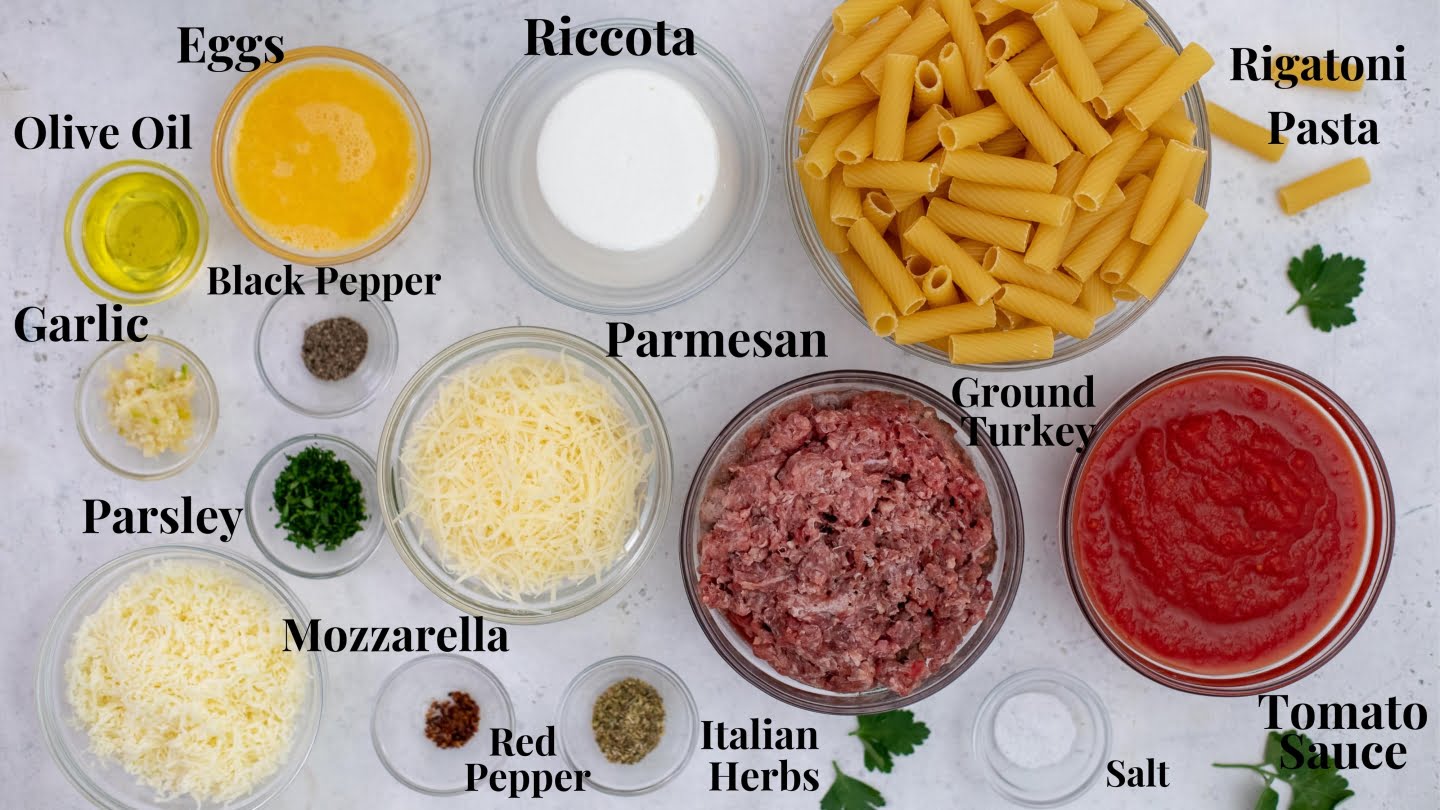 The pasta: use the classic rigatoni shape pasta available. These will be place on the springform sitting up to pipe the filling mixture into them. Learn more about different types of Pasta and types of pasta sauce you can use for your meals.
The filling: the combination of ricotta, mozzarella and parmesan cheese with parsley make this meal so flavorful and pure comfort food.
The sauce: consider my homemade Italian marinara sauce when making stuffed rigatoni sauce. Otherwise, tomato cans will work fine.
🔪 How to make
Learn how to make cheese stuffed rigatoni pasta bake with step-by-step instructions, detailed images showing the preparation, and my full video recipe.
The first thing to do is pre-heat the oven to 400 F (200 C) so it gets nice and hot ready for baking.
Step 1
Boil a pan of water and cook the pasta until it is al dente. Drain it, then toss with the parmesan cheese in a bowl.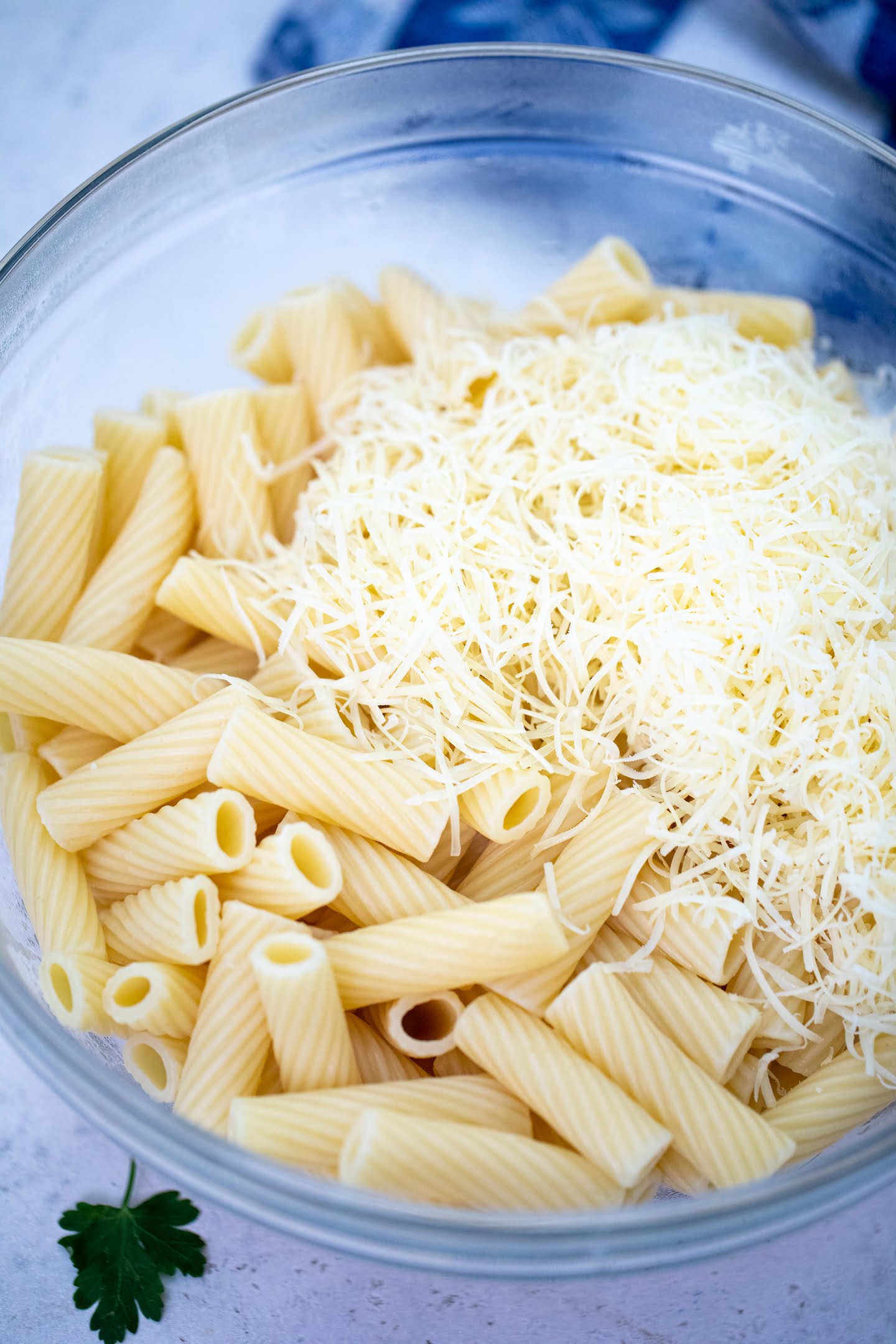 Step 2
Lightly oil a springform pan and stand the rigatoni upright on the bottom ready to be filled with the cheese mixture.
Step 3
To make the filling, mix the cheeses, eggs, and parsley in a bowl until well combined, then set aside.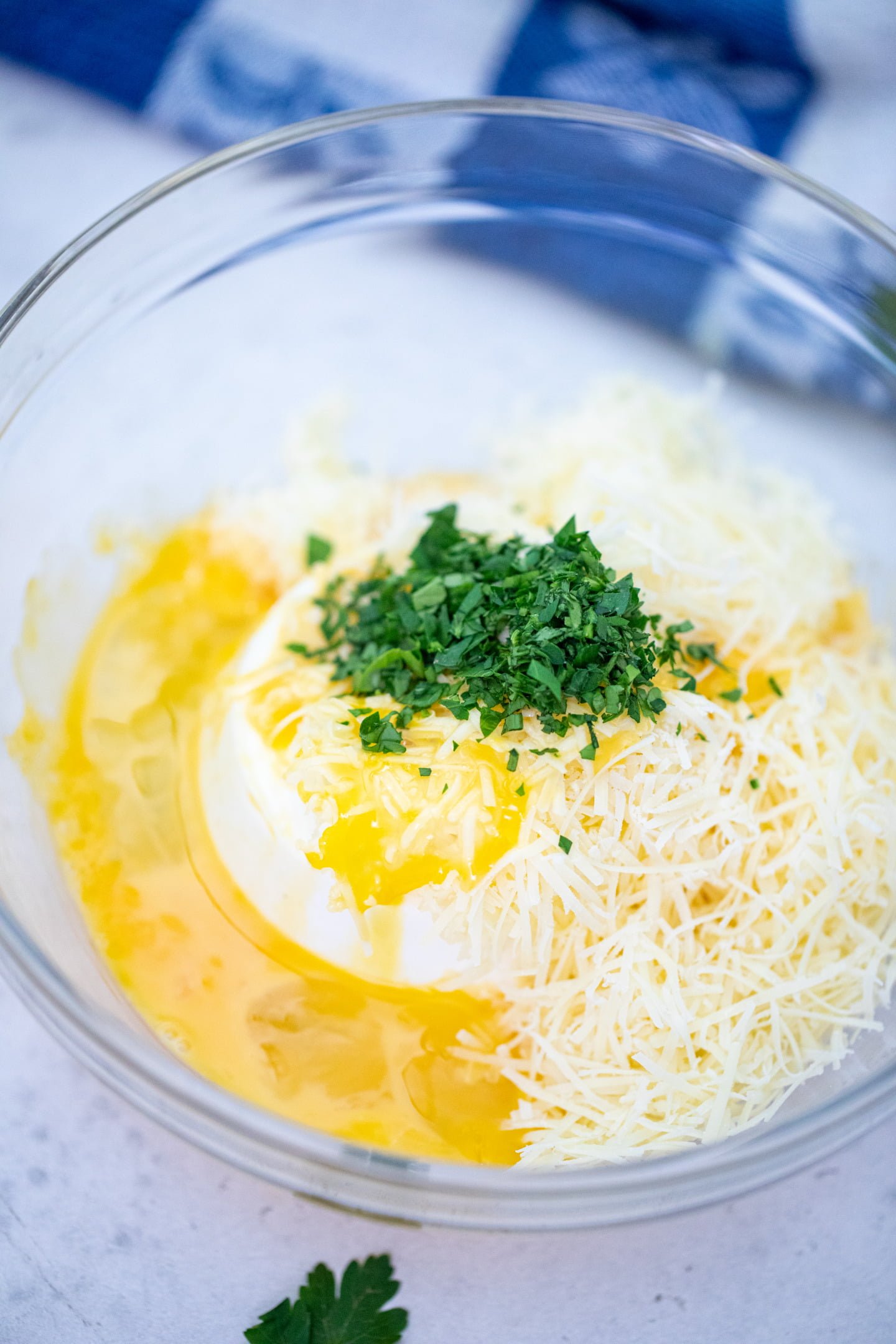 Step 4
To prepare the sauce, heat the oil in a large skillet over medium-high heat, and cook the meat until browned evenly.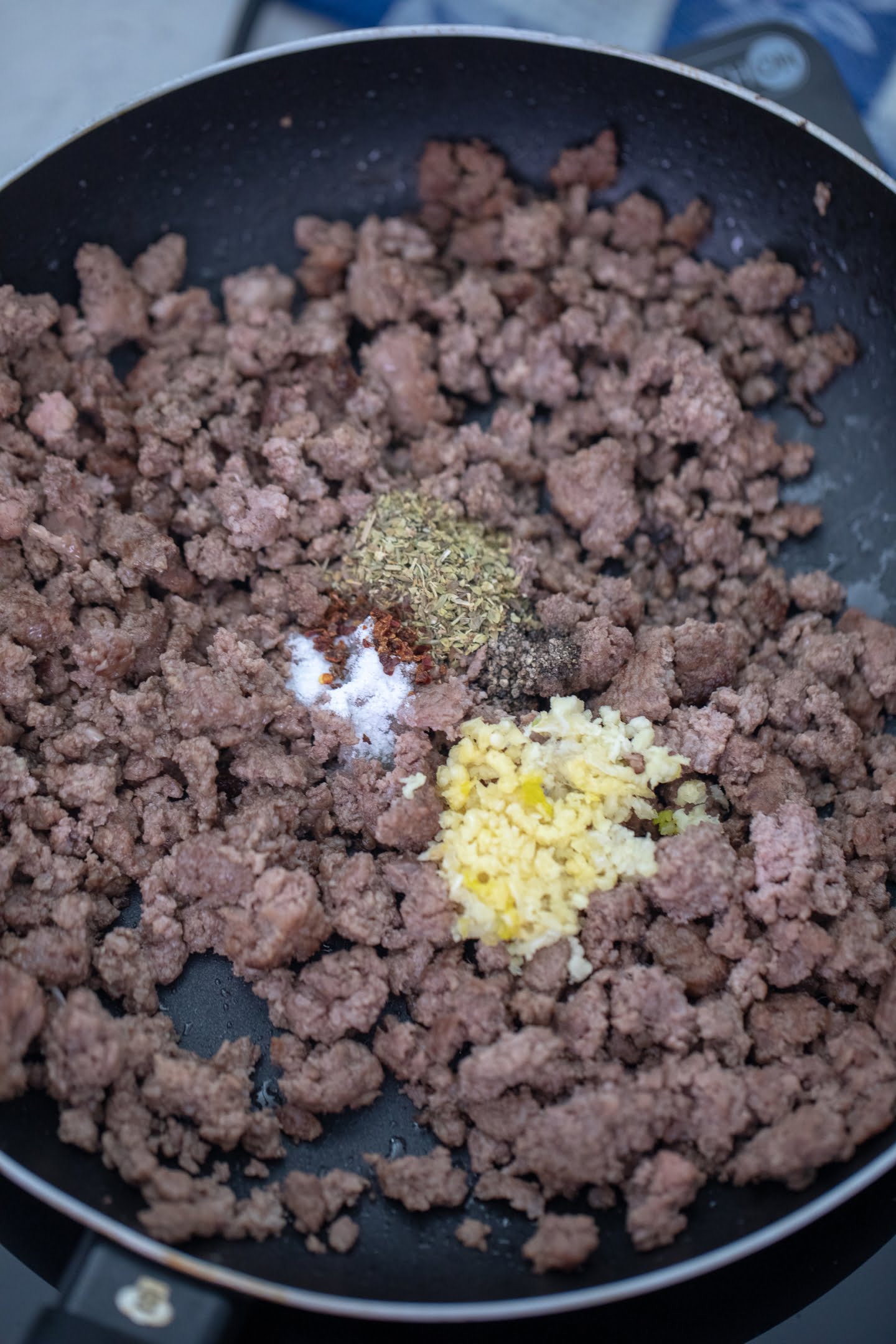 Step 5
Season with salt and pepper to taste, then stir in the garlic, Italian herbs, and crushed red pepper. Cook for a few more minutes and add the crushed tomatoes.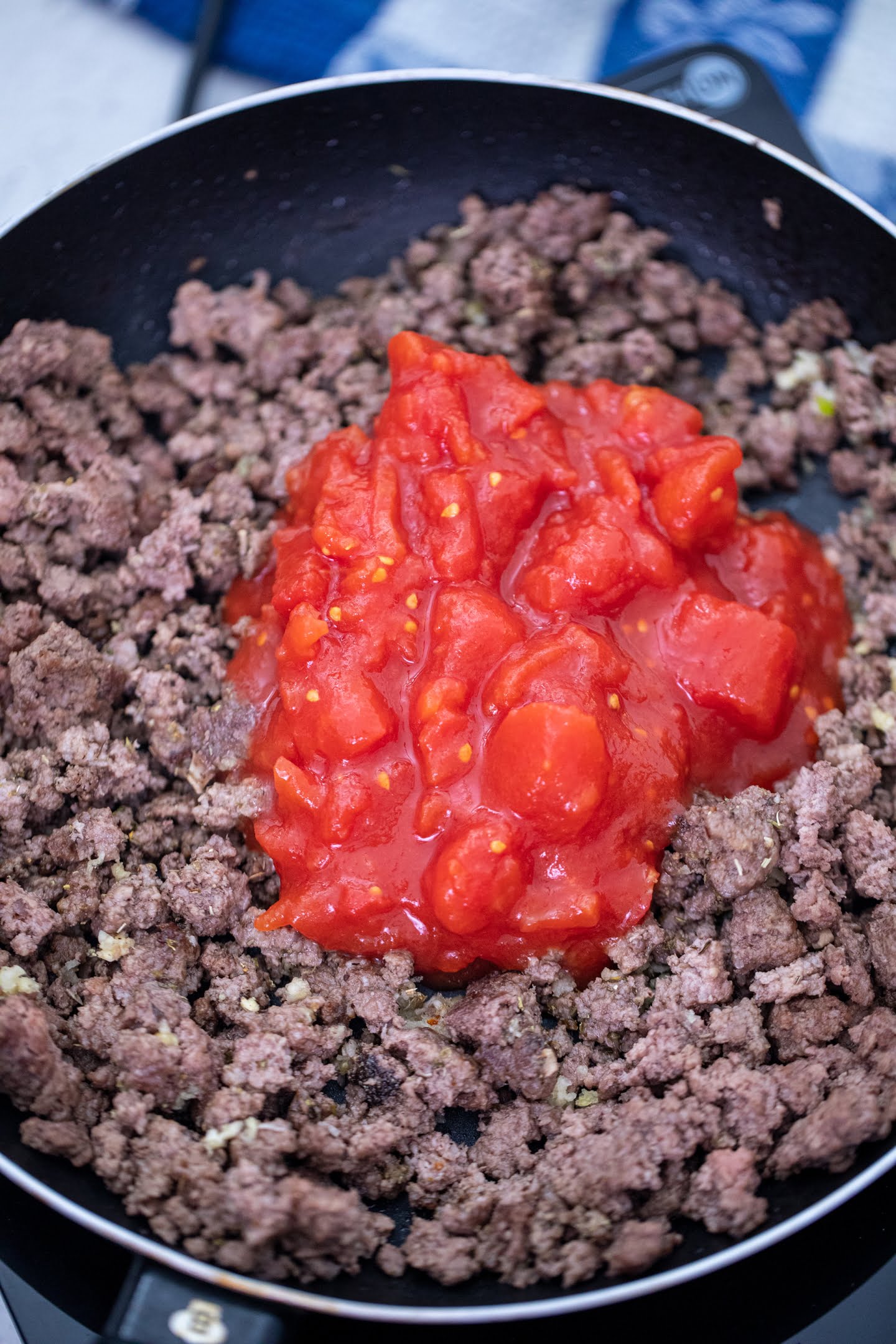 Turn the heat down to medium and simmer for 20 minutes until most of the liquid has reduced.
Step 6
While the sauce is cooking, get the room temperature cheese mixture and fill the rigatoni noodles using a pastry tube. You only need to fill each one halfway up.

Tip: If the mixture is too thick to pipe, try blending it so it's smooth enough to pass through.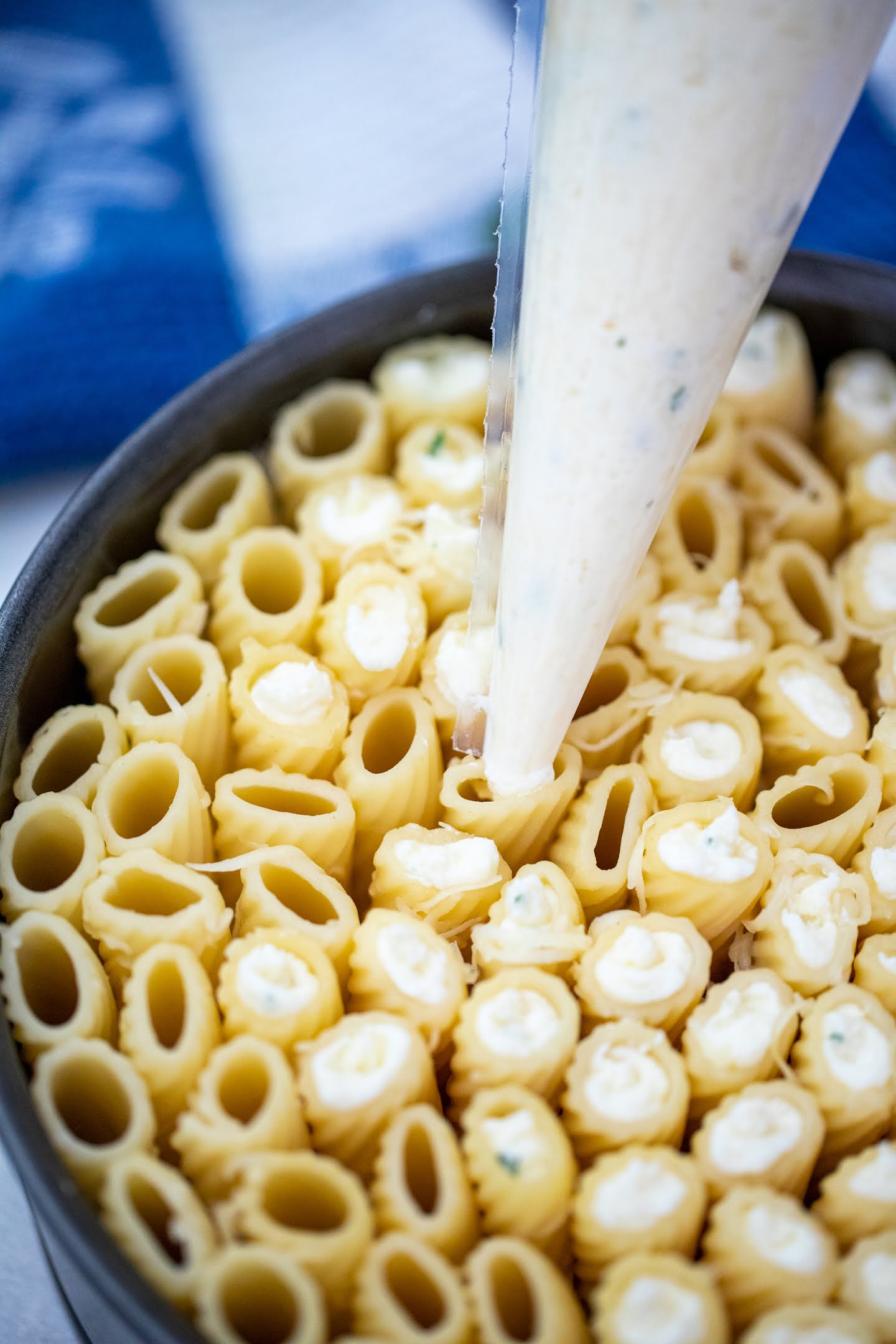 Step 7
Get the meat sauce and pour it over the pasta, covering it and pushing it down in order to fill up the remaining spaces.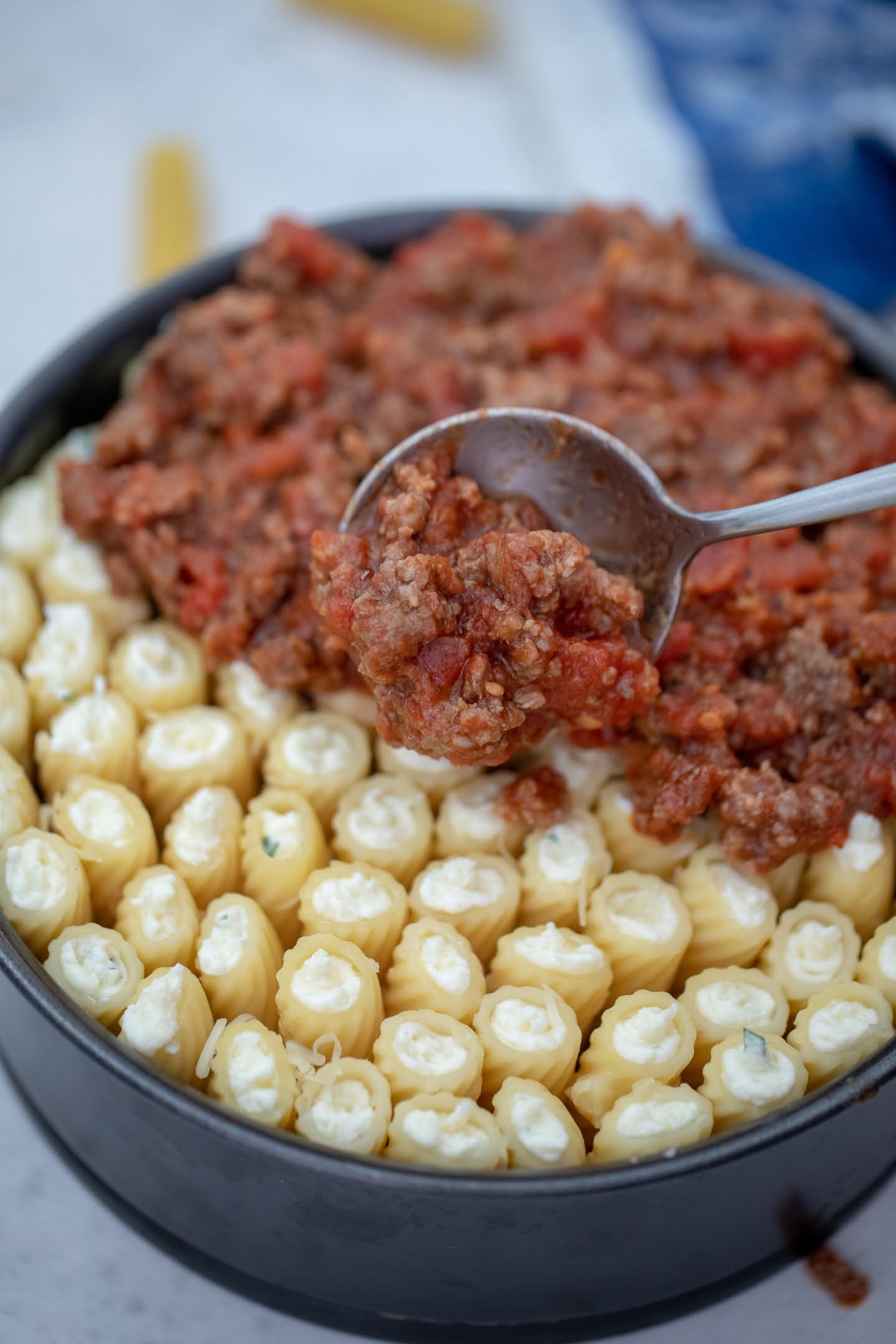 Step 8
Bake it for 15 minutes first and then cover it with the shredded mozzarella cheese and bake again for an extra 15 minutes.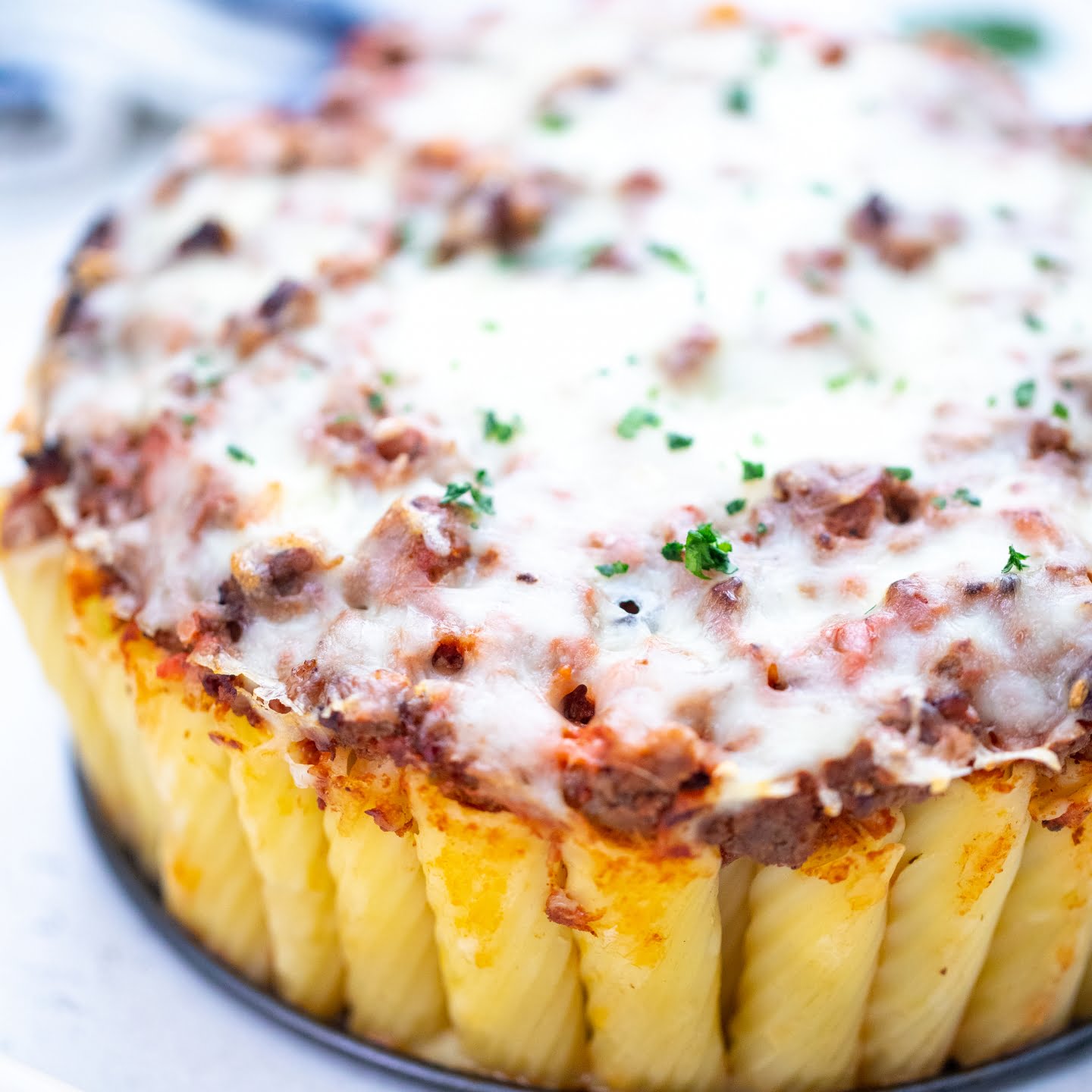 Step 9
Before removing from the pan, let it rest for 15-20 minutes so it sets before serving.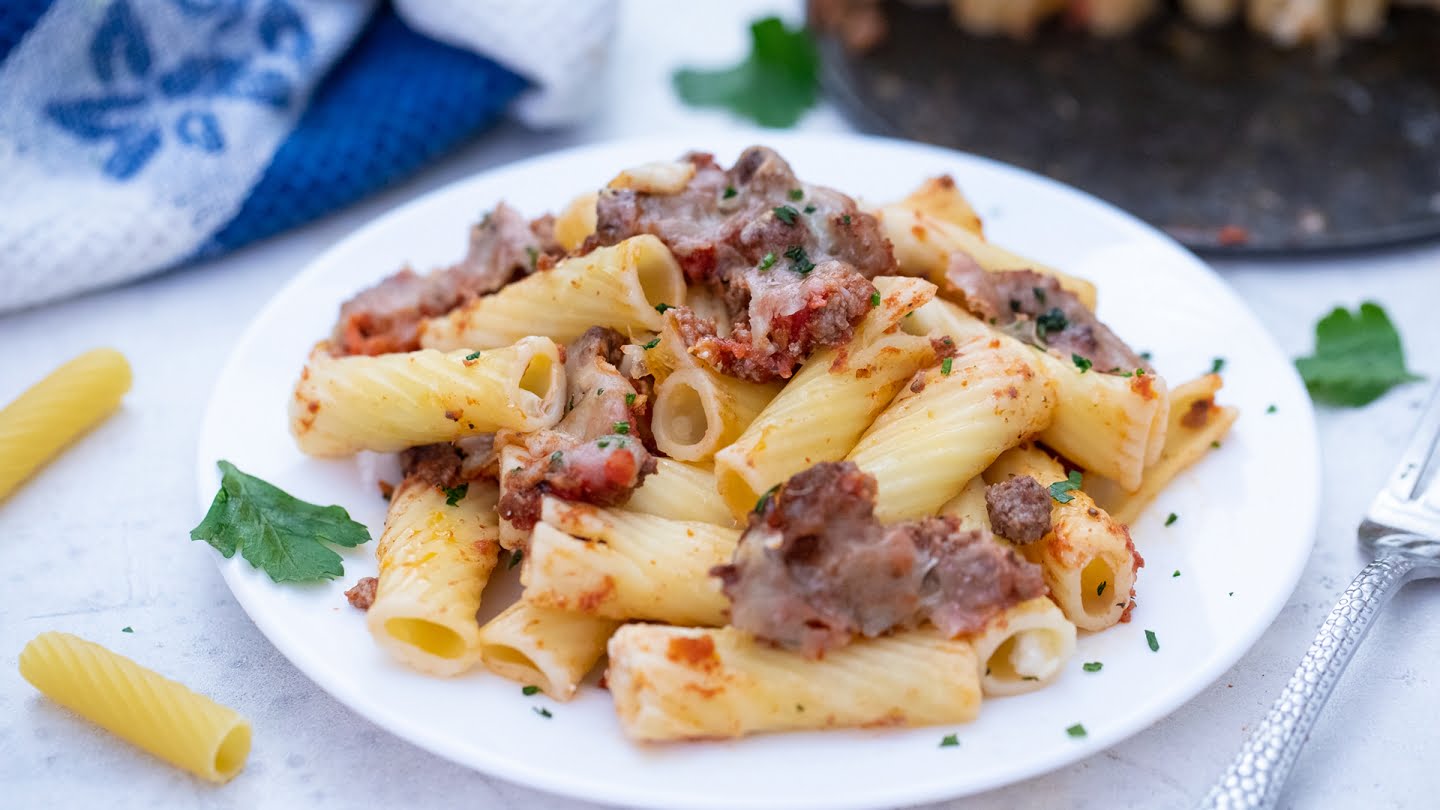 📖 Recipe Variations
Depending on where you live and cannot get your hands on some good ricotta cheese, you can substitute it for any local goat cheese.
If you are using ground beef instead of turkey, try mixing it with ground pork for a more flavorsome meat taste. Ground beef, chicken and pork are all great options.
Adding freshly chopped basil to the sauce will also give the pasta dish an authentic Italian feel and an extra layer of flavors.
If you are looking to cook using another type of pasta; then check out my list of best gemelli pasta recipes.
🥗 What to serve with
This meal is usually served on its own in Italy as it is quite heavy and all is needed is some parmesan shavings and a glass of red wine to accompany the dish for dinner.
Garlic Bread - I do love serving this italian meal with some homemade garlic bread. So easy to make in a airfryer or oven.
Parma Sticks - will add a crispy twist to your fancy cheese stuffed rigatoni pasta bake.
Cheesy Garlic Knots - So cheesy, garlicky, and delicious, making it a perfect side for this cheese stuffed rigatoni.
Goat Cheese Salad - this sweet and savory salad adds an interesting, fun twist to this stuffed rigatoni pie. You'll love it!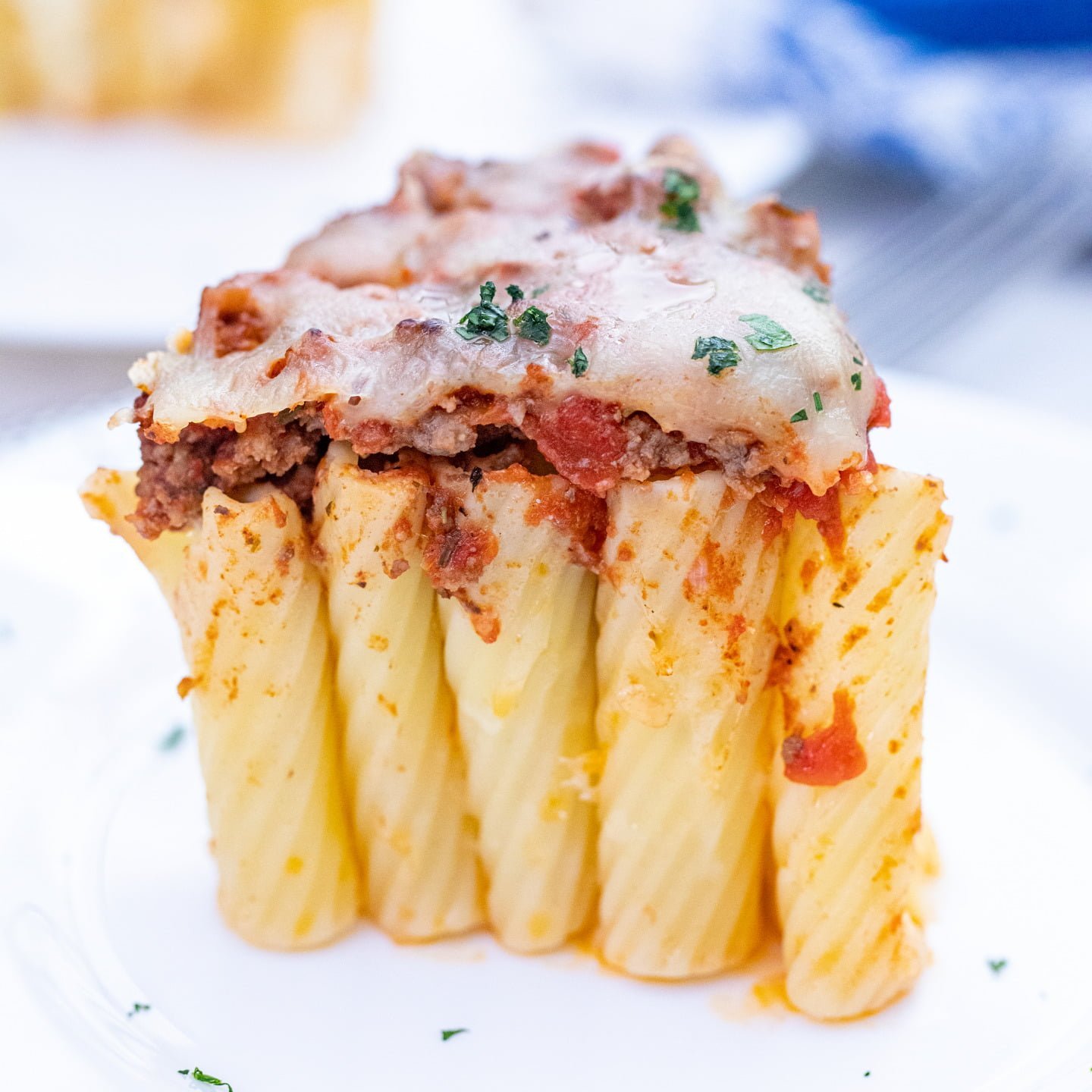 🙋 Frequently asked questions
What is rigatoni?
Rigatoni is a ridged tube-shaped short pasta. Rigatoni is one of the most well-known types of pasta in Italy, and its name comes from the Italian word rigate, which refers to a ridged or patterned surface.
What is the difference between penne and rigatoni?
Penne has a pointed look and it is cut on the diagonal, while rigatoni is sliced straight and has a cylindrical appearance. Rigatoni are somewhat larger in diameter than penne. Also,
penne are always straight, but rigatoni can have a gentle curve.
🧊 Storing and ♨️ reheating
Like most recipes from Italy, you usually end up making a big meal that can be eaten for a couple of days once everyone has filled their boots. It is possible to store it in the fridge and the freezer for later use.
Fridge
Once it has completely cooled down, transfer it from the pan to an airtight container, or if your fridge is big enough, you can wrap the pan in plastic wrap or tinfoil.
It can be stored in the fridge for up to 3 days. When the time comes to re-heat it, simply cook it on high for 20 minutes, so it is piping hot, or cook it in the microwave for 10 minutes on high.
Freezer
You can freeze this pasta bake for up to 6 months. Make sure it has completely cooled down before transferring it to the freezer, and it is sealed tightly in a container.
Make ahead
You can prepare the sauce and the pasta noodles in the morning or the night before, ready for baking in the evening. The process is the same as in the cooking instructions above, and you can keep the noodles filled with the ricotta cheese in the fridge, then pour the tomato meat mixture over it when it comes to baking.
Alternatively, you can prepare the whole thing, pop it in the fridge or freezer, and then bake when you are ready.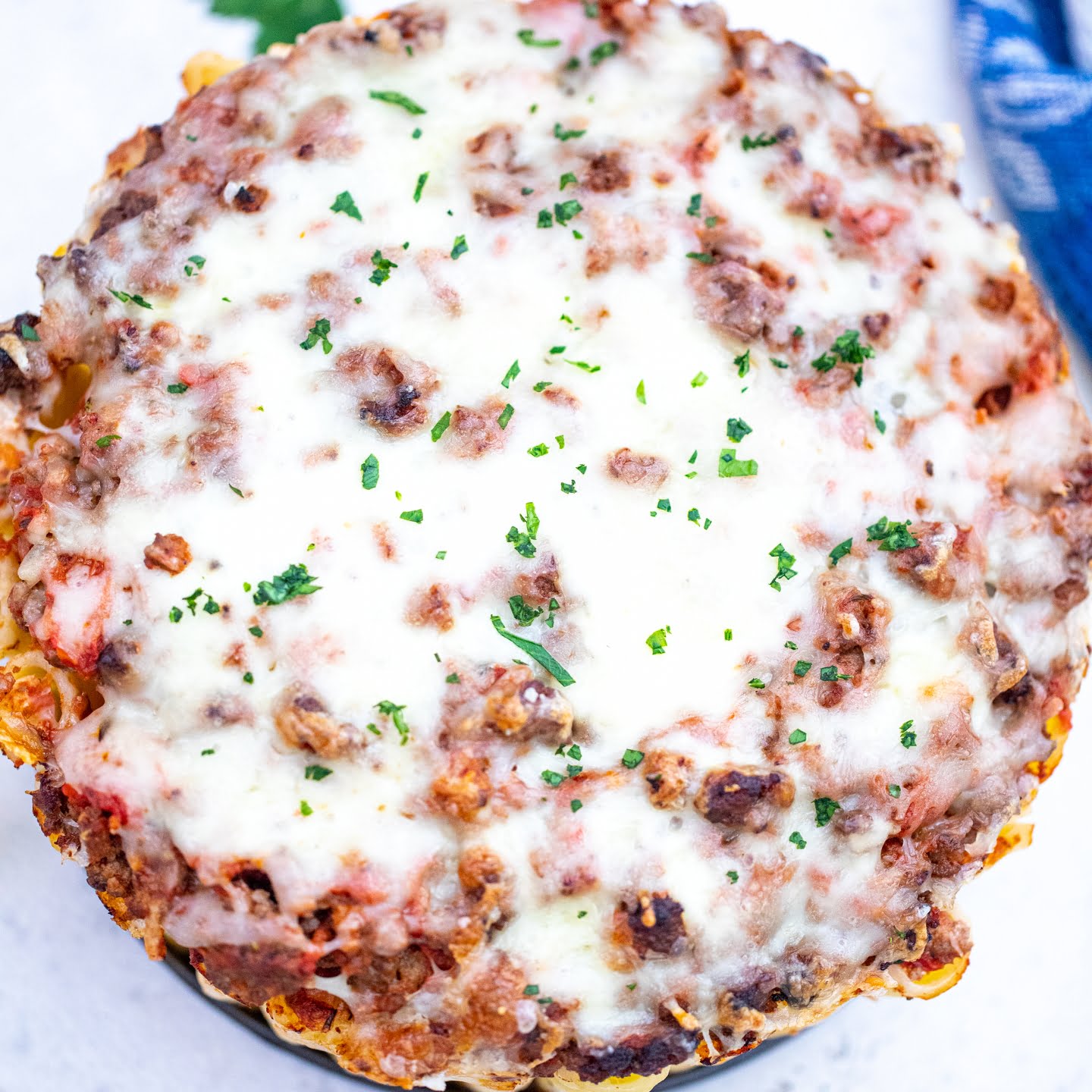 🍳 Related Italian Recipes
If you love my stuffed rigatoni recipe. Try one of these fantastic italian recipes for your next meal. Including my bruschetta with mozzarella, pizza monkey bread, four cheese manicotti and my stuffed rigatoni!
If you have a busy week I recommend you to try my 20 minute penne carbonara recipe.
👪 Serving size
For cheese or pasta lovers, this is a must-try Italian classic! I hope by this point I have tempted you into making this at home for your friends and family perfect for six servings.
I know I will be making it again in the near future, as my kids love pasta, and also they get to help me out in the kitchen.
Check out my fantastic four cheese stuffed manicotti recipe and my easy and quick stuffed pork chops filled with delicious pesto sauce and mozzarella cheese!that you can have it on your table in less than 1 hour!
🎥 Watch how to make it
Love this recipe? Please leave a 5-star 🌟rating in the recipe card below and/or a review in the comments section further down the page.

Try one of my comfort dinner recipes for your next family meal! And if you have any questions, I'm here to help!
📋 Recipe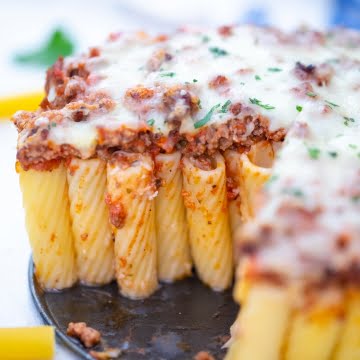 Stuffed Rigatoni
This classic Italian stuffed rigatoni recipe is filled with creamy ricotta cheese and served in a herby tomato sauce that leaves everyone at the dinner speechless.
Print
Pin
Rate
Share
Equipment
1  piping bag

1 Spatula

1 springform pan

1 Skillet

1 chopping board & knife

1 mixing bowl
Ingredients
1

pound

rigatoni pasta

1

cup

parmesan

-

finely grated
for the filling:
1

container

ricotta

-

8 oz

1

cup

mozzarella

-

finely grated

½

cup

parmesan

-

finely grated

2

eggs

-

beaten

1

teaspoon

parsley
for the sauce:
1

tablespoon

olive oil

1

pound

ground turkey

-

or beef

3

cloves

garlic

-

minced

2

tablespoon

italian herbs

1

teaspoon

red pepper crushed

2

cans

tomatoes

-

14 oz cans with juices crushed

1 ½

cups

mozzarella

-

shredded

salt and pepper

-

to taste
Instructions
Preheat oven to 400 F (200 C).

Cook the rigatoni in boiling water, about 1 minute less than package directions.  Drain then toss with the parmesan cheese in a large bowl.

Lightly oil a 9" springform pan and pack the rigatoni in tightly, standing on their ends.
to make the filling:
In a medium bowl, mix together the ricotta, mozzarella, parmesan, eggs and parsley until well combined, then set aside.
to make the sauce:
Heat the oil in a large skillet over medium high heat, add the ground turkey or beef and cook until browned.

Season with salt and pepper, then stir in the garlic, italian herbs, and crushed red pepper.  Cook for another minute or two.

Add the crushed tomatoes and simmer over medium heat until most of the liquid has cooked away - about 20 minutes.

While the sauce is cooking, fill the rigatoni with the cheese filling.  Use a pastry tube to pipe the filling into the noodles, filling each one about ½ full. (if you have a problem getting the mixture through a pastry tube, you can blend it with a hand held blender to make it smooth enough to pass through.)

When the meat sauce is done, ladle it on top of the rigatoni, pushing it down a bit to fill up the remaining space in the noodles.

Bake in the oven for about 15 minutes, then remove and sprinkle over the mozzarella cheese.

Return to the oven and cook for about 15 more minutes, until the cheese is bubbly and beginning to brown.

Let rest about 15 minutes before removing the form and serving.
Nutrition
Calories:
776
kcal
|
Carbohydrates:
62
g
|
Protein:
57
g
|
Fat:
33
g
|
Saturated Fat:
18
g
|
Trans Fat:
1
g
|
Cholesterol:
186
mg
|
Sodium:
823
mg
|
Potassium:
579
mg
|
Fiber:
3
g
|
Sugar:
3
g
|
Vitamin A:
1056
IU
|
Vitamin C:
1
mg
|
Calcium:
735
mg
|
Iron:
3
mg