Whether chopped or ground, this smoky, spicy pork sausage aka "chorizo" is a fan favorite. It's not only delicious and big at imparting flavor but quite versatile too.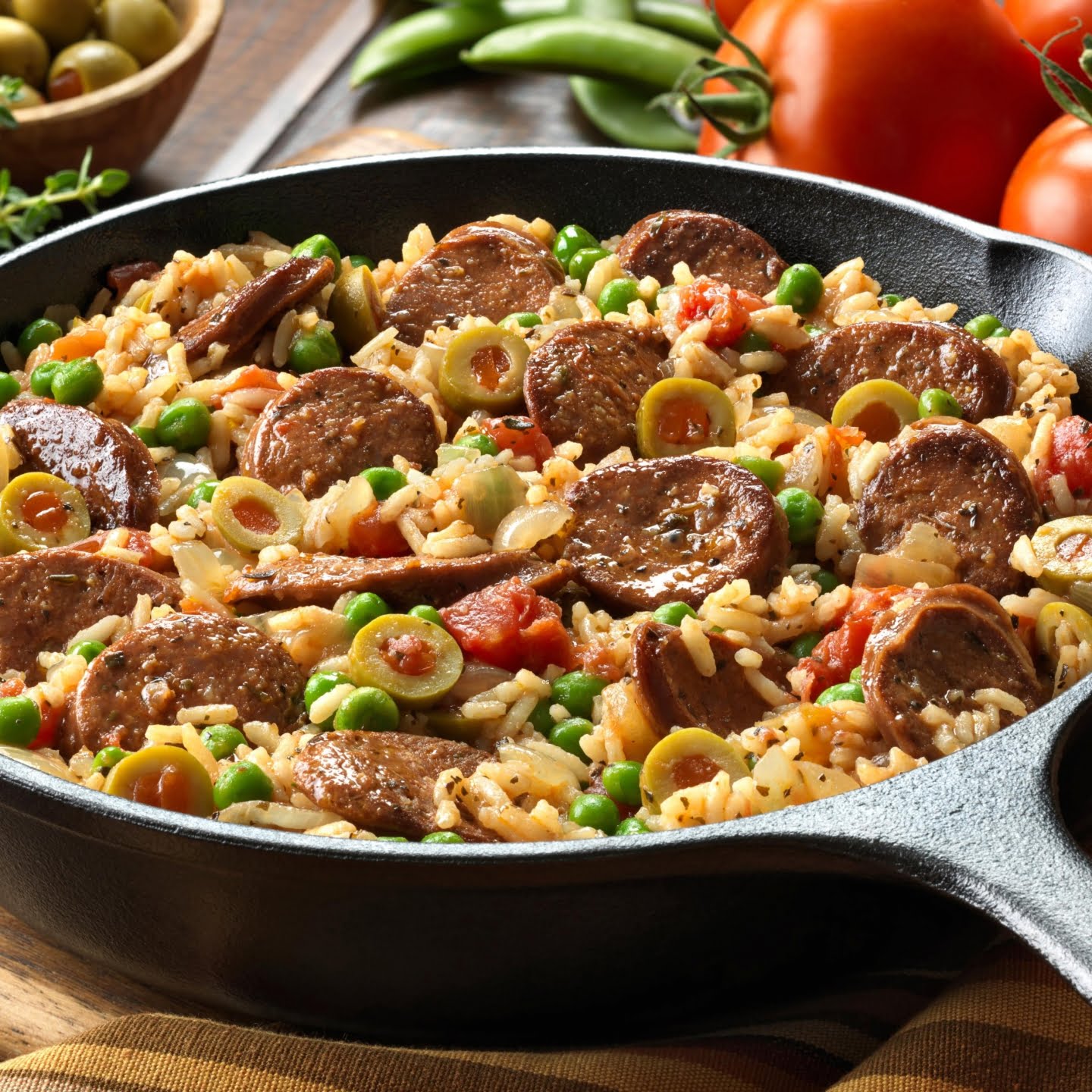 While chorizo is a tried-and-true breakfast favorite, it can be used in a variety of dishes, from soups to salads.
So if you're wondering what to do with chorizo sausage, this assortment list of chorizo recipes will help you get started.
From crowd-pleasing appetizers like chorizo bites and egg muffins to hearty dinners such as chorizo pasta and grits with shrimp & chorizo, you're sure to find something that will satisfy your cravings.
For more comforting and hearty recipes check our my 50 best american comfort food recipes.
Frenquently Asked Questions
What is the difference between chorizo and sausage?
Chorizo is a type of sausage from Spain or Mexico that has been fully cooked and cured. It's spicy and frequently eaten with breakfast or as part of a larger dinner.
Sausage is a type of meat that is either uncooked and spiced with fennel or anise, resulting in a milder flavor.
What does chorizo taste like?
Spanish chorizo has a stronger smoky flavor than Mexican chorizo due to the use of garlic and pimentón (Spanish smoked paprika, either sweet or hot).
Mexican chorizo is flavored with peppers, it has a slightly spicier taste compared to smoky Spanish chorizo.
Delicious, flavor-packed and easy to make, you're going to turn to these chorizo recipes again and again.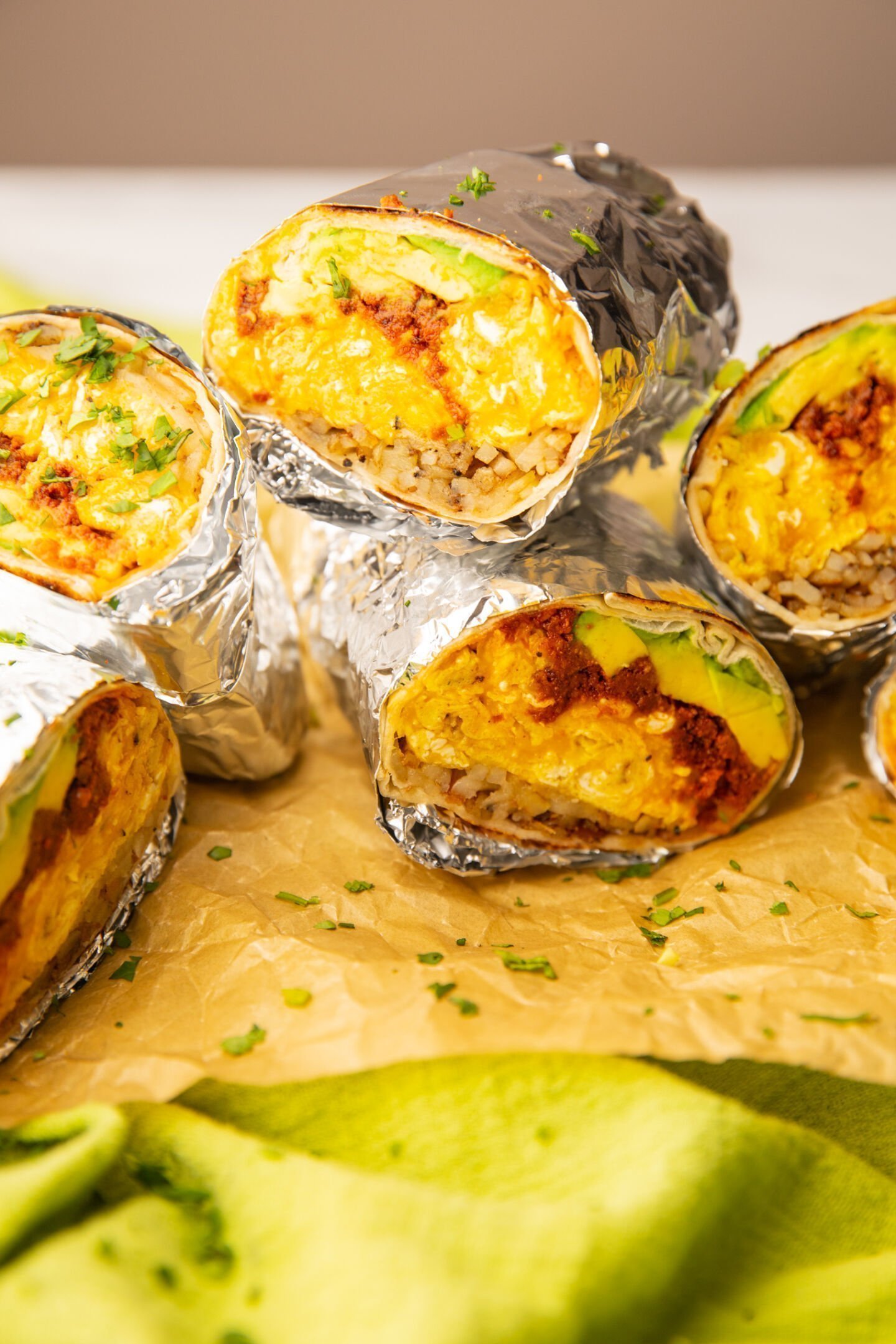 This is as easy as it gets when it comes to easy chorizo recipes. These tasty breakfast burrito come together with a few pantry staples and are ready in just 30 minutes.
Golden brown crispy tortillas are filled with tasty chorizo, potatoes, eggs, and melting cheese. Your morning won't get any better than this!
And the best part about these handheld beauties is that you can stuff them with anything and everything you love- bacon, ham, chicken, tomatoes, ground beef, fresh herbs, etc. Also check out my cheese quesadilla recipe.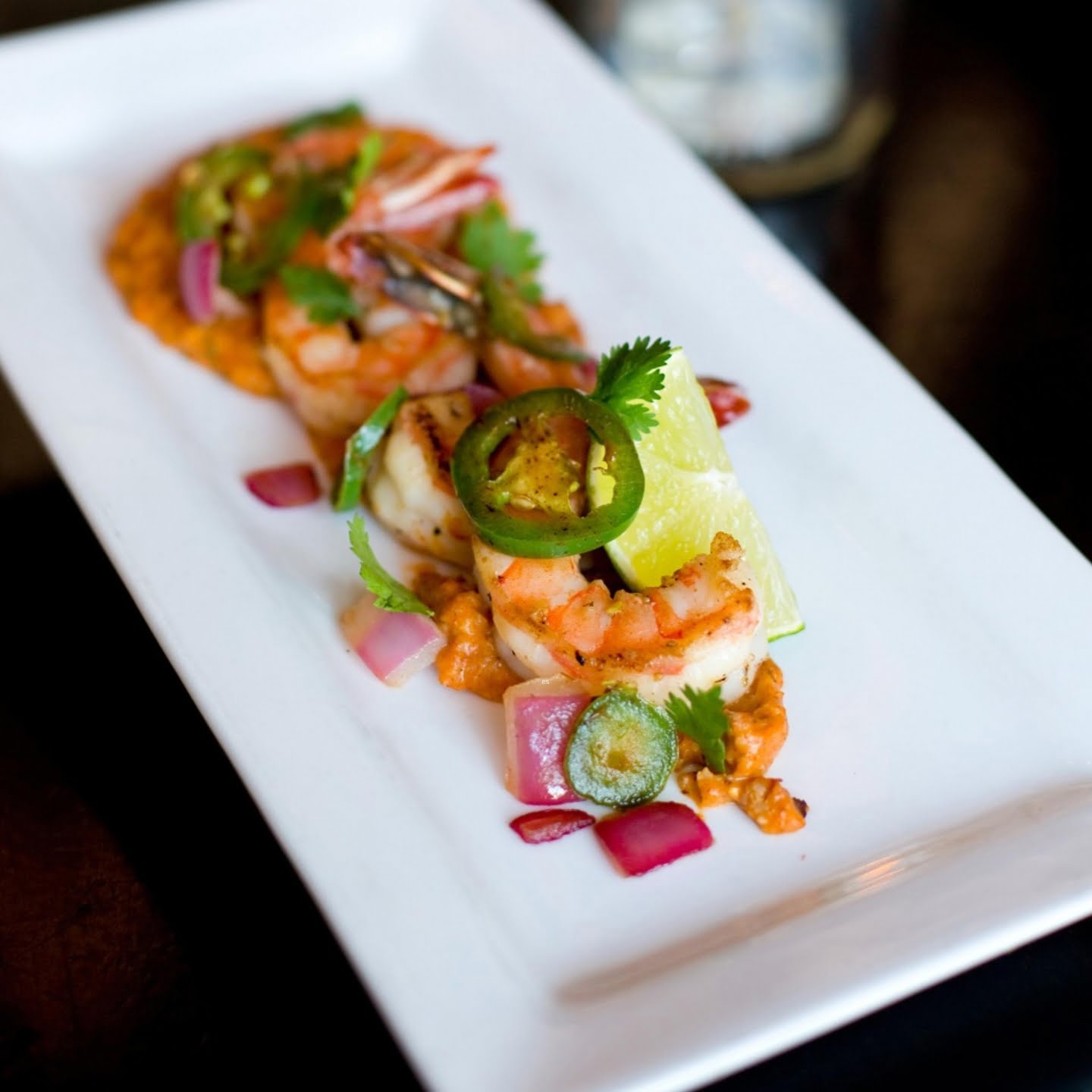 Whether you're looking to impress guests at a dinner party or your own taste buds, you can never go wrong with this impressive recipe from chef Abraham Botello.
It ticks all the right boxes- uses a few basic ingredients, is outrageously delicious, super easy to put together and has restaurant quality flair.
This is sure to please everyone at the table!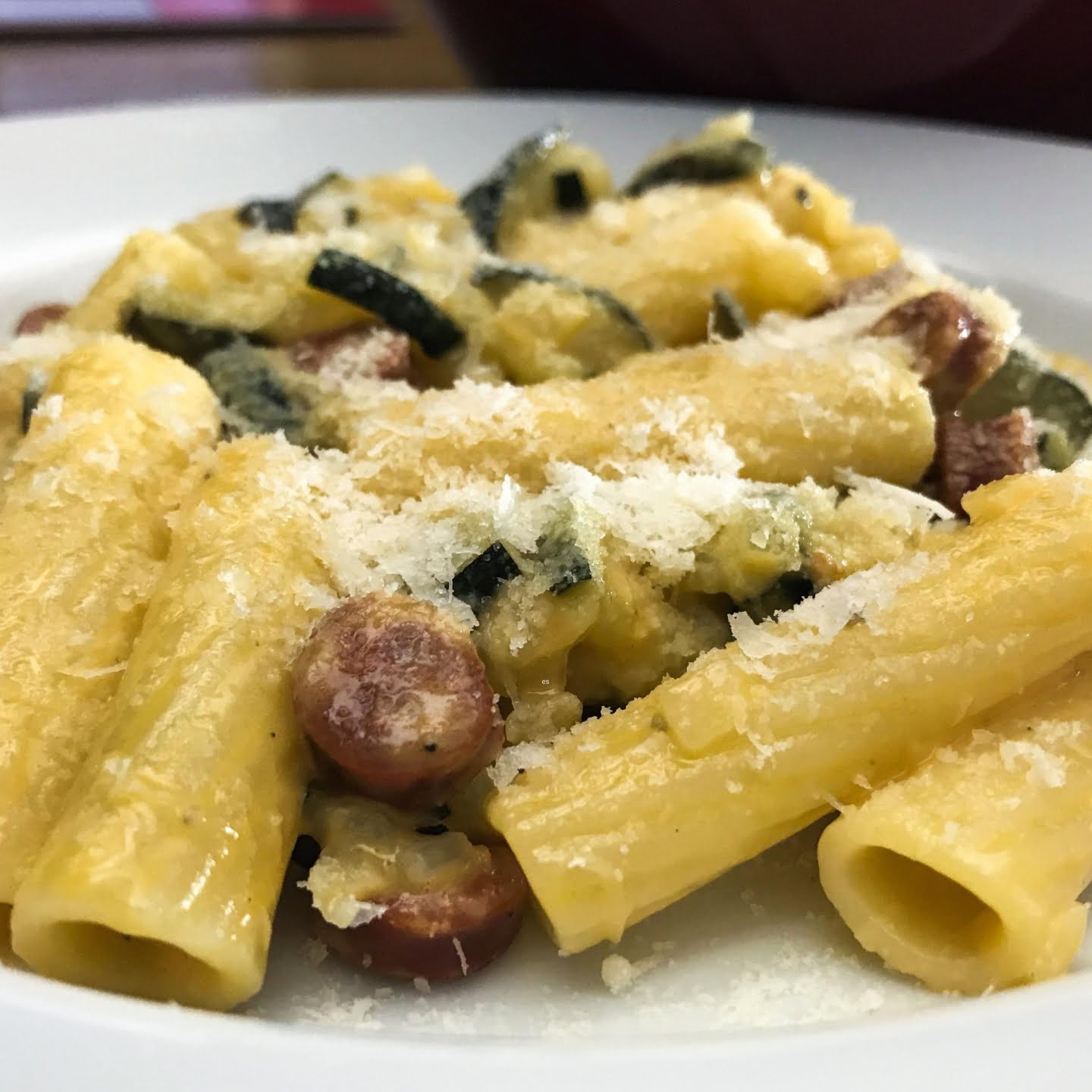 This one-pan dish is one of my go-to dinner recipes using chorizo. It's quick and easy to make but big on flavor.
Smoky Spanish chorizo, pasta and healthy zucchini are cooked in creamy white wine sauce then garnished with parmesan cheese.
It's a perfectly balanced meal for busy weeknights that's sure to become your favorite dish, too.
Your whole family is going to love these filing potato and chorizo empanadas. They're filled with a delicious mixture of perfectly seasoned potatoes and flavorful chorizo.
It's a must-try if you're looking for a new take on beef empanadas. Feel free to use store-bought pie dough if you're pressed for time or energy.
These handheld beauties go best with marinara or enchilada sauce. They're also irresistible dunked in nacho cheese or guacamole.
For more empanadas ideas check out my baked beef empanadas, empanada dough for baking, empanada dough for frying and my sweet dough empanada recipe.
You're 7 ingredients away from this insanely good one-skillet recipe that comes together quickly.
Rich and bold flavors of garlic and oregano spice up this tried-and-true combo of pasta and chorizo sausage.
It's then blanketed with mozzarella and parmesan cheese for a hearty, comforting dish.
Sprinkle some fresh basil before serving for a flavorful finishing touch.
This is comfort food at its best. It's irresistibly tender, juicy and flavorful on the inside. A drizzle of the creamy glaze takes this mouthwateringly delicious meatloaf over the top.
This dish is destined to be part of your weeknight dinner rotation. The recipe calls for ground beef, but any ground meat works well - turkey, pork, or chicken.
Serve with mashed potatoes or fried rice and a side of asparagus for a complete meal.
Made with 3 ingredients, this dish is beyond simple, yet it doesn't skimp on flavor.
Sweet potatoes add a hint of sweetness and pop of color. Black beans add texture and an extra dose of protein, while the spicy sausage brings it all together.
Finish it off with taco toppings of your choice and you've got a meal to remember. Or better yet, set up a taco bar and let everyone customize their plates.
Looking for delicious alternatives to beef or chicken chili recipe? Try this spicy chorizo chili.
It's satisfying, oh-so comforting and bursting with incredible flavors- the perfect recipe to warm you up on a winter's night or when you want something comforting.
Plus, it freezes beautifully, but I doubt it would last that long.This one-pot meal is packed with spicy sausage, sweet potatoes, richly flavored broth, hearty kidney& black beans.
For those who love their chili VERY hot, add more peppers.
Throwing a cocktail party? You can't go wrong with these yummy bite-size appetizers.
The addicting glaze adds a sweet and savory depth of flavor that everyone will love. Don't be surprised if your guests ask for the recipe!
Plus, they're quick and simple, making them ideal for last-minute parties.
Wondering what to make for dinner tonight? This one-dish chorizo recipe will help you get a meal on the table in just 40 minutes or less.
It's loaded with roasted veggies, pillowy gnocchi, Spanish chorizo and topped with melty mozzarella for a flavorful, satisfying dinner.
If you're pressed for time, you can skip roasting the veggies and cook everything together, but they do add deep, caramelized flavors to the dish.
Swap out the traditional pizza sauce for the Mexican green sauce. It's spicy, vibrant, fragrant and refreshingly flavorful.
In this recipe, herb-filled creamy queso fresco is paired with spicy chorizo and melty Monterey jack cheese for the best-grilled pizza.
This will soon become one of your go-to pizza recipes! Plus, it comes together in just 15 minutes, thanks to everyone's favorite hack; store-bought crust.
This hearty chorizo recipe is absolutely divine. It's actually one of my family's favorite chorizo recipes.
Spicy Spanish chorizo sausages are browned then braised slowly in red wine with lentils, red bell peppers, onions, and spices to yield a vibrant stew.
It's then topped with mouthwatering cheesy, crusty bread for the comforting meal.
If you cant find manchego cheese, Asiago, Monterey Jack and mozzarella are fantastic subs.
You're 20 minutes away from the best egg muffins you'll ever make.
They combine chorizo's smoky and spicy flavors with stupendously rich and gooey cheddar cheese for decadent, wake-up-worthy muffins everyone will love.
Best part? They are low-carb, freezer and make-ahead friendly. You can enjoy these healthy muffins at breakfast, brunch, or as a mid-day snack.
One bite of this ridiculously rich and gooey queso fundido and you'll be hooked.
It combines a lusciously creamy mingling of Queso, Havarti and Fontina for the ultimate cheesy deliciousness. The spicy kick from jalapenos and ultra-flavorful Mexican chorizo helps round everything out.
You can enjoy it as a dip to dunk your tortilla chips or topping for your nachos and burrito bowls.
Here's the very definition of easy chorizo recipes. Made with only 4 ingredients; Mexican chorizo, eggs, flour tortillas and russet potatoes, these no-fuss breakfast burritos are perfect for making any time you need a quick, easy breakfast.
Feel free to stuff your burrito with whatever you like. Cheese, refried beans, veggies, salsa; whatever works!
Looking for easy chorizo sausage recipes? It doesn't get any easier than this.
These tasty chorizo-stuffed poblano peppers come together in mere minutes with 4 simple ingredients; Mexican chorizo, poblano peppers, a can of tomatoes & chilies and cilantro (oh, and a pinch of salt and pepper for seasoning).
Green salad or sautéed green beans would be an excellent accompaniment for an easy, satisfying dinner. Feel free to use ground beef or turkey instead of sausage.
On the lookout for chorizo recipe ideas to impress your guests? This restaurant-worthy chorizo-stuffed chicken breast recipe is a surefire hit.
It looks fabulous and tastes even better. Buttery, crispy chicken breasts are stuffed with chorizo, roasted chili peppers and gooey Mexican cheese- this dish is everything!
A drizzle of irresistibly flavorful enchilada sauce on top makes it extra special. It's worth all the effort!
You'll surely love this elegant entrée even more when you serve it with creamy garlic mashed potatoes, Spanish rice, or broccoli salad on the side.
Impress your family and friends with these finger-licking good sausage balls. They're served alongside creamy and easy-to-make chipotle dipping sauce, creating a combo that's hard to beat.
One batch may not be enough once you take a bite of these little cheesy homey goodness.
Best of all, you can prepare these sausage balls a day ahead and pop them into the oven before the party.
If you're looking for quick and flavorful chorizo recipes for breakfast, then you're going to love this breakfast hash with chorizo and eggs recipe.
It's made with Mexican chorizo, potatoes, bell pepper, onions and finished off with fried eggs, melty cheddar, green onions and fresh cilantro for an unforgettable flavor.
What's great about this breakfast hash skillet recipe is that you can throw just about anything and it will still taste great.
Made with a few inexpensive pantry staples, this one-pot wonder Spanish rice with chorizo is an easy yet satisfying dinner recipe.
Loaded with chorizo sausage, black beans, Spanish rice, veggies and a melody of spices - it's bursting with flavor and comes together in about 30 minutes!
Top with a dollop of sour cream and freshly squeezed lime juice for an extra flavor kick.
Serve this delectable pumpkin chorizo lasagna to your family, and it'll be a family favorite for years to come.
It's warm, creamy, gooey, and hearty with just a hint of pumpkin flavor. Smoky ground sausage, creamy whole milk ricotta, and earthy-sweet pumpkin puree combine for an incredible depth of flavor.
Even if you don't love pumpkins, you should give this recipe a shot - it won't disappoint.
With layers of sautéed red onions, spicy chorizo, generous amounts of pepper jack and cheddar cheese served on white bread; this crispy, cheesy, flavorful grilled cheese sandwich is the ultimate comfort food.
Use whatever bread you love, but make sure it's thick enough to hold all the goodness in.
This dish is fantastic alongside a warm bowl of classic tomato soup.
Topped with chorizo, beans, arugula and other fixings, this hearty and colorful salad has an incredible blend of flavors.
An easy to whip up honey mustard dressing adds the perfect finishing touch.It's as satisfying as it is yummy; you'll hope to have leftovers.
Best of all, it comes together in less than 30 minutes - a great idea for breezy weeknight dinners.
This Spanish potato and chorizo soup is what you'd want to come home to on a chilly day, especially when it's ready in just 40 minutes.
It's chockful of sausage, potatoes and bacon, making every bowlful extra hearty and flavorful. Cayenne pepper gives it a nice little kick that's sure to please those who love a healthy dose of heat.
Serve with crusty bread or steamed/ roasted veggies on the side for a complete meal.
This heavenly combo of sloppy joe and Cuban sandwich is just one you can't pass up.
It combines ground pork, chorizo seasoned with lime juice, spices, Worcestershire and tomato sauce, then topped with melty Swiss cheese and pickles, giving so much flavor in every bite.
Your kids are going to love this one! They're a breeze to prepare, too.
Not only does this Shakshuka looks gorgeous, but tastes delicious too. Eggs are poached in rich, spicy tomato sauce studded with chorizo and chickpeas for a hearty breakfast-for-dinner recipe.
Add crumbled feta cheese, a dollop of yogurt and fresh herbs on top for a show-stopping dish.
Don't forget the pita wedges or naan to soak all that saucy goodness.
Related Recipes
Check out my collection on best crock pot recipes and slow cooker meals. Looking for more sausage recipes? My ground sausage recipes collection is for you.
Are you traveling across the country and looking what to eat in a specific state? Then check out my list of best american comfort food per state. You can find the best fall recipes that are warm and hearty!
Love this recipe? Please leave a 5-star 🌟rating in the recipe card below and/or a review in the comments section further down the page.

Try one of my comfort dinner recipes for your next family meal! And if you have any questions, I'm here to help!