From delicious bread to sweet fudgy brownies, these are amazing tapioca flour recipes to try!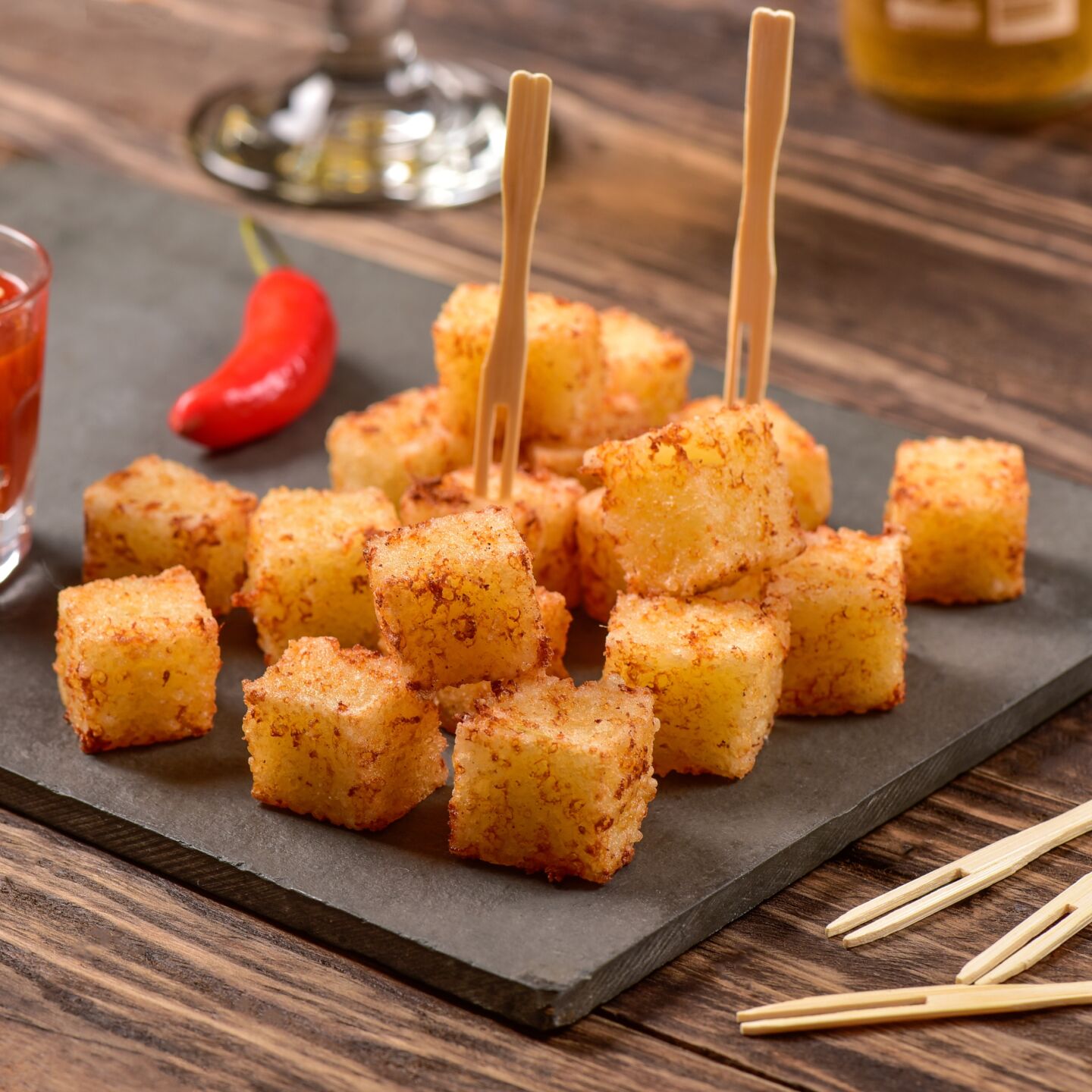 Tapioca flour is from the cassava root, presenting itself as a gluten-free ingredient for virtually any dish and appetizer!
The tapioca flour comes with slightly sweet flavors, making it perfect for baking cakes, bread, and cookies and even as a great thickening agent for soups.
We start our best tapioca flour recipes with this yummy banana bread that's gluten-free and packed with flavors to make a delicious breakfast.
This is a naturally gluten-free bread that packs a lot of flavors to give you a satisfying breakfast with your preferred spread. The bread recipe calls for overripe bananas, coconut oil, vanilla extract, almond flour, tapioca flour, cinnamon, and eggs.
You'll get a soft and moist loaf with this gluten-free recipe in about an hour, and you can enjoy it as breakfast or a snack!
If you liked this bread, you'd enjoy our easy strawberry banana bread.
Make the best of gluten-free baking with this tapioca flour recipe! These brownies are easy and fudgy and require only a handful of ingredients to bake.
The ingredients include tapioca starch, cassava flour, chocolate, baking soda, vanilla extract, coconut sugar, unsalted butter, and kosher salt.
Bake the brownies for about 25 minutes and dust them with gluten-free confectioners' sugar or cocoa powder to serve. Get more brownie treats like this with this almond joy brownie recipe!
One of our top-rated delicious gluten-free recipes is the Pao de Quiejo, the perfect cheesy addition to several main courses.
The cheese bread is made with tapioca flour or tapioca starch, milk, salt, oil, oil, eggs, and cheese.
You can use any type of cheese, including Colby jack or mozzarella cheese, to get the perfect texture on the outside and a soft & chewy texture on the inside. If you want an alternative to this, try our delicious cream cheese banana bread.
This is a grain-free, paleo-friendly roll you can make in less than 25 minutes. You can enjoy these rolls as an appetizer or snack, and they incorporate a handful of ingredients.
These ingredients include shredded mozzarella cheese, eggs, kosher salt, neutral oil, tapioca flour, and whole milk.
Serve warm and enjoy with your preferred main course.
Tapioca flour is a super versatile ingredient, and it shows in this pizza crust with a brown crispy exterior.
It's one of the tapioca flour recipes inspired by the Pao de Queijo, incorporating whole milk, vegetable oil, tapioca starch, and cheese.
Add your favorite pizza toppings to the gluten-free staple and enjoy!
The sweet flavor of tapioca flour makes it an excellent substitute for wheat flour in these coconut wraps. These wraps are some of the tapioca flour recipes enjoyable as light main dishes or snacks for all occasions.
They're made with tapioca flour, coconut flour, eggs, oat milk, coconut oil, and salt.
You can have them ready in less than ten minutes and enjoy them with stuffings of your choice.
Although called a soup, this is a creamy, starchy liquid popularly made in Vietnam as a dessert and street snack.
The creamy texture is gotten from simmering tapioca pearls, banana, coconut milk, sugar, kosher salt, and vanilla extract in hot water.
Top the dessert with unsalted roasted peanuts to enjoy. Enjoy a sweet soup like this for festivities with this easy pumpkin soup.
Gluten-free cooking gets better with these popovers made with gluten-free flours, eggs, Himalayan salt, baking powder, and coconut oil.
These popovers make a delicious snack or side dish, and they're prepared in less than 30 minutes.
Serve them with a soup or stew to enjoy!
This Gnocchi gives you an unmatchable flavor with the substitution of wheat flour for tapioca flour.
The gluten-free stable requires only potato starch, chickpea flour, tapioca flour, and sea salt.
It takes about 15 minutes to cook, and you should serve the Gnocchi with your preferred sauce to eat.
With the grain-free flour of Tapioca, this is about to become your new favorite recipe for cravings.
The paleo-friendly snack takes only 20 minutes to make and requires ingredients such as arrowroot, tapioca or cassava flour, olive oil, and cold water.
Serve the crackers alone or with a dipping sauce of your choice to enjoy.
These biscuits are the fluffy and delicious appetizers or snacks you want for a family gathering!
You can also have them as a side dish, and they're made with the essential ingredient of tapioca flour, coconut flour, pink salt, olive oil, eggs, and warm water.
Bake the rolls for about 35 minutes until they're browned, and serve warm to enjoy. For more delicious rolls, see our Texas roadhouse rolls and caramel cinnamon rolls recipes!
Instead of using glutinous rice flour for your mochi donuts, try the gluten-free tapioca starch and discover a new favorite recipe!
These donuts give you the same crispy exterior and chewy interior to make the best appetizers and desserts ever.
The recipe calls for mochiko flour, tapioca starch, white granulated sugar, whole milk, neutral oil, and baking powder. Top the donuts with a vanilla bean and strawberry glaze to enjoy.
If you're gluten intolerant, you can enjoy pancakes too, thanks to this tapioca flour recipe! These pancakes take just about 15 minutes to make, incorporating ingredients including tapioca flour, coconut flour, baking soda, sea salt, applesauce, coconut oil, eggs, and vanilla extract.
Top the pancake stacks with maple syrup and fresh berries to eat!
Get more pancake deliciousness with our unmatchable buttermilk pancakes and sour cream pancakes!
These crepes are perfect for breakfast or brunch with family and friends! They give you the perfect combination of crisp and chewy textures, with only 15 minutes to prepare them.
The recipe for these crepes calls for eggs, milk, tapioca flour, coconut flour, butter, and a pinch of sea salt.
Serve with your favorite toppings, and enjoy!
This Indian flatbread requires only three ingredients for you to get prepare and enjoy with your soups and curry dishes.
You can also use this flatbread as a substitute for crepes, tortillas, and wraps for your meat or veggies.
The three key ingredients needed are blanched almond flour, tapioca flour, and coconut milk. It takes only 15 minutes to make, and you should serve it immediately with your main dishes.
If you enjoy pretzels but would rather do away with gluten, this is the perfect recipe for you. They're soft, delicious, and will melt in your mouth with your favorite dips.
These pretzels are made with apple cider vinegar, coconut oil, coconut flour, sea salt, eggs, baking powder, and baking soda.
Serve with a glaze made of melted ghee and coarse salt to enjoy!
With tastes comparable to Krispy Kreme's, these baked paleo donuts are the snacks you need to start the party!
These soft and tender donuts require only a few ingredients to prepare, including non-dairy milk, coconut palm sugar, almond flour, vinegar, and vanilla.
These baked donuts only take 20 minutes to make, and you can top them with a chocolate glaze or paleo-powdered sugar to enjoy.
Peach cobblers are the desserts of the summer, and you can join in the frenzy without worrying about gluten!
This gluten-free peach cobbler is a treat you'll enjoy, and it takes only 30 minutes to prepare.
Serve it with a dairy-free ice cream to enjoy!
These blueberry muffins are healthy, delicious, and gluten-free to serve as your go-to snack or even a light breakfast.
The muffins incorporate several ingredients, but it takes less than 40 minutes to get ready.
Bake and serve these muffins with more fresh berries to enjoy.
If you've ever wondered what type of cake to make for a gluten-intolerant person, this chocolate cake is the answer!
It's one of the tapioca flour recipes with a load of ingredients, including dark chocolate, ripe avocado, coconut milk, honey, and coconut flour.
It takes about an hour to make, and you should serve it with minced chocolate chips to enjoy.
Tapioca Flour Recipes Takeaway
These are the best tapioca flour recipes to try today for your delicious dishes and irresistible snacks/appetizers.
🍳 Related Recipes
Many of these tapioca flour recipes have their ingredients accessible in grocery stores, and you can make your preferred dish/snack within minutes.
Try one of my comfort recipes for your next family meal! And if you have any questions, I'm here to help!