Enjoy more quality time with the family with these lazy Sunday dinner ideas!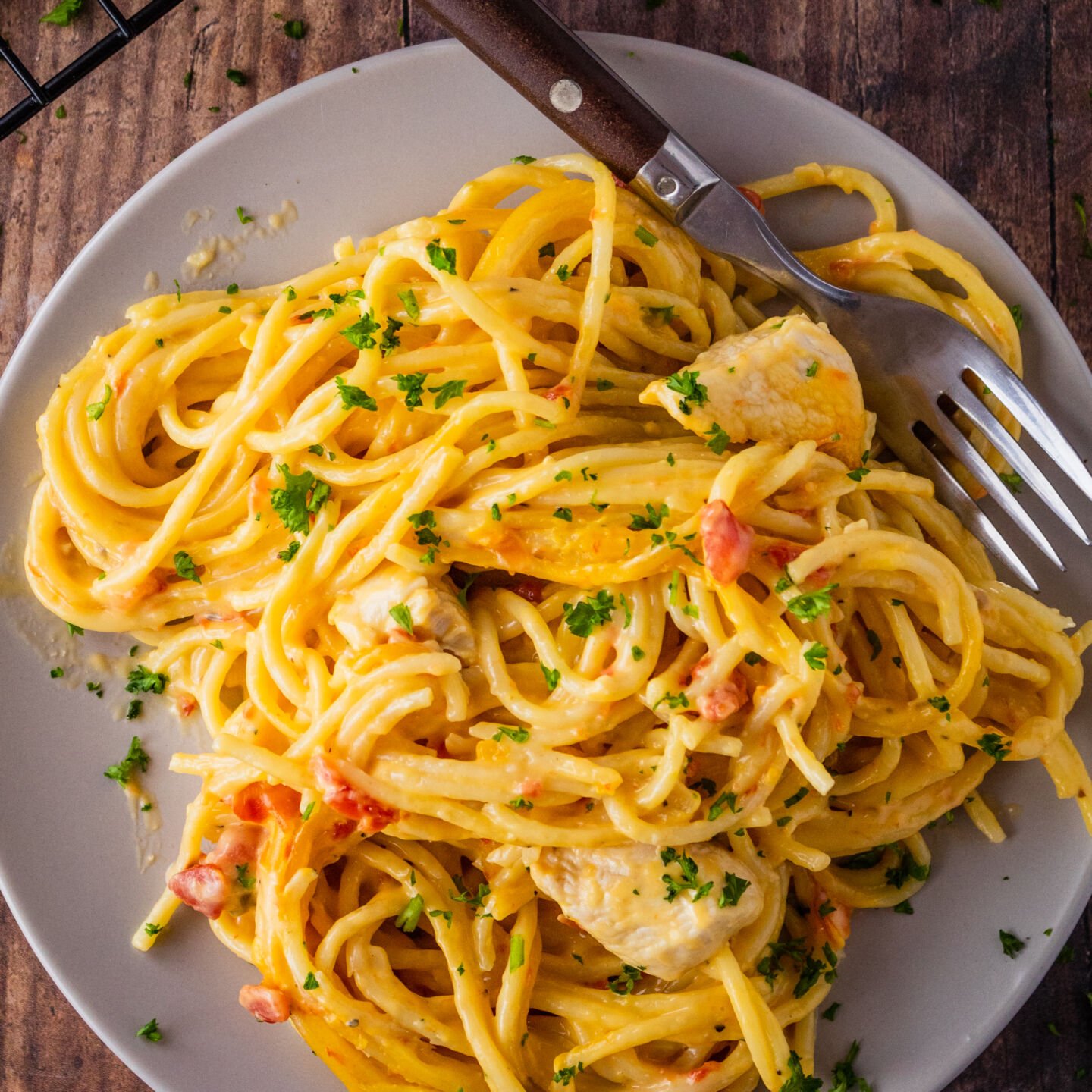 Sunday dinners are all about bonding and spending an enjoyable time with the family before a busy week.
You don't want to spend half of that time thinking about what Sunday dinner recipes to cook, and we've got you covered with these dinner ideas including my chicken spaghetti recipe.
From easy-fried spaghetti to delicious soups, you'll see an array of options to explore to make that perfect tasty dish for your family.
Our delicious list of easy Sunday dinner ideas starts with the easy-fried spaghetti recipe. An absolutely delicious meal you can make with leftover pasta and is guaranteed to deliver desired flavors and comfort!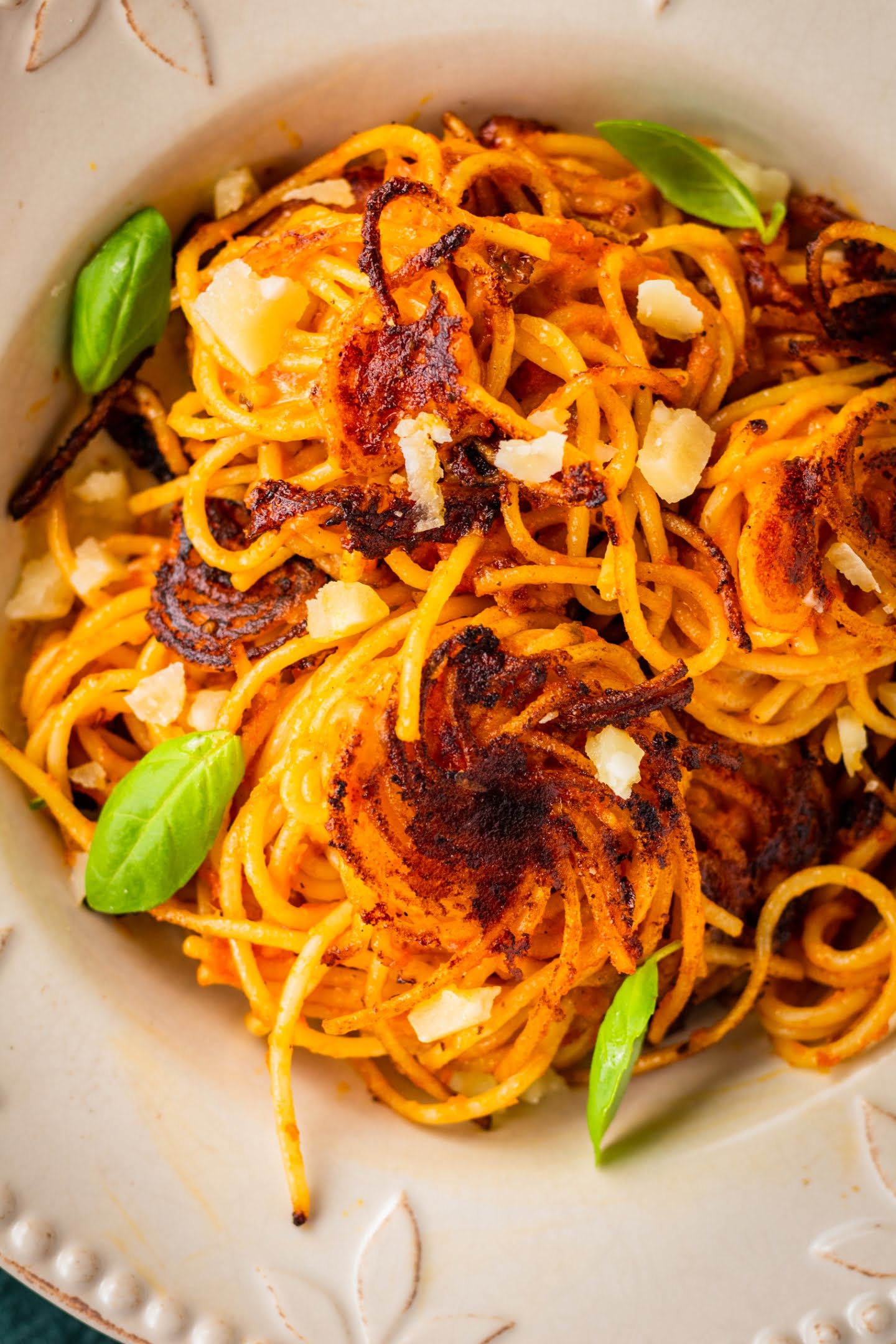 This is the ultimate comfort food for the entire family, saving time and adding flavors to your palate on lazy Sundays.
It's the perfect meal to cook with leftover pasta, your preferred seasonings, parmesan and fontina cheese, and a flavorful sauce.
The classic recipe takes about an hour to make, and you should serve it immediately with fresh basil. A great alternative is my easy taco spaghetti recipe.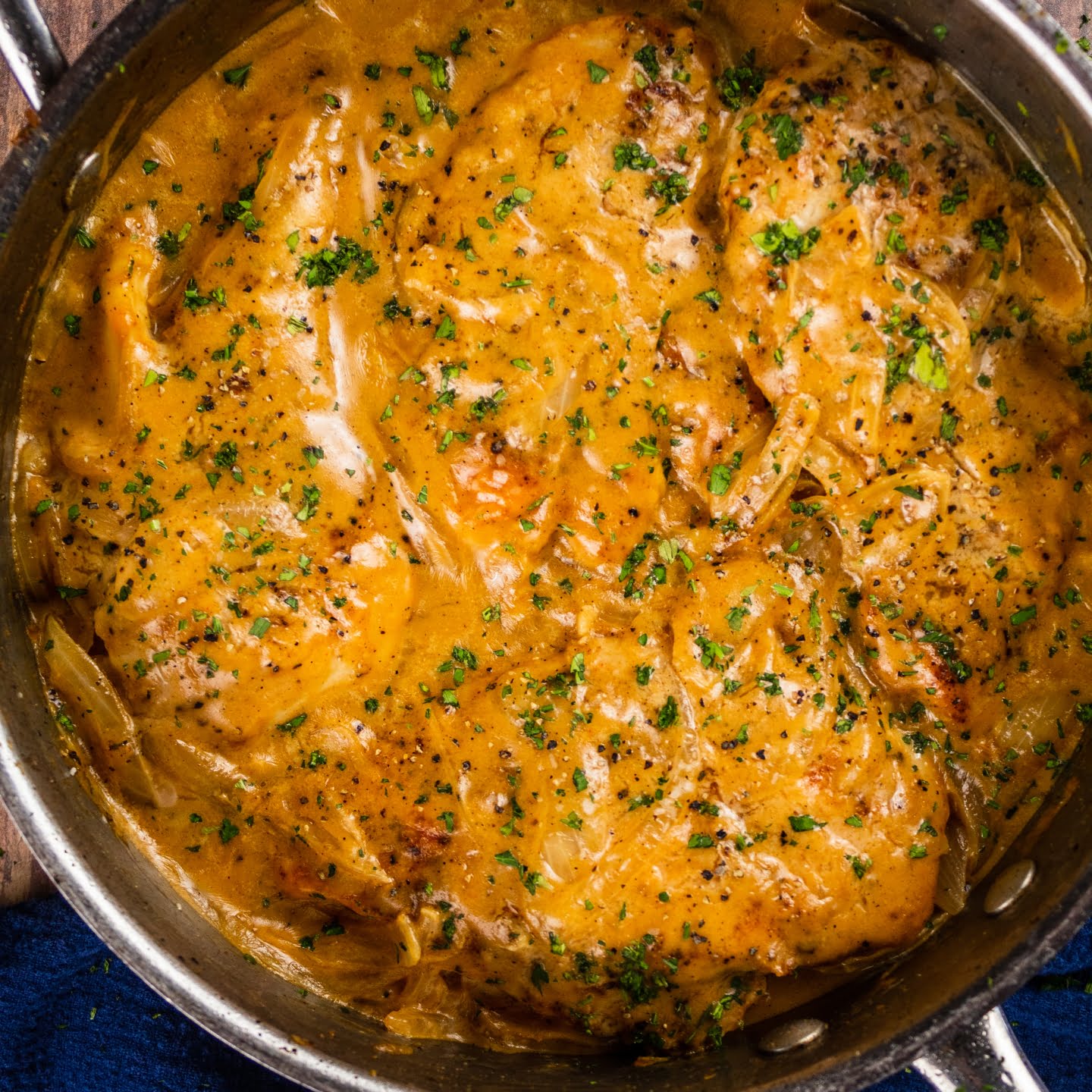 When it comes to Sunday night dinner ideas, these tender, juicy chicken breasts smothered with a delicious creamy sauce are unmatchable.
It pairs perfectly with greens, mashed potatoes, and your preferred other side dishes.
It's an easy recipe that requires a few ingredients you can fetch from your pantry and takes less than an hour to cook. You want to slowly cook the chicken breasts in the sauce at medium-low heat for the best result!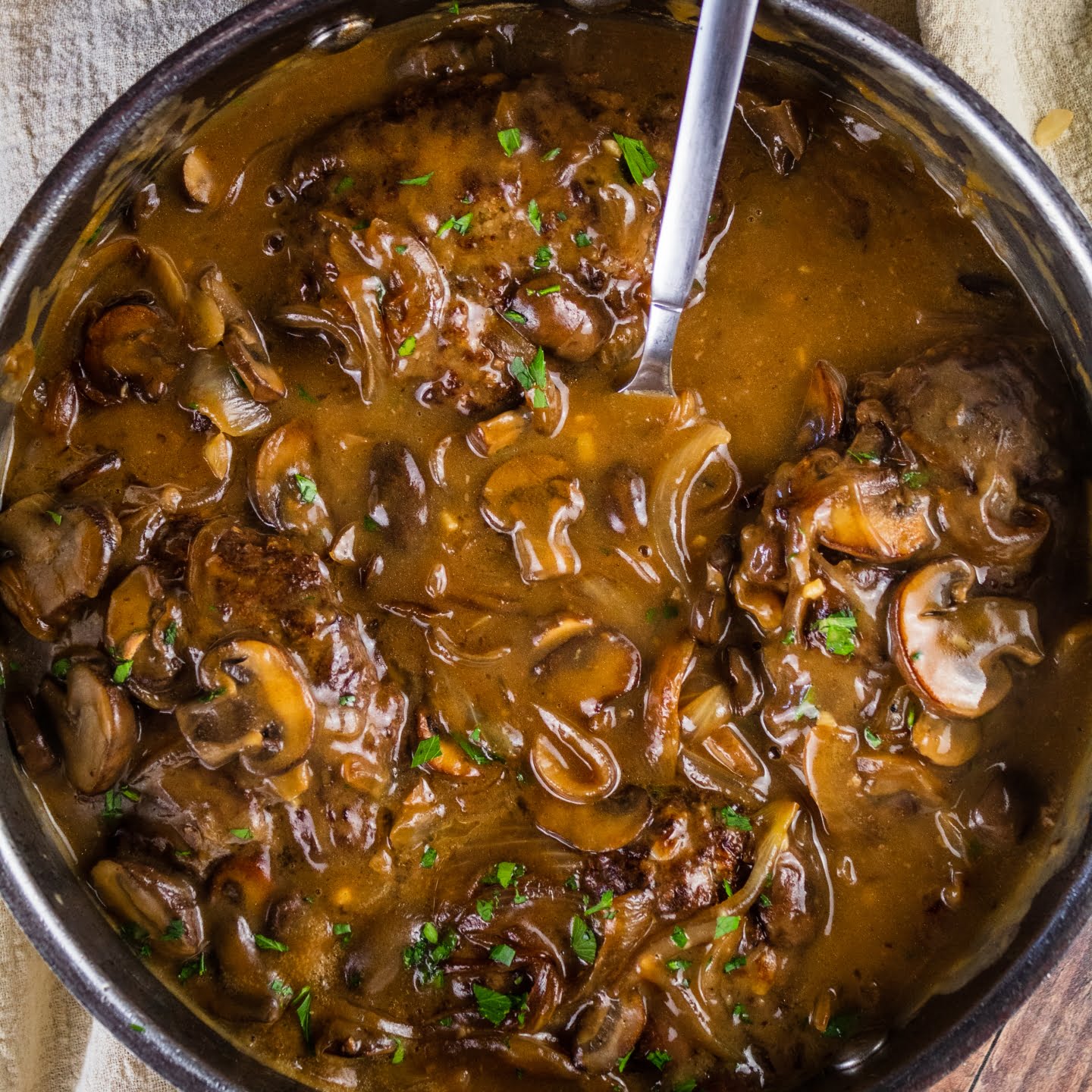 Get sliced mushrooms, garlic powder, beef broth, onions, Worcestershire sauce, ground beef, and flour to make this irresistible dish for the whole family!
The Salisbury steak is the perfect home-cooked meal to bring the family together and share quality time.
It's perfect when served with crusty bread, mashed potatoes, and any other side dish of your choice.
The rich tomato sauce of this dish is only the surface of the depth of flavors this meal has to give.
It's a delicious stew full of smoked chopped meat and veggies, including potatoes, diced cherry tomatoes, Kielbasa sausage, kernel corn, pinto beans, and green chiles.
Serve this one-pot meal with sour cream and sliced baguette to enjoy.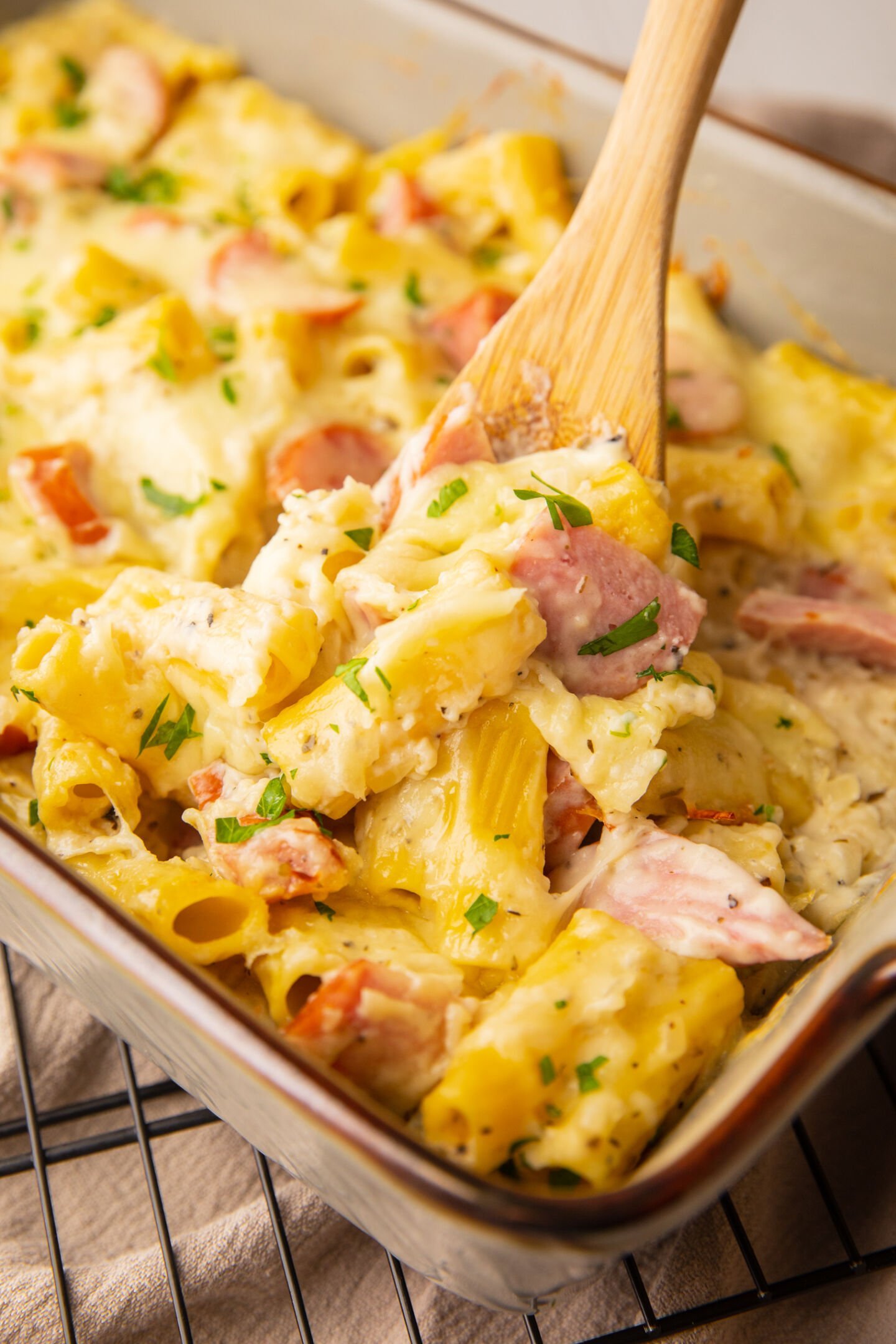 This turkey kielbasa pasta bake is the definition of a lazy Sunday dinner packed with flavors and comfort.
The dish is super easy to make, requires minimal ingredients, like rigatoni pasta, mozzarella cheese and can be enjoyed alone for dinner, lunch or as a side dish.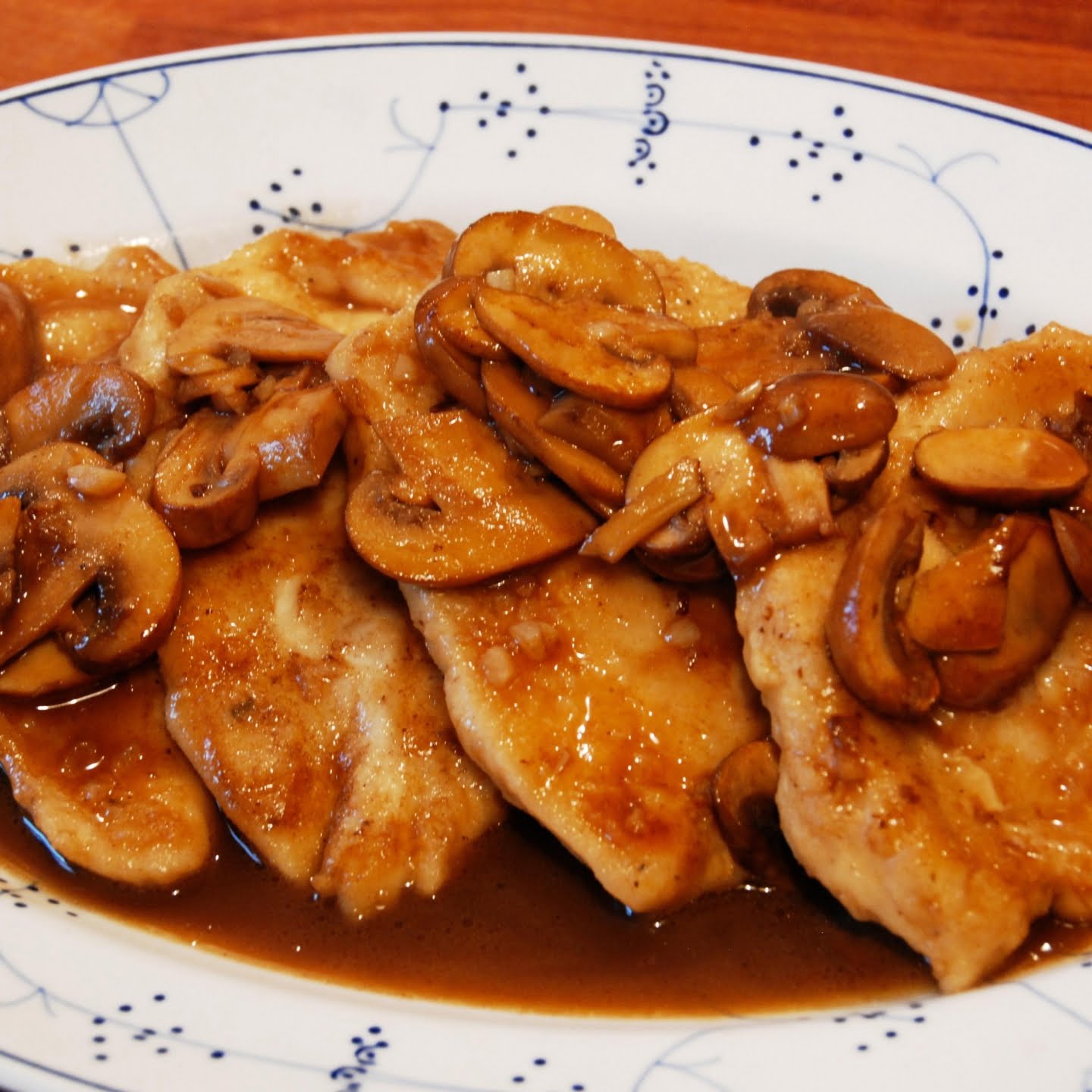 The Olive Garden's Chicken Marsala will always be a family favorite, and you can make yours in the comfort of your home.
It's one of the best Sunday dinner ideas that take little time to prepare, and you'll enjoy it best served with roasted potatoes or fried cabbage.
Your key ingredient is the Marsala white wine to go with your seasonings! For more Italian deliciousness, check out these delicious Italian recipes.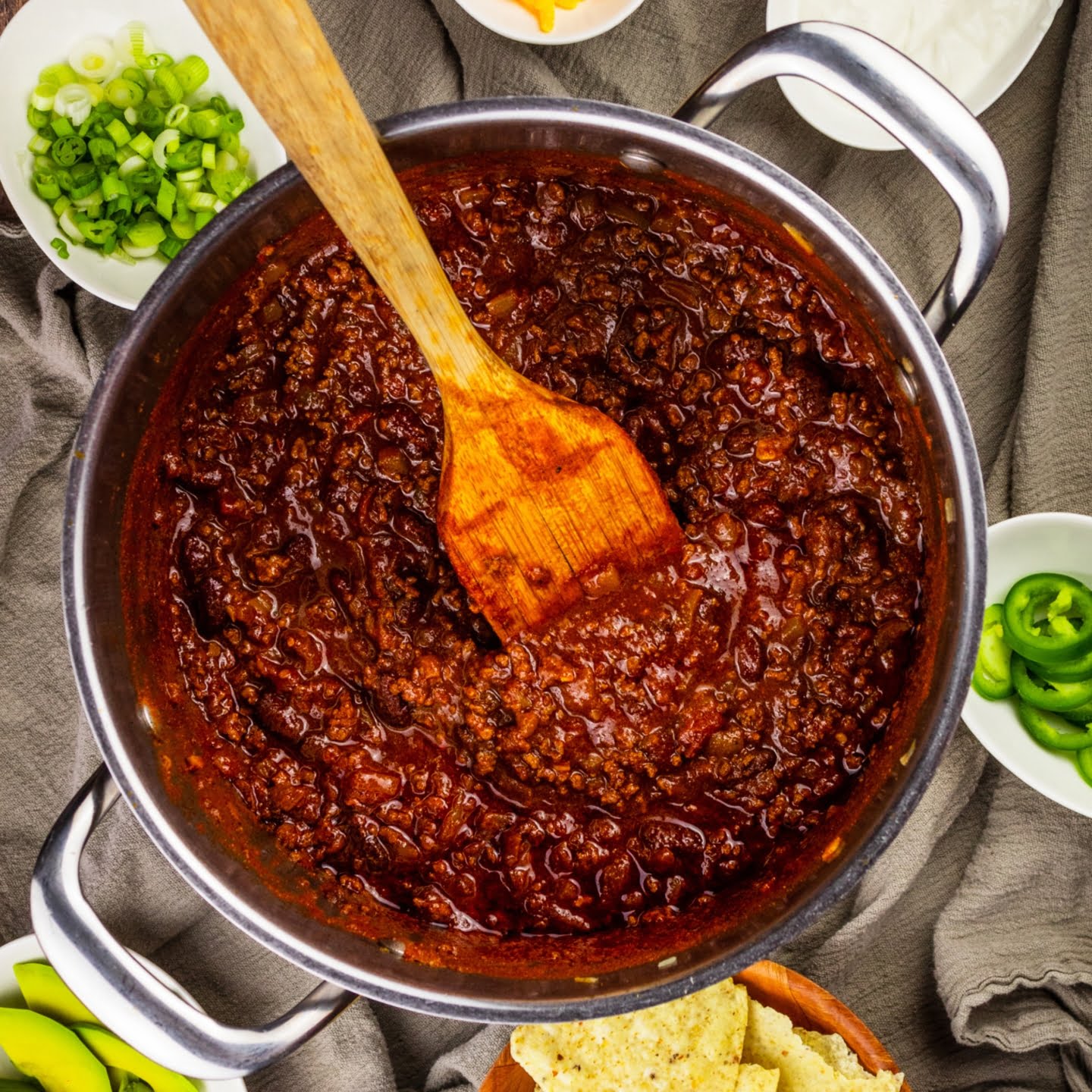 With only thirty minutes of cook time, this amazing southern recipe will have you enjoying Sunday to the maximum.
All your ingredients go into the same pot, giving you an unrivaled chili in flavor and comfort.
These ingredients include red pepper flakes, red kidney beans, tomato paste, tomato sauce, olive oil, ground beef, and a host of others. The easy dinner takes different toppings, including shredded cheese, jalapenos, avocado, tortilla chips, and green onions.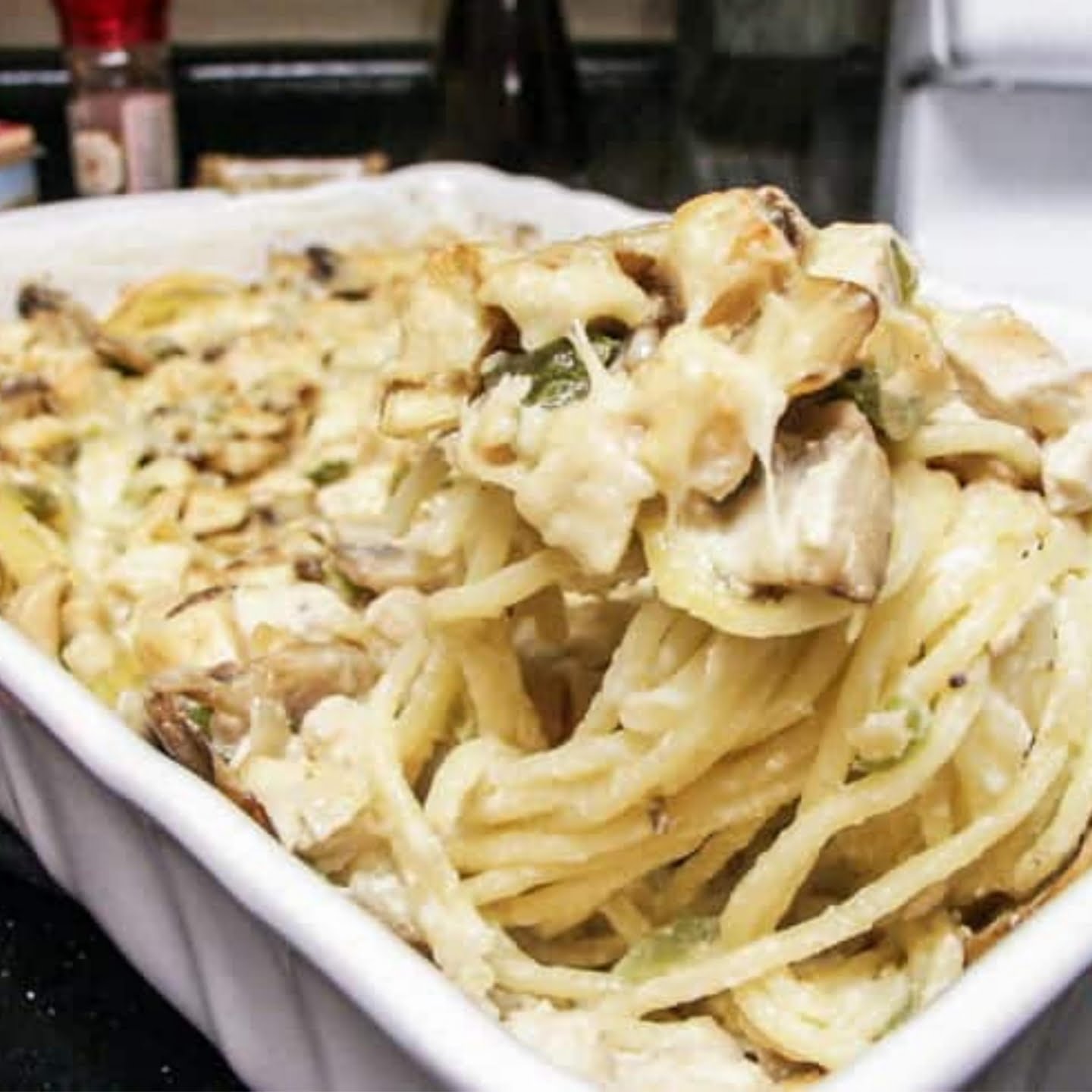 You'll love the decadent flavors this amazing casserole has to give!
It combines spaghetti, mushrooms, chicken broth, parmesan cheese, white wine, chicken breasts, and seasonings to make a wholesome dish.
Bake till it's hot and bubbly, and garnish with paprika to enjoy.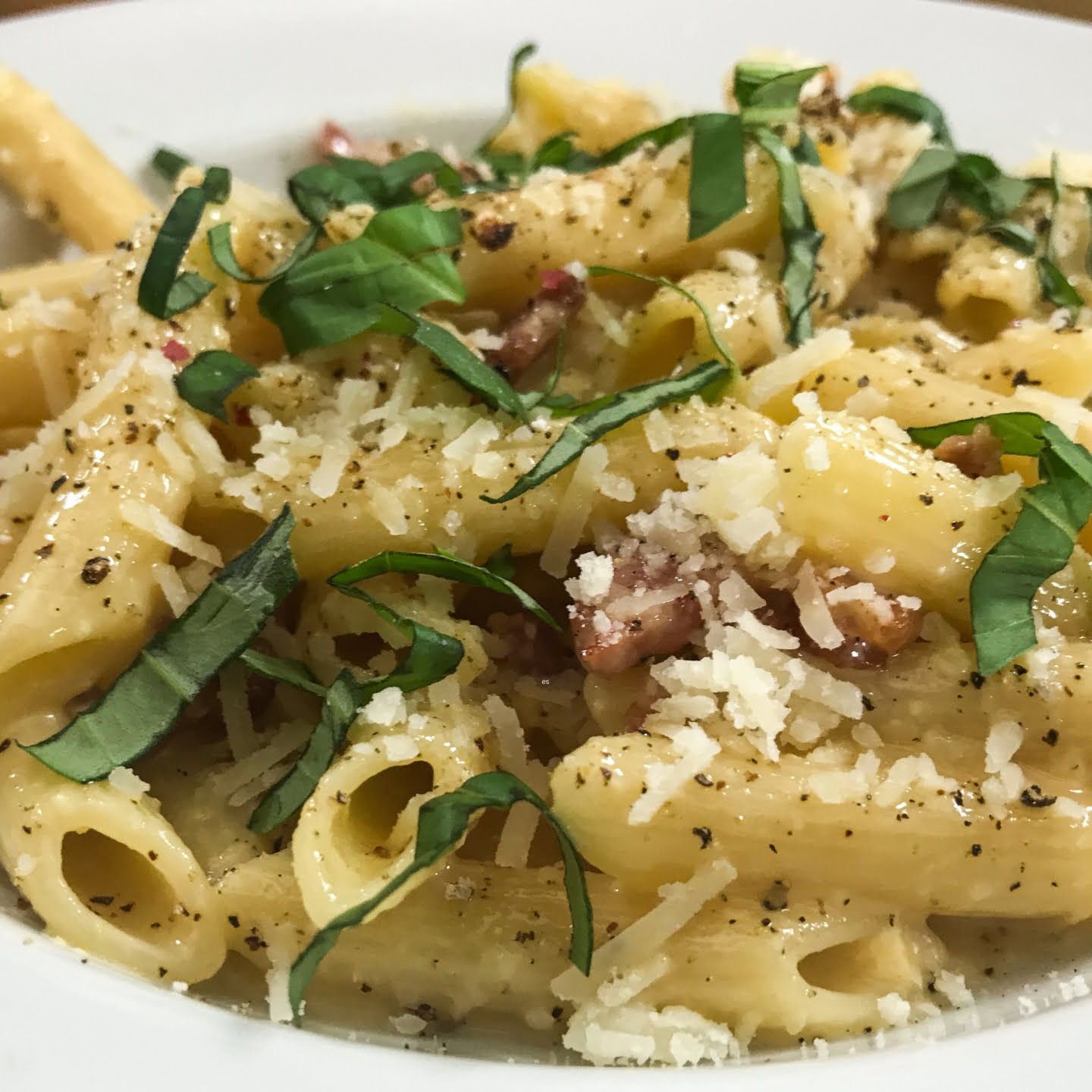 From start to finish, this recipe takes only 20 minutes, making it a perfect fit for lazy Sunday dinner ideas.
Get your cast iron skillet to make this dish with Penne Rigate, heavy cream, basil, bacon, black pepper, and eggs,
Serve this with garlic bread or salad to enjoy.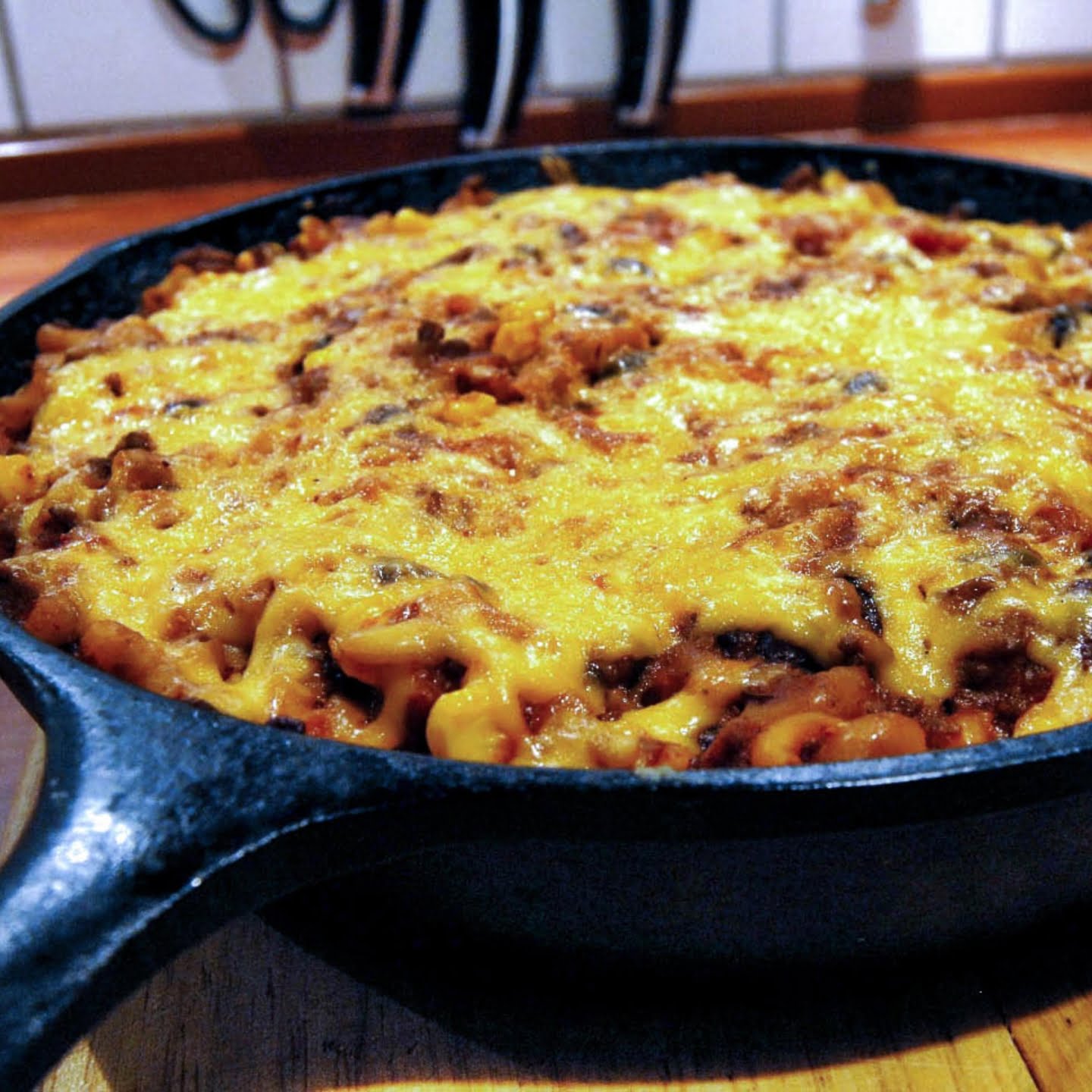 This mac and cheese is prepared in a chili con carne style with only one cast iron skillet.
The recipe card takes only a few ingredients, including macaroni, ground beef, black beans, peppers, and a load of seasonings.
It takes only 40 minutes to make, and the whole family will absolutely enjoy it!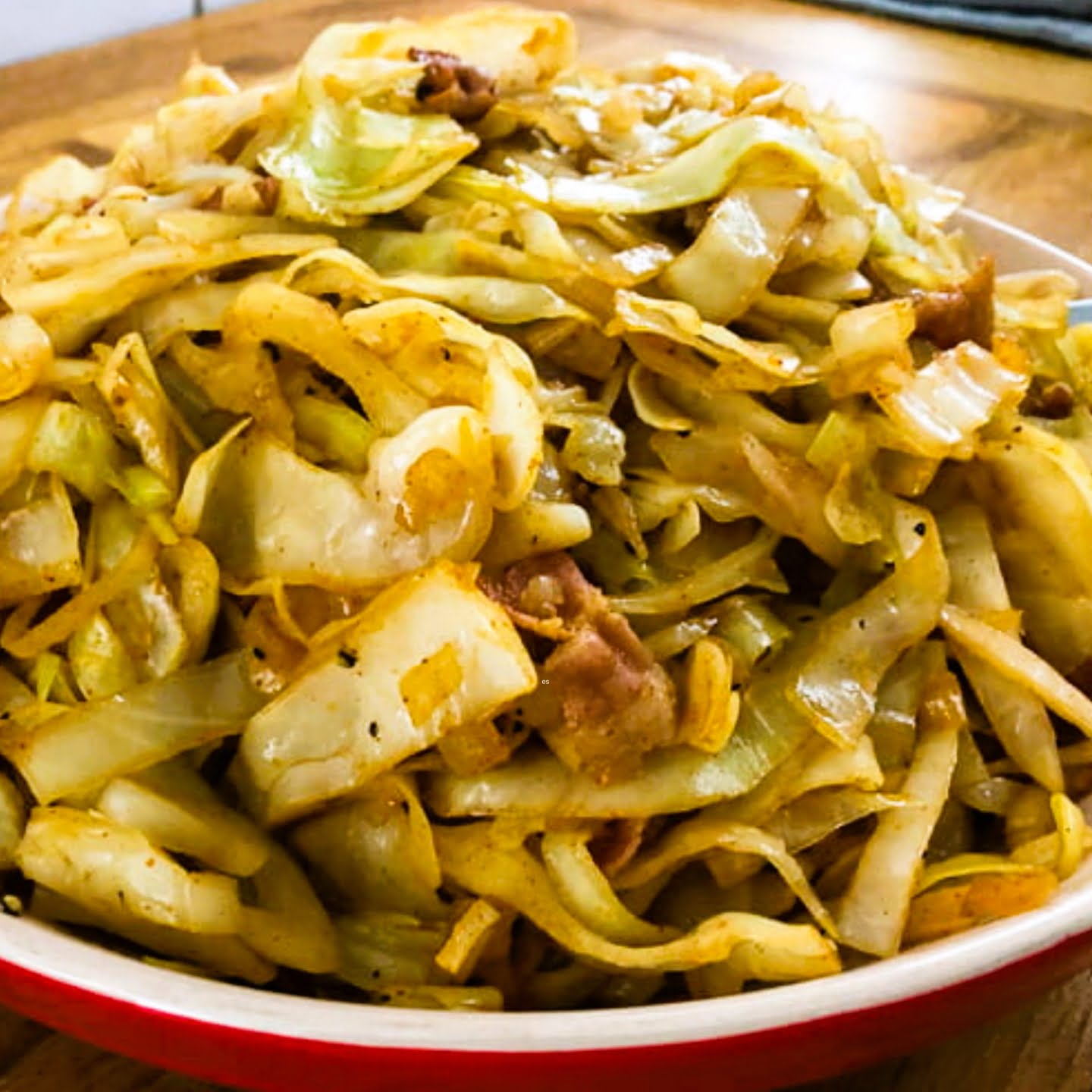 Whether as a side or main dish, this southern-style fried cabbage with bacon is a sure hit on your lazy Sunday dinner ideas.
This dish lets you add flavor to your dinner table with ingredients including cabbage, bacon, onion & garlic, and spices.
Serve with chicken thighs, pork, or grains to enjoy.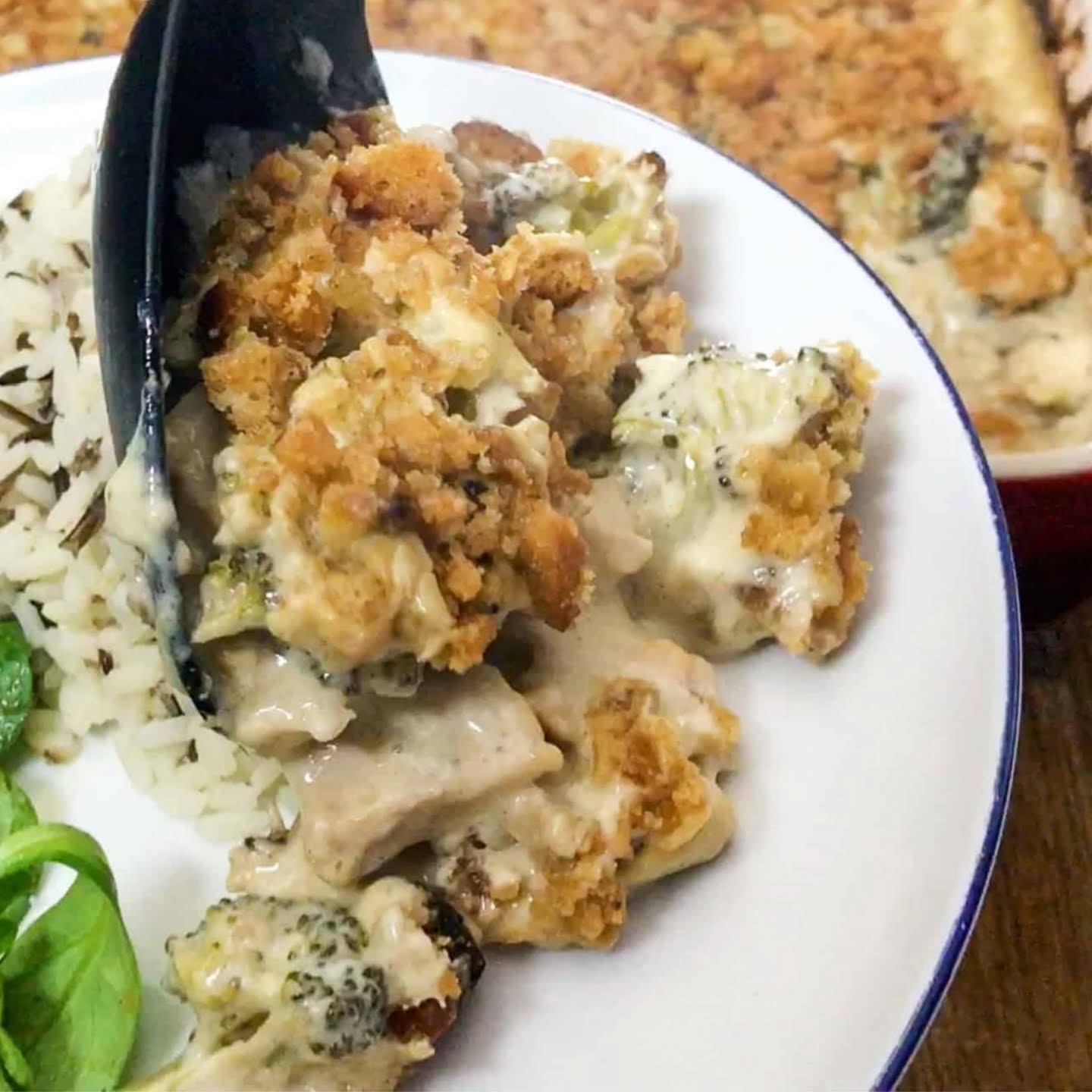 This recipe is s flavorful as it's healthy, incorporating broccoli florets, whole chicken chopped or breasts chopped into cubes, mushroom, cream cheese, garlic powder, butter, olive oil, and chicken stock.
Serve with garlic bread spread with garlic butter to enhance your dish with garlic flavors!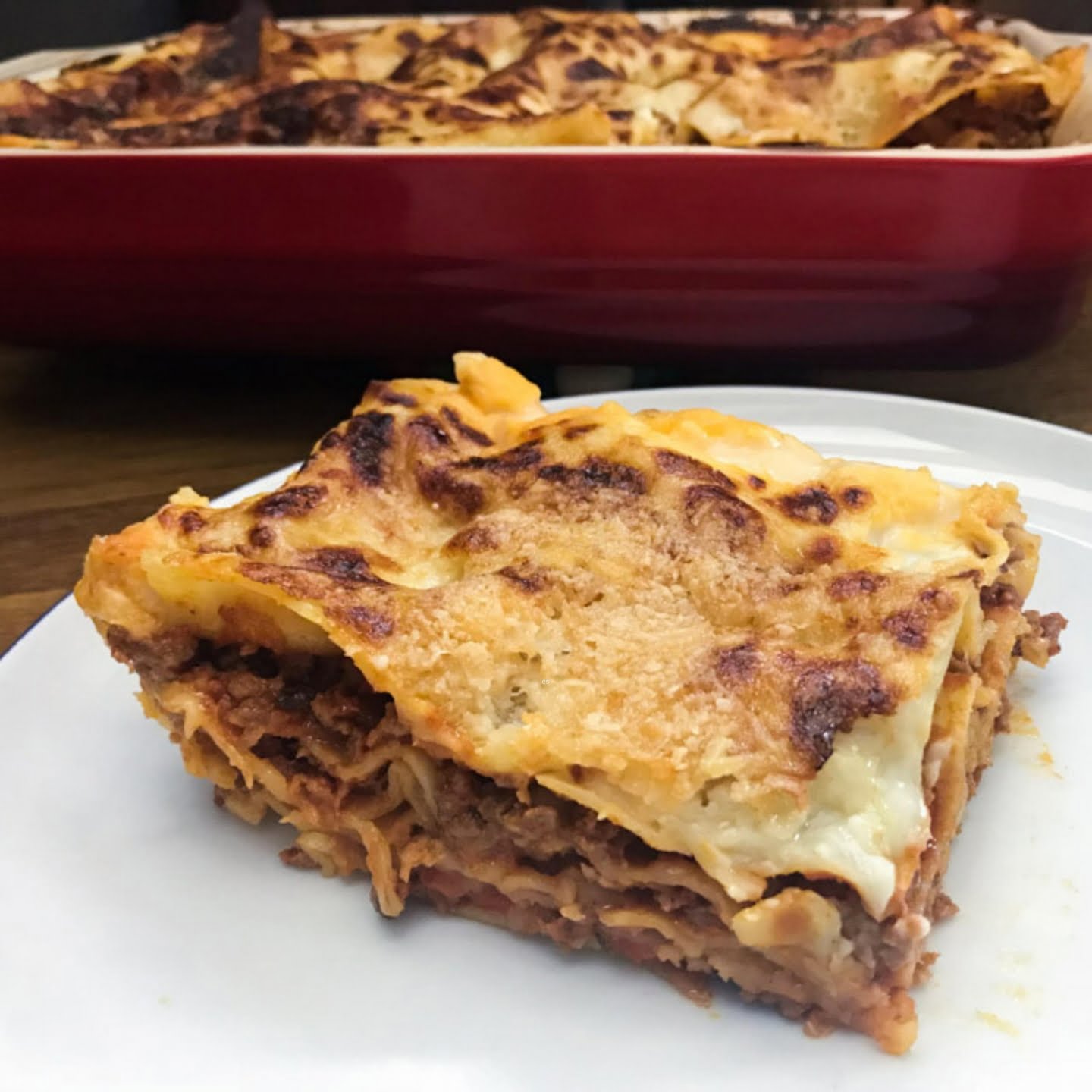 When it comes to easy Sunday dinner ideas, you'll love the ease and deliciousness that comes with this no-boil Lasagna.
The Lasagna combines no-boil noodles layered in creamy bechamel and a meat sauce cooked slowly.
Ensure to bake till the top is bubbly and golden brown. Allow to cool and set for about 25 minutes before serving.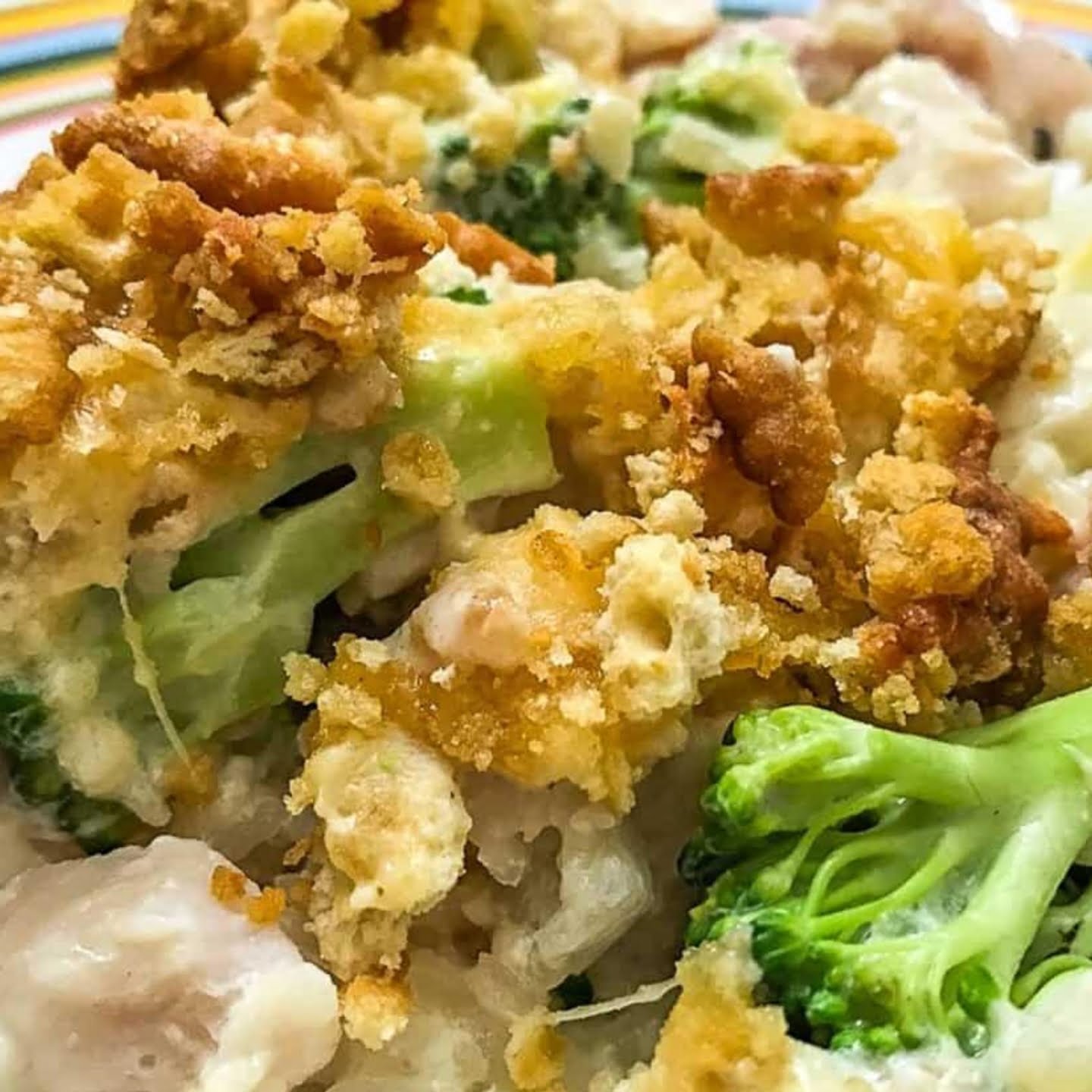 You might have your own recipe for chicken casserole, but this combination with ritz cracker will make it your new favorite!
It's super tasty and is sure to earn you cheers from the entire family, combining tender chicken breasts, rice, condensed cream of mushroom soup, cream cheese, and crushed Ritz crackers crumbs.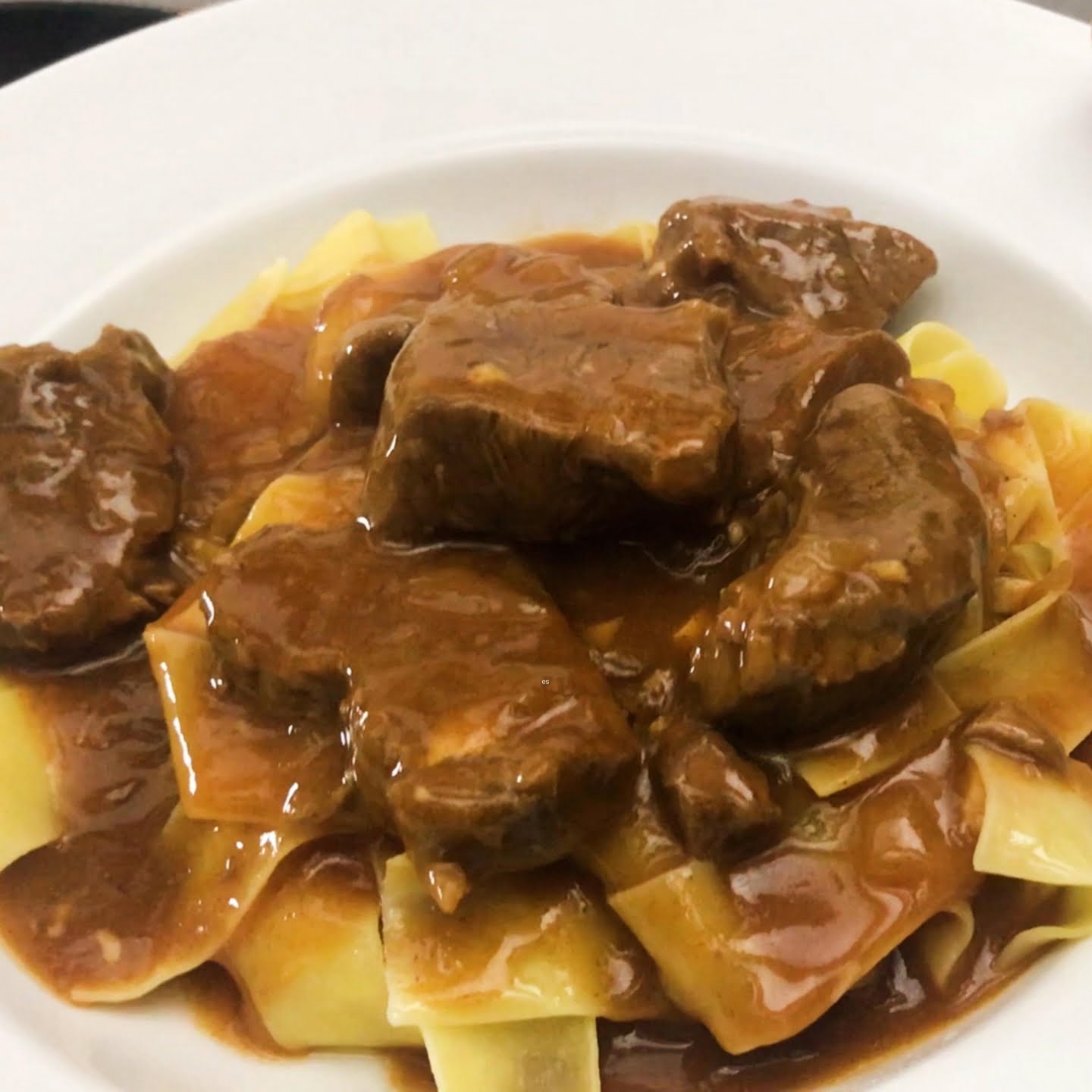 Whether you're using an instant pot or slow cooker, this is an absolute hit that guarantees no leftovers.
It's tender beef simmered in a paprika sauce that pairs perfectly with roast potatoes, rice, or pasta.
Add cornstarch to achieve your desired thickness.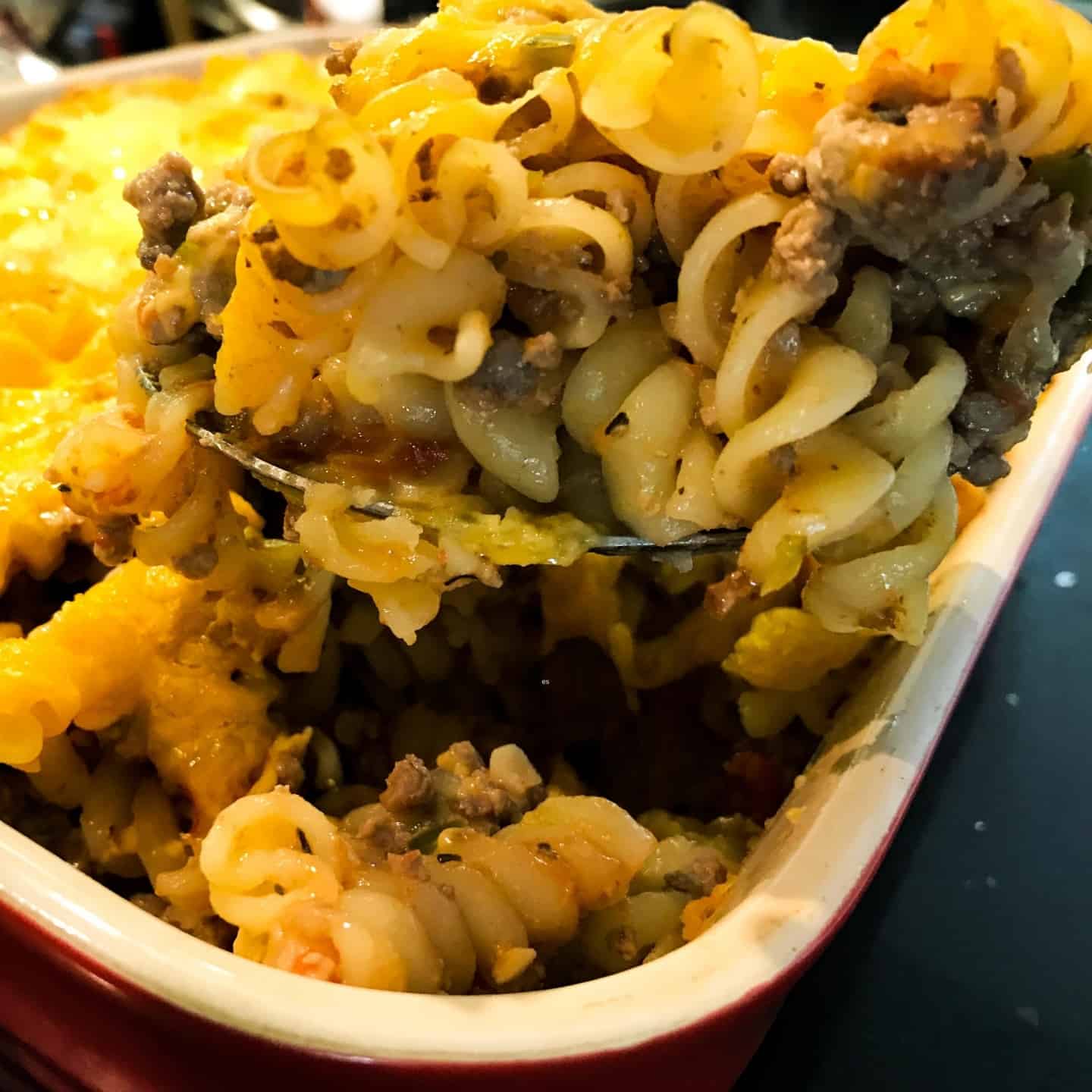 If your family members love a good helping of ground beef, this dish should be your go-to lazy Sunday dinner idea.
It's made with ground beef, elbow macaroni, bell peppers, whole milk, and seasonings.
Bake till the top is brown and bubbly, and let it cool for at least 5 minutes before serving.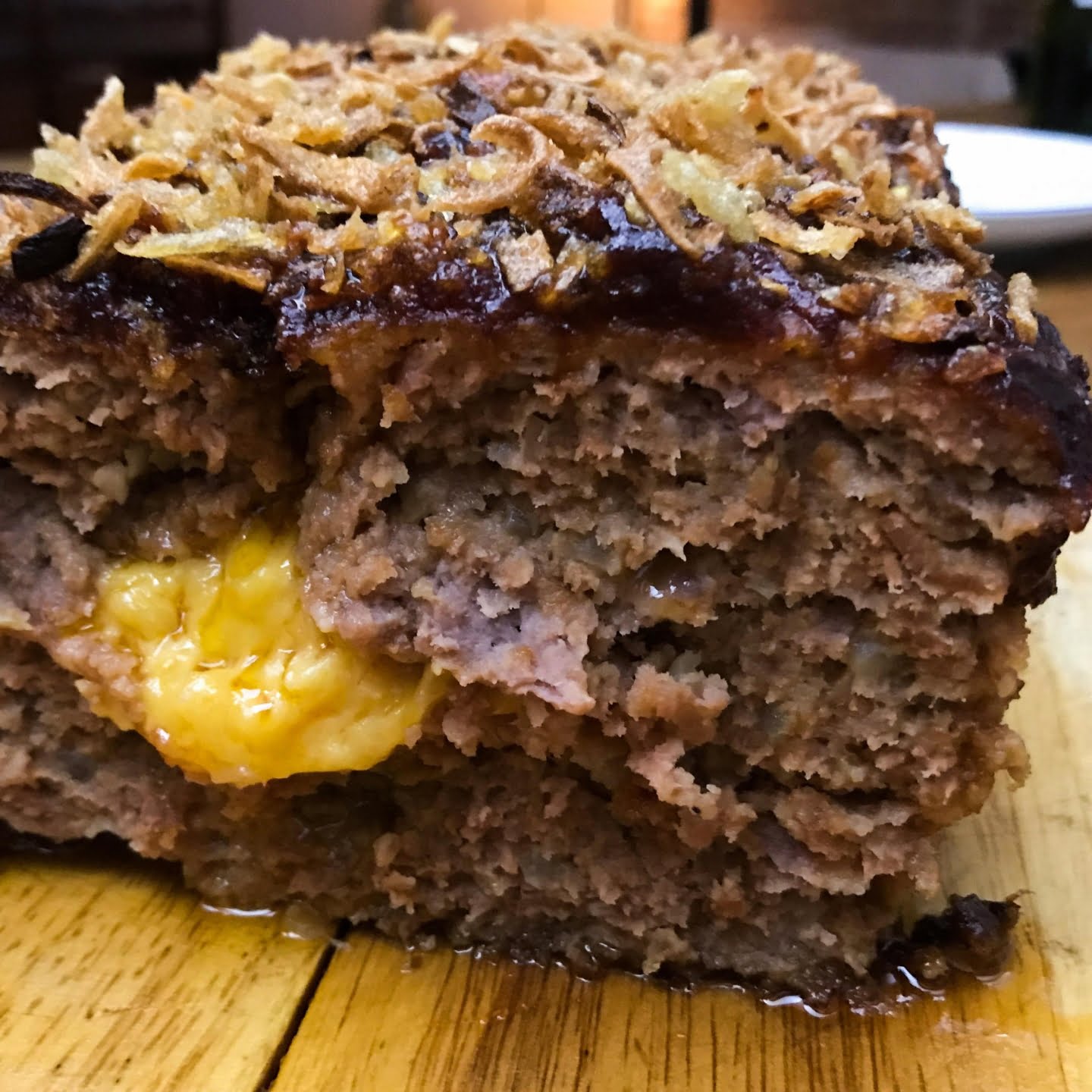 The combination of juicy meat, melted cheese, and delicious barbecue sauce is irresistible in this lazy Sunday dinner recipe.
Add breadcrumbs to hold the meatloaf together and serve with mac and cheese or potatoes!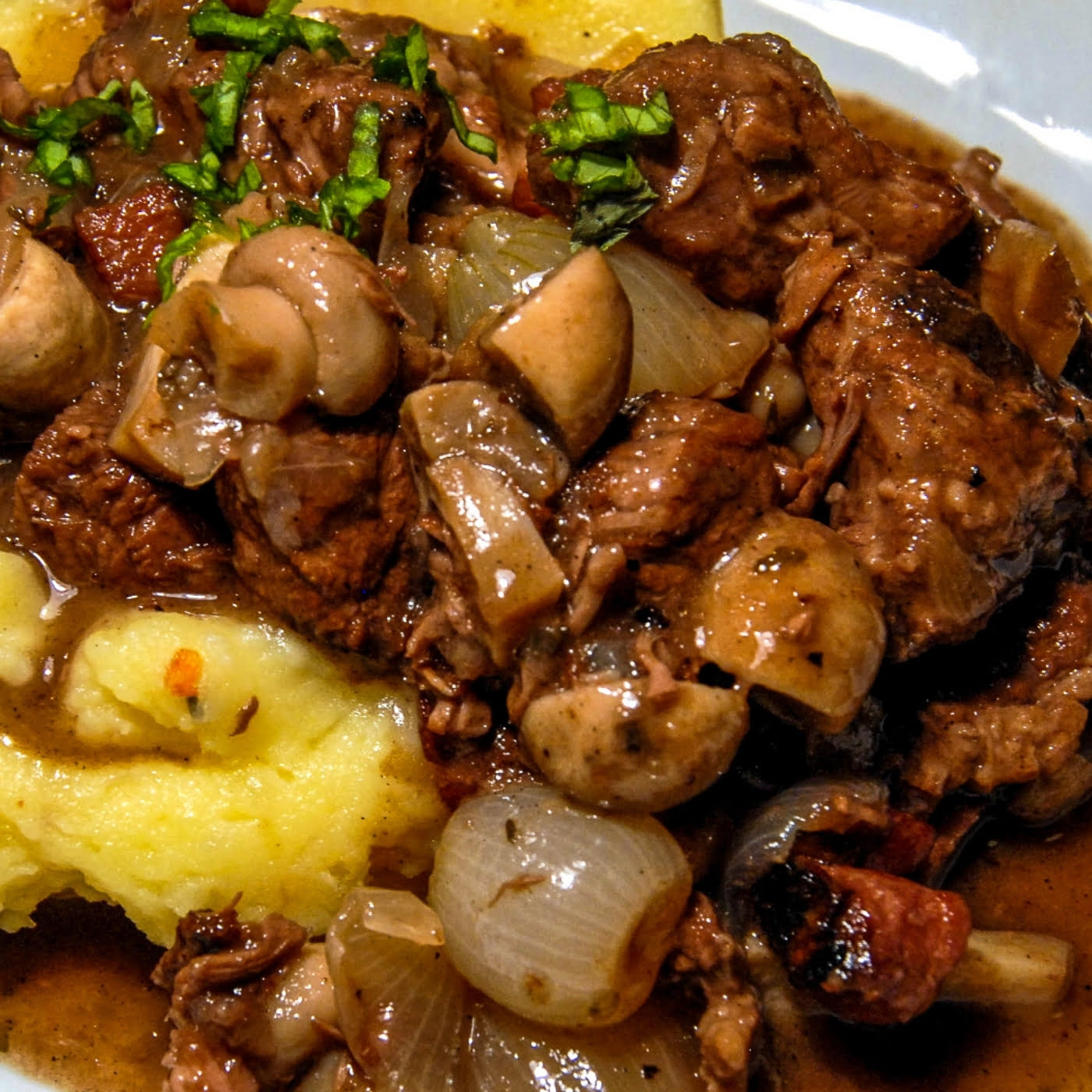 This wholesome dish is made with red wine, beef broth, pearl onions, beef stew meat, salt pork, mushroom, and seasonings.
The richness of the dish will certainly bring the family together, and you'll absolutely love it with egg noodles or mashed potatoes.
Ensure the onions are fork-tender before serving.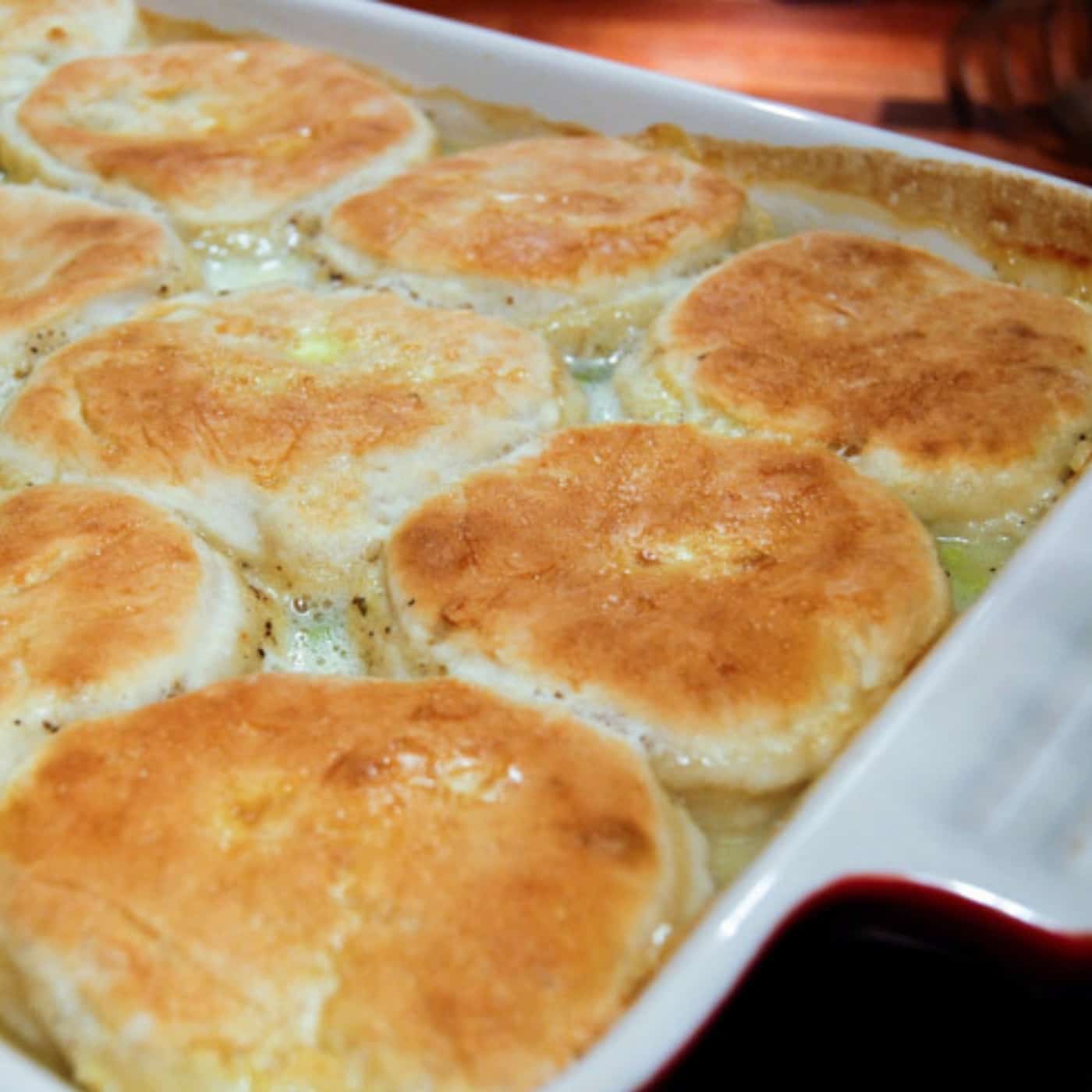 With only 20 minutes to prepare, these chicken and biscuits are an absolute delicacy for Sunday dinner recipes.
It's super simple to make, with ingredients you can easily fetch from your pantry.
Bake till the biscuits is well-done before serving.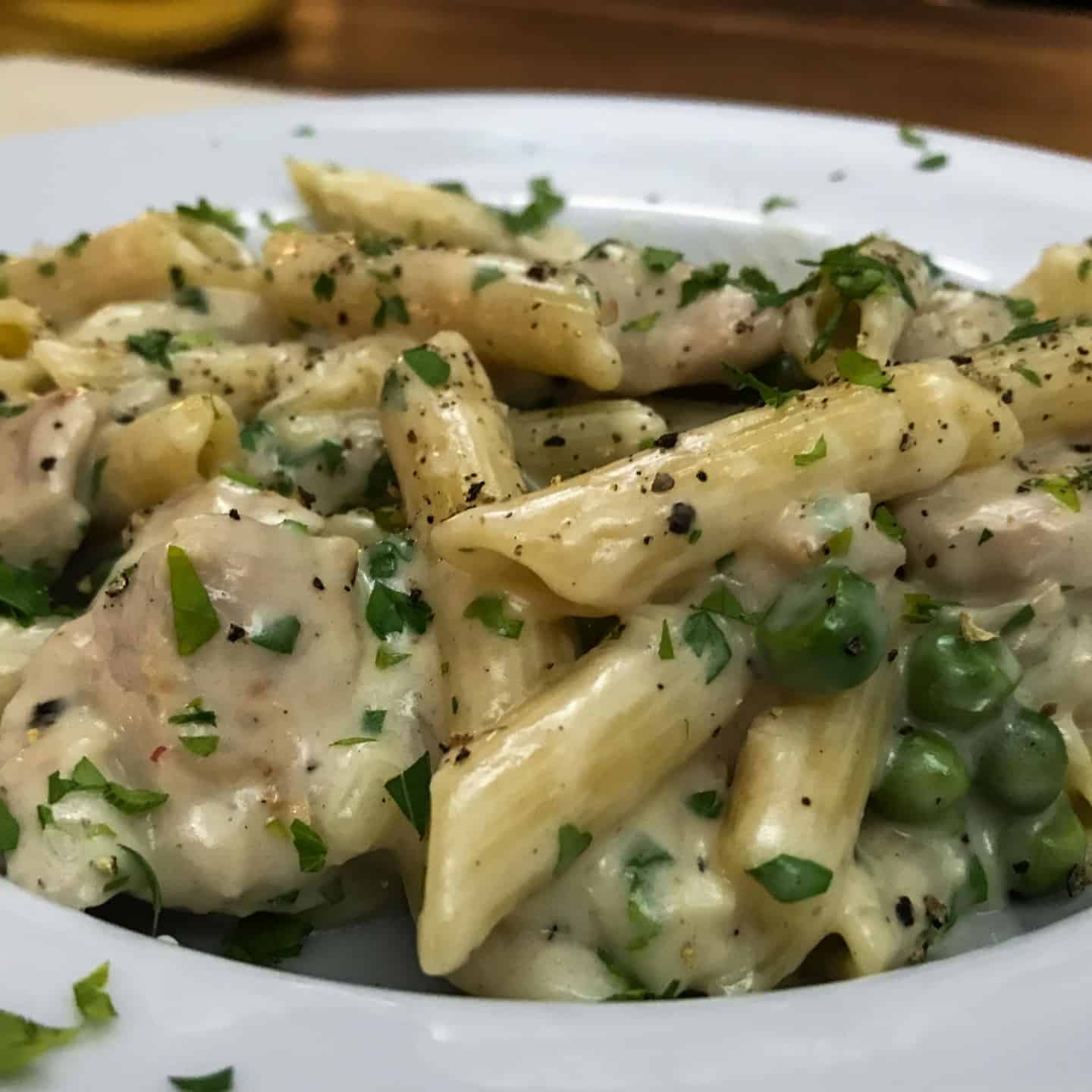 This chicken pasta Alfredo is a simple, light, yet elegant dinner to make for yourself and your partner.
It incorporates amazing ingredients to make an enjoyable Italian dish in just 30 minutes.
Add parmesan cheese as desired and serve immediately.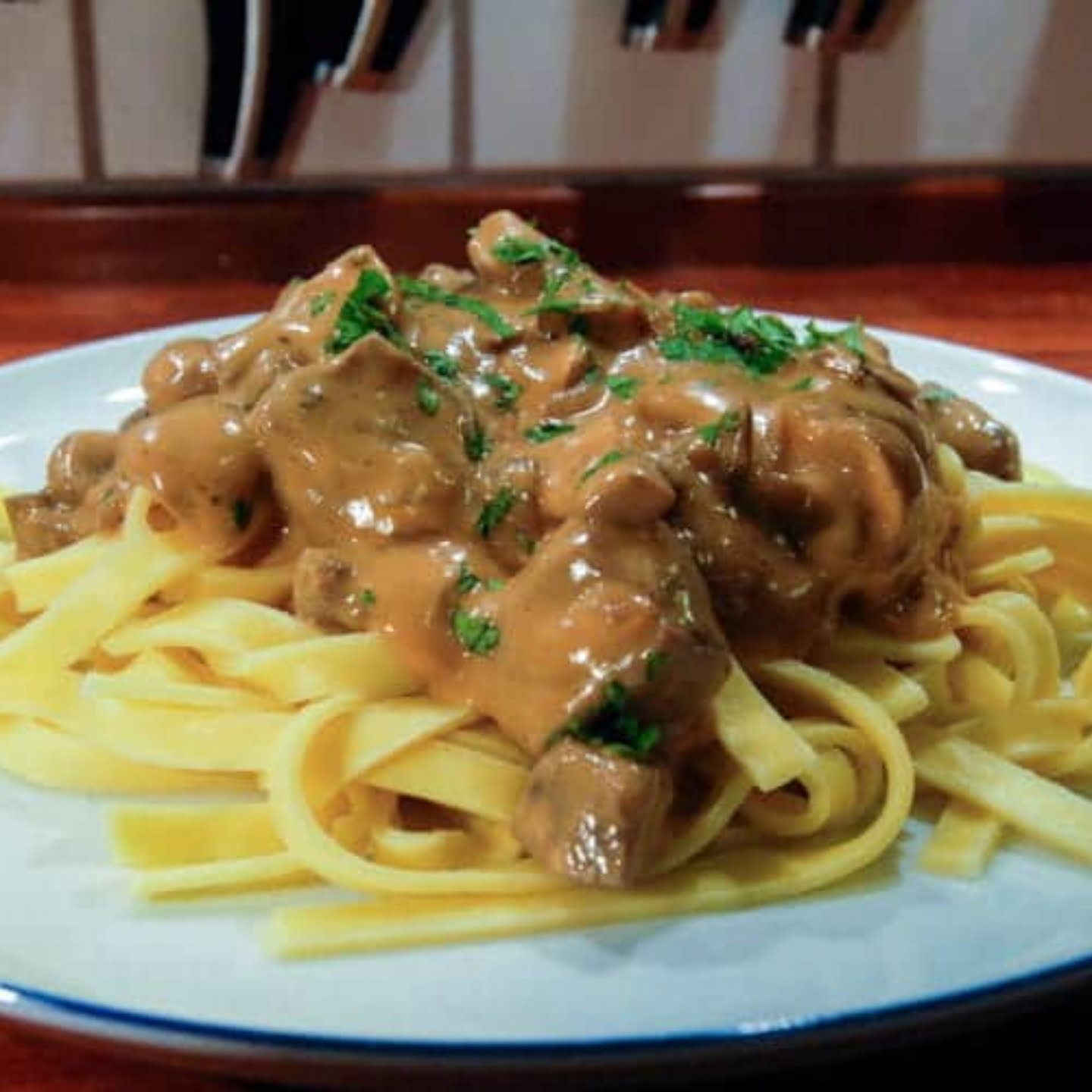 Beef Stroganoff has been a favorite for many families on lazy Sundays and special occasions.
It's super simple to make, with a cook time of 20 minutes, and it's the perfect dish to serve over rice, baby potatoes, or wide, flat pasta.
Your marinade and seasoning are everything that matter in making this delicious southern fried chicken recipe.
For this recipe, ingredients to make your fried chicken as tasty as possible include buttermilk, hot sauce, onion powder, black pepper, paprika, and paprika.
Fry to desired crispiness and set to cool before serving. Check out theseamazing Sunday dinner soul food recipes for more southern deliciousness!
This is an elegant Sunday dish made with roasted or baked eggplant, fresh herbs, Ricotta, pasta, and tomatoes.
It's a Sicilian dinner to make your family feel special and foster that desired quality time!
Make your eggplant sauce, add the al dente pasta, Ricotta, and cook till desired consistency.
You'll absolutely enjoy this dish made with homemade pasta in rich tomato creamy sauce.
It's an elegant dish you want to save for special occasions, and it doesn't require elaborate ingredients.
Top with fresh basil, grated parmesan, and parsley to enjoy!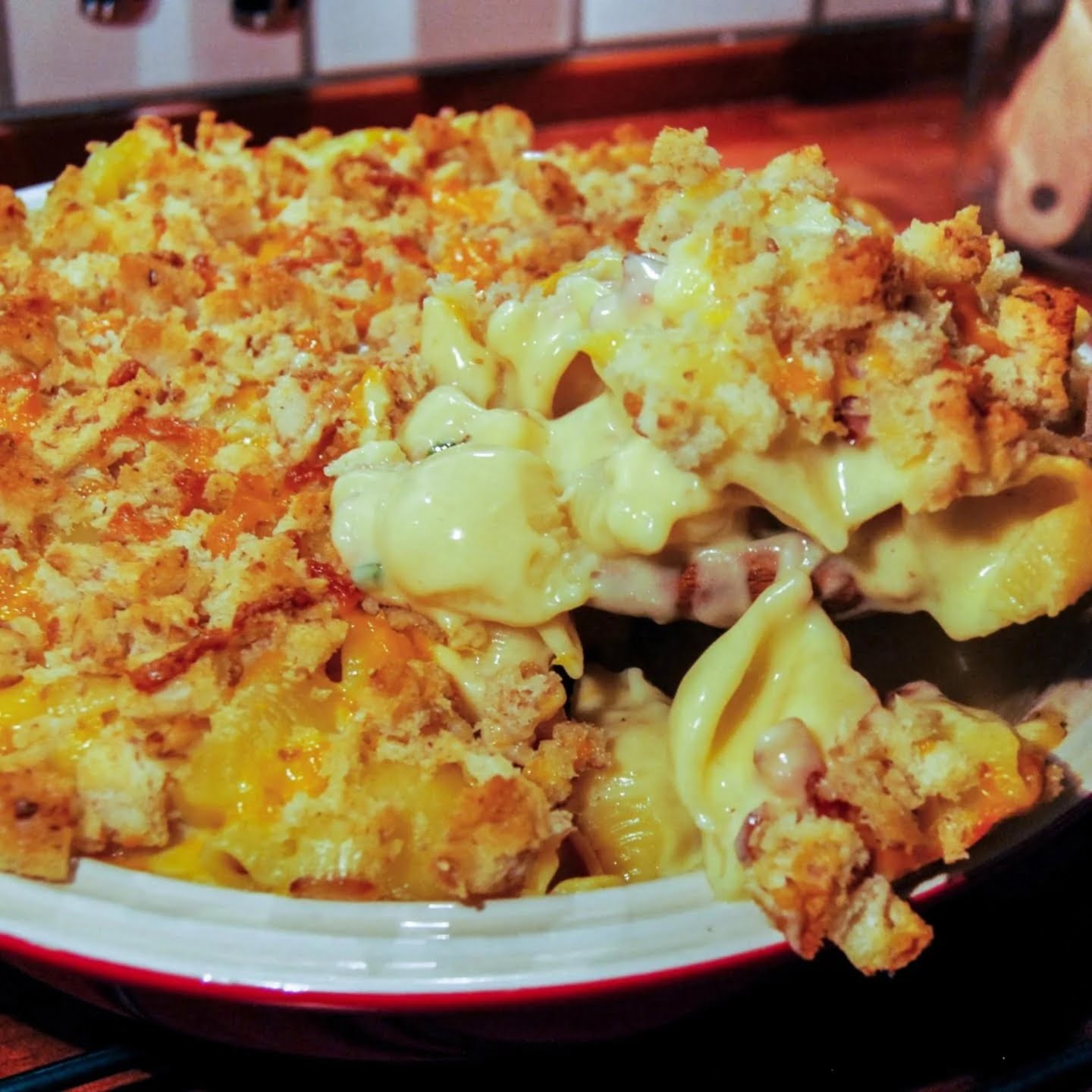 Get your baking dish to make this delicious bacon mac and cheese made with very few ingredients.
These ingredients include pasta, bacon, white bread, jalapenos, cheddar cheese, milk, flour, butter, breadcrumbs, salt, and pepper.
Bake till the cheese is bubbly, and the breadcrumbs are brown.
You might think roasting a whole chicken isn't what you want on a lazy Sunday, but you'd be very wrong!
This recipe takes just 15 minutes to assemble, and then it's up to your oven to deliver a delicious golden roast chicken.
Add russet potatoes and carrots to the dish, and you have a complete meal!
These short ribs are best prepared ahead of time so you can marinate them effectively for the best result.
Like roast chicken, this takes only ten minutes to assemble, and your oven is left to do the work.
You can incorporate as many ingredients as you want in your marinade, from cajun seasoning to BBQ sauce.
This chili will provide you with comfort, flavors, and nutrients from its combination of ingredients.
Some of these ingredients include red kidney beans, diced tomatoes, celery stalks, diced tomatoes, and seasonings.
Serve this chili over rice or with an avocado to enjoy.
If you're feeling lazier than normal, then you definitely want to go for these creamy tomato shells.
It's made with only three ingredients, including pasta shells, creamy tomato sauce, and cashews.
You'll have it ready to serve and enjoy in less than 30 minutes!
All you need to do is dump your ingredients in the slow cooker and let it do all the work!
These flavorful ingredients include quinoa, cream cheese, corn, enchilada sauce, beans, chilis, and enchilada sauce.
Top with sour cream, cilantro, or avocado, and enjoy!
In just 25 minutes, you can have this delicious dinner made with fresh ginger, spring veggies, and homemade Asian sauce.
It's super healthy and gives you a profile of flavors that you'd enjoy to the last bite.
Serve over hot rice!
You virtually have to do nothing, with the slow cooker doing all the work for you.
Get your ingredients to dump in the slow cooker and let it cook on high for 3 hours or low for 6 hours.
Serve over rice, and enjoy.
Teriyaki chicken is simply amazing with the delicious Teriyaki sauce that gives your dish a whole new depth.
As with the best crockpot recipes and slow-cooker meals, just put your ingredients in the slow cooker to cook for a few hours and serve to enjoy!
This is a super-quick dinner option that pairs perfectly with veggies, brown rice, or salad.
The shrimp is marinated in soy sauce, garlic, and honey to deliver bold flavors to your palette.
Top the whole dish with green onions, and enjoy.
With a cook time of 10 minutes, the Manhattan clam chowder concludes our list of easy Sunday dinner ideas.
It incorporates a few ingredients that combine to give an absolutely delicious hot bowl of chowder!
Takeaway On Sunday Dinner Recipes
These lazy Sunday dinner ideas will come in handy for occasions when you do not want to miss out on quality time with your family. They'll also serve excellently when you're too tired to make an elaborate dish.
🍳 Related Recipes
Share with a friend today to put a smile on their face! While at it, see these amazing American comfort food per state!
Love this recipe? Please leave a 5-star 🌟rating in the recipe card below and/or a review in the comments section further down the page.

Try one of my comfort dinner recipes for your next family meal! And if you have any questions, I'm here to help!