Give your dishes a unique, delicious twist with these easy rice paper recipes! Rice paper is an essential ingredient in Asian cuisine, giving dishes a chewy and fun texture to go with various fillings, including meat and veggies.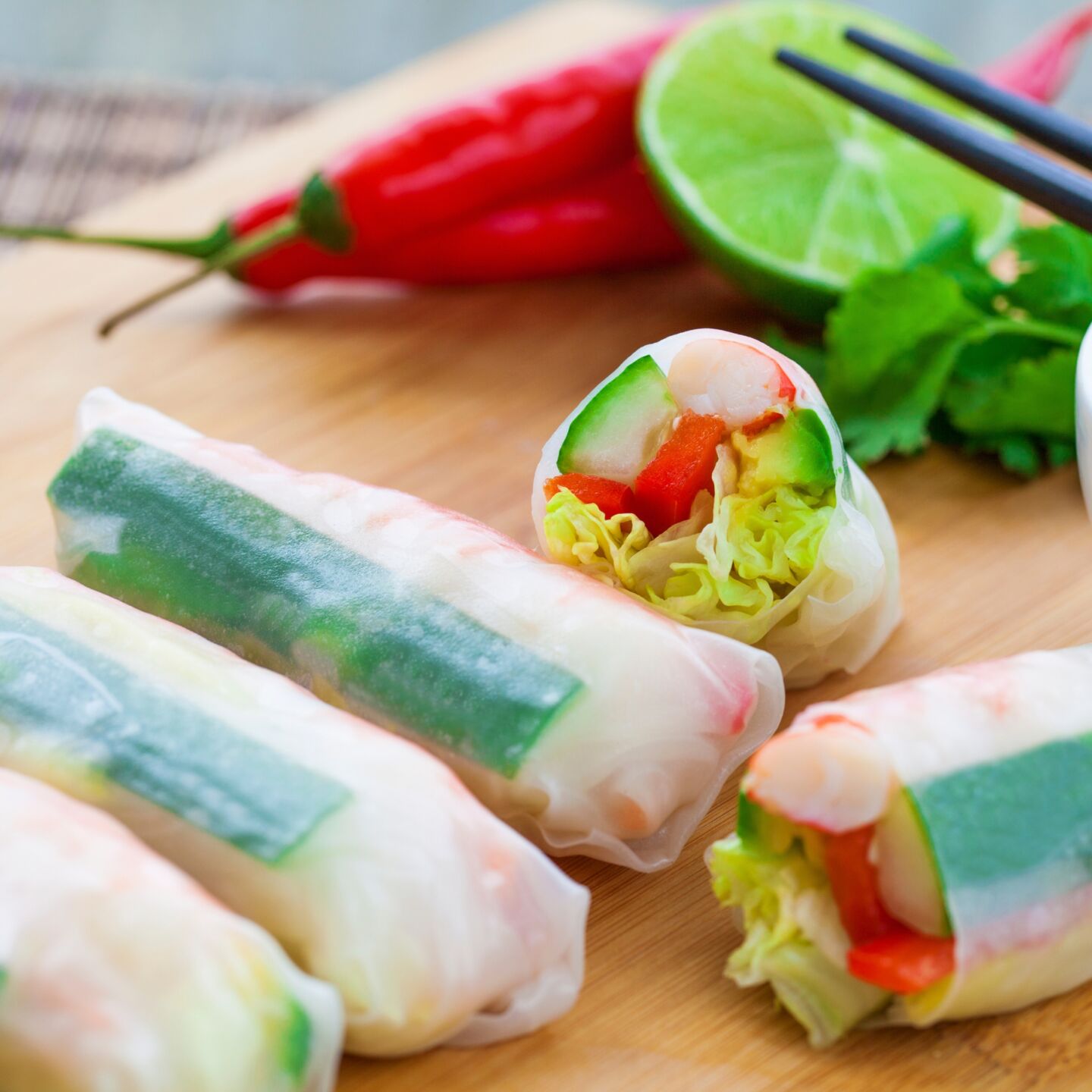 Rice paper is made from rice flour, salt, tapioca, flour, and water, which makes it perfect for people seeking gluten-free wraps!
Asides from dishes, rice paper is also amazing in desserts, proving its versatility as you steam, bake, or fry for different textures!
To start our list of dishes are the crispy rice paper dumplings, a simple delicacy that's sure to bring the family together!
Making dumplings is about to get much easier with this amazingly delicious rice paper recipe. The recipe gives you a crispy and crunchy exterior and a chewy interior of rich veggies just like this old-fashioned apple dumplings.
Veggies in this recipe include mushrooms, green cabbage, ginger, spring onions, carrots, and garlic cloves. It also incorporates tofu, soy sauce, and sesame oil.
It takes only 20 minutes to cook, and you should serve it with a dipping sauce to enjoy.
These spring rolls come in two versions, including the Chinese and Vietnamese variants. The Chinese variant comes with a pre-cooked filling, while the Vietnamese incorporate raw ingredients.
These spring rolls are great as snacks or appetizers and take about 40 minutes to make. Serve them with your preferred dipping sauce to enjoy.
Make a detour from the Asian continent to try these delicious Mexican spring rolls.
The rice paper wrappers pack a delicious and refreshing filling, giving you the perfect appetizer for all occasions.
This filling includes prawns, vermicelli noodles, lettuce leaves, bean sprouts, and mint leaves.
These fresh summer rolls only require 20 minutes to prepare, and you should serve them immediately with peanut sauce.
Rice papers fried in your preferred oil make an absolutely delicious snack you want to save for family gatherings.
The snack recipe calls for only three ingredients, including rice paper wrappers, oil, and your choice of seasoning.
It takes only five minutes to get the chips ready. Serve immediately.
These beef rice paper rolls are a rich appetizer made with a handful of ingredients to please your taste buds.
Your rice paper wrappers hold beef rump steak, rice vermicelli, sweet chili sauce, iceberg lettuce leaves, and coriander.
You only need to cook these in warm water for about 5 - 10 minutes and serve them with more chili sauce.
Get your rice paper wraps to hold a combo of fresh veggies and boneless chicken. The fried spring rolls pair perfectly with a garlic soy dipping sauce.
The ingredients for these rolls include boneless chicken, grape seed oil, garlic, sesame oil, fish sauce, fresh basil, fresh lettuce, and other fresh vegetables of your choice.
The prep time is about 50 minutes, and you should serve immediately to eat. If you want an even bigger chicken summer wrap, check out this Chipotle chicken salad wrap recipe.
In this recipe, rice paper sheets are fried to a crisp and topped with hoisin sauce and plant-based meat.
The filling incorporates neutral oil, carrot, bell peppers, plant-based meat, and hoisin sauce.
Optionally, you can add sugar for sweet flavors, and you should garnish the delicacy with chopped scallions to serve.
These are one of the fruit spring rolls you'll enjoy to the fullest as a gluten-free dessert!
It's a simple dessert of ripe bananas wrapped in a rice paper wrapper, seasoned with apple pie seasoning and sugar, and then topped with caramel sauce.
The rolls take about ten minutes to make, and the fruit dessert is best enjoyed with vanilla ice cream.
If you want a refreshing, easy meal, these vegetable rice paper rolls are the delicacy for you!
They incorporate fresh veggies, including bell pepper, lettuce, cucumber, avocado, basil, cilantro, and red cabbage.
You can add rice noodles and other veggies of your choice to make the best rice paper rolls. Serve the rolls with a peanut sauce or sweet chili sauce to enjoy.
For a super delicious dinner or appetizer, get this salmon in rice paper on the table and watch it become your new favorite dish.
The simple dish takes under 30 minutes to prepare and takes only a handful of ingredients.
These include salmon fillet, soy sauce, Mirin, brown sugar, grated ginger, rice vinegar, and oil. Serve with your preferred sauce to eat.
This street snack is popularly called Vietnamese Pizza, and it's a simple dish of grilled rice paper sheet topped/stuffed with sausage, corn, shallots, vegan egg, and green onions.
The delicious dish is then drizzled with sweet chili sauce and mayo. Serve warm to enjoy.
If you love Vietnamese pizza, you will enjoy these easy pizza pockets.
Instead of Nori sheets, you can use rice paper for an irresistible sushi dish with your family and friends!
This recipe calls for Sushi rice, rice vinegar, granulated sugar, avocado, smoked salmon, carrots, and salt.
Serve the sushi with your favorite dipping sauces or pair it with pickled ginger or wasabi to enjoy.
If you love chickpeas, these wraps are going to be your new favorite dish!
They incorporate chickpeas, red hot sauce, minced garlic, melted butter, and tobacco to give you a savory filling.
These chickpea wraps pair amazingly with Tahini Ranch dipping sauce, and you can garnish them with scallions to enjoy. See more delicacies like this with these easy sandwich wraps recipes.
You can enjoy the taste of bacon as a vegan with this amazingly delicious recipe! It's a simple recipe that gives you a crispy, smoky, and crunchy dish with only a handful of ingredients.
The recipe class for rice paper sheets, maple syrup, dark miso, soya sauce, garlic powder, liquid smoke, and olive oil.
It takes only 18 minutes to prepare and cook this rice paper bacon, and you should serve it immediately to enjoy.
If you want an easy, satisfying dessert that's gluten-free and vegan-friendly, this is the recipe for you.
The dessert requires only five ingredients, including brown sugar, apples, cinnamon, rice paper, and cooking oil.
Bake the rolls for 30 - 45 minutes and serve with your preferred dipping sauce.
These caramelized pork summer rolls are everything you need as a light meal or appetizer at your next event.
They're made of rice papers stuffed with seasoned pork, carrots, cucumbers, scallions, butter leaf lettuce, and vermicelli noodles.
Serve the delicious summer rolls with creamy peanut sauce to eat.
This is a super-healthy appetizer made with lots of veggies and chunks of salmon.
It's the perfect snack for special occasions, incorporating carrots, cucumber, romaine, rice noodles, cilantro, and rice vinegar.
The rolls take only about an hour to prepare, and you should serve them with a peanut or sweet chile to enjoy.
Samosas are a hit as appetizers or snacks on virtually any occasion, and this recipe lets people intolerant to gluten partake in the deliciousness!
The samosa is made with Yukon potatoes, peas, unsalted butter, gram masala, curry powder, black pepper, vegetable oil, and rice papers.
You'll have the appetizers ready to serve with a sprinkle of salt in about 45 minutes!
If you like ramen noodles stuffed in rice papers with veggies, this is the recipe for you.
You get a savory roll filled with cabbage, coconut aminos, carrot, green onion, and gluten-free ramen.
You'll also need garlic powder, ginger powder, rice vinegar, coconut sugar, and avocado oil. With less than 30 minutes to prepare the rolls, you can have it as a light dinner on a busy weeknight with your desired sauce.
These vegan snacks are made from fried rice paper, with a load of seasoning to taste like pork rinds. It takes just five minutes to make these, and you can customize your seasonings as much as you want.
This recipe's seasonings include smoked paprika, umami seasoning, cayenne pepper, garlic powder, and nutritional yeast.
Serve them warm and sprinkle them with desired seasonings to enjoy.
Rice Paper Recipes Takeaway
Regardless of the occasion, these are the best rice paper recipes you can ask for. They make an excellent substitute for glutinous ingredients, and you'd enjoy every bit of the dish they're part of.
🍳 Related Recipes
While you're exploring these recipes, see our best phyllo dough recipes.
Love this recipe? Please leave a 5-star 🌟rating in the recipe card below and/or a review in the comments section further down the page.

Try one of my comfort dinner recipes for your next family meal! And if you have any questions, I'm here to help!