Shredded chicken is one of the most adaptable ingredients imaginable; plus it is so easy and quick to make. Shredded chicken is used in a variety of delicious meals, including as pizzas, enchiladas, salads and soups.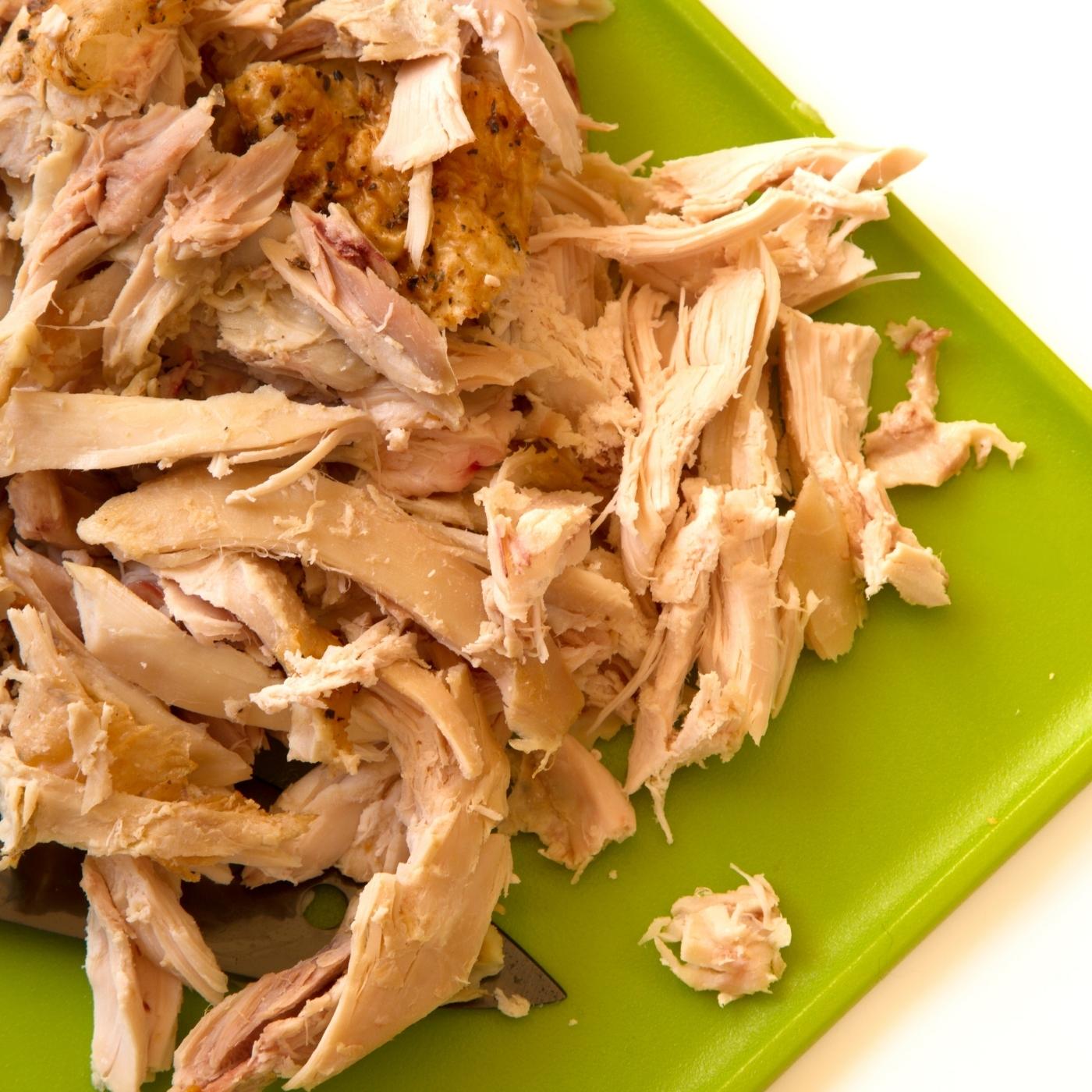 How to make shredded chicken
If the recipe only calls for cooked or shredded chicken, and you don't know how to go about it, don't fret. There are quick and easy ways to make shredded chicken.
First things first, you'd want boneless, skinless chicken breasts or chicken thighs.
Boiling the chicken on the stovetop or instant pot is the most obvious and easiest way of making shredded chicken.
Sautéing and simmering the chicken on a stove top is actually my favorite recipe. It infuses so much flavor while keeping the chicken moist and tender, making shredding so much easier.
Pour a little bit of olive oil into the skillet and heat on medium.
Add the chicken, sprinkle salt and pepper generously on top and cook for 5 minutes or until the top is slightly golden brown. Flip the chicken, add ¾ cup of water or chicken broth/stock, and cover. Cook for another 6-10 minutes or until the chicken is cooked through. Add more broth or water if necessary.
If you have a few hours to spare, you can use the slow cooker/crockpot cooking method. Place the chicken in the slow cooker, add your favorite seasonings, set the crockpot to low, cover, and cook for about 7 hours.
Shred chicken using two forks or a stand mixer.
Can you freeze shredded chicken?
Yes, it's easy to freeze shredded chicken! Remove the chicken from the bowl of shredded meat, drain on paper towels, and transfer to ziploc bags or airtight containers for storage in the freezer. The chicken will keep its quality for roughly 4 months if frozen correctly.
What to do with leftover shredded chicken?
Shredded chicken can be incorporated into a wide range of foods, including hearty stews, fiery tacos, creamy chicken pasta, and chicken salad. If you have any leftovers of store-bought rotisserie chicken or roasted chicken, you may easily transform them into something fantastic!
My favorite 28 recipes with shredded chicken are below, so check them out!
Whether you're craving Mexican food or celebrating Cinco de Mayo, you can never go wrong with this spicy and creamy enchiladas verdes with chicken bake.
Rolled corn tortillas are filled with creamy chicken, spicy salsa Verde, and melty mozzarella cheese for a mouth-watering chicken dish your whole family will love.
Looking to make it vegetarian? Leave out the sour cream, then swap out the shredded chicken with mushrooms or zucchini, and use vegetable stock instead of chicken stock.
Fajitas in a soup version? Sign me up! Besides packing tons of fajita flavors, this soup is incredibly easy to make.
All you need to do is prepare the ingredients, toss everything into the crockpot and cook on low for about 6 hours. Easy peasy!
You can top it however you want. I like mine with tortilla strips and tangy Mexican crema while my kids enjoy their bowl of soup with shredded cheddar cheese.
3. Pulled BBQ Chicken Sandwich
This classic recipe by chef Ryan Tuskan is the best sandwich we've ever tried. It balances a dose of flavor and texture that would be loved by kids and adults alike.
Cooked tender chicken is tossed in sweet and tangy barbecue sauce and topped with crispy onion strings for extra kick and crunch.
The recipe calls for homemade BBQ, which uses a few ingredients and comes together in just 15 minutes. But if you're pressed for time, you can just grab a bottle at the grocery store.
You don't have to wait for summer BBQ chicken to make these flavorful pulled chicken sandwiches tossed in bourbon BBQ sauce.
The bourbon adds notable caramel and vanilla notes to the sauce, giving these sandwiches a whole new dimension of taste!
This shredded chicken sandwich is just the best and always a hit with everyone, especially the kids. You'll never want to make sandwiches any other way.
This mac 'n cheese casserole dish is comfort at its best. It's one of those shredded chicken recipes you need in your back pocket when you're craving creamy, cheesy pasta or looking for something comforting to fix for a friend.
It's remarkably easy to make and doesn't take much either - 1 hour and dinner is ready. You'll never go back to that premade stuff ever again.
This chicken enchiladas recipe has to be one of my favorite Mexican meals. It's ultra-creamy, buttery, and cheesy - a perfect option for a cozy night in.
It's made with shredded rotisserie chicken, flour tortillas, chicken broth, cheese sauce, and everything nice. To make it kid-friendly, cut back or omit the jalapeño and green chilies.
You'll also love and appreciate how easy it is to whip up this shredded chicken recipe - you can have your meal on the table in just 30 minutes.
7. BBQ Chicken and Bacon Pizza
Is there a better pizza combination than the smoky flavors of bacon, tangy & slightly sweet barbecue sauce flavors, and ooey-gooey melted cheddar cheese? It's truly a match made in heaven.
And it's surprisingly easy to make as you only need 8 simple ingredients and basic equipment. I bet this pizza recipe is sure to become an instant family favorite.
Feel free to top it with your favorite toppings and sauce.
8. Pizza with Pesto and Chicken
Take your pizza night to the next level with this incredibly delicious chicken pizza with a Mediterranean touch. Pesto, artichoke hearts, and sun-dried tomatoes will give a unique dimension of taste to your dish.
Plus, it's extremely easy to make; you'll never order take-out again.
Got any leftover store-bought rotisserie chicken? This tried and true chicken noodle soup loaded with vegetables and meat will transform your leftover chicken into a satisfying, deliciously soothing bowl of soup your whole family will love.
If you don't have chicken broth or stock at hand, don't be afraid to make one from scratch. Here's my easy homemade recipe lightly seasoned with garlic and fresh herbs.
If you're looking for healthy shredded chicken recipes, you got to try this healthier version of chicken salad with a Mediterranean twist.
Made with shredded rotisserie chicken, lots of veggies, walnuts, and a hint of Dijon mustard dressing drizzled on top. You'll actually want to eat salad.
You can serve it as it is or with green salad, creamy tomato soup, a platter of fruits, and other delicious healthy sides.
Put your oven-safe skillet or 9 x 13-inch baking dish to good use by making this classic comfort food packed with amazing flavor.
The made-from-scratch biscuits make it extra homey and pure delight.
Your guests are sure to be impressed with this delicious and filling pot pie.
Surprise your family and friends with this outrageously tasty 6-ingredient chicken dish.
Shredded chicken is simmered in bbq sauce then stuffed into amazingly crisp-tender potatoes to make a delicious meal for any party or family gathering.
Top with cheese, cream, chives, or green onions when you're ready to dig in.
This is one of my favorite leftover shredded chicken recipes. Simply combine cooked chicken thighs/ breasts with cheddar cheese, crispy bacon, tangy ranch dressing, seasonings, and potatoes for a super yummy and cheesy bake.
It takes about an hour to prepare this festive dish, but the oven does most of the work for you. All you have to do is shred the chicken, combine the ingredients, toss in the oven, and voila...dinner is ready.
This is one of my favorite ways of making shredded chicken. It's delicious, juicy, and full of Mexican flavor I crave for. The chicken breasts are simmered in rich and savory tomato sauce flavored with chipotle peppers, paprika, and garlic.
It's then shredded using two forks then returned to simmer a bit more to soak up all that spicy, smoky goodness.
There are so many ways to use up this juicy chicken; that's why I recommend making a big batch. Serve it in quesadilla, tostadas, burrito bowls, on nachos, salads, or roll it up in tacos.
Here's another easy, fun way of using shredded chicken. This 15-minute easy recipe creates a well-rounded delicious meal complete with shredded chicken breasts, andouille sausage, veggies, and flavorful creole seasoning.
It's a perfect choice for meal prep, so double the recipe and save half for the freezer. When you're ready to devour, thaw in the fridge and reheat in the microwave.
Serve over crusty French bread, rice, or cauliflower rice for a low-carb option.
Forget about the usual chicken noodle bowl and try this Thai-style version instead. Soy sauce, sriracha, and honey are great flavor boosters, but the umami-rich almond butter sauce is the secret weapon that adds pizzazz to the meal.
Drizzle some toasted sesame seeds for a nice finishing touch, and you've got a flavor-packed meal in just 30 minutes!
You're definitely going to want to add this shredded chicken recipe to your dinner or lunch repertoire.
We can't think of a more comforting meal to warm both your soul and body than this protein-packed Brunswick stew.
It's one of the most delicious recipes I've ever tried yet incredibly simple to whip up. It's one of the easiest shredded chicken recipes you'll ever make.
All you need to do is place all the ingredients in, bring to a boil, reduce heat, simmer for 20 minutes, and you have yourself a hearty stew for the whole family. I guarantee the outcome will make your mouth water.
Your entire family is going to enjoy these flakey chicken stuffed croissants.
These feel-good treats are not only delicious but are ready, start to finish, in just 30 minutes!
They really do make the perfect breakfast or brunch any day of the week.
Is there anyone who can say no to chicken nachos piled high with melted cheese, guacamole, seasoned chicken with a squeeze of lemon? I don't think so.
From the cast-iron skillet to the dinner table in less than an hour, this classic recipe is sure to keep you coming back for more.
It's one of those easy, low-fuss shredded chicken recipes that you need in your life.
Put that store-bought rotisserie chicken to good use with this classic shredded chicken tacos recipe. Crispy tortillas filled with perfectly seasoned chicken and yummy toppings is never a bad idea.
The hard part is really deciding which toppings to add and which ones to leave out. While anything goes, I recommend mixing it up each time you make a batch so that you can find your favorite combo.
Warm up with this healthy veggie-packed chicken chili. It's creamy, cozy, and bursting with tons of amazing flavors that remind you of fall.
It's one of those chili recipes that have the fall vibes all-round.
Double the recipe so that your family can enjoy a batch now and one later.
Chicken tortilla soup is a great way to repurpose leftover rotisserie chicken or the inherently boring and dry chicken breasts.
This hearty soup uses simple pantry staples; it's economical, tastes amazing, and is incredibly satisfying - what more could you ask for?
Finish it off with tortilla chips/strips, shredded melty cheese (I prefer Monterey Jack), diced avocado, and yogurt.
When it comes to my favorite Mexican recipes, this mouthwateringly delicious dish is up there on the list.
There's just something about chicken, saucy barbecue sauce, rich butter, and melty cheddar cheese that tastes so darn good - no wonder it appeals to kids and adults alike.
This ultimate recipe is sure to keep you coming back for more.
This burrito bowl slow cooker version will be your new favorite way to use that frozen chicken sitting in the freezer. Place the skinless chicken breasts in the slow cooker, add taco seasoning, black beans, corn, diced tomatoes, and veggies. Cover and cook on low for about 7 hours or high for 4-5 hours.
Making shredded chicken recipes don't get any easier than that!
Guacamole, salsa, or a dollop of yogurt can add a nice finishing touch to this bowl of goodness.
There's no need to wait for fall or when you're feeling under the weather to enjoy a warm bowl of this hearty and nutritious Italian-inspired soup.
It's loaded with fresh veggies, shredded chicken, cheese, and tons of flavor - the ultimate comfort food.
Serve it with parmesan garlic bread or green salad for an extra touch.
Tender chicken, spaghetti pasta, sliced cucumbers, and bell pepper cooked in rich and creamy peanut sauce is guaranteed to become your go-to weeknight dinner recipe.
It's super yummy, filling, simple to prepare, and ready for the table in 40 minutes or less.
Whether you're looking for a snappy lunch or healthy food for dinner, this Thai-inspired salad is sure to be a hit with everyone. It's crunchy, meaty, colorful, and oh-so flavorful.
The cooked chicken blends beautifully with a rainbow of veggies, providing a perfect balance of good nutrition and taste.
A drizzle of peanut butter dressing on top takes the flavor up a notch. You can serve it on your own for a quick dinner or as a side salad for seafood and hearty stews.
I always use the America's test kitchen enchilada recipe, because it is guaranteed to be perfect. You can't go wrong with a foolproof recipe!
This chicken enchilada recipe is a copycat of their recipe and it is absolutely easy to make and tastes delicious.
Perfect to cook for friends and you can have it on the table in less than 1 hour! AMAZING!
For more comforting and hearty recipes check our my 50 best american comfort food recipes and my new collection of easy soup recipes with chicken.