Calling all chicken and soup lovers! This list of 30 easy but impressive soup recipes with chicken will fill your bowl with goodness.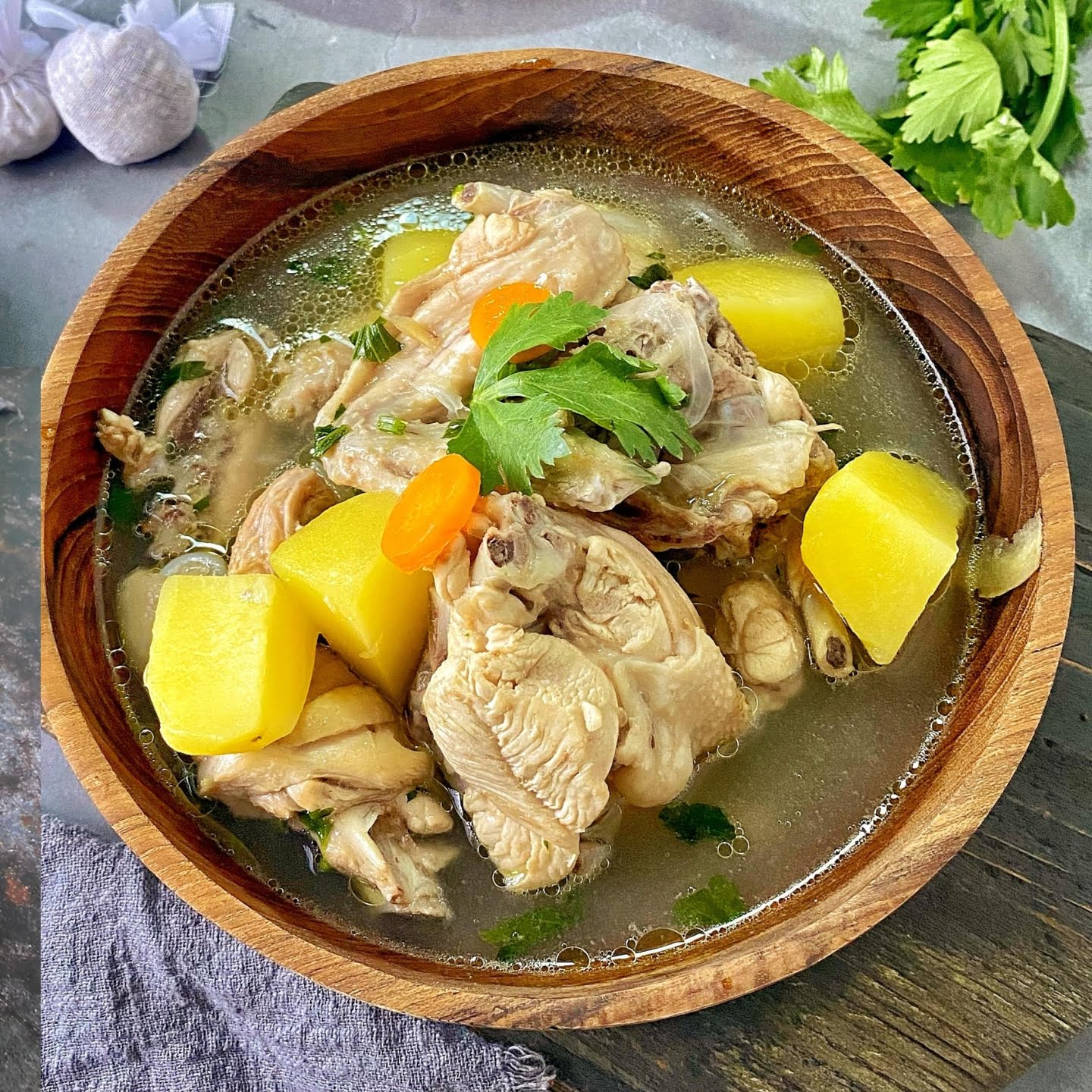 Whether you're looking for a starter to serve at a dinner party and game night, cold weather soups to warm your body and soul, or fuss-free, hearty soups for weeknight dinners, this list got you covered.
While canned soup can work in a pinch, nothing beats the flavor of homemade soup. That's why you need a few great recipes in your back pocket for when you're hankering for something tasty and cozy.
If you are a soup fan like me, you must explore my collection of easy soup recipes and potato soup recipes with few ingredients that will warm your heart. Best part? you can add some delicious soup toppings that will enhance the flavor of your soups.
These chicken soup recipes are oh-so-good; you'll want to make them all! Happy souping!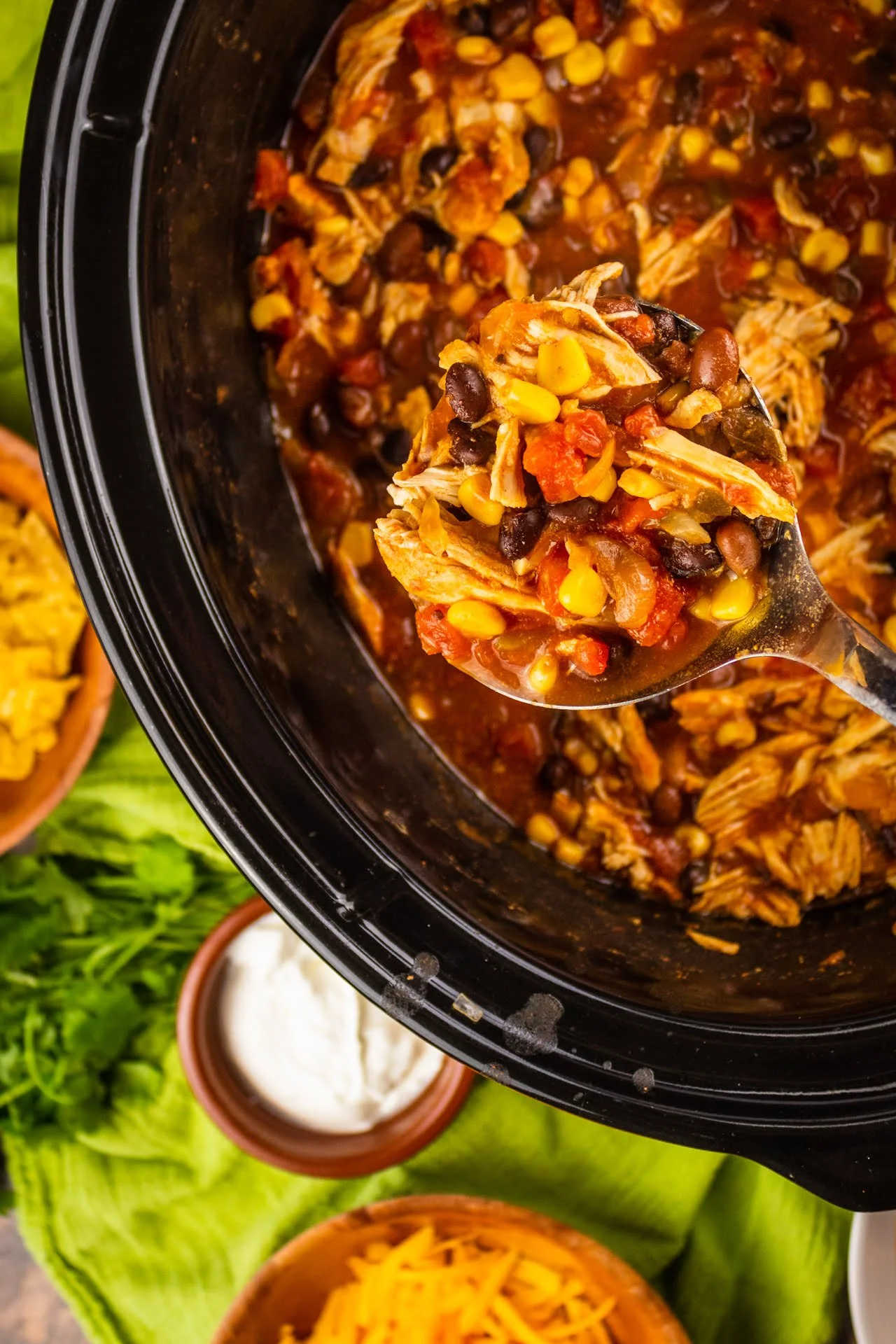 This delicious soup will be a welcome addition to your taco Tuesday menu or any night you're craving Mexican food.
It's loaded with all the good stuff you love about tacos; corn, black beans, tomatoes and taco seasoning.
Finish this robust soup with a squeeze of fresh lime, avocado, cilantro and a sprinkle of cheddar cheese.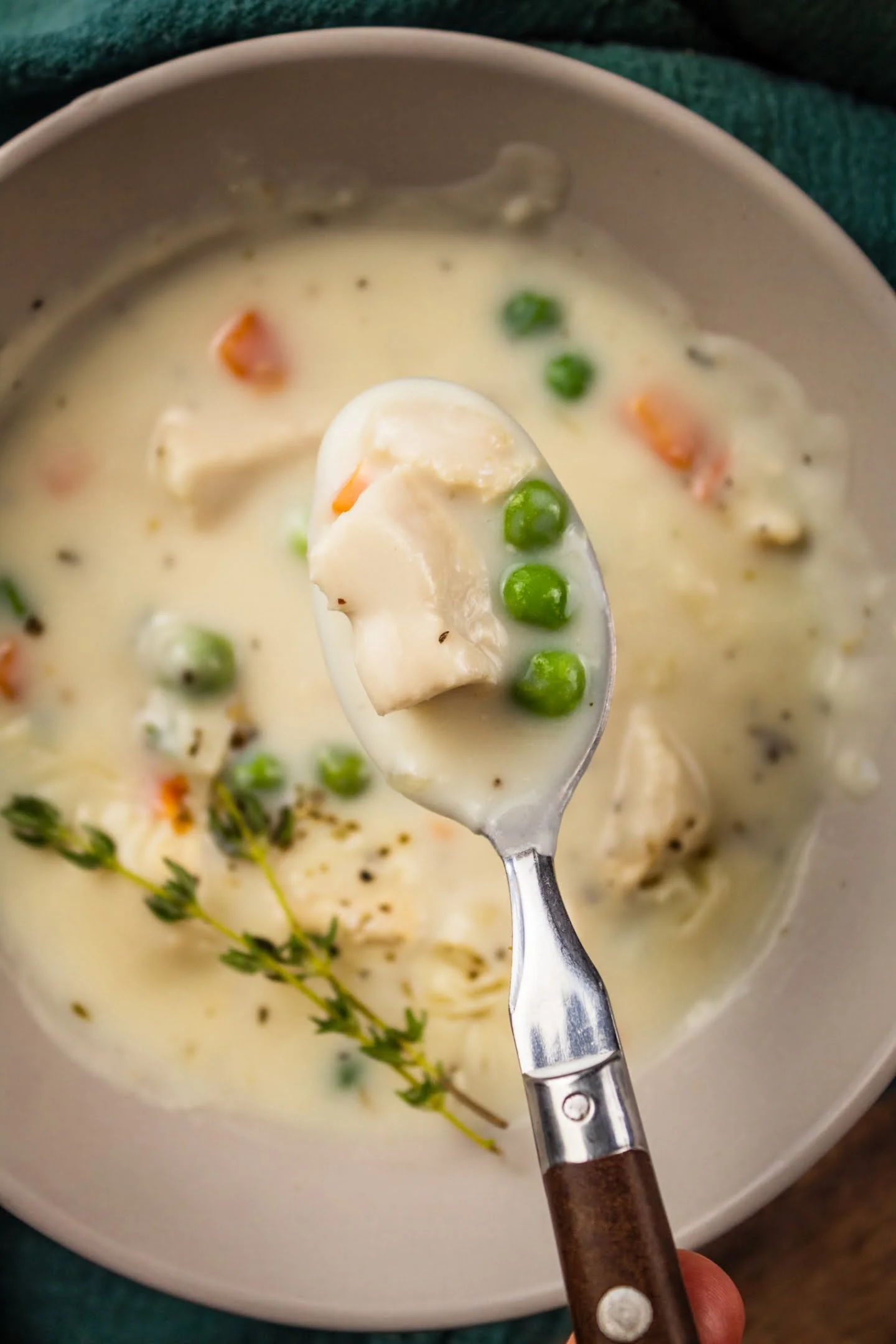 Enjoy all the cozy flavors of this unbelievably creamy homemade cream of chicken soup.
It combines chicken broth which gives the soup a rich and flavorful base, while the addition of milk makes the soup creamy and thick.
The shredded chicken adds protein and substance to the soup, making it a complete and satisfying meal.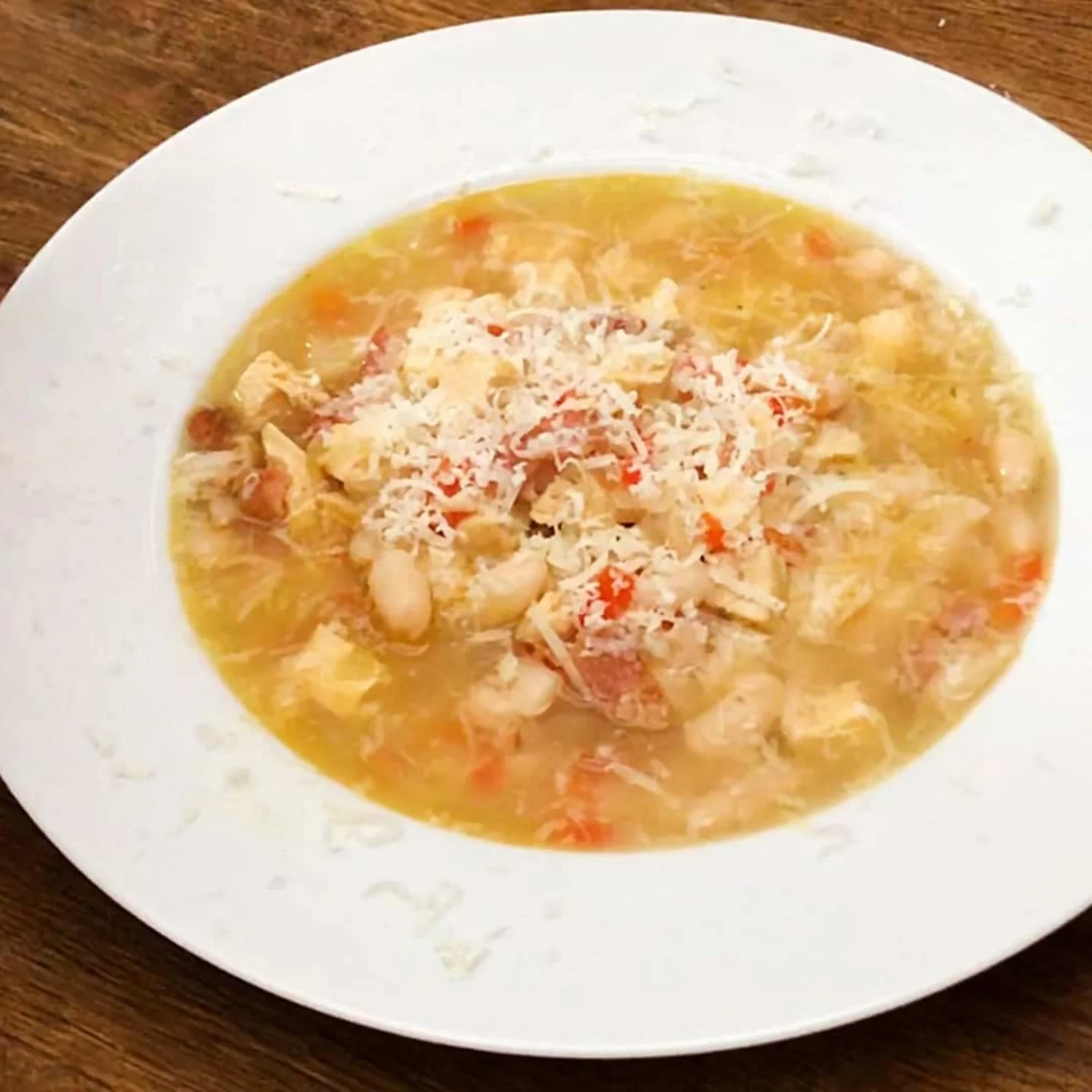 This easy, low-effort Portuguese-style chicken soup recipe comes together with just a few ingredients.
It's packed with chicken breasts, white beans and bacon and uses garlic, bay leaves, and cayenne pepper to spice things up.
I enjoy this topped with grated parmesan cheese and some crusty bread on the side. You can also serve it with green salad or jalapeno cheese buns.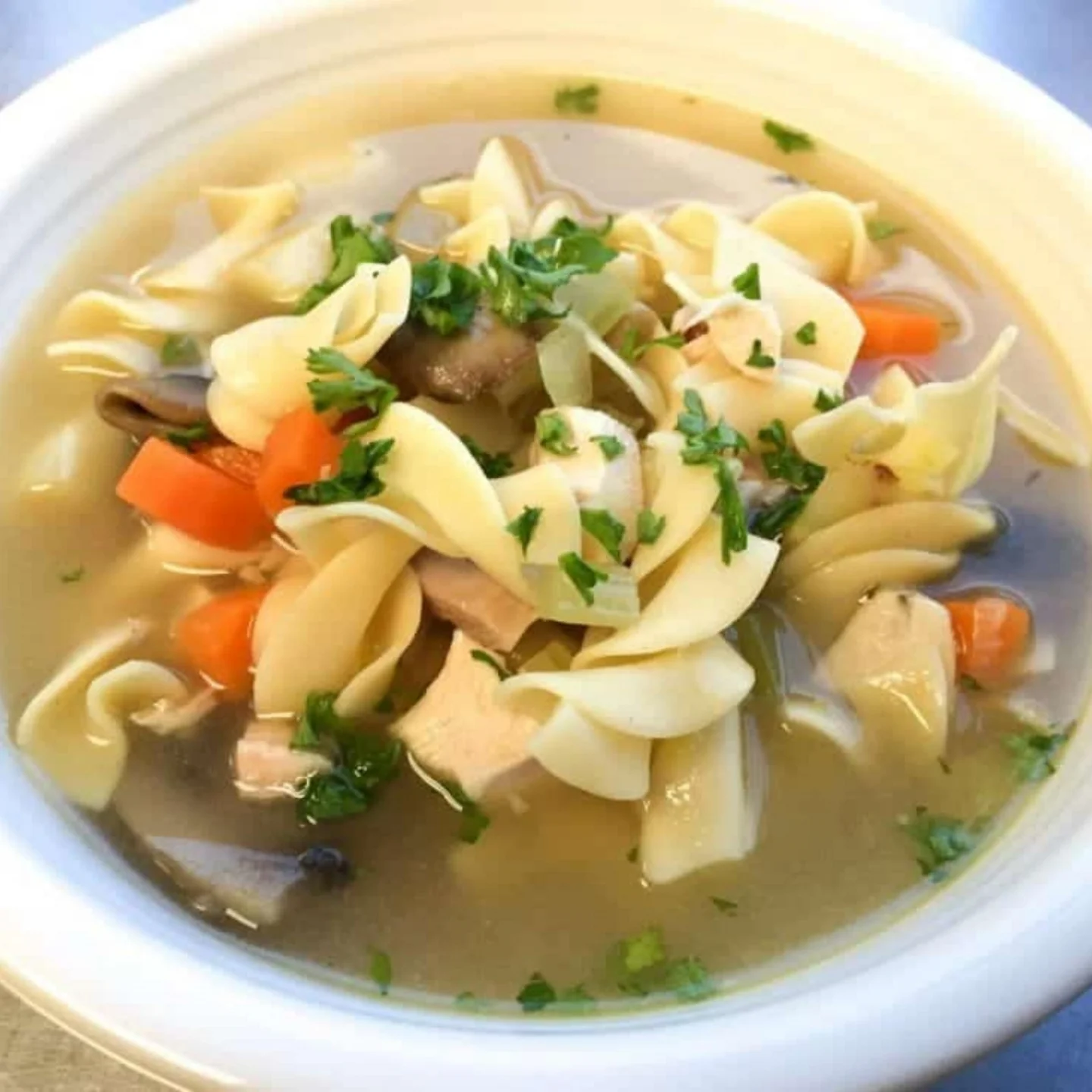 There isn't a more classic soup than homestyle chicken noodle soup.
Loaded with noodles, chicken, mushrooms, carrots and parsnip, this hearty soup will warm you up on cold nights and sick days while satisfying every craving.
The homemade chicken stock is full of rich flavor and super easy to make with a handful of basic ingredients. It's easier on the wallet, too.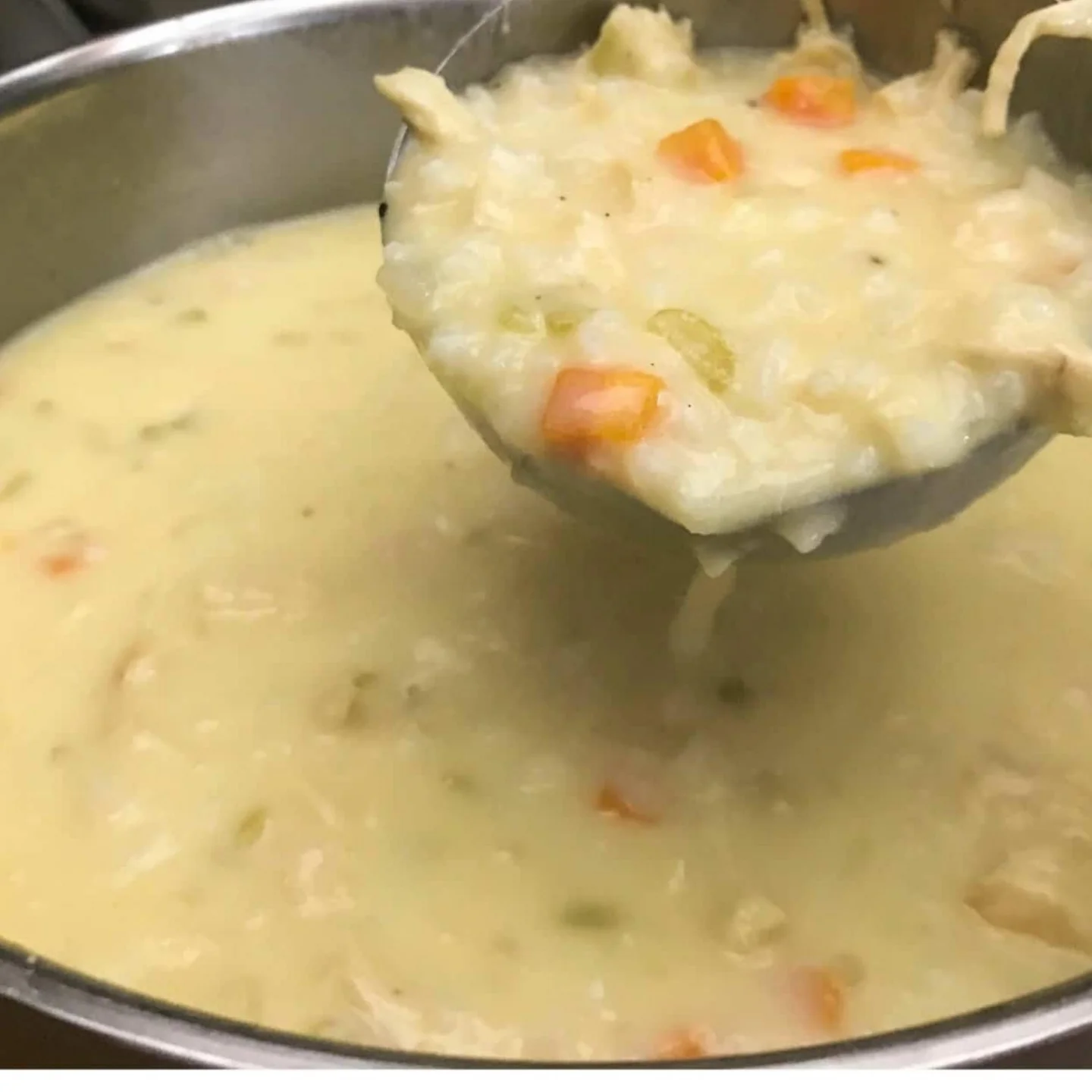 Popularly known as Greek avgolemono soup, this recipe is so good and will undoubtedly become part of your regular meal rotation.
The broth is thickened with eggs and brightened up with a generous squeeze of lemon juice. It's so warm, hearty and ready in less than an hour, making it a welcoming weeknight dinner.
You can also make lemon chicken orzo soup by swapping out rice for orzo.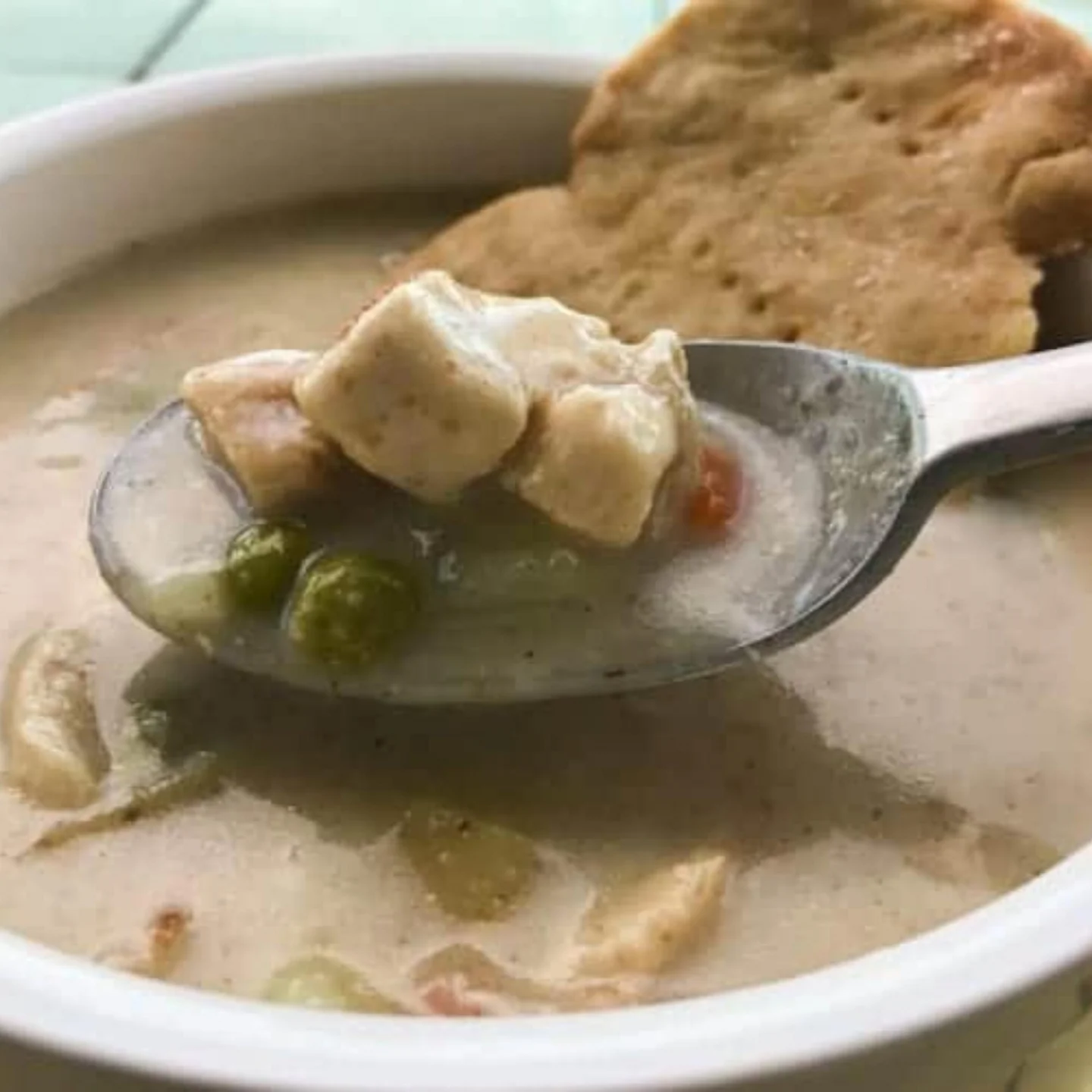 With a hearty mix of potatoes, carrots, green peas, chicken breast and chunks of buttery pie pastry for dipping, this is everything you love about chicken pot pie in soup form.
It's absolutely delicious and so easy to whip up. I guarantee you'll be hooked after just one spoonful.
I made the pie pastry from scratch for a better flavor and texture, but premade store-bought pie crust definitely works in a pinch.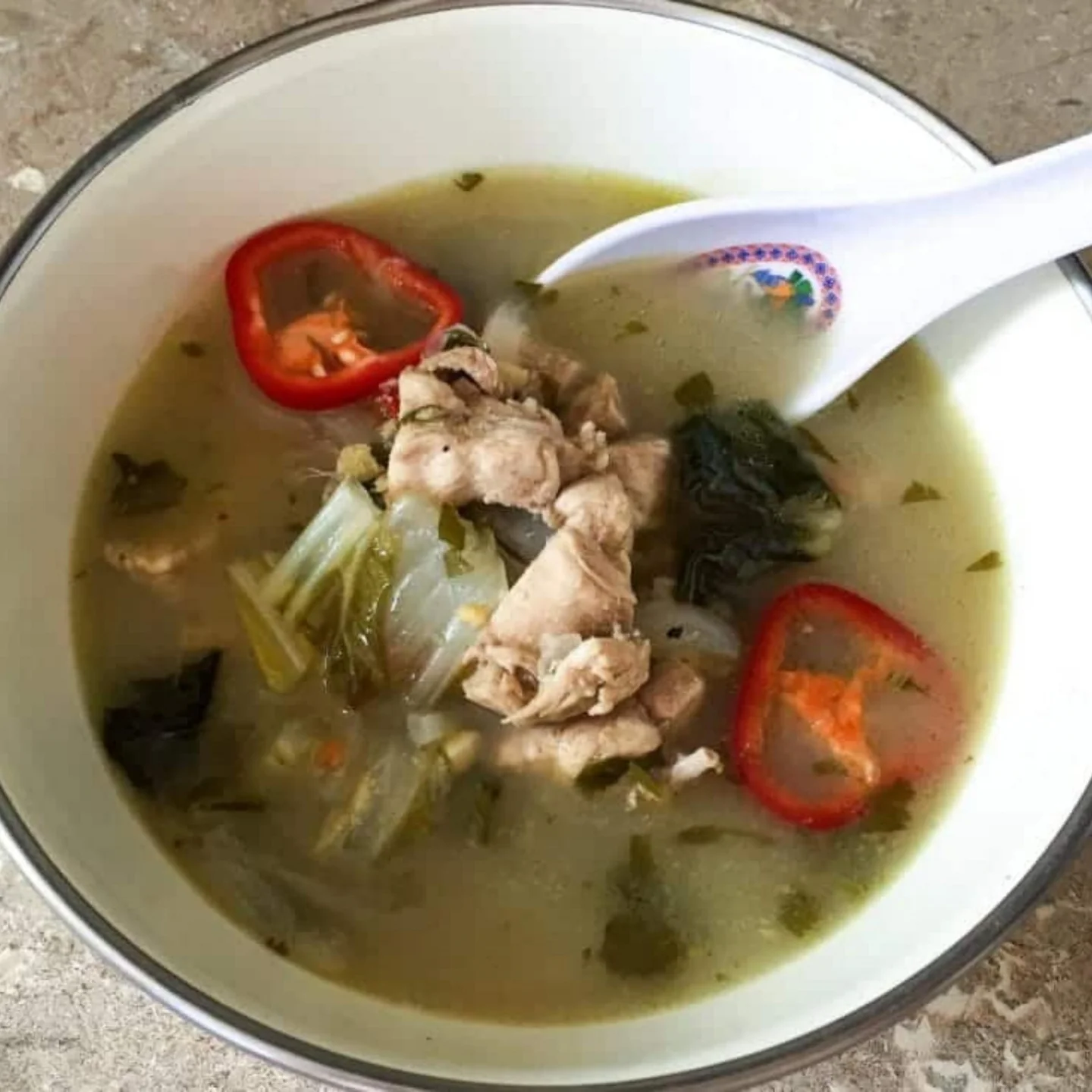 Brimming with bold, authentic Thai flavors, this simple chicken soup recipe won't disappoint.
Tender chicken and veggies simmer in a light but flavorful broth infused with lemongrass, fish sauce, coconut milk and seasonings.
The Thai chili delivers just the right amount of heat, but you can add more if you like your soups spicy.
Feel free to add in some mushrooms and ramen noodles for a heartier soup.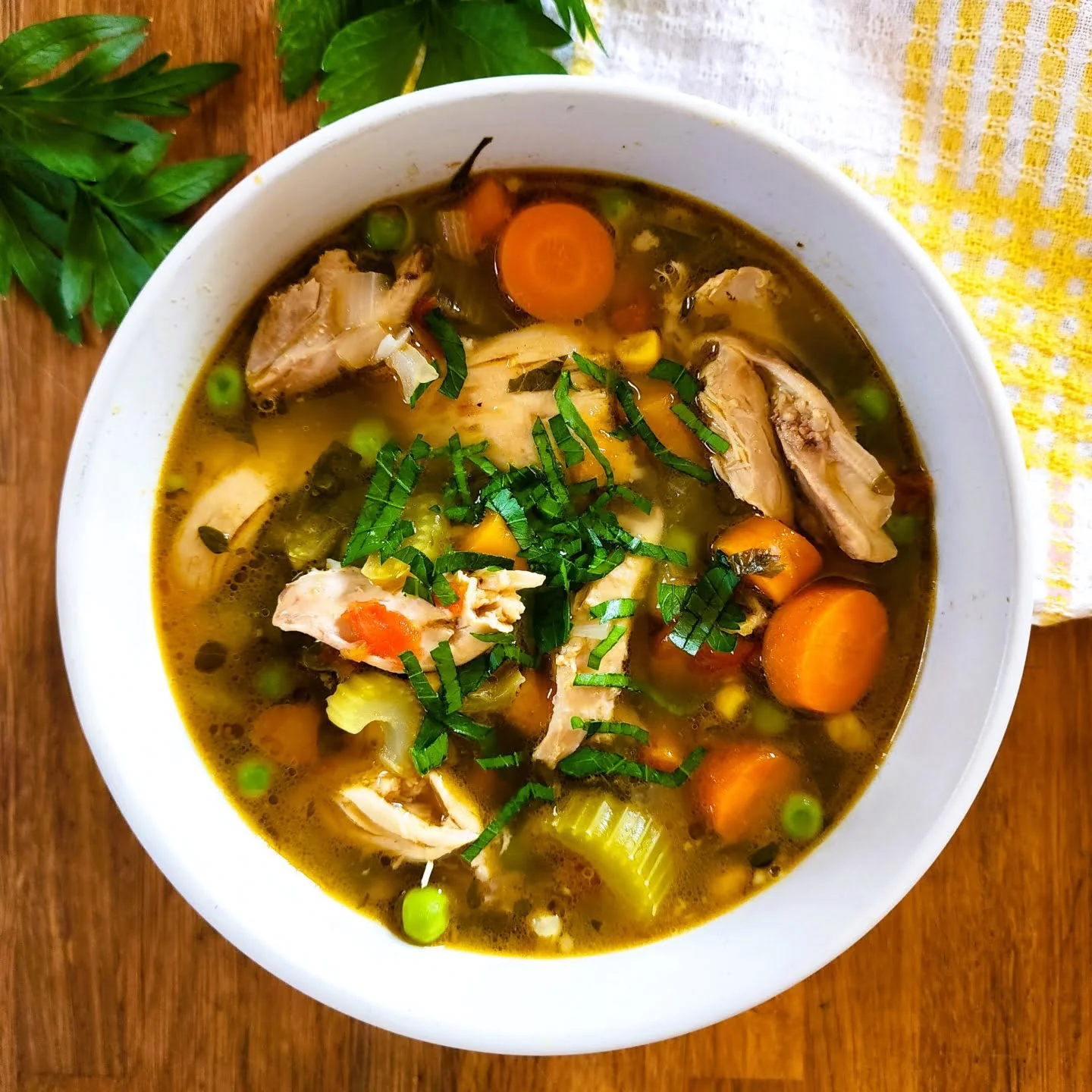 All your favorite vegetables and fresh herbs flavors in a warm, hearty soup! This is the true definition of pure comfort food.
A garlicky browned chicken legs is filled with hearty bits of herbs, carrots, celery, corn and peas and finished off with some finely fresh parsley for a wonderfully piping hot soup.
Loaded with chicken breast, rice, veggies, ginger, garlic and dried herbs, this soup is jam-packed with flavor the whole family will love.
This tasty recipe is ready in minutes and involves minimal hands-on cooking time. All you have to do is sauté the veggies and the machine does the rest. Easy peasy!
There's just something about chicken and wild rice combo that is so comforting, especially in soup form.
In this recipe, meaty chicken breasts are slow-cooked in a rich flavorful broth paired with wild rice, carrots and celery stalks.
It's simple, quick, delicious and filling- this chicken wild rice soup is a winner in every sense of the word.
Chicken and broccoli in a creamy, cheesy broth and savored with a toasty hunk of bread is just what you need when the cool breezes trickle in.
Did I mention it's ready in just 30 minutes? Perfect for a cozy weeknight date.
This is one of those chicken soup recipes that you'll turn to again and again.
It has tons of flavor boosters that you probably have on hand - garlic, thyme, nutmeg, marjoram, oregano and of course, salt and pepper.
The aroma alone will definitely win you over. Serve it as is or with a hearty green salad or crusty bread for a complete meal.
A steaming bowl of robust and boldly flavored king ranch chicken soup is all you need when the temperatures dip.
Chunks of skinless chicken breasts are slowly simmered in a broth flavored with garlic, cumin, chili powder and butter.
It's warm, it's cozy and the intoxicating aroma that fills the entire house while it cooks will make your mouth water.
To take this soup from starter to dinner, accompany it with some cornbread, grilled cheese sandwich, or fluffy biscuits and roasted green beans. Also, don't forget the toppings!
If you're looking to impress family, friends, or a date with a home-cooked meal, this creamy soup is your ticket.
It's luxuriously creamy, deliciously indulgent and incredibly filling - every bite is seriously to die for. Don't expect to have any leftovers!
The magic of this hearty chicken soup is all in that incredibly rich, creamy and delicious broth.
It's flavored with the perfect amount of coconut milk, fish sauce, chicken broth, red curry, garlic and lime juice.
Add in chicken, mushrooms, bell pepper and carrots and you have a hearty meal ready to be devoured.
You just can't go wrong with a hot bowl of chicken tortellini soup to warm your body and soul.
It's loaded with all the good stuff- cheese tortellini, sun-dried tomatoes, heavy cream, Italian seasoning and dried herbs.
It's delicious as-is, but you can also add in some cannellini beans, extra veggies and substitute spinach for Swiss chard or bok choy, if you'd like.
Shredded rotisserie chicken, mushrooms, pasta and wonderfully creamy broth - who can possibly turn this dish down?
I guarantee it'll turn into one of your favorite chicken soup recipes as soon as you take your first spoonful.
One spoonful of this flavorful masterpiece and you'll be hooked forever! Chicken thighs, andouille, veggies and lots of seasoning, what more could you ask for?
Not only is this dish easy to whip up, but it also makes a great freezer-friendly dish for nights when you don't feel like cooking.
You'll have no problem getting everyone at the dinner table when you serve this creamy, cheesy soup. It has all the delicious flavors of lasagna, but in a creamy soupy form.
Incorporating slow-roasted garlic into the soup adds a deliciously mellow umami flavor, while mushrooms bring more bite to the bowl.
It gets its creamy, silky texture from half and half, but coconut milk or even whole milk would also work.
This flavor-packed soup always hits the spot on chilly nights.
It's made with a comforting, richly-seasoned enchilada-green chiles broth alongside cooked chicken, coconut cream and loaded up with avocado slices and cilantro.
But feel free to add sour cream, green onions, cheese, or any toppings you want.
This creamy chicken soup will make your heart melt. It's made with chunks of chicken, ham, white wine, chicken broth, milk, swiss and gruyere cheese.
Finish it off with parsley for a pop of color and toasted croutons to soak every bite. Creamy, cheesy, meaty, savory- you'll want to serve this delectable soup for company.
Bite-size chicken pieces, vegetables, coconut cream, apples and spices make for a totally addicting chicken soup.
In addition to being flavorful and extremely satisfying, this hearty soup comes together in just 20 minutes from start to finish.
Chicken soup recipes don't get much easier than this.
Got any leftover roasted chicken or rotisserie chicken on hand? Give it new life by making this outrageously delicious and healthy chicken soup.
It's enriched by the flavor of garlic, fennel seeds, oregano and ready in just 40 minutes or less.
Keep this fuss-free recipe in your back pocket for busy nights when craving something comforting that packs a healthy punch.
There's no pre-cooking on a stovetop for this easy chicken soup recipe!
Just toss everything into your slow cooker, turn the heat on and wait for it to cook down to a warm, comforting goodness.
Finish it off with a splash of heavy cream to make it extra special. But if you're planning to freeze some for later, leave out the cream and add it when reheating.
If you love Mexican food, this is a must-try. It's hearty, comforting and rich-tasting - exactly what you need when the temp drops in a cold snap.
Plus, with the help of canned white beans, leftover chicken (or rotisserie chicken) and leftover rice, it's incredibly easy and quick, too.
There's nothing quite like digging your spoon into a cheesy bowl of chicken parmesan soup, no matter what the season is.
This recipe combines parmesan and mozzarella alongside shredded chicken, pasta, tomatoes and aromatics to create a deeply flavorful and comforting dish that you won't be able to get enough of.
This creamy take on a classic chicken noodle soup will be an instant hit with the whole family.
Not only is this creamy chicken noodle soup insanely delicious and comforting, but it's also extremely easy to put together.
For a gluten-free option, swap out the egg noodles for spiralized zucchini noodles.
Pan-seared chicken adds a rich depth of flavor to the soup, which is embellished with bacon, spinach and cheese and seasoned with Italian seasoning and paprika.
Crushed red pepper flakes give it a bit of kick, but if you want more heat, double the amount or consider adding cayenne pepper.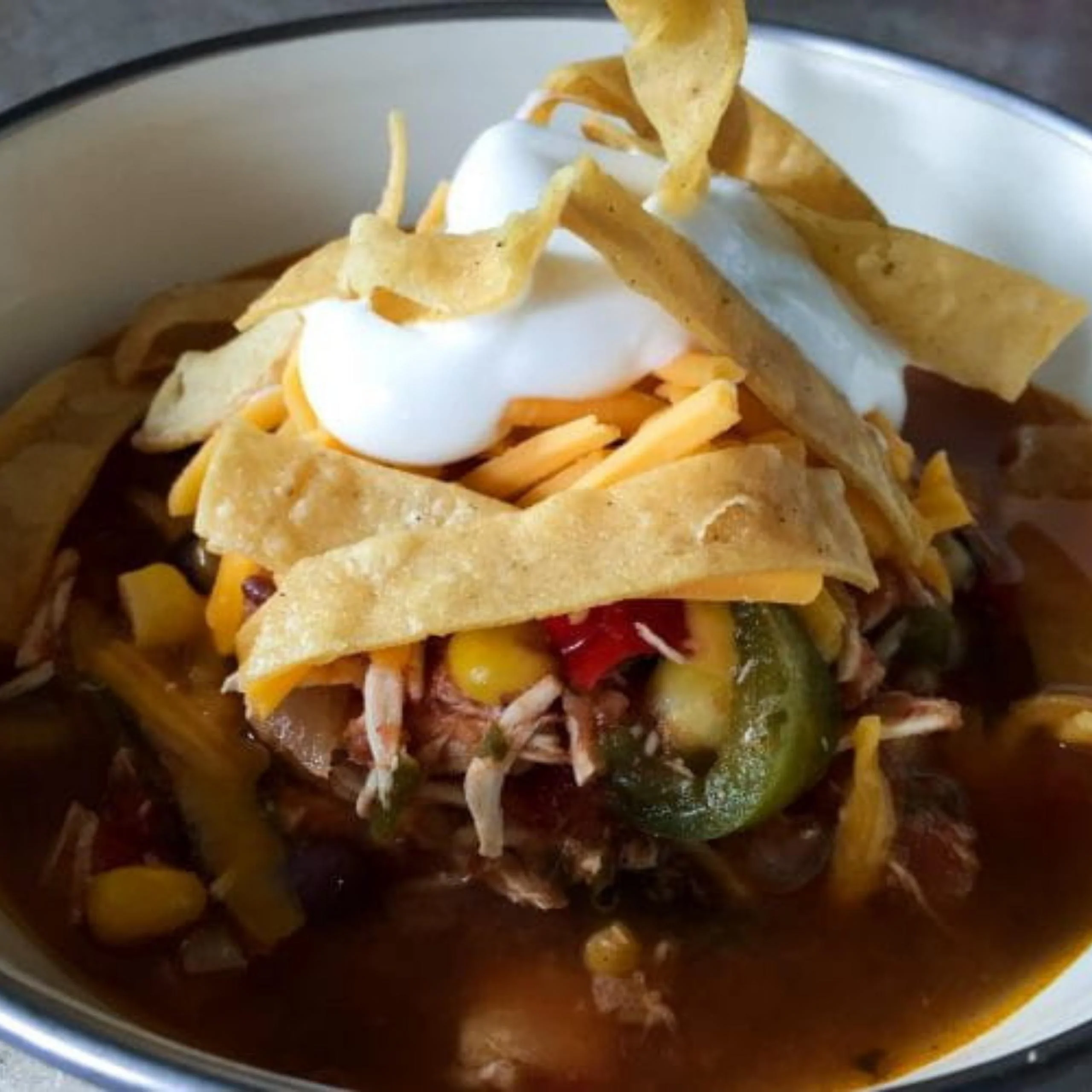 Chicken soup recipes don't get much easier than this slow cooker soup recipe.
It requires very little effort and rewards you with an incredibly delicious, satisfying soup that you can enjoy throughout the week.
Top with a dollop of tangy sour cream, crispy tortillas, fresh cilantro, and rich cheddar cheese to sass it up.
If you enjoy tacos or taco soup, I guarantee you'll absolutely love this chicken tortilla soup.
Just like chicken taco soup, it's hearty like chili but brothy like soup. The corn tortilla strips soak up some of the deliciously spiced broth and soften just enough.
You can serve this dish as is, but garnishing it with thinly sliced avocado, red onion, lime wedges and fresh cilantro will certainly take it over the top.
Related Soup Recipes
If you like this collection of best soup recipes with chicken, then you should check it out one of soup inspiration ideas.
Love this recipe? Please leave a 5-star 🌟rating in the recipe card below and/or a review in the comments section further down the page.

Try one of my comfort dinner recipes for your next family meal! And if you have any questions, I'm here to help!