It's no secret that I love potatoes. I enjoy this humble veggie in any form - fried, roasted, baked, or breaded. And when I need something comforting to beat the winter chill, potato soups and stews are like little bits of heaven.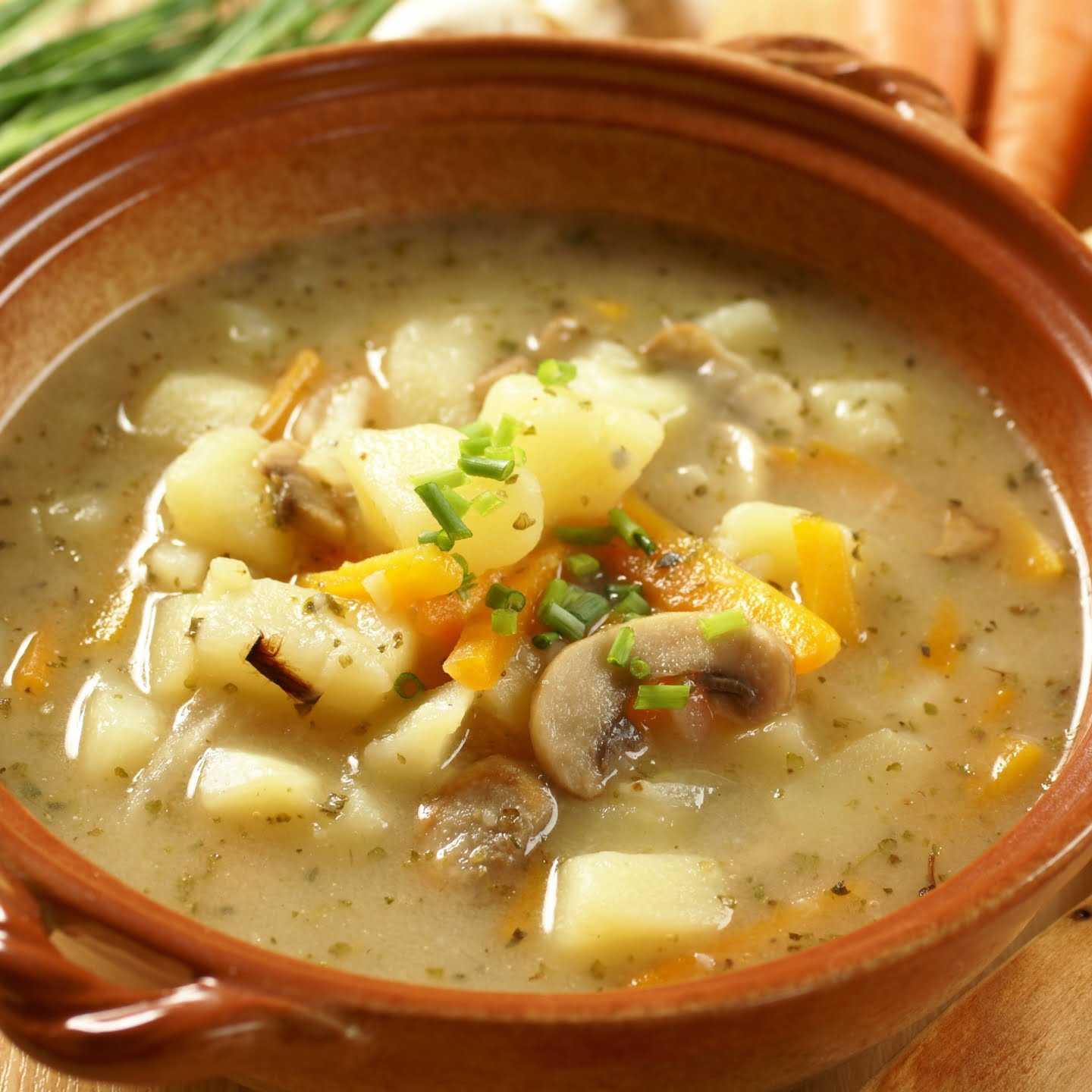 Below, I've compiled a collection of the most delicious, soul-warming and drool-worthy potato soup recipes with few ingredients that are sure to become a staple in your kitchen all year round.
While there's nothing like a bowl of ultra-comforting potato soup, a fuss-free meal is everyone's dream come true. Best part? you can add some delicious soup toppings that will enhance the flavor of your soups.
These recipes call for 10 ingredients or less (excluding water and staples like oil, salt and pepper) and are incredibly easy to make. They'll come in extra handy on busy weeknights, cozy weekends, or when unexpected guests drop by. If you want chicken soups then I recommend you to explore my collection of easy soup recipes with chicken.
From creamy to chunky, stovetop to slow cooker, vegetarian to meaty soups, you're sure to find a few new favorites on this potato soup recipes list.
Frequently asked questions
Can you refrigerate leftover potato soup?
Yes. You can store your potato soup in the refrigerator for 3-4 days in an airtight container.
Can you freeze potato soup?
Yes, but it depends on the type of potato soup. Soups with any kind of cream or milk base don't hold up well in the freezer. They tend to separate, resulting in a grainy texture when thawed and reheated.
Additionally, soups that use non-dairy milks like almond or coconut milk, hold up a bit better, but the texture still won't be the same.
On the other hand, potato soups with no dairy freeze pretty well and can be stored in the freezer for up to 3 months in freezer safe containers or zip lock freezer bags.
This potato soup recipe is proof that soups don't need a laundry list of ingredients to be good. You only need 5 ingredients to whip up this rich and creamy soup.
Best of all, everything goes into the slow cooker so you can come home to a meal ready to be served.
Whether you load it up favorite toppings or not, this soup tastes amazing.
Chicken broth provides a flavorful base, dill adds a bright, slightly sweet and lemony undertone, while half and half gives the soup a silky, luxurious texture.
Not only is this velvety soup a snap to make, but it's vegan and naturally gluten-free, too.
It would be a welcome addition to your dinner or holiday table and the leftovers taste even better the next day.
If you prefer to skip the mild hassle of cutting and cooking and pureeing pumpkin, use the canned stuff instead.
This creamy and comforting soup is a great way to fill up your belly on cold winter days.
Top it with crispy bacon pieces, shredded cheddar cheese, green onions and sour cream, then serve it alongside for a dish you'll make to make again and again.
This easy potato soup recipe transforms 3 basic ingredients into a bowl of savory and creamy (without using heavy cream) goodness that will please everyone at the table.
The best part? It comes together in just 20 minutes and keeps well in the freezer for those nights when you want a comforting meal but don't have the time to spend it in the kitchen.
Bring some bits of Irish to your kitchen with this rustic and simple Colcannon Soup recipe. It features onions, cabbage and potatoes with butter and cream for good measure.
The result? A filling, comforting meal-in-a-bowl. Serve it solo or alongside crispy Irish cheddar sticks.
You're going to want to make this wholesome Tuscan sausage potato soup recipe all fall and winter long. It's easy, tastes amazing and makes great leftovers.
If you or someone at the table is not a fan of spicy food, swap out hot Italian sausage for sweet Italian sausage.
Chicken broth, cheddar cheese, cream of chicken soup and cream cheese make for a supremely creamy, stick-to-your-ribs potato soup you won't soon forget.
All you need is a bowl spoon and some buttery biscuits for dunking.
Root veggies, Italian sausage, garlic and stock combine to make a hearty, nourishing and surprisingly good soup that's perfect for a chilly day.
You can enjoy this soup as is or add seasonings like smoked paprika, thyme, Creole seasoning, or even wine to match your favorite flavor profile.
Made with boxed Au Gratin potatoes, smoked sausages, Velveeta cheese and hot sauce, this homemade soup is easy to make and filled with cheesy, spicy and smoky goodness in every bite.
It's perfect for a cold night or whenever you need a delicious bowl of potato soup.
Tender bites of potatoes, shredded zucchini, and carrots are cooked in bacon grease and dill-infused chicken broth for an out-of-this-world flavor.
A splash of cream gives it some lift without being too heavy. Stir in some parmesan cheese before serving for an extra bite of flavor.
Plenty of garlic and sweet smoked paprika gives this soup a nice punch of flavor. It's rich, lightly creamy and absolutely delicious - even kids will love it.
This cold-weather meal goes from soup pot to bowl in just 30 minutes.
With a rich blend of potatoes, broccoli and cheddar cheese, this creamy potato soup is sure to warm you up from the inside out.
And the best part is that it comes together in just 30 minutes from start to finish, making it a perfect fall weeknight dinner.
Everything is cooked low and slow for several hours; then, heavy cream is stirred in just a few minutes before you're ready to serve to help thicken potato soup.
Mashing half of the potatoes also adds a nice creamy mouthfeel to the soup. But if you prefer a creamier, smoother texture, puree all the potatoes in a blender or immersion blender.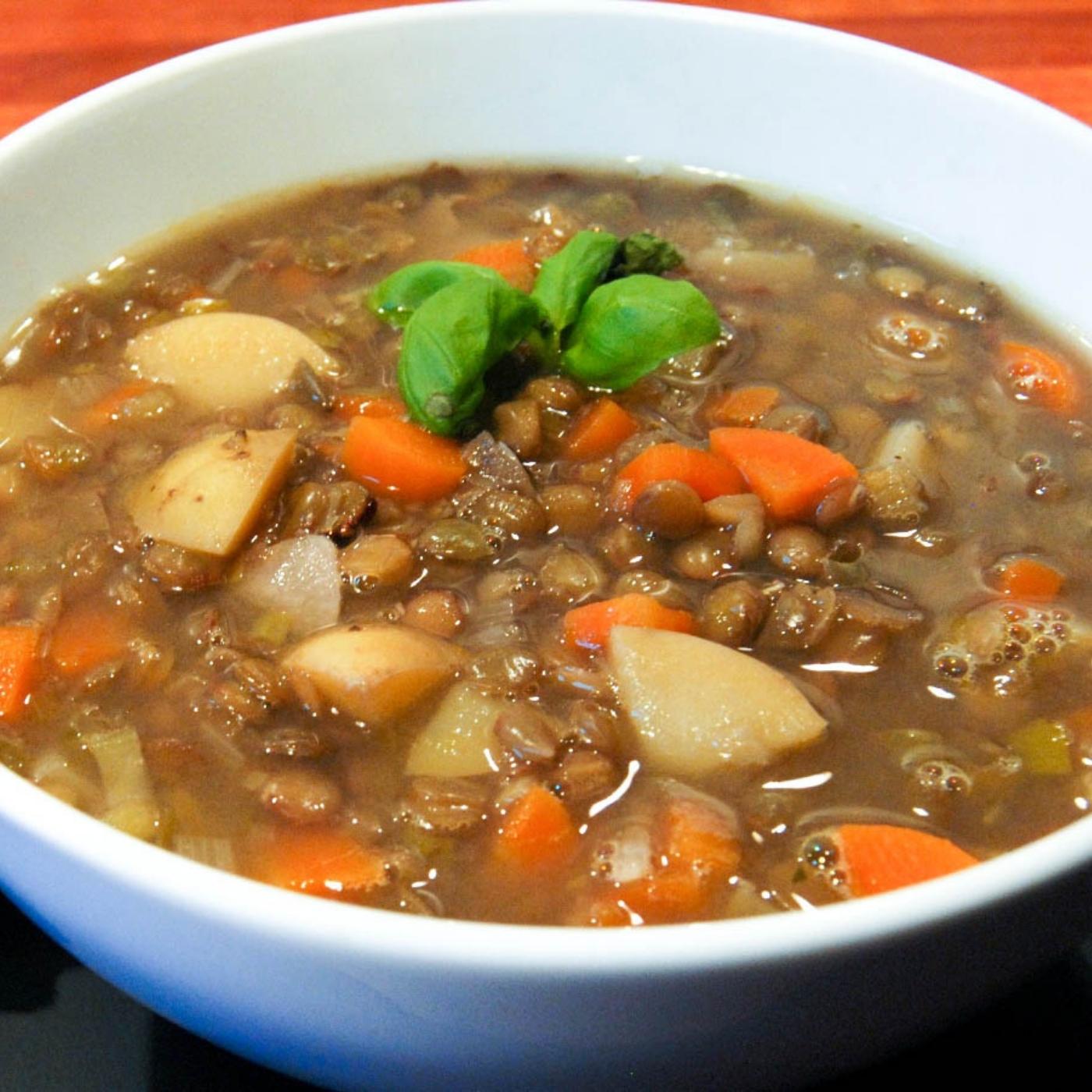 Nutritious and filling, you can make this soul-warming, easy-to-make potato soup recipe in just 45 minutes.
Double the batch and save half in your fridge or freezer for busy weeknights.
This is one of my favorite dairy-based soups. It's spicy, smoky and lightly creamy, just how I like it.
Andouille sausage and Cajun seasoning are the stars of the show. They give this creamy potato soup a complex, smoky flavor in just 30 minutes.
This cozy soup gets a boost of flavor from fresh dill, while whole milk and cream add an extra layer of richness.
Serve it with crackers or fresh, crusty bread for a satisfying meal that will warm you up on cold fall and winter nights.
A handful of pantry ingredients and 30 minutes are all you need to make this hearty dish. You're sure to receive major compliments when you serve this alongside soft buttery bread for dinner tonight.
You can easily double the recipe and enjoy this yummy soup for lunches throughout the week.
If you're looking for a delicious vegetarian soup your entire family will love, this recipe will not disappoint.
Potatoes, carrots and leek are gently cooked in a light yet gloriously flavorful vegetable broth flecked with mixed herbs and black pepper.
This old-fashioned potato soup will remind you of growing up at Grandmas.
Serve it as is, or garnish it with green onions, sour cream, chives, crispy bacon bits, or whatever you have on hand for lighter baked potato soup.
Loaded with bacon, chicken, potatoes, carrots, spinach and bacon, this is the ultimate potato soup recipe.
It's hearty, full of flavor, quick and can easily be doubled for impromptu guests. The recipe calls for red potatoes, but russet potatoes or Yukon gold potatoes also works.
This fantastic and insanely delicious soup is guaranteed to win rave reviews at the dinner table. It gets its great flavor from steak sauce, cumin, chili powder and cayenne pepper.
Serve with a hunk of crusty bread and crisp green salad for a meal that's sure to please without too much effort
There's something about the combination of sausage, potato and spinach that is so comforting and satisfying - especially when wrapped in a creamy broth.
This recipe relies on heavy cream and milk to give it a thick creamy texture, but feel free to leave them out or coconut milk instead if you prefer a dairy-free soup.
If you're into creamy, spicy soups, this might become your go-to recipe.
Jalapeños give the old-fashioned potato soup a spicy twist that's extra warming on a chilly night. Serve it with pancetta and a dollop of sour cream or yogurt if desired.
This Polish-style soup couldn't be easier. All you have to do is sauté onions with bay leaf over medium heat, add sauerkraut and stock and simmer gently, stirring occasionally.
Add the veggies and seasoning and continue to simmer to your desired consistency…and voila, your dish is ready!
This garlicky, decadently cheesy cauliflower soup is another favorite of mine. It's oh-so-good and can be made with just a few ingredients.
I usually pair this soup with a slice of warm buttery bread or some flaky buttermilk biscuits for down-home comfort.
You don't have to wait for St. Patrick's day to indulge in this sinfully cheesy and creamy potato cheese soup.
This recipe is wonderful as is, but you can jazz it up with jalapenos, smoky bacon and more cheese for an extra burst of flavor.
Diced potatoes, corn, leek and chicken stock are cooked in a soup pot over medium heat for a few minutes, then tossed in an immersion blender and pureed until smooth and creamy.
It's topped with spicy shrimps for a deeply flavorful and satisfying meal.
This yummy soup hits all the right notes - savory, umami, tangy and spicy. It is everything a cold-weather soup should be.
The soup is made a little cozy and irresistible with some crispy potatoes on top. Buttery and toasted sourdough croutons are delicious, too.
Perfect for weeknights or cozy fall weekends, this lovely recipe is enriched by the flavor of smoky, spicy chipotle and sweetened by sweet corn.
Potatoes and cheese add body to the soup, making it deliciously creamy and flavorful. Give it a try this week and I'm sure it'll become your new favorite.
This dish is all about the chive cream sauce. The luscious, creamy texture of rich cream and the oniony flavor of chives combine wonderfully to dress up the smooth, silky recipe.
You'll enjoy every spoonful of this decadent asparagus soup.
Transform your leftover holiday ham into a rich, flavorful soup that your whole family will enjoy.
This easy recipe takes just a few minutes to cook in a Dutch oven, instant pot, or on a stovetop, and the results are amazing.
This is hands down the best potato soup recipe. It's loaded with potatoes, cabbage, leek, celery and German sausage enveloped in a sweet, citrusy, marjoram-infused broth.
This recipe is hearty and comforting, you'll be making it on repeat. Best of all, it freezes beautifully and reheats well too.
Rich, buttery and savory, this potato soup recipe tastes just like the one served at Outback Steakhouse, if not better.
The potatoes are first roasted in the oven, giving them a beautiful depth of flavor that transforms the soup into a flavorful comfort in a bowl.
This rich, pureed soup is a perfect way to change up your weeknight dinner rotation. Roasted garlic and peppers give it an intense flavor that's good for chilly winter months.
Serve it topped with extra Manchego cheese, chopped chive, and sliced green onion alongside thick slices of crusty bread.
Related Soup Recipes
If you love my collection of potato soup recipes. Try one of these fantastic soup recipes for your next lunch or dinner.
For more recipes check out my canned potatoes recipes and these delicious Greek soups that you can add to your recipes collection.
Love this recipe? Please leave a 5-star 🌟rating in the recipe card below and/or a review in the comments section further down the page.

Try one of my comfort dinner recipes for your next family meal! And if you have any questions, I'm here to help!