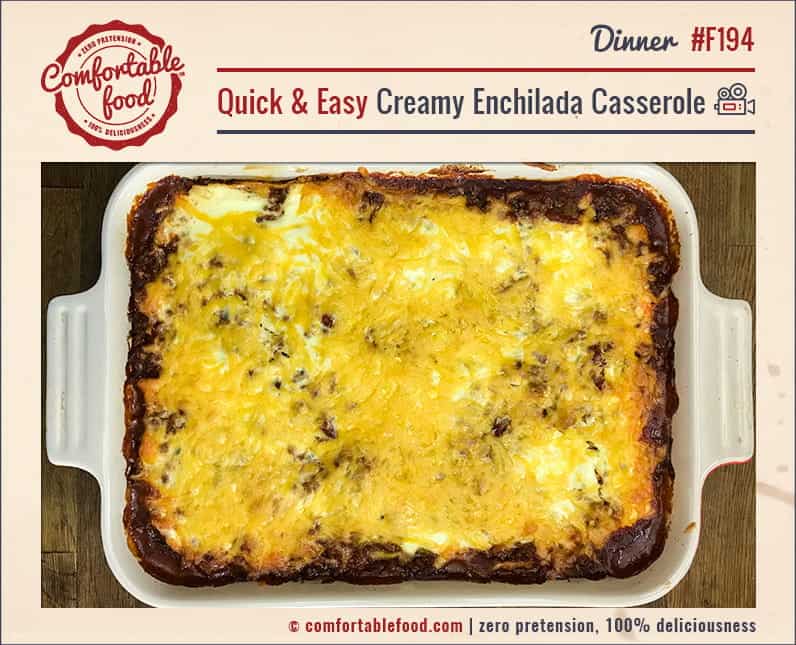 My craving for Enchilada Casserole (aka Enchilada Lasagna) is pretty much something I deal with all the time. I recently just moved back to Barcelona Spain after being away for several years.  I have to say I am elated by the amount of Mexican food products that I can get here now that weren't available a few years ago.  Mexican inspired cuisine is my favorite food to eat – well maybe it's a tie between Mexican and Italian . . . but anyway I am so happy to be able to cook more of it here.
I found corn tortillas and fresh jalapeños the other day in the market and decided to mix things up a bit and make this layered enchilada casserole.   I'm glad I did, because it turned out amazing – I absolutely loved it.  I made my own Quick 'n Easy Enchilada Sauce because it's so easy to do and I think it tastes way better than store bought, but if you have a favorite brand, by all means use it.
When I call this recipe "Quick and Easy" I mean it. Prep time is less than 20 minutes, and it only bakes for an hour, so this deliciousness is ready to be devoured well under an hour from start time.
if enchiladas are your thing check out these recipes:
here's a video showing how to make it:
Quick & Easy Creamy Enchilada Casserole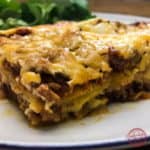 Print
Nutrition facts

(per portion)
Nutrition facts
(per portion)
Calories: 566
Carbohydrate Content: 21.1g
Cholesterol Content: 135mg
Fat Content: 38.7g
Fiber Content: 4.5g
Protein Content: 35.8g
Saturated Fat Content: 21.4g
Serving Size: 8
Sodium Content: 543mg
Sugar Content: 2.4g
Ingredients
how to
Preheat oven to 350°.
Heat the oil in a large skillet over medium heat, then cook each tortilla for about 1 minute per side, or until just starting to crisp. Set the tortillas aside - layered with paper towels between them.
Add the onions into the skillet (adding a bit more olive oil if necessary).  Cook until beginning to soften - about 3 minutes, then add the garlic and jalapeno and cook for another minute or two.
Add the ground beef and cook, stirring often until cooked through.  Stir in the taco seasoning and diced tomatoes and cook until combined.
Spread about 1/2 cup of the enchilada sauce in the bottom of a 9 x 13 casserole dish, then place 3 of the tortillas in the bottom (cut them if necessary to make sure the cover the entire dish and overlap slightly).
Spread a bit more enchilada sauce on the tortillas, then layer half of the ground beef, top with some dollops of sour cream and half of the cheese.
Place another row of tortillas on top of this, add the remaining enchilada sauce, then layer again ground beef, sour cream and cheddar.
Bake in the oven for about 30 minutes, or until golden brown and bubbly.  Allow to cool for a few minutes before serving.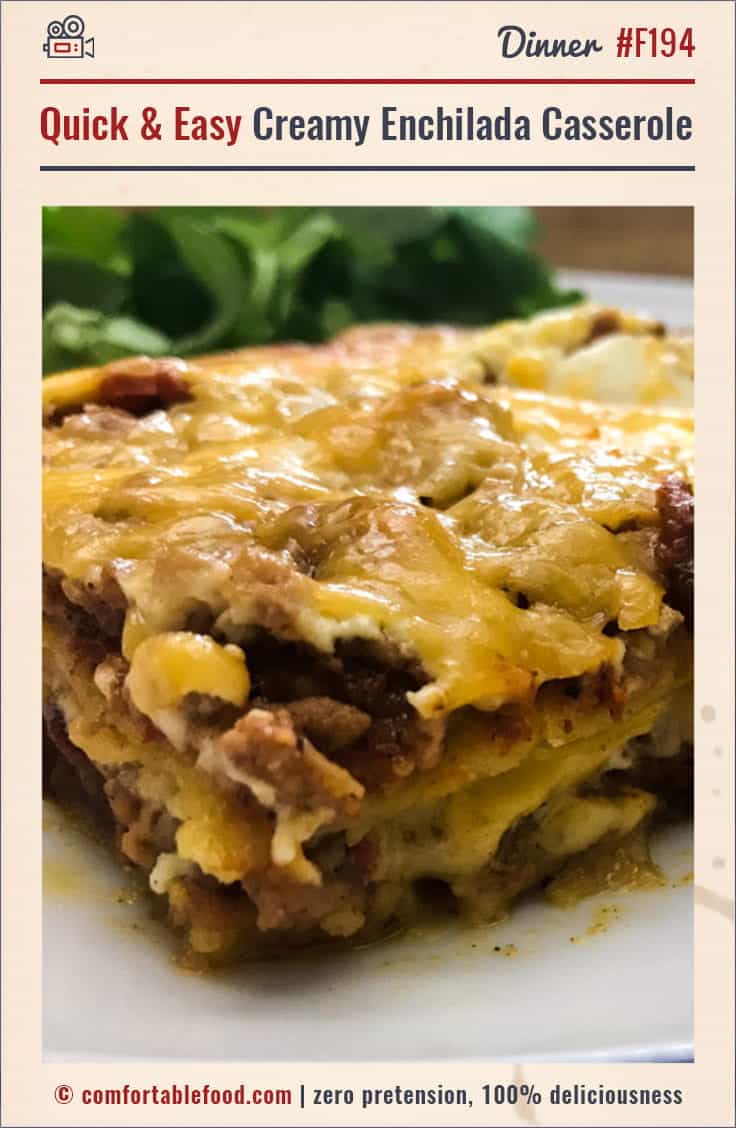 this post contains affiliate links