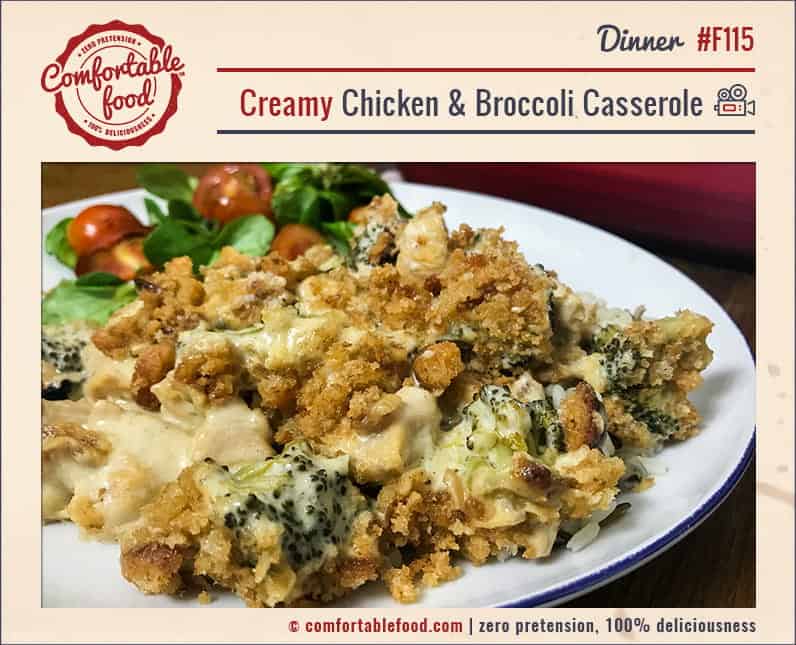 This Chicken and Broccoli Casserole has got to be one of my favorite weeknight dinner options. I'm pretty much obsessed with casseroles in general, because I love to just throw everything into a dish, then have some 'me' time while it's baking. This Chicken Casserole takes virtually no time to put together, then you can pop it in the oven an sneak in a nice hot bath with a glass of wine while it's baking!  It smells soooooo good to while it's cooking, it's sure to keep you little ones patiently waiting for dinner.
This casserole truly is rich and creamy – the sour cream and cream cheese blend together in the sauce so perfectly.  Add as much broccoli as you want, once it bakes in that delicious cream sauce everyone is going to be asking for more.  The perfect way to get some veggies in your loved ones.  😉
Prep time is about 30 minutes, then it bakes for about the same time, so it's ready in about an hour. The yield for this recipe is enough for about 4 – 6 people, depending on portion size.
casseroles, and casseroles, and casseroles – oh my!
here's a video to see how I make this chicken broccoli casserole:
Creamy Chicken & Broccoli Casserole

Print
Nutrition facts

(per portion)
Nutrition facts
(per portion)
Calories: 440
Carbohydrate Content: 14.3g
Cholesterol Content: 122mg
Fat Content: 28.4g
Fiber Content: 2.2g
Protein Content: 29.2g
Saturated Fat Content: 15.6g
Serving Size: 6
Sodium Content: 568mg
Sugar Content: 2.5g
Ingredients
how to
Pre heat oven to 375 F (190 C).
Steam the broccoli florets until just under tender and place them in the bottom of a greased casserole dish.
Heat  the olive oil and butter  in a heavy bottomed skillet over medium high heat,  then add the chicken, sprinkle generously with salt, pepper and garlic powder, then cook until done - stir frequently and scrape up any brown bits from the bottom of the skillet.
Using a strainer, remove the cooked chicken from the pan and arrange it in the dish with the broccoli.
Leave the liquid in the pan and lower the heat a little, add the diced onion, sprinkle it  with salt and pepper, and cook for about 3 minutes, or until beginning to brown.
Add the garlic and continue cooking for about 2 more minutes.
Increase the heat to medium high, add the mushrooms and cook until they have released most of their liquid, about 5 - 6 minutes.
Increase heat to high, then pour in the wine, and boil until the liquid reduces by about half, about 3 minutes.
Using a fork, whisk the flour, cream cheese, sour cream and stock together until blended, then stir into the sauce and simmer until it begins to thicken, about 3 - 5 minutes.
Pour the sauce over the chicken and broccoli, and bake in the oven about 25 - 30 minutes.
Sprinkle the croutons bits over the top about 10 minutes before the casserole is done.
This goes really well with a heartier grain like wild or brown rice or whole-wheat  pasta - although it's also very good by itself with a nice crusty bread.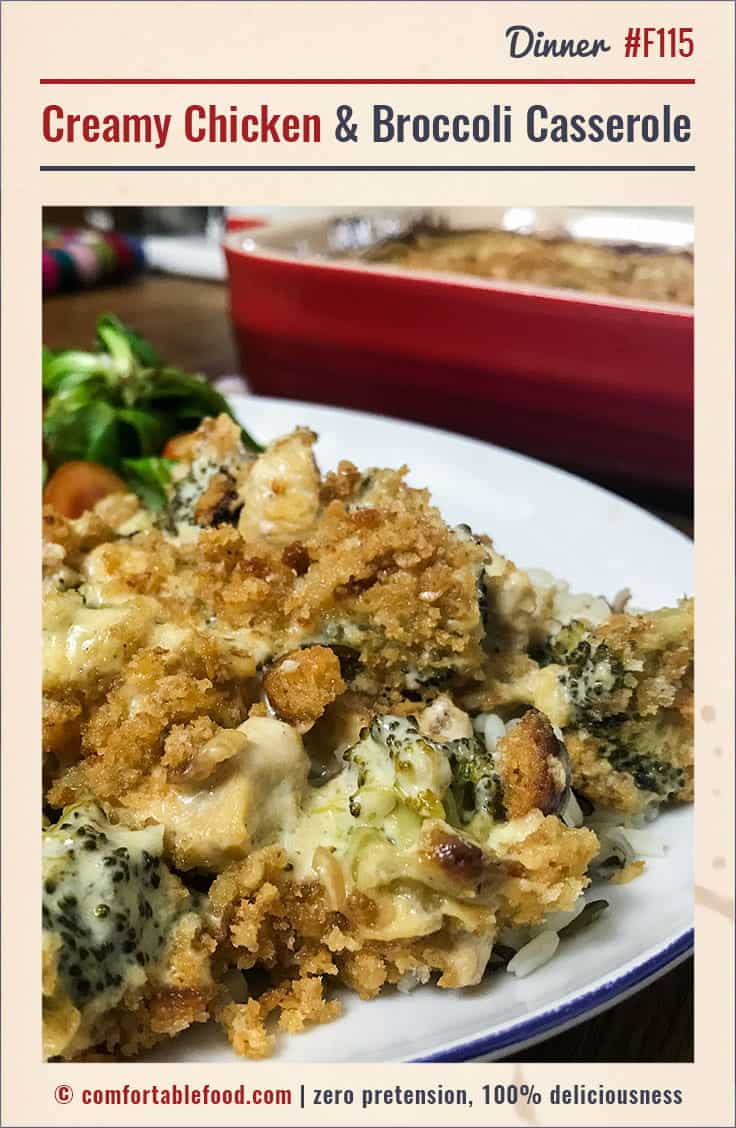 this post contains affiliate links