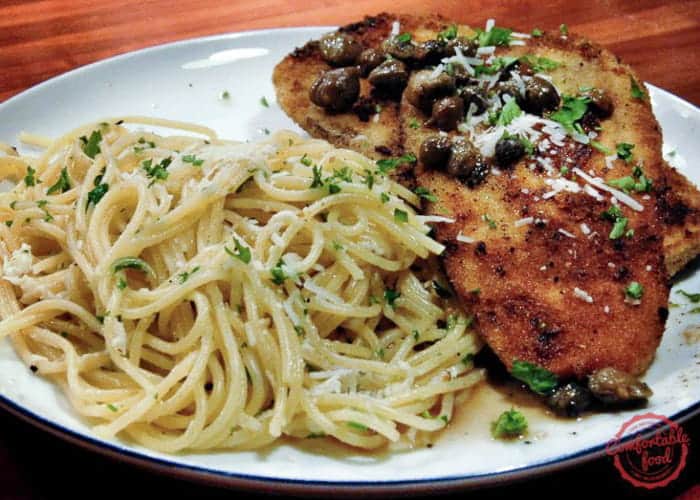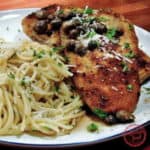 I was in the mood for something Italian, as I usually am, and decided on a zesty eggplant piccata.  I didn't want meat, so I breaded some eggplant and tried it out with this dish.  The result was great, I am very happy with it – the eggplant stood up very well to the lemon and caper flavors, and it made a usually light dish even lighter.  I am a fan, and will make this again (and again).
Ingredients
how to
Heat 3 – 4 tbsp oil in a skillet.
Put the bread crumbs on a plate and season with salt and pepper.
Dredge the eggplant in the egg wash, then coat with breadcrumbs.
Sauté three or four at a time (adding the rest of the oil as needed) over medium high heat until golden brown, about 4 minutes per side.
Once cooked, keep warm in the oven.
After all the eggplant is cooked, melt 2 tbsp butter in the same skillet, add the lemon juice and vegetable stock, stirring well to combine and scraping up any brown bits from the breading.
Stir in the capers, and bring to a boil.
Reduce the heat and simmer for about 8 minutes, until the sauce begins to thicken.
Meanwhile, cook the pasta to al dente, according to package directions.
Drain the pasta, return to pot and toss with remaining 2 tbsp butter, cheese and parsley.
Serve the eggplant with the pasta, spoon the lemon sauce on top and garnish with some more grated cheese.