For a simple side dish to a late-night snack, these MOUTH-WATERING crispy Parmesan breaded eggplant slices are the perfect Italian comfort food accompanied with a zesty lemon sauce. They are so Moorish you will wish you made more!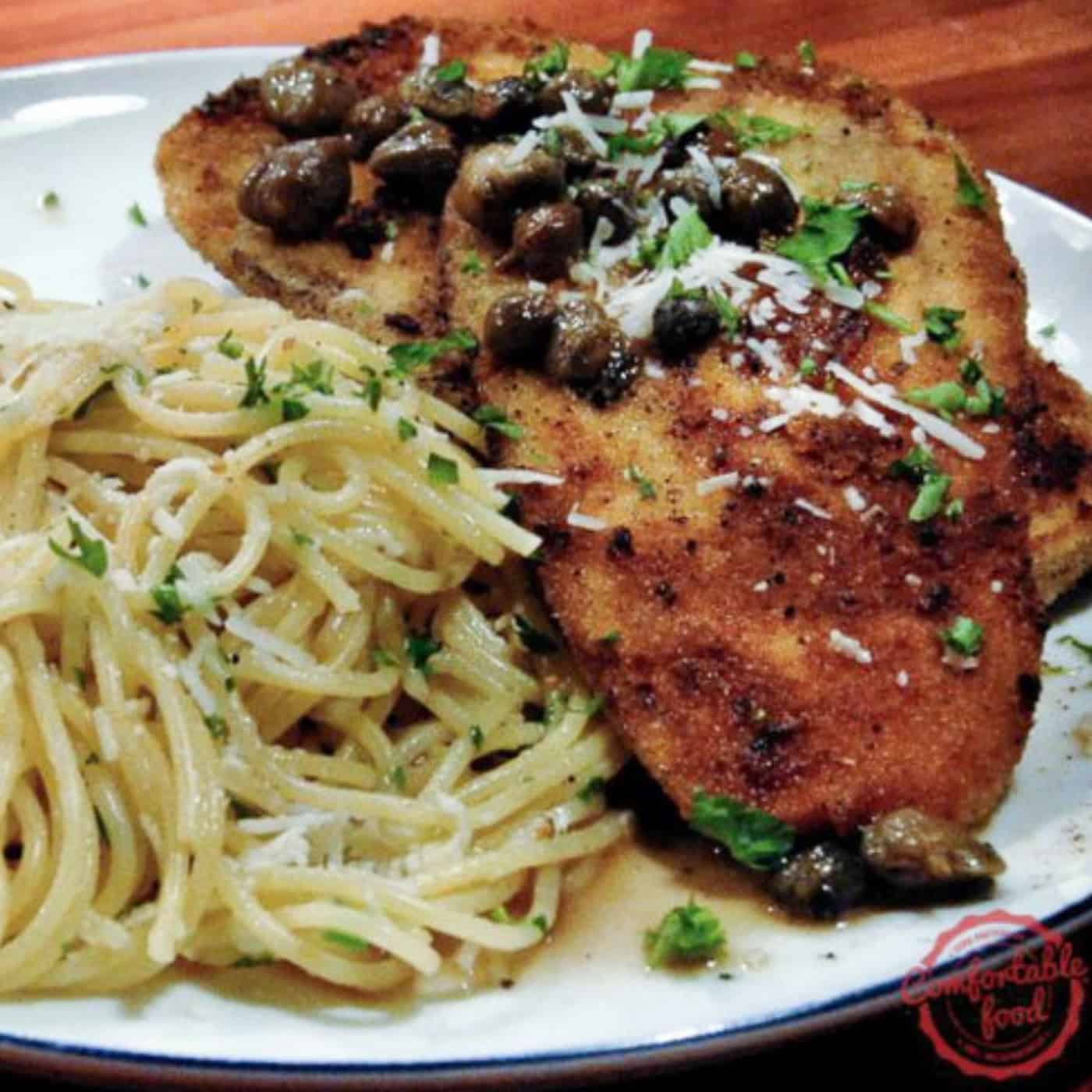 If you love Italian recipes and comfort food, you're in the right place. My stuffed shells with ground beef, bruschetta with mozzarella and stuffed rigatoni are fantastic Italian recipes.
Contents
⭐ Eggplant Piccata
I am a huge fan of breaded eggplant and make it at least once a week just for a late-night snack. It is one of the easiest recipes in my cookbook that pleases even the most carnivorous food eaters. Nobody can say no to a crunchy eggplant coated in bread crumbs.
For this Italian Piccata Style recipe, we will serve the eggplant cutlets as the main meal with freshly cooked pasta and a zingy lemon & capers sauce. No matter the level of skill you possess in the kitchen. You can rest assured that with the following cooking directions. You will not fail to create the heavenly taste of crispy golden breaded eggplant slices to impress your family and friends.
As a note, this recipe is vegetarian and a fantastic dish to serve kids, as eggplant contains essential vitamins and minerals.
🍽 What you need
The first you will need for this recipe is fresh ingredients! The difference in taste when using fresh ingredients will make the whole dish taste 10 times better. Go to your local market and grab yourself some fresh eggplants, parmesan cheese, and parsley. YOU WILL THANK ME AFTER!
Ingredients
Eggplants - 2 medium, peeled, and sliced lengthwise making 8 ½ inch (1 cm) 'steaks'
Italian style bread crumbs - 1 cup
Salt and pepper - to taste
Egg - 1, beaten
Olive oil - 6 – 8 tbsp, separated
Butter - 4 tbsp, separated
Fresh lemon juice - ¼ cup
Vegetable stock - 1 cup
Brined capers - ¼ cup, rinsed
Angel hair pasta or spaghetti - 8 ounces (225 g)
Fresh parsley, chopped - ¼ cup
Parmesan cheese - ½ cup freshly grated
Equipment
Baking sheet pan for keeping the eggplants warm in the oven
Cast-iron Skillet for cooking them
Shallow Bowl for mixing the egg wash
Tongues for flipping the eggplants
Pan for boiling the angel pasta
A strainer for draining the pasta
🔪 How to Make
Bring a taste of Italy to your dinner table with this super easy recipe to follow. With these guided steps, you will be ready to serve dinner from start to finish in half an hour!
In a skillet, heat 3 to 4 tablespoons of oil on medium to high heat ready for frying the eggplant.
Get the bread crumbs, spread them out on a large plate, and mix with a teaspoon salt and ground black pepper.
Now beat the 1 egg ready for dredging the eggplant slice into it. Making sure the whole slice is covered with egg wash before coating with the breadcrumbs.
Depending on the size of your skillet, sauté 3 or 4 at a time until golden brown (roughly 4 minutes on either side). Keep adding a bit of oil as you cook each batch, as the breaded eggplant will soak it up.
Once the eggplants are cooked, switch the oven on low and transfer them to an oven-proof dish to keep them warm while you prepare the sauce.
Using the same skillet, melt 2 tablespoons of butter, lemon juice, and vegetable stock. Stirring constantly and scraping the bits from the bottom of the skillet.
Add the capers and bring them to a boil. Reduce the heat to low and simmer for a further 8-10 minutes until the sauce thickens.
Boil a pan of water and cook the pasta for 8-10 minutes (according to the package instructions). When the pasta is cooked, drain it and return it to the pot.
Mix the pasta with the other part of butter, grated parmesan cheese, and chopped parsley.
Remove the eggplant from the oven, serve it with the pasta and garnish with the zesty lemon & capers sauce.
Top with extra cheese and lemon wedges. Bon Appetite!
🥗 What to Serve With
While this recipe already comes with angel pasta to accompany the delicious breaded eggplant as part of a side dish. It is possible to add some of these alternatives:
I love to pair it with my simple pasta recipe. Mix cooked spaghetti with 1 tablespoon olive oil, salt, and pepper, 100g Parmesan cheese, a hand of chopped parsley, and 1 very finely chopped garlic.
Another alternative is fluffy grains, like rice or quinoa. This also works well with eggplants.
Also, a super simple Greek salad or Italian salad is perfect for summer to cut out the carbs.
🥫 Storage Instructions
Storing the eggplant recipes couldn't be simpler! All that is needed is an airtight container and a lemon Wedge to keep them fresher for longer.
Fridge
Transfer any leftover cooked eggplants into an airtight container or a bowl with cling film and a lemon wedge. The lemon wedge will help keep will the eggplant from browning and stay fresher for longer. The maximum time for keeping the cooked eggplants in the fridge is for 2-3 days.
Freezer
You can freeze the eggplant once you have breaded them. Just follow simple steps below:
Get some parchment sheet (greaseproof paper) and cut into strips.
Laying the breaded eggplants singularly on top of the paper one by one in a container.
Make sure to not squeeze them together in the container as they will deform.
Once the container is full, put another layer of paper on top to cover them and then freeze up to 6 months.
When cooking them, cook them in hot oil from frozen, no need to defrost them before cooking.
👪 Serving size
I made this recipe to serve four people as a main dish. However, as a late-night snack or appetizer, this recipe can easily serve 8 people.
I hope I have inspired you to cook these devilishly moreish fried eggplants at home. I know it won't be too long before I make another batch.
📋 Recipe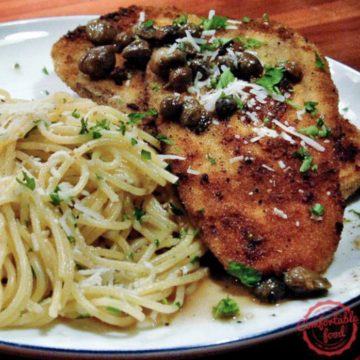 Breaded Eggplant
For a simple side dish to a late-night snack, these MOUTH-WATERING crispy Parmesan breaded eggplant slices are the perfect Italian comfort food accompanied with a zesty lemon sauce. They are so Moorish you will wish you made more!
Print
Pin
Rate
Share
Ingredients
2

medium

eggplants

-

peeled and sliced lengthwise making 8 ½ inch steaks

1

cup

bread crumbs

-

Italian style

1

egg

-

beaten

6

tablespoon

olive oil

-

separated

4

tablespoon

butter

-

separated

¼

cup

lemon juice

-

fresh

1

cup

vegetable stock

¼

cup

capers

-

rinsed

8

ounces

angel hair pasta

-

or spaghetti

¼

cup

fresh parsley

-

chopped

½

cup

parmesan cheese

-

freshly grated

salt and pepper

-

to taste
Instructions
Heat 3 – 4 tablespoon oil in a skillet.

Put the bread crumbs on a plate and season with salt and pepper.

Dredge the eggplant in the egg wash, then coat with breadcrumbs.

Sauté three or four at a time (adding the rest of the oil as needed) over medium high heat until golden brown, about 4 minutes per side.

Once cooked, keep warm in the oven.

After all the eggplant is cooked, melt 2 tablespoon butter in the same skillet, add the lemon juice and vegetable stock, stirring well to combine and scraping up any brown bits from the breading.

Stir in the capers, and bring to a boil.

Reduce the heat and simmer for about 8 minutes, until the sauce begins to thicken.

Meanwhile, cook the pasta to al dente, according to package directions.

Drain the pasta, return to pot and toss with remaining 2 tablespoon butter, cheese and parsley.

Serve the eggplant with the pasta, spoon the lemon sauce on top and garnish with some more grated cheese.
Nutrition
Calories:
644
kcal
|
Carbohydrates:
79
g
|
Protein:
20
g
|
Fat:
29
g
|
Saturated Fat:
6
g
|
Trans Fat:
1
g
|
Cholesterol:
51
mg
|
Sodium:
978
mg
|
Potassium:
792
mg
|
Fiber:
10
g
|
Sugar:
13
g
|
Vitamin A:
691
IU
|
Vitamin C:
16
mg
|
Calcium:
264
mg
|
Iron:
3
mg