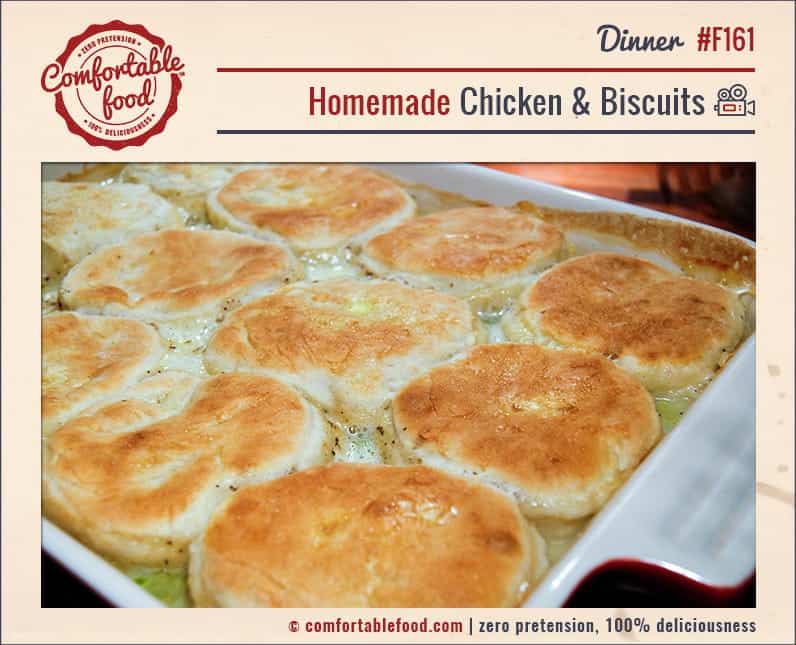 These Homemade Chicken and Biscuits will satisfy any craving you might have for down home country comfort food.  I currently live in Barcelona, and whenever I have people over and want to make them something traditionally "American" this is my go-to dish. It reminds me so much of the food my mother would make when I was growing up, so hearty and comforting. The chicken stew base is perfectly rich and creamy and it's FULL of flavor. Topping it of with flaky biscuits is the perfect compliment.
You can use store bought biscuits if you want – I also have a couple super delicious biscuit recipes: my Super Simple Yeast Biscuits, or these Easiest and Best Buttermilk Biscuits. I use both, depending on how much time I have – the quality of biscuits you can get in the stores these days makes it so much easier.
You can prep this dish in about 20 minutes and it's in the oven for 30, so deliciousness delivered to the table in under an hour. The perfect weeknight meal. It serves about 4 – 6 people, depending on how hungry everyone is. 😉
is comfort food what you want?  we've got you covered:
here is a video of me making these chicken and bicuits:
Homemade Chicken & Biscuits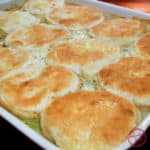 Print
Nutrition facts

(per portion)
Nutrition facts
(per portion)
Calories: 604
Carbohydrate Content: 59.3g
Cholesterol Content: 103mg
Fat Content: 26.5g
Fiber Content: 3.4g
Protein Content: 31.7g
Saturated Fat Content: 7.4g
Serving Size: 6
Sodium Content: 1610mg
Sugar Content: 7.5g
Ingredients
how to
Preheat the oven to 375 F (190 C) and grease a 9x13 casserole dish.
If you aren't using store bought, make these yeast biscuits - and while they are resting you can make the chicken gravy.
In a heavy skillet over moderate heat, melt the butter and cook the onion and celery until softened, about 5 minutes - generously salt and pepper.
Sprinkle over the flour and stir and cook for about 1 minute.  Stir in the broth and thyme and bring to a boil over medium heat - stirring occasionally.
Stir in the milk, chicken, carrots, peas and lemon juice, then pour into the casserole dish and bake for about 20 minutes.  Remove the dish from the oven and increase the temperature to 425 F (205 C).
Cut out your biscuits into 12 rounds,  and arrange them on top of the chicken gravy.  Whisk the egg and tbsp water together and brush the biscuits with the egg wash.
Return the dish to the oven, and bake until the biscuits are done, about 10 - 12 more minutes.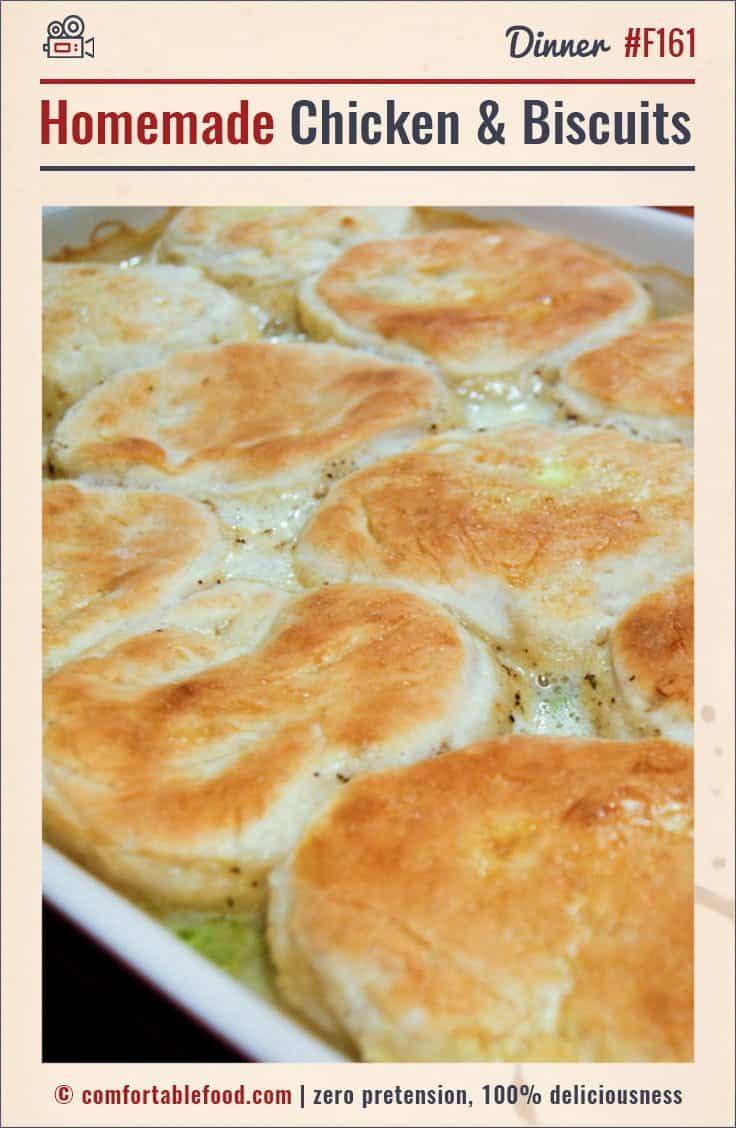 this post contains affiliate links
4.875

stars - based on

8

review(s)