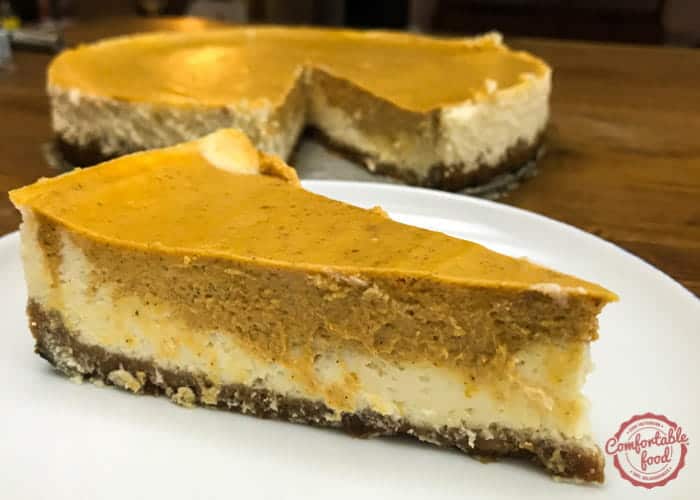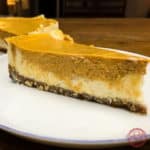 I have to admit I'm far from the biggest lover of pumpkin desserts, but this time of year they are just SO popular.  This cheesecake may have changed my mind a bit . . . it's rich, and creamy and just sweet enough.  The pumpkin adds a great flavor, but it doesn't overpower.  I decided to do it as a layer cheesecake instead of just all pumpkin, and I really love that you get both flavors.  They blend together perfectly.
This cheesecake is super easy to make and it's appropriate for a sweet finish to a weeknight dinner, or it's beautiful enough to serve on Thanksgiving.  I was actually really impressed with myself after making it and I will certainly make it again.
here's a video showing how to make it:
Ingredients
how to
make the crust:
Preheat oven to 350 and line the bottom of a springform pan with baking paper.  Spray the bottom and sides with non stick spray.
In a small bowl, stir the cracker crumbs together with the butter, brown sugar and cinnamon.  Press this mixture into the bottom of the springform, brining it up a little on the sides and bake until set - about 10 minutes.   Put the pan on a cooling rack and allow to cool completely.
make the filling:
Reduce the oven temperature to 325 degrees.
Beat the cream cheese and sour cream together in a medium sized mixing bowl until light and fluffy, then add the sugar, salt and vanilla and mix well.
Add the eggs, one at a time, mixing well after each addition until just blended.
Pour about 3/4 of this mixture over the crust in the springform pan.
Into the remaining 1/4 of the cream cheese mixture, add the canned pumpkin and pumpkin pie spice.  Mix together well.
Drop dollops of the pumpkin mixture over the cream cheese in the crust, then spread over evenly.
Put the springform into a large baking dish and pour boiling water in to come up about halfway up the side.  Bake until almost set in the center, about 75 minutes, then allow to cool completely.  Chill in the fridge for at least 4 hours before removing from the springform and serving.