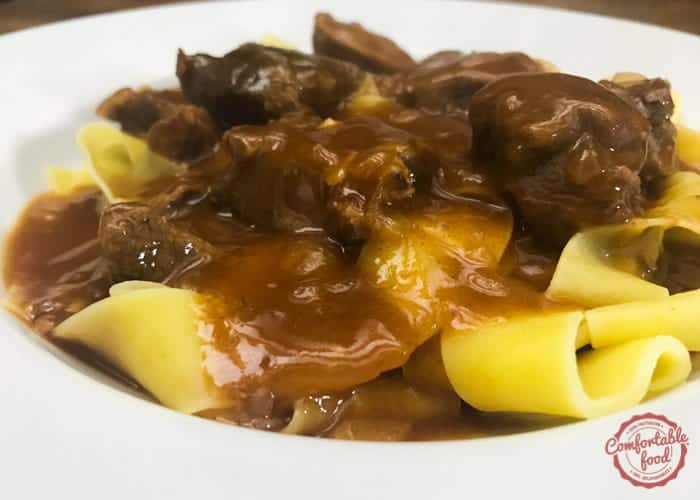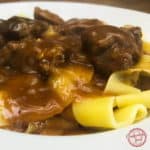 I have a bit of an obsession with Hungarian paprika. I have a friend from Budapest and every time she goes home to visit she always brings me back bags of it. I try to find as many recipes as I can to use it in. It's so perfectly spiced, the flavor is so smooth and the color is so vibrant—I love cooking with it. If you can get your hands on some authentic Hungarian paprika, I really recommend it.
My mom has been making this dish for years. It's so comforting and flavorful, I absolutely love it. It's really easy to make—the ingredients are pretty standard and the prep time is minimal. The beef gets so tender as it slow cooks, and the flavors have time to blend together perfectly. It's a dinner the whole family will love. It's best served over long egg noodles, but you can serve it over rice or with potatoes if you'd like.
(This recipe was originally published here on 12/19/2013)
Check out these kitchen essentials helpful in making this recipe:
here's a video showing how to make it:
Ingredients
how to
Melt the butter over medium heat in a dutch oven.
Add the meat, onion, and garlic, and cook and stir until the meat is brown and the onion is tender.
Stir in the ketchup, Worcestershire sauce, sugar, salt, paprika, mustard, cayenne, and 1½ cups water.
Cover and simmer for 2 to 2½ hours.
Blend cornstarch and ¼ cup water and stir gradually into meat mixture and heat to boiling, stirring constantly. Boil and stir 1 minute.
Serve over noodles.
4.6

stars - based on

5

review(s)