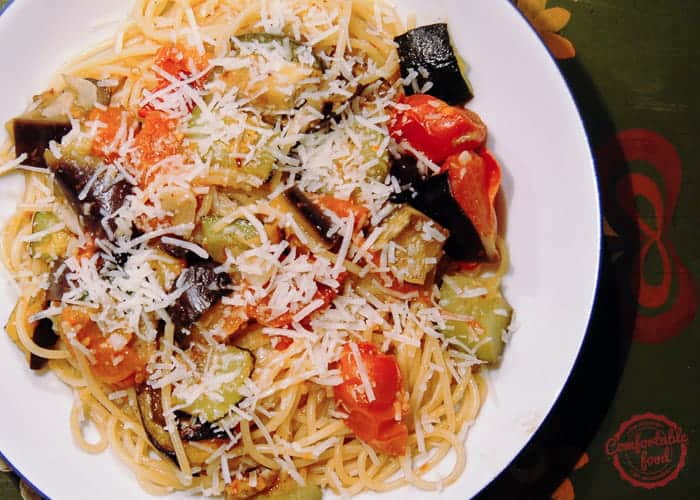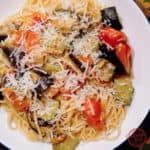 This pasta dish is so wonderfully simple and delicious - it's quick too - it can go from the grocery bag to the table in about 30 minutes, perfect for a busy night.  Roasting the vegetables gives them so much more flavor than cooking them on the stove.  I like things spicy, so I always add a lot of crushed red pepper to this dish, but if you're not a fan of spice just go without, the garlic adds plenty of flavor.
Ingredients
how to
Pre heat oven broiler (top heat) to 400 F (200 C).
Put the chopped eggplant, zucchini, tomatoes and garlic in a large bowl.
Drizzle with 2 tbsp olive oil, generously salt and pepper, then toss to coat well.
Line a baking sheet with baking paper, and spread the oiled vegetables out evenly.  They can touch, but do not stack on top of each other.
Put the baking sheet in the second slot down from the top broiler, and cook for about 10 - 13 minutes, until starting to blacken.
Remove the sheet from the oven, use a wooded spoon to stir the vegetables, turning as many over as possible, then return to the oven and cook for an additional 10 minutes.
Start the pasta when you put the vegetables in the oven for the second time.
Drain the pasta well, return it to the pot and drizzle with tsp olive oil and sprinkle in crushed red pepper (if using).
Add the roasted vegetables (and any accumulated liquid), and toss together gently with tongs.
Divide on four plates and sprinkle with parmesan cheese.