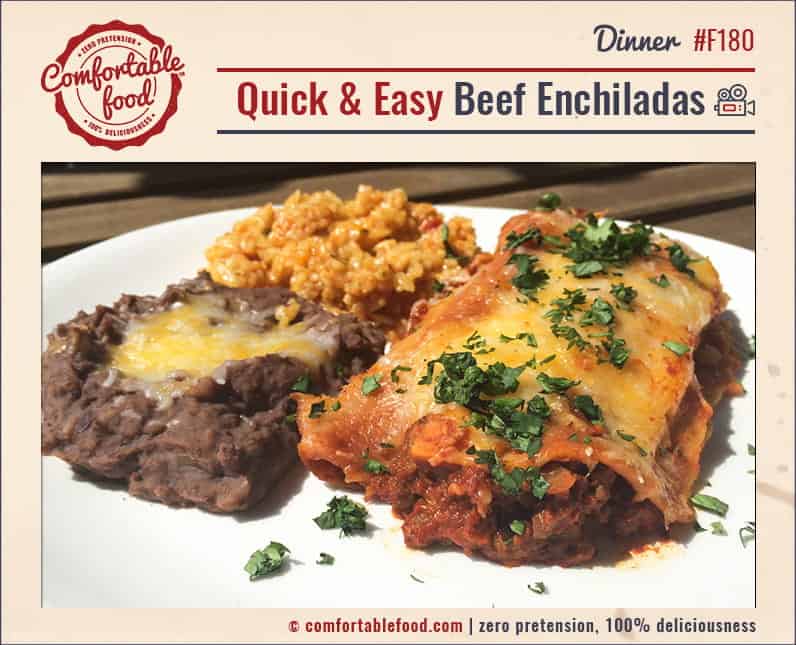 Mexican food is by far my favorite food to eat—and enchiladas are at the top of my list. I have a couple different enchilada recipes on my blog (simple sour cream enchiladas, enchiladas verdes with chicken, and black bean enchiladas) but I really was in the mood for ground beef ones the other night.  I decided to just make them instead of heading off to my favorite Mexican restaurant, and the result was fantastic.
I used my homemade enchilada sauce for this recipe, but if you don't have the time, you can just get a good quality store-bought one.  This recipe is really easy, and it's also really flexible—you can add whatever ingredients you want. When I have more time, I like my Mexican ground beef to have tiny cubes of potato and green peas in it too. Delicious.
(This recipe was originally published here on 07/24/2014)
if you've got enchiladas on the brain check these out:
here's a video of me making these enchiladas:
Quick 'n Easy Beef Enchiladas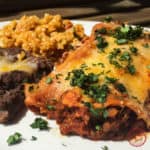 Prep Time: 30 minutes
Cook Time: 30 minutes
Serving: 6 - 8
Print
Nutrition facts

(per portion)
Nutrition facts
(per portion)
Calories: 884
Carbohydrate Content: 36.4
Cholesterol Content: 283
Fat Content: 36.8
Fiber Content: 9.1
Protein Content: 101
Saturated Fat Content: 11.2
Serving Size: 8
Sodium Content: 342
Sugar Content: 2.9
Ingredients
how to
Preheat your oven to 350 degrees and spray a 9x13" casserole dish. Spread about ¾ cup of enchilada sauce across the bottom of the dish, and set aside.

 Heat 2 Tbsp of the oil in a medium saucepan over medium heat and cook the onion until beginning to soften - about 5 minutes. Add the garlic and cook for another minute or two.

Add the ground beef and increase the heat to medium high - break up the beef and cook and stir until cooked through, about 8 minutes. Add the taco seasoning and the chipotles and adobo and cook for another minute or two. Stir in the tomato paste and 1 (tomato paste) can-full of water, then allow to simmer until the liquid is gone - about 5 more minutes.
Heat the remaining oil in a small saucepan over medium heat and put the remaining enchilada sauce in a shallow bowl. Cook each tortilla in the oil for about 20 seconds per side. Use tongs to remove it from the oil, then dip in a couple times in the enchilada sauce and put it on a cutting board.
Spoon a good sized portion of the beef mixture down the middle and roll it up and place it seam side down in the casserole dish. Continue to do this until all the tortillas are rolled, and the casserole dish is full.
Pour the remaining sauce over the enchiladas, making sure it gets down in between the tortillas. Sprinkle with the cheese and bake in the oven for about 20 minutes, or until the sauce is bubbling. Sprinkle with cilantro, and serve.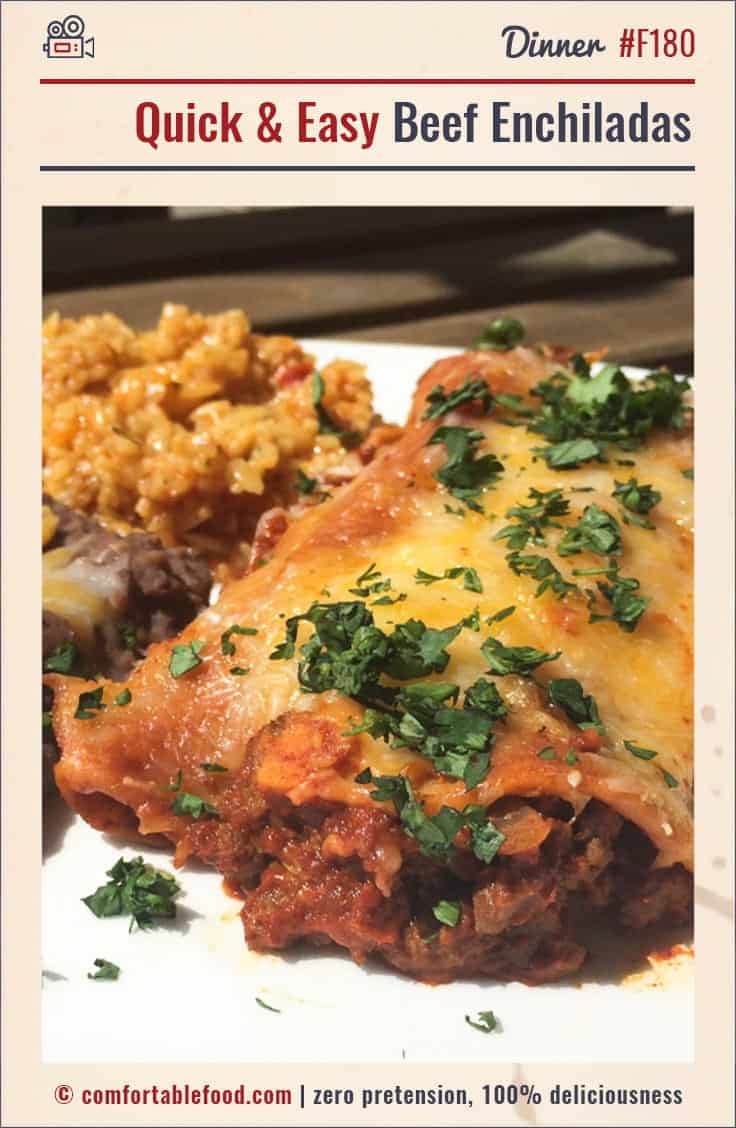 (this post contains affiliate links)