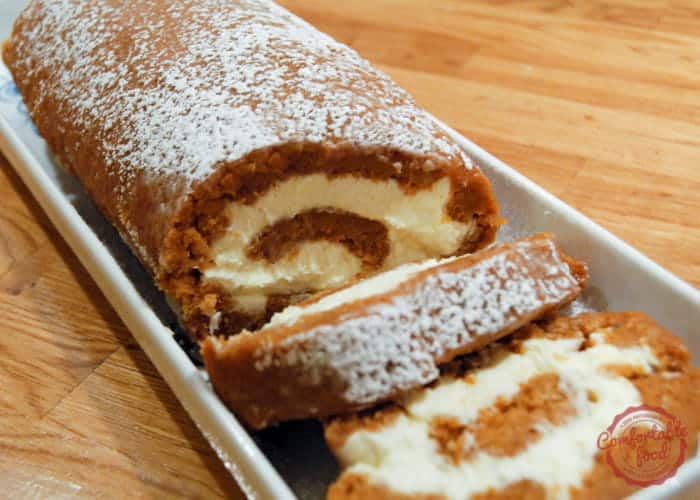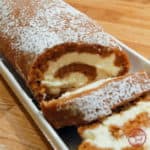 The flavors of fall combine perfectly in this spiced pumpkin cake roll.  The sweetened cream cheese filling is the perfect compliment.  This dessert is sure to please any pumpkin lover with a sweet tooth.
Ingredients
how to
make the cake:
Preheat the oven to 375 F.
Beat the eggs at high speed for about 5 minutes.  Gradually add the sugar, then stir in the pumpkin and lemon juice.
In a separate bowl, sift together the flour, baking powder, cinnamon, ginger, nutmeg and salt.  Fold the dry mixture into the wet mixture.
Spread on an ungreased 10.5" x 15.5" jelly roll pan and bake for about 12 - 15 minutes. (if  you don't have a jelly roll pan, and want to use a standard 9x13 baking dish, just add about 3 minutes to the baking time and be very careful when you roll, as it will be a bit thicker and might crack)
Allow the cake to cook in the pan for about 15 minutes, then lay out a kitchen towel and dust well with powdered sugar.  Turn the cake out onto the towel, roll up tightly in the towel and allow to cool completely.
make the filling:
In a large bowl, beat the butter and cream cheese together until smooth.  Add the powdered sugar and vanilla and beat until creamy.
Unroll the cooled cake, spread with the filling and re-roll. (without the towel this time)
5

stars - based on

4

review(s)