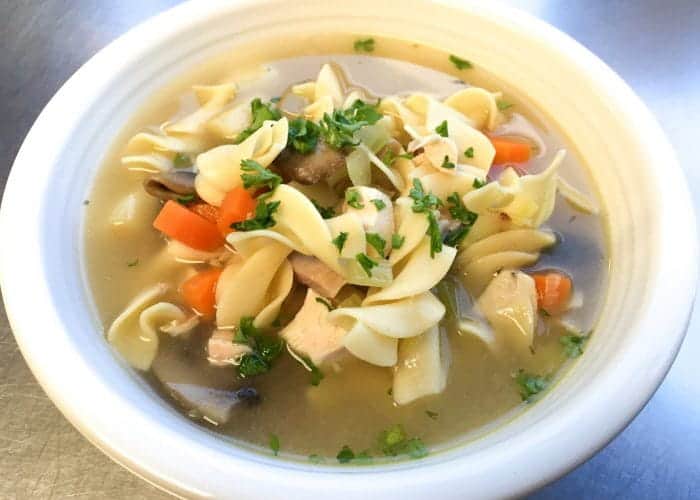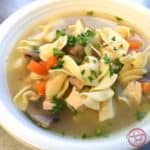 Chicken Noodle Soup is quite possibly the mother of all comfort food.  When you're sick, or when you just need some down home deliciousness, it always seems to fit the bill.  This recipe takes some time to make, but it's absolutely worth the wait.  The broth is rich and flavorful, and it's full of chunky vegetable goodness.
I used an already cooked rotisserie chicken for this soup and it came out perfectly tender and delicious.  You can use a whole fresh chicken if you want — just boil it in the stock until it's cooked, then remove it before you strain the broth and allow it to cool before removing the meat from the bird.  This really is some of the best chicken soup I've had, the flavors are so simple and uncomplicated, and they blend together perfectly to make this satisfying soup absolutely delicious.
(This recipe was originally published here on 01/29/2015)
Ingredients
for the broth:
water - 16 cups
chicken bouillon - 1 8oz jar, good quality
leek - 1 large
rotisserie chicken - 1 large
carrots - 2, unpeeled and quartered
oinon - 1 large, roughly chopped
celery - 2 stalks, roughly chopped
thyme - 2 sprigs, fresh
bay leaf - 1
for the soup:
olive oil - 1 tbsp
mushrooms - 8 oz, sliced
lemon juice - 1 tbsp, fresh squeezed
carrot - 2 large, peeled and diced
parsnip - 1 large, peeled and diced
celery - 2 stalks, finely diced
egg noodles - 9 oz
how to
make the broth: 
Heat the water in a large stock pot and stir in the chicken bouillon until dissolved. Separate the green part of the leek, then thinly slice the white part and reserve.
Pull the meat off the rotisserie chicken, and reserve the meat. Add the carcass to the broth, along with the green part of the leek, the carrots, onion, celery, thyme and bay leaf. Bring to a boil, then allow to simmer for about 2 hours.
make the soup:
Heat the olive oil in a large skillet over medium heat and add the mushrooms. Cook for about 3 minutes, then increase the heat to high and add the lemon juice. Continue to cook until most of the liquid has left the mushrooms, then drain them and set aside.
Strain the broth through a fine sieve and discard the vegetables and chicken carcass. Put the strained broth back in the stock pot and add the carrots, parsnip, celery and white part of the leek. Bring to a boil, then reduce the heat and simmer for about 20 minutes, or until the vegetables begin to just soften.
Add the reserved chicken from the rotisserie and the mushrooms and cook for about 10 minutes more. At this point you can reserve the soup until you are ready to serve it. Heat to almost boiling, add the egg noodles and cook for about 1 minute under the package recommendation.