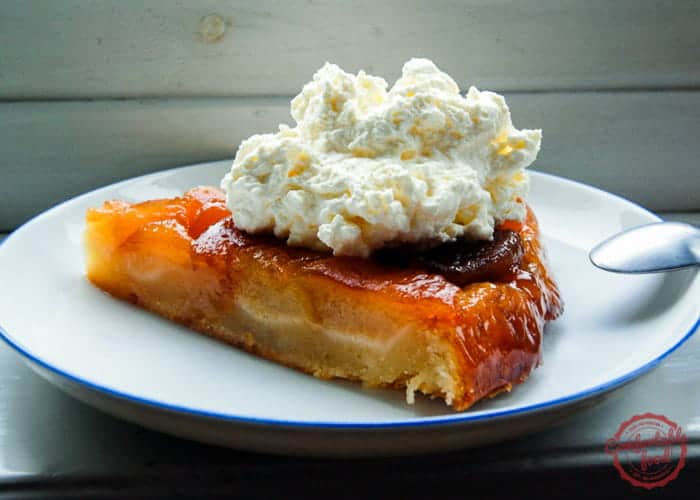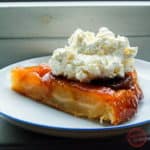 This Tarte Tatin recipe is the original apple pie.  This is very old method from the Tatin sisters in a small French village.  Not too hard to make, this apple pie is super delicious and a very impressive dessert.
Ingredients
how to
Note: this should be cooked in a cast  iron skillet, but because I don't have one, I cooked the apples in a regular non-stick pan and poured the cooked mixture into a round (30cm diameter) baking pan. I re-arranged the apples to look nice, cored sides up.
Combine flour, sugar and salt in a large bowl and using an electric mixer, mix well.
Add the butter and mix at medium-low speed until the butter is about pea sized, about 2 to 3 minutes.
Add the sour cream and mix until dough begins to come together into moist clumps.
Form the dough into ball, then flatten it and wrap in plastic. (it will be sticky)
Refrigerate for at least 2 hours. (the dough can be made one day ahead - just refrigerate it until use)
Let the dough come to almost room temperature before rolling out.
Arrange the butter pieces on the bottom of a large oven-proof skillet.
Sprinkle 1 cup sugar over the butter and place the skillet over medium-low heat.
Cook until the butter melts, the sugar begins to dissolve, and the mixture begins to bubble, about 3 minutes.
Arrange the apple slices in a tight circle, cored side up, starting around edge of skillet, and working your way towards the center, packing them tightly together.
Sprinkle with the remaining sugar.
Pre heat the oven to 425º F (220º C)
Set the skillet over medium-high heat and boil until a thick amber-colored syrup forms, occasionally rotating the skillet over the flame to ensure even cooking, about 30 minutes.
While apples are cooking, fill in the gaps that form with additional apple quarters.
Remove the skillet from heat.
Roll out the dough on a floured surface into round shape that fits the size of skillet.
Place the dough over apples, pressing it down around the edges.
Cut 4 slits in the top and brush with the beaten egg.
Put the skillet in the oven, and bake until the top is golden brown, about 30 to 40 minutes.
Remove from oven and cool 1 minute.
Using a knife, cut around the edge of the skillet to loosen the pastry.
Place a large platter over skillet, and using oven mitts, hold the skillet and platter together tightly and invert tart onto platter.
Cool at least 30 minutes before serving.
Cut into wedges and serve warm or at room temperature with whipped cream or vanilla ice cream.