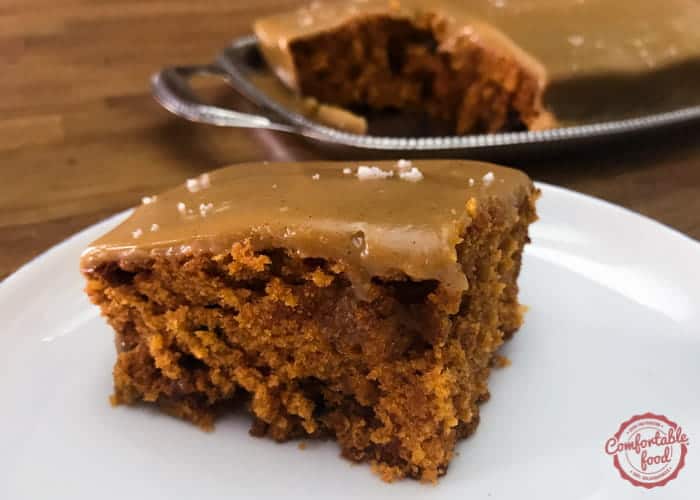 Food bloggers tend to borrow a lot of ideas from each other, and I have to admit that this recipe for Tomato Soup Cake was inspired by my good friend Melissa over at ChinDeep.  (Her recipe is here if you want to check it out)  I had never heard of tomato soup cake before and I came across it one day when I was browsing her site.
After doing some more research and finding out this really was a thing – I saw how this dessert is a favorite of many and decided to have a go at it.  I was SO pleasantly surprised by the resulting flavor of this cake.  It's very much like a carrot cake in that it's super moist and the spices blend together perfectly to give it amazing flavor.  The caramel adds a sweetness the balances everything together perfectly.  I will be making this cake again – for sure.  It's a great thing to serve, then surprise your guests with the 'secret ingredient' after they rave about how tasty it is.

here's a video showing how to make it: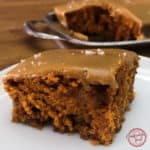 Print
Nutrition facts

(per portion)
Nutrition facts
(per portion)
Calories: 689
Carbohydrate Content: 103
Cholesterol Content: 101
Fat Content: 29.1
Fiber Content: 2
Protein Content: 9.1
Saturated Fat Content: 18.1
Serving Size: 8
Sodium Content: 765
Sugar Content: 79.1
Ingredients
how to
make the cake:
Preheat the oven to 350 and grease a 9 x 9 square cake pan.
Whisk the tomato soup and soda together in a small bowl, then set aside.
Cream the butter and sugar together in a bowl until light and fluffy, then add the egg and mix until combined.
Pour in the tomato soup and beat together, then sift in the flour, salt, cinnamon, nutmeg and ginger and combine.
Stir in the raisins then pour into a greased 9" x 9" square cake pan.
Bake for about 30 - 35 minutes or until a toothpick test comes out clean - do not overbake.
While the cake cools, make the icing.

make the icing:
Melt the butter in a heavy, medium sized sauce pan.
Stir in the brown sugar, condensed milk, vanilla and sea salt.  Let the mixture come to a boil, stirring constantly and allow it to boil for about 6 - 10 minutes.
Remove from heat and let it cool slightly, then  pour over the cake while still a bit warm and spread evenly then allow to cool completely before serving.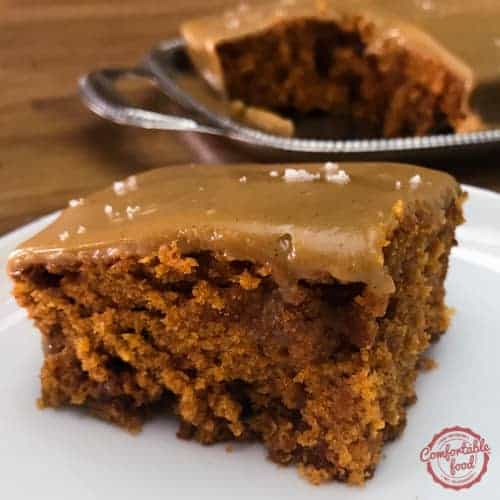 5

stars - based on

4

review(s)