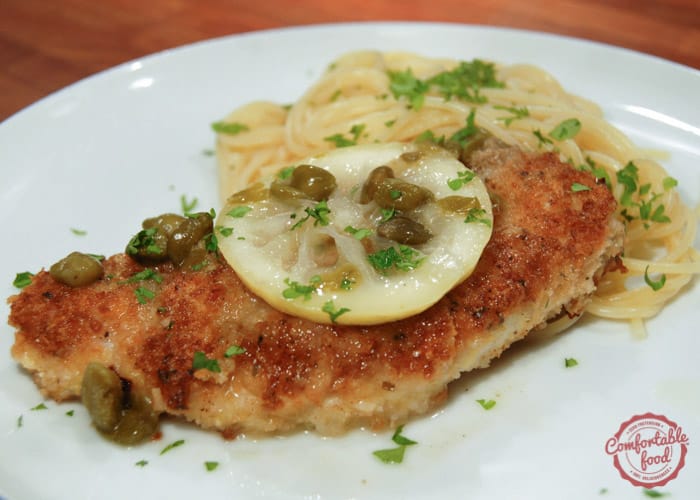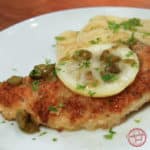 This zesty chicken piccata recipe is great for a super flavorful, dinner.  The capers and lemon blend so well together and give such a light, refreshing taste to this classic dish.  It's easy to make, and paired with some pasta it's perfect for a great lunch, or a light evening meal.
Ingredients
how to
Preheat the oven to 400 F (200 C).
Butterfly the chicken breasts, then separate the halves, so you have 4 smaller pieces.  Pound the 4 pieces out between baking paper or plastic wrap to 1/4" thick and season all sides well with salt and pepper - set aside.
On one plate, mix the flour with some salt and pepper.  On a second plate or shallow bowl, beat the egg and milk together.  On a third plate, mix the breadcrumbs and parmesan cheese.
Dredge the chicken cutlets in the flour, shake off any excess, then dip in the egg mixture and then coat with bread crumbs.
In a large skillet, over medium high heat, melt 2 tbsp of the butter and the olive oil.  When hot, add the chicken and cook for about 2 minutes per side, until browned.  Place on a baking paper lined baking sheet in the oven to finish cooking while you prepare the sauce.
Carefully wipe the hot skillet out with a paper towel, return it to medium high heat and add the 1 tbsp of the remaining butter.  When it is melted add the lemon juice, white wine and capers.  Increase the heat to high and boil until reduced by half - about 2 or 3 minutes.  Add the lemon slices and cook for another minute or two, then remove from heat and stir in the remaining 2 tbsp butter.
Take the chicken out of the oven,  spoon the sauce over the it and garnish with the lemon slices and chopped parsley.   I love this with spaghetti on the side, but it's just as good with potatoes or another vegetable.