This beef chop suey recipe is a one-skillet easy meal to prepare for a family of four, and it's packed with delicious Asian flavors from garlic, ginger, beansprouts, and soy sauce. Best part? Only takes 30 minutes to put it on your table.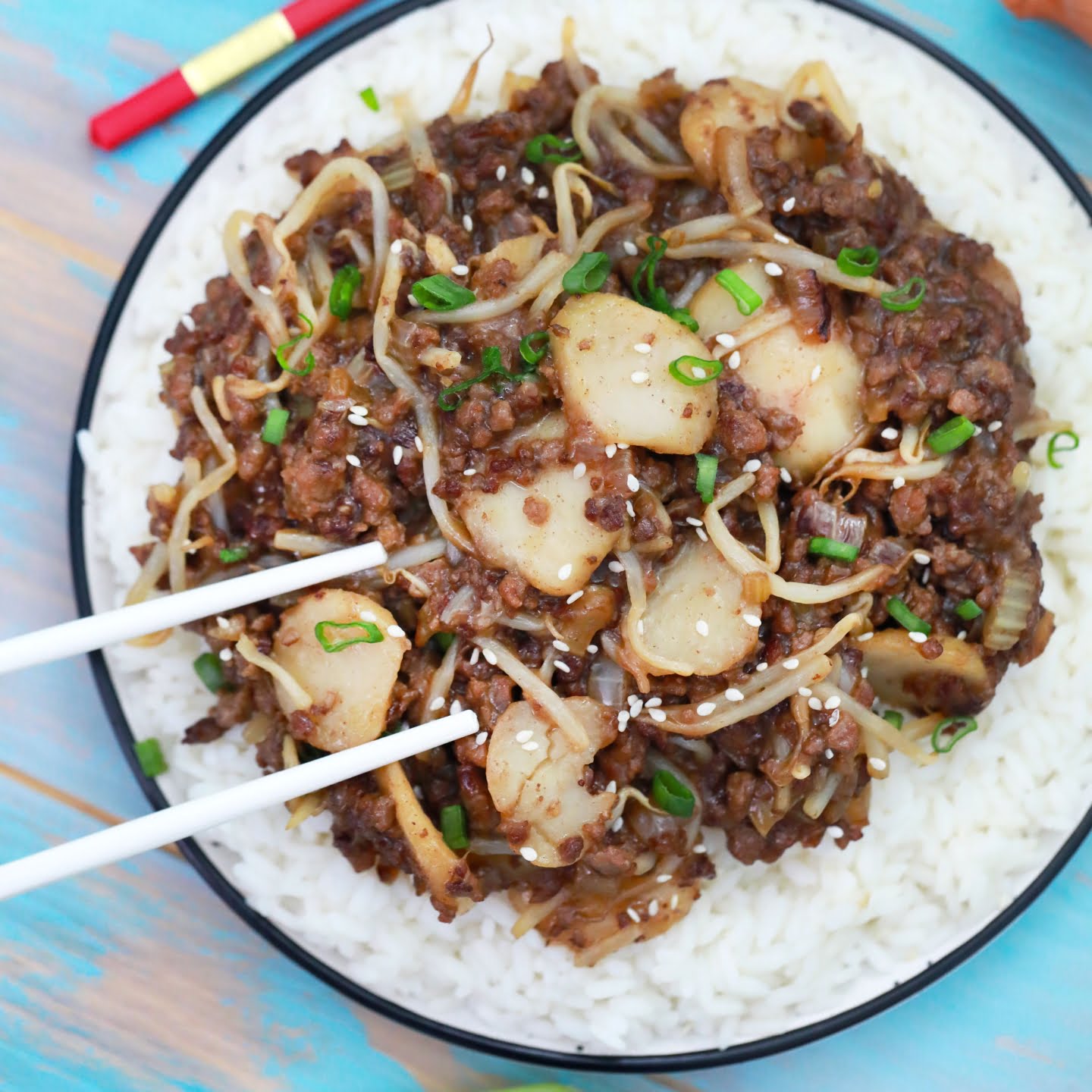 Looking for fantastic dinner ideas? Try my easy beef fried rice, chicken and biscuits, and epic sloppy joes for your next family dinner.
Contents
⭐ Why this recipe works
Beef chop suey is always a popular dish in Chinese restaurants because of its dark color and bold flavors, and now any home cook can enjoy the same authentic sweet, rich flavor with this 30-minute recipe.
The sweet aroma of the onions caramelizing with the ground beef, molasses, and soy sauce always gets everyone in the mood for Chinese comfort food.
The thick brown gravy is what everyone loves about this dish. It's finger-licking good with a side of rice to soak up the delicious juices.
With only one large skillet required to throw the whole dish together, it's perfect for a quick and easy busy weeknight meal, and you can even freeze it for meal prep.
Busy week? You should try my mouth-watering salisbury steak recipe ready in only 30 minutes!
🍽 Key ingredients
All you need is some market veggies, a couple of pounds of hamburger meat, rice, and your good to go.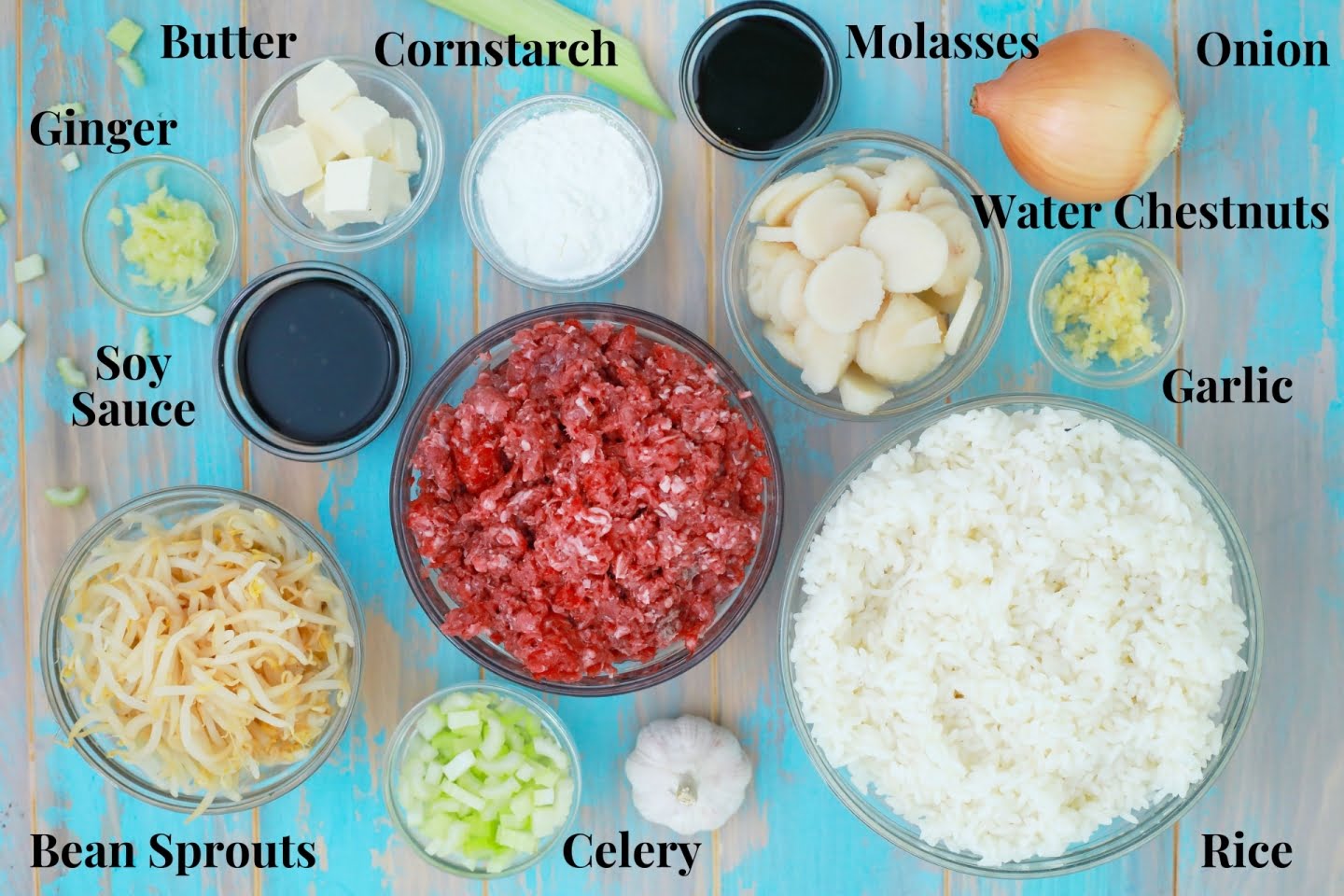 Using fresh ginger, onion and garlic will give this recipe an overall better tasting oriental flavor rather than powdered alternatives.
Finally, what take this meal to another level are the key ingredients like molasses, soy sauce and water chestnuts.
🔪 How to make
Learn how to make this super easy beef chop suey recipe. The steps below are very basic and easy to follow for any level of cook. Just put your apron on, and let's get started!
For those learning to cook, these guides may be helpful:
Step 1
Heat the butter in the skillet on medium heat until it is melted, then finely chop the onion and celery and cook them until softened. Now finely chop the ginger and garlic and to the skillet, cooking for another 2 minutes.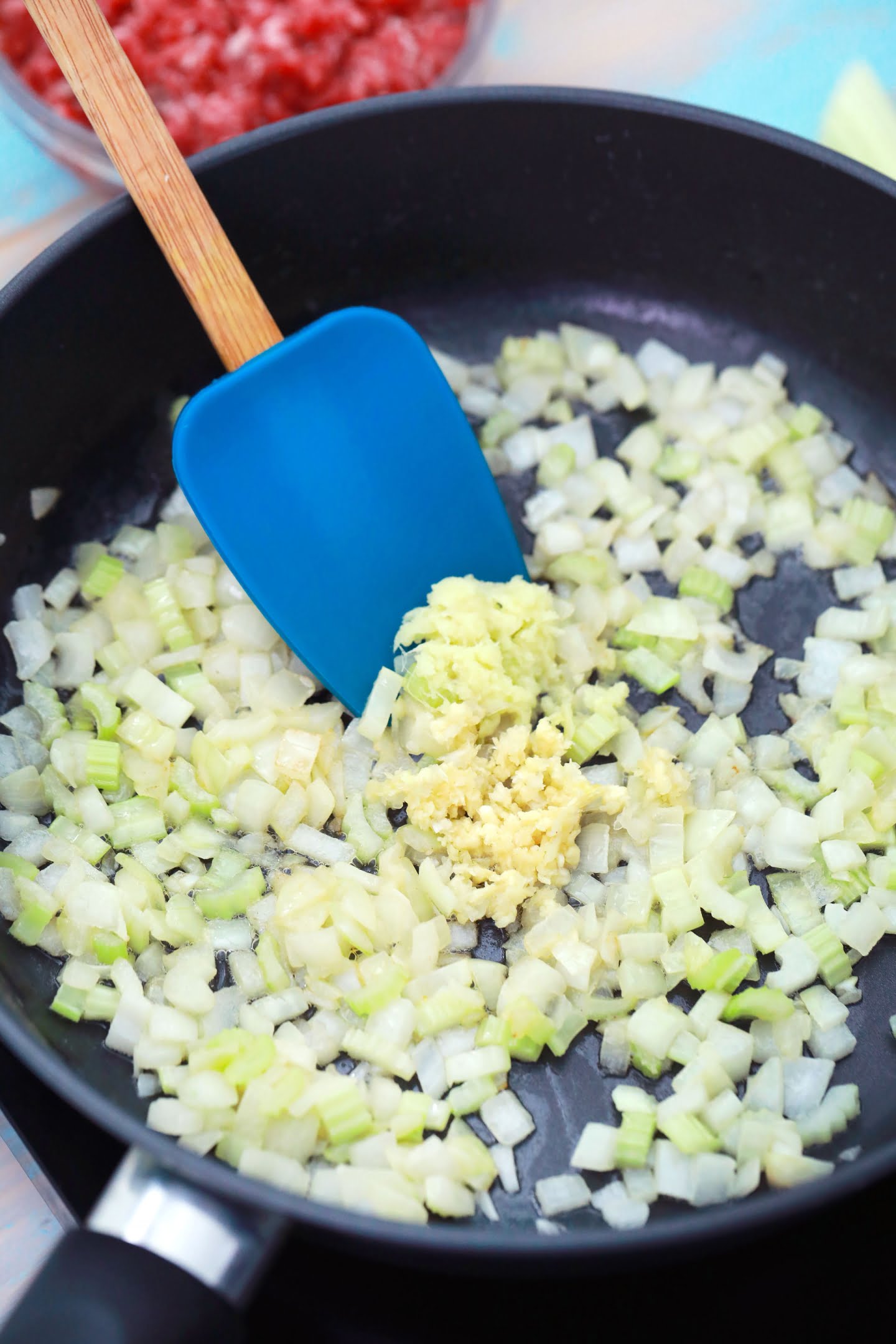 Step 2
Once all the ingredients are softened, add the ground beef meat and turn up the heat to medium-high until it is browned. For the brown gravy sauce, stir in the molasses and soy sauce to the skillet mixing thoroughly.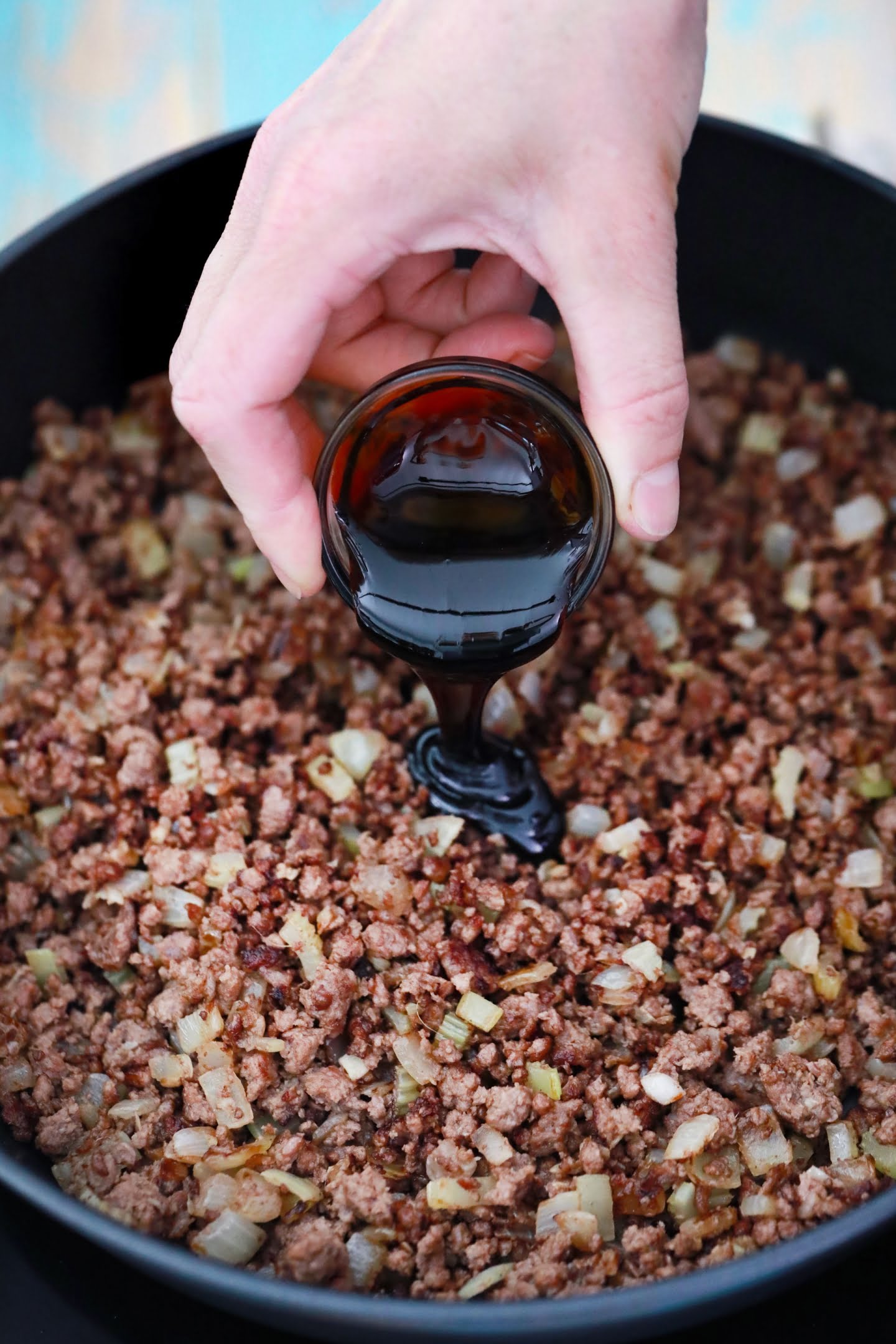 Step 3
Then mix the 2 tablespoons of cornstarch with water and add it to the ground beef. The cornstarch will act as a thickening agent, and the brown gravy sauce will begin to thicken as you stir.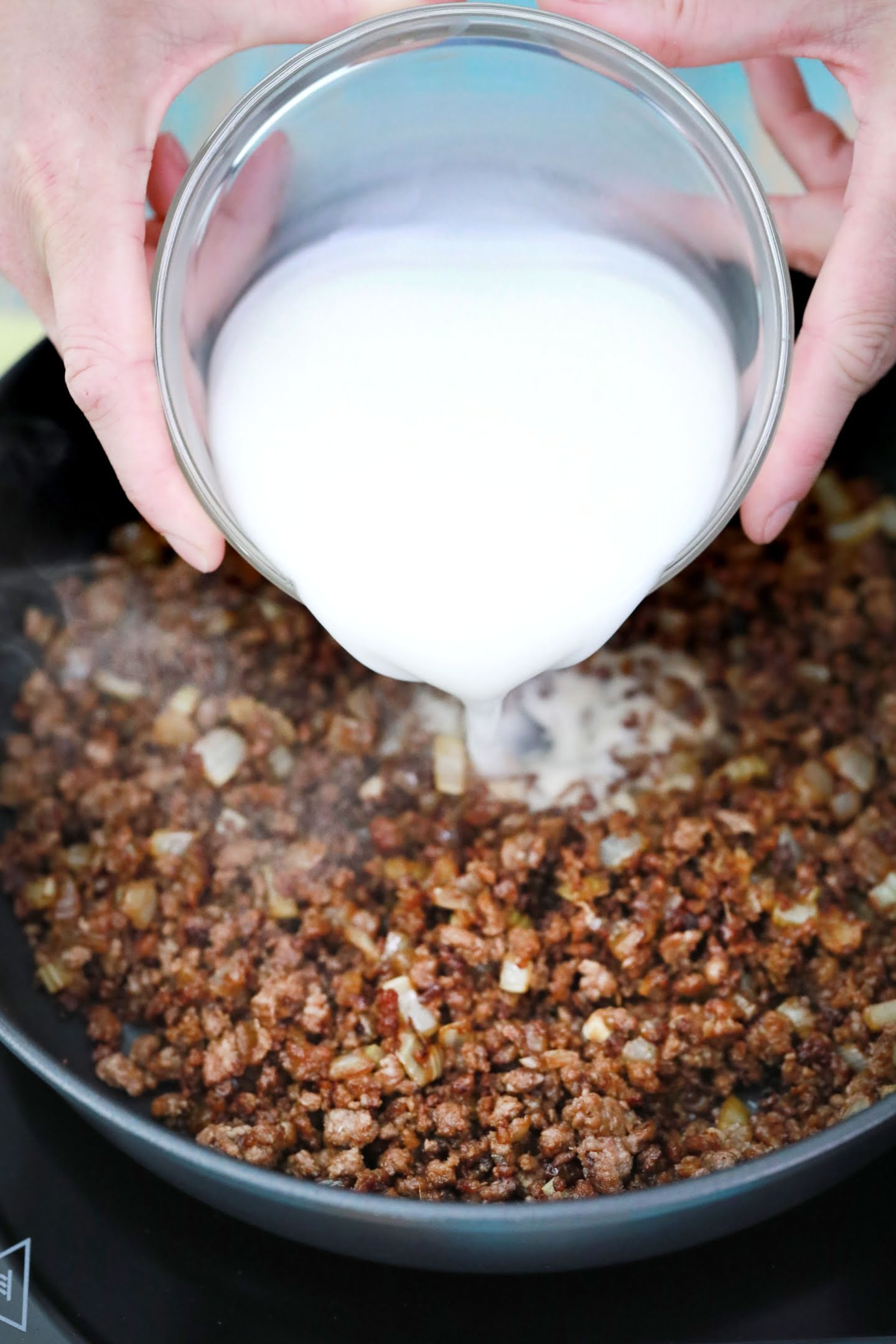 Step 4
Once the consistency is thick, add the water chestnuts and bean sprouts for a few more minutes.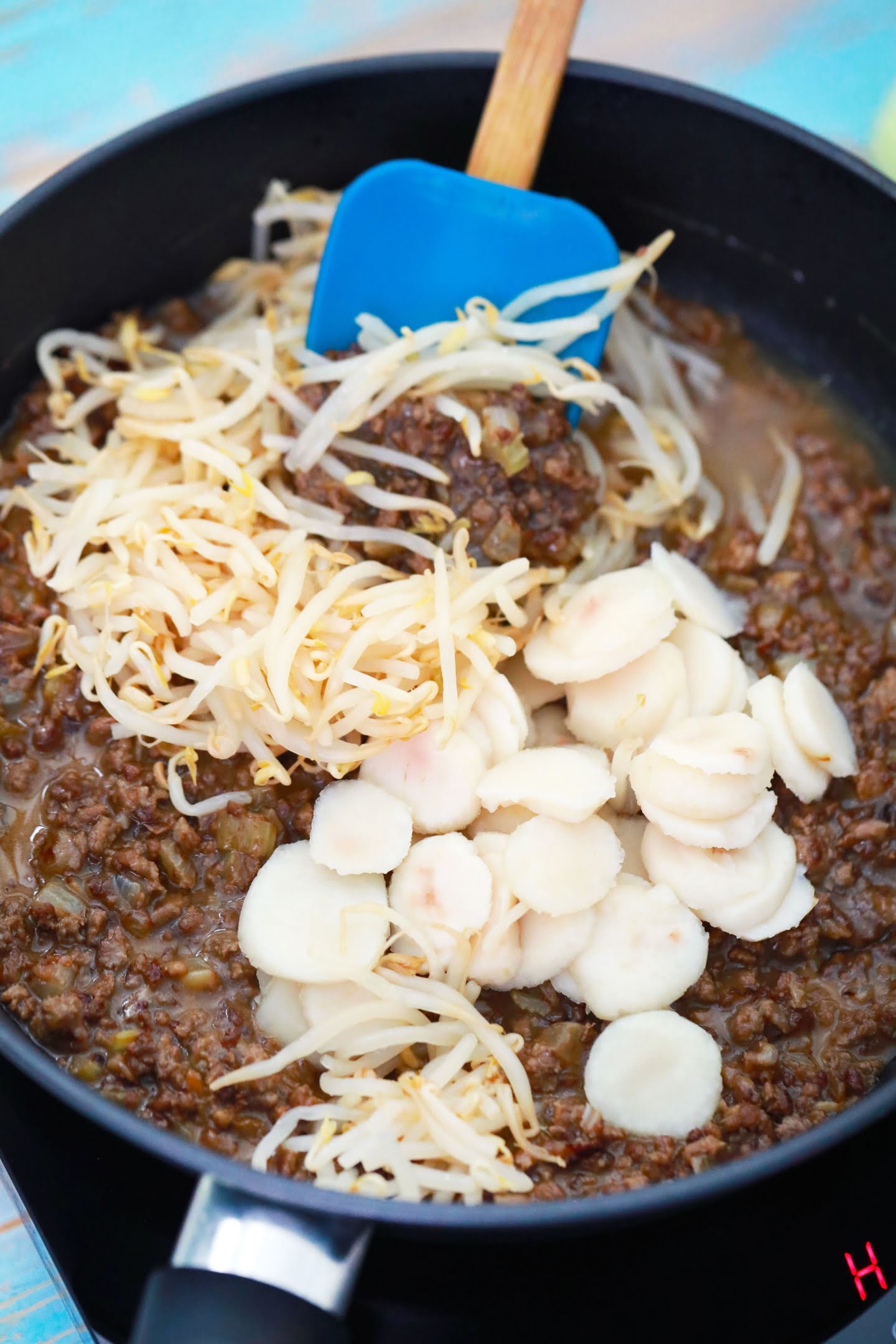 Step 5
Serve over cooked rice and enjoy!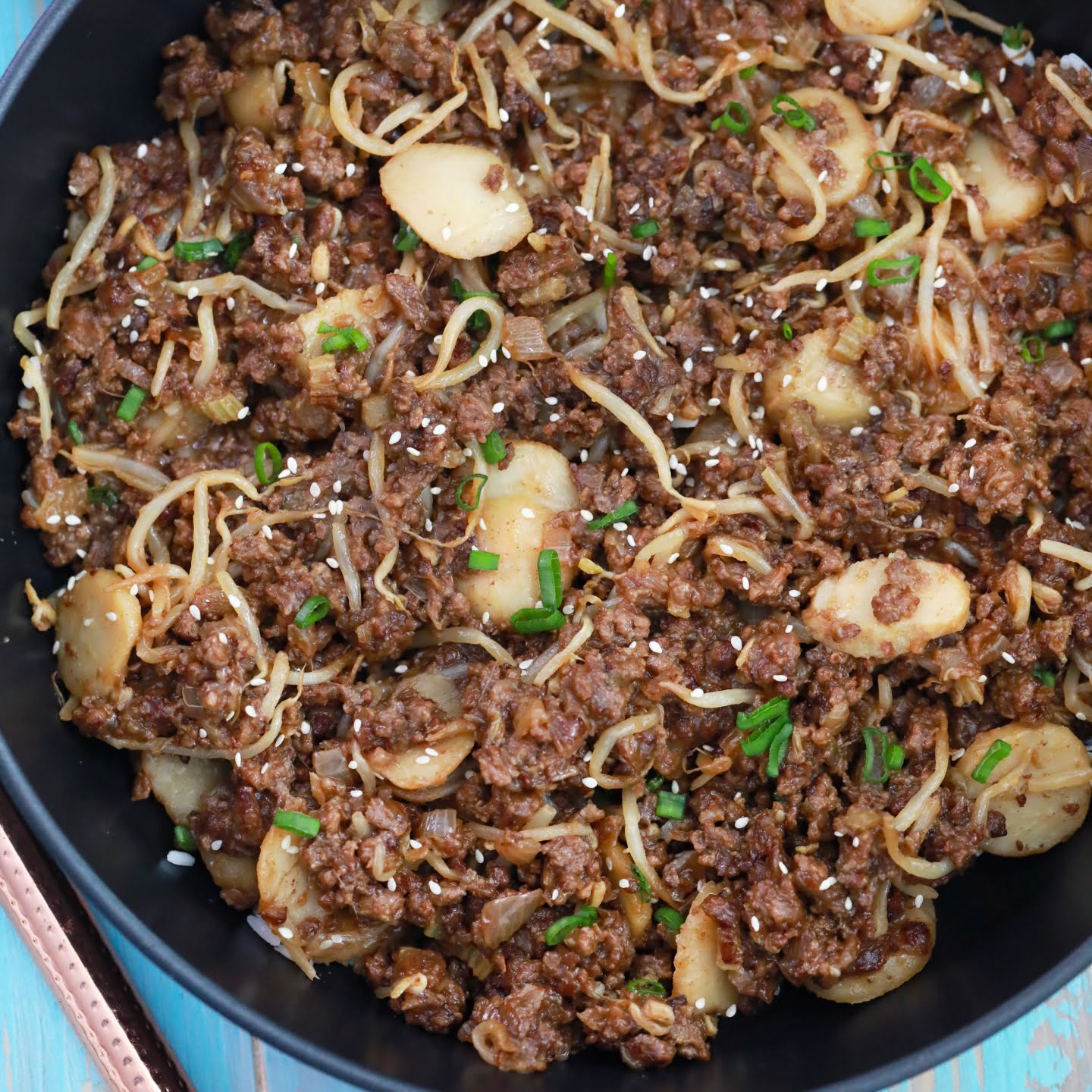 💭 Cooking tips
For an extra beefy flavor, mix in some beef bouillon cubes with the hot water and cornstarch, then add it to the skillet.
If you want to add some spice or extra sweetness to this dish, try adding 1 or 2 finely chopped chilis a touch of black pepper, and a tablespoon of brown sugar.
🙋 Frequently ask questions
What is the difference between chop suey and chow mein?
Chop suey is made with noodles or rice, while chow mein is made with a crispy noodle with a light crunch. Chop suey has a heavy sauce and is known to have bold flavors, while chow mein is the opposite and has a nice lite sauce, allowing the meat and vegetable flavor to shine.
Is hamburger chop suey easy to make?
Yes, hamburger chop suey is the easiest variation to prepare and cook. For a quick Chinese restaurant meal, faster than take out this is a fantastic option you can easily customize. Consider the following: oyster sauce, fish sauce, snow peas, mushrooms, and bok choy to name a few.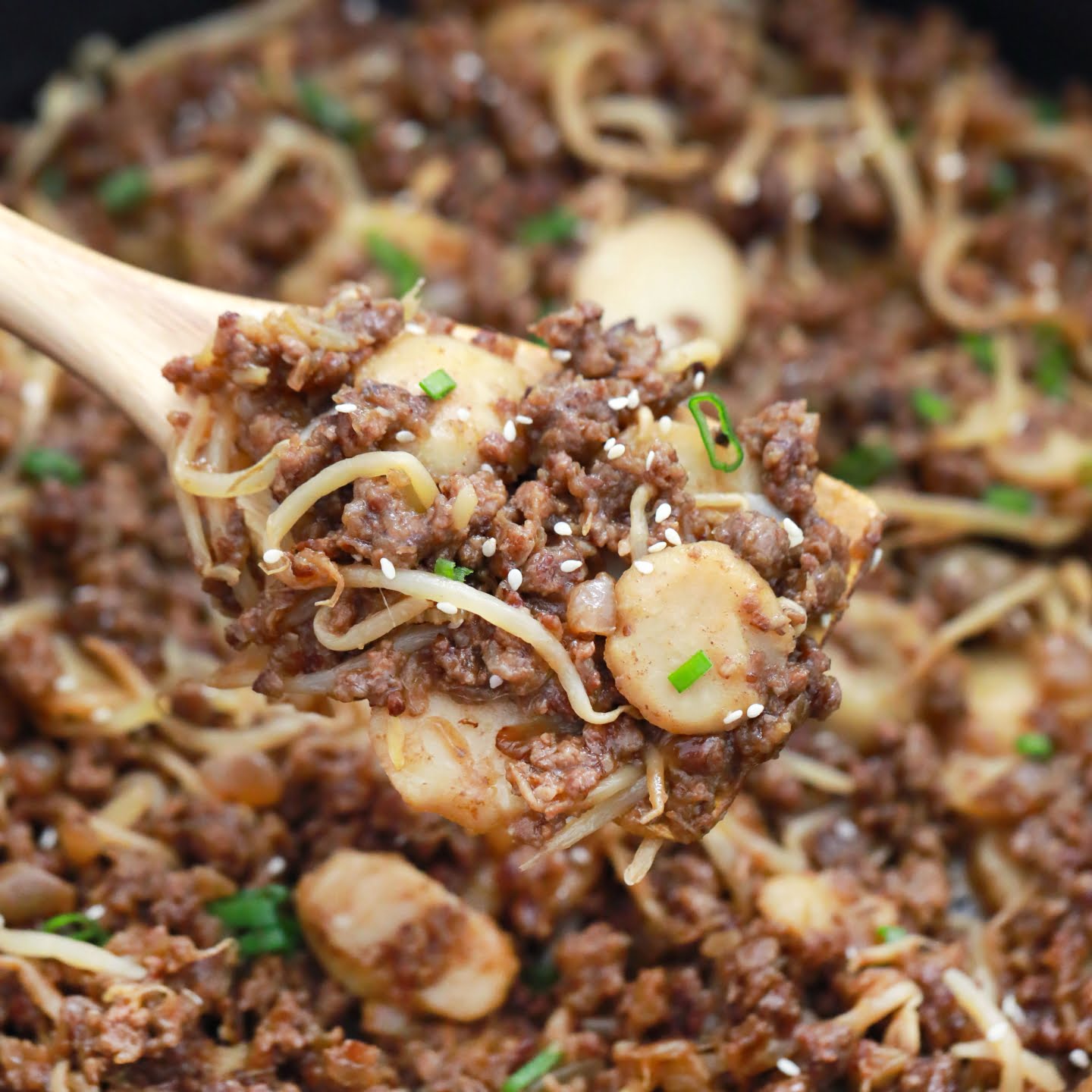 🐔 Chicken Chop Suey
Chicken chop suey is the second most popular recipe. I prefer and recommend using skinless boneless chicken legs which taste amazing and are affordable.
Substitute beef for chicken at 1:1 ratio.
🐖 Pork Chop Suey
Pork chop suey is great when you want an alternative to beef or chicken mentioned above. Pork is another affordable option and popular in chop suey combos. Substitute pork for beef at 1:1 ratio.
🦐 Shrimp Chop Suey
Shrimp chop suey is great if your craving a touch of seafood. While shrimp is more expensive, I feel like you use less and still achieve an amazing final dish. Substitute shrimp to beef at 0.5:1 ratio.
🥬 Vegetable Chop Suey
Vegetable chop suey is my favorite side dish. Mix up vegetables to enjoy with main dishes like my beef fried rice recipe. Consider bean sprouts, bok choy, bamboo shoots, red bell pepper, mushrooms, celery, and snow peas to name a few.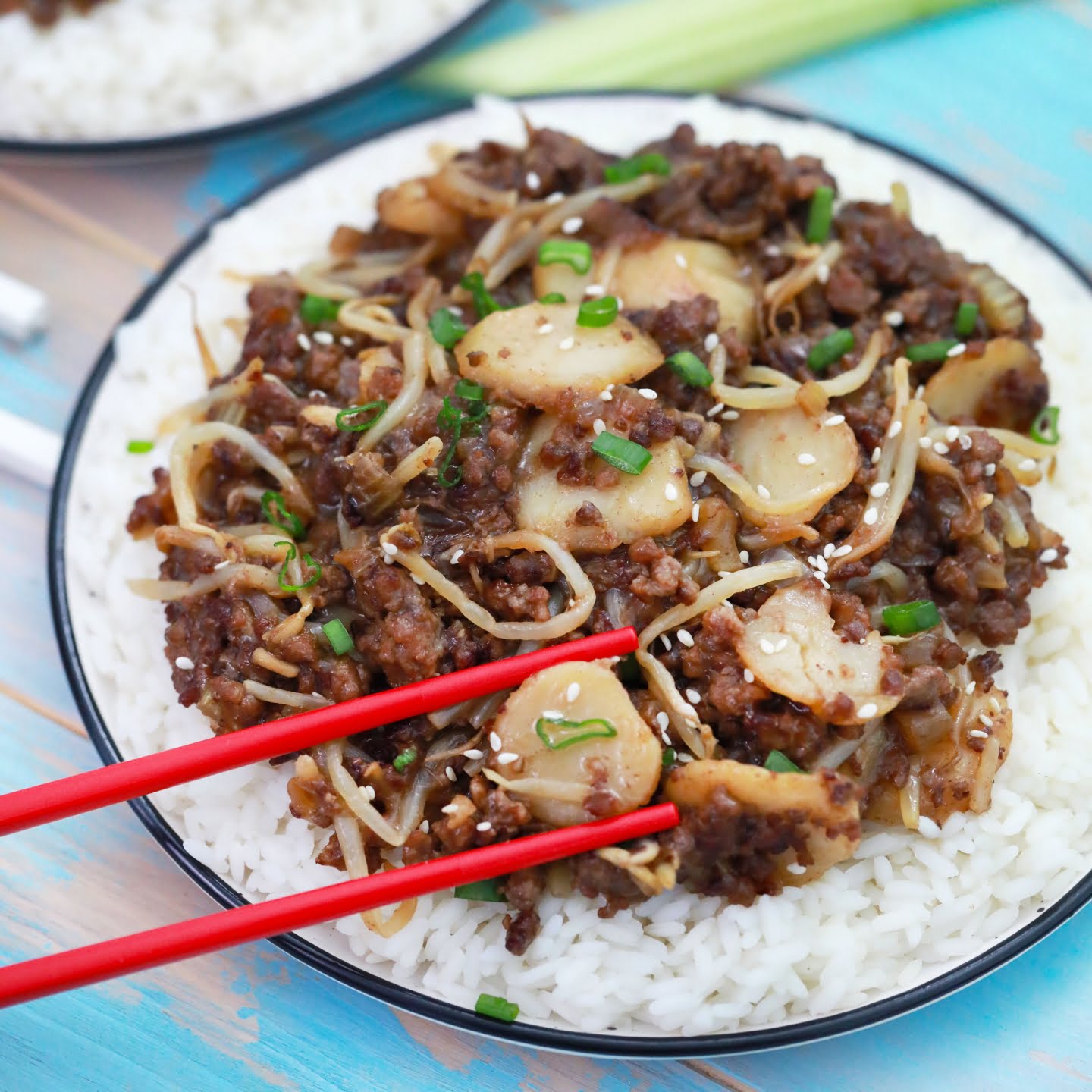 🥗 What to serve with
This recipe is called chop suey because it is served with rice, but if you serve it with noodles, it will be chow mein. Which is my preferred choice to serve with the hamburger recipe.
Serving the beef chop suey recipe with crispy fries is also a very good option if you enjoy some potatoes with your meal. Mix a tablespoon of salt and pepper with the fries before serving.
Another good option is to throw in some extra vegetables, like bell pepper and sliced carrot, and eat the meal on its own without the need for rice.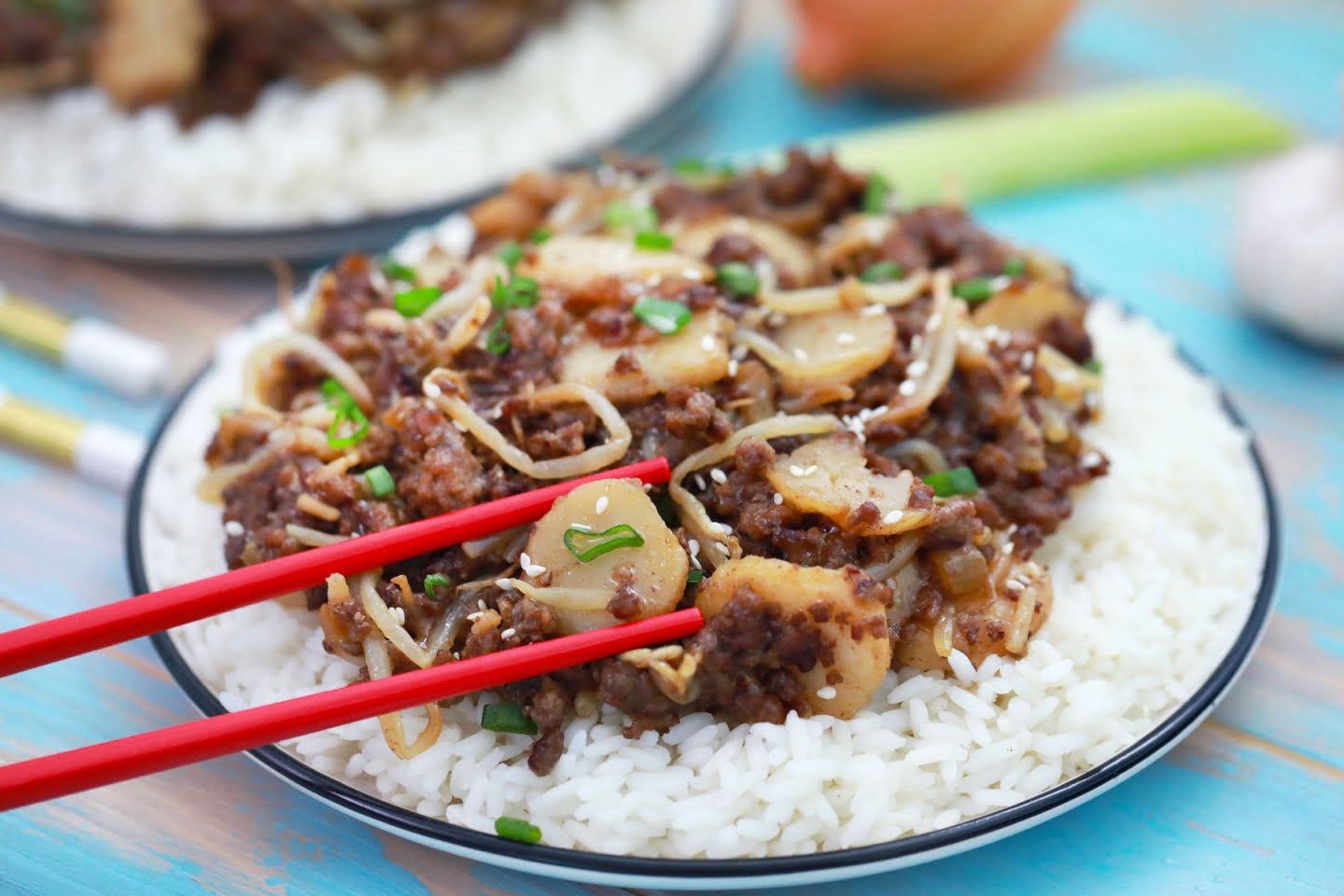 🥫 Storage
Although this recipe is ideally best eaten the same day to retain its fresh flavors and perfectly cooked veggies. It is possible to store it overnight in the fridge for the next day.
Fridge
This chop suey recipe can be stored in the fridge for up to 3 days, but I recommend eating it the day after as the brown gravy sauce will congeal and the veggies will become soft. Make sure the dish is covered with plastic wrap so no air can get to the ingredients, as air entering will create a crust on top of the food.
Freezer
Store in the freezer for up to 6 months. Once the chop suey has completely cooled down, transfer the ingredients into an airtight container or a dish and wrap it with plastic wrap before freezing.
🍳 Related Beef Recipes
If you love my beef chop suey recipe. Try one of these fantastic beef recipes for your next meal.
Learn more about my Asian soup recipes collection that are absolutely delicious!
👪 Serving Size
This quick and easy Asian inspired hamburger chop suey is a great choice for dinner any night of the week and makes 4 servings.
You can easily have it on the table in under 30 minutes and with minimal prep time, it's a no-brainer - and it's so delicious, everyone's sure to love it.
If you are looking for more Asian recipes I recommend you to explore my collection of best japanese comfort food recipes.
🎥 Watch how to make it
Love this recipe? Please leave a 5-star 🌟rating in the recipe card below and/or a review in the comments section further down the page.

Try one of my comfort dinner recipes for your next family meal! And if you have any questions, I'm here to help!
📋 Recipe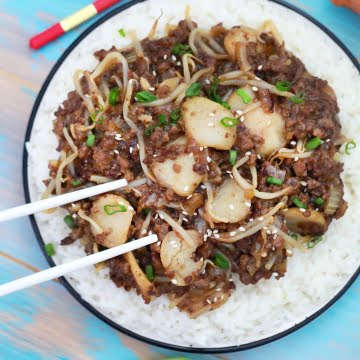 Beef Chop Suey (Beef Stir Fry)
Prepare this fantastic 30 minute beef chop suey recipe with ground beef, ginger, and soy sauce combined with chicken, pork, shrimp, vegetables, or create a chop suey combo or ultimate stir fry.
Print
Pin
Rate
Share
Equipment
1 Large wok or skillet

1 Chopping board

1 Large knife

1 Spatula
Ingredients
2

tablespoon

butter

1

onion

-

chopped

2

stalks

celery

-

finely chopped

2

teaspoon

ginger

-

minced

2

cloves

garlic

-

minced

2

pounds

hamburger

2

tablespoon

molasses

¼

cup

soy sauce

2

tablespoon

cornstarch

1

cup

hot water

1

small can

water chestnuts

-

drained

1

large can

bean sprouts

-

drained

4

cups

rice

-

cooked
Instructions
Heat the butter in a large skillet over medium heat, add the onion and celery and cook until softened, about 5 minutes.  Add the ginger and garlic, and cook for another minute or two.

Increase the heat to medium high and add the ground beef.  Cook until browned.

Stir in the molasses and soy sauce.  Dissolve the cornstarch in the water, then add to the beef and stir and cook until thickened.

Stir in the water chestnuts and bean sprouts and cook for a couple more minutes.

Spoon over rice and serve
Notes
For an extra beefy flavor, mix in some beef bouillon cubes with the hot water and cornstarch, then add it to the skillet.
If you want to add some spice or extra sweetness to this dish, try adding 1 or 2 finely chopped chilis a touch of black pepper, and a tablespoon of brown sugar.
Nutrition
Calories:
1354
kcal
|
Carbohydrates:
171
g
|
Protein:
55
g
|
Fat:
47
g
|
Saturated Fat:
18
g
|
Trans Fat:
3
g
|
Cholesterol:
162
mg
|
Sodium:
1005
mg
|
Potassium:
1182
mg
|
Fiber:
5
g
|
Sugar:
11
g
|
Vitamin A:
103
IU
|
Vitamin C:
4
mg
|
Calcium:
144
mg
|
Iron:
7
mg