This easy Chinese beef fried rice will get you in and out of the kitchen within minutes! What's more, you can customize it however you want to fit your preference.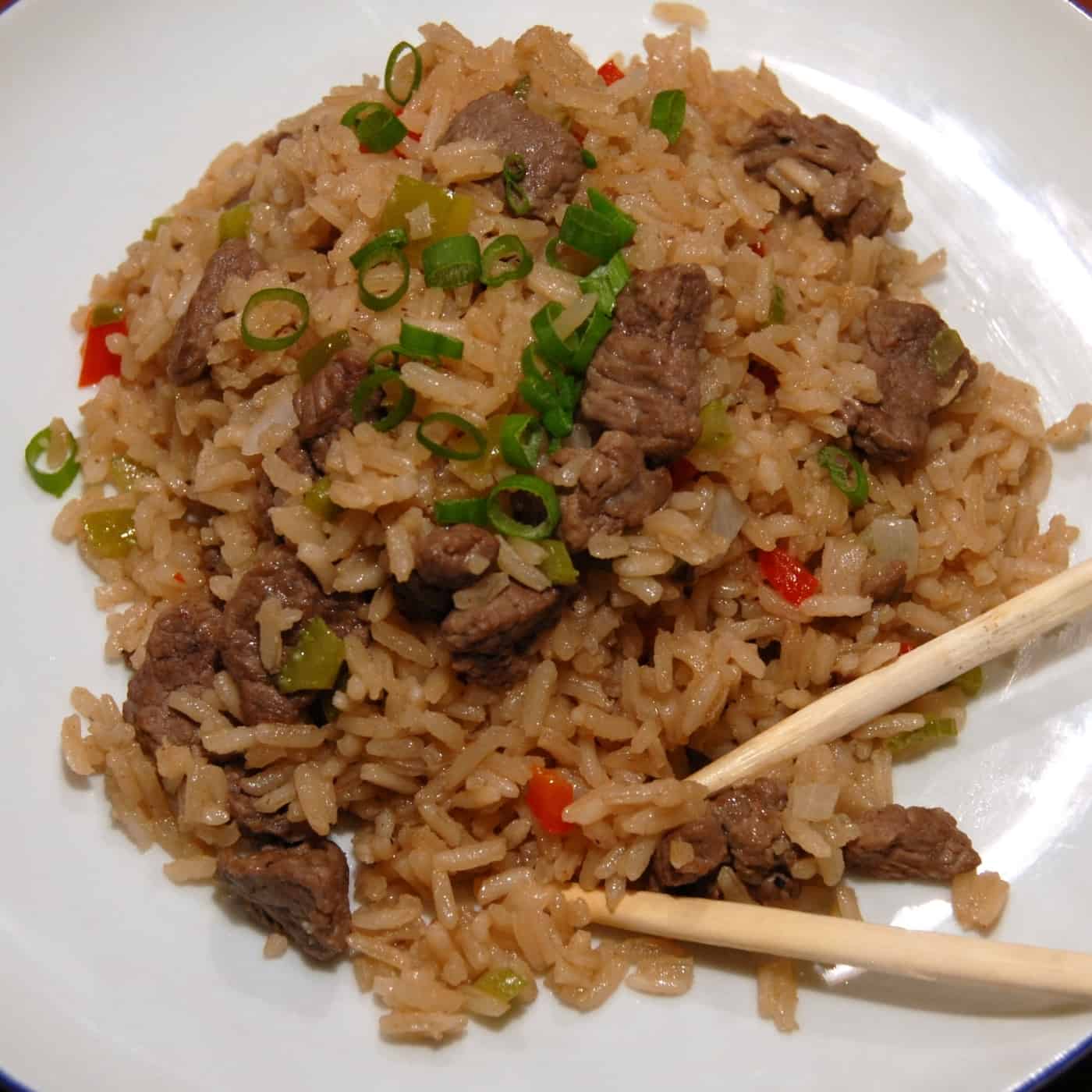 If you love beef and rice recipes, check out my beef chop suey, beef stroganoff, and unstuffed cabbage roll soup for your next family dinner.
Contents
⭐ Steak Fried Rice
I've always been a fan of Chinese cuisine. The fragrant, flavor, color, and simplicity do it for me. I also like how each dish has a distinct style and flavor. Steak fried rice can be extremely spicy and bold, light and sweet, while others are salty and crispy. In short, their cuisine offers something for everyone.
I know what we eat in Chinese restaurants is Americanized and not traditional Chinese food, but we still get to experience their diverse cuisine up close. I've sampled a few basic meals and enjoyed all of them. I particularly loved the hot and heaty stir fry pasta, super spicy mapo tofu, and umami-rich stir fry jasmine rice with beef/chicken.
I'm a big fan of fried rice dishes. I even went over several authentic Chinese cookbooks, and I made my own homemade beef fried rice recipe.
It's quick and insanely easy; you'll forget all about takeout dishes. What's even better, it's leftover-friendly! And you can even make my Mediterranean rice salad or a vegetables rice salad if you have extra rice leftover.
🍽 What do you need
Equipment
Large skillet, wok or saucepan
Spatula
Large mixing bowl
Ingredients
Rice - 1 ⅓ cups, white
Vegetable oil -¼ cup
Beef bouillon - 2 cubes
Soy sauce - 1 tablespoon + 1 teaspoon
Onions - 2, medium, chopped
Celery - 4 stalks, chopped
Green peppers - 2, chopped
Beef - 3 cups. sliced and cooked
Water - 3 cups, boiling
Salt -½ tablespoon (optional)
In this recipe, we'll use flank steak. It's a flavorful cut of beef but can be tough. You can either marinate or braise to help tenderize it. I prefer the former because braising takes a long time to achieve tender perfection. Soaking your steak in a marinade also helps it get a juicy kick.
Remember to cut it into thin slices across the grain before marinating. The thin cuts are perfect for fried rice.
🔪 How to make the Beef Marinade
1 tablespoon sesame oil
½ cup low sodium soy sauce
1 teaspoon chili garlic sauce
½ cup vegetable or canola oil
4 cloves garlic, minced
1 tablespoon minced fresh ginger
3 tablespoons honey
2 tablespoons rice vinegar
* use crushed red pepper flakes or sriracha if you don't have chili garlic sauce.
In a large bowl, mix all ingredients until well combined. Add the strip steak to the marinade. Ensure the meat is covered evenly from all sides. Cover the bowl and let it sit in the fridge for about 20 to 30 minutes.
Heat skillet over medium-high heat, then place your marinated steak in the skillet and cook for about 4-5 minutes. Flip and cook for another 5 minutes or until brown. Remember, you can stir fry your steak to your preferred level of doneness.
🔪 How to make beef fried rice
Learn how to make this easy beef fried rice with step-by-step instructions and video walkthrough below.
Course: Dinner
Cuisine: Chinese
Prep time: 10 minutes
Cook time: 30 minutes
Total time: 40 minutes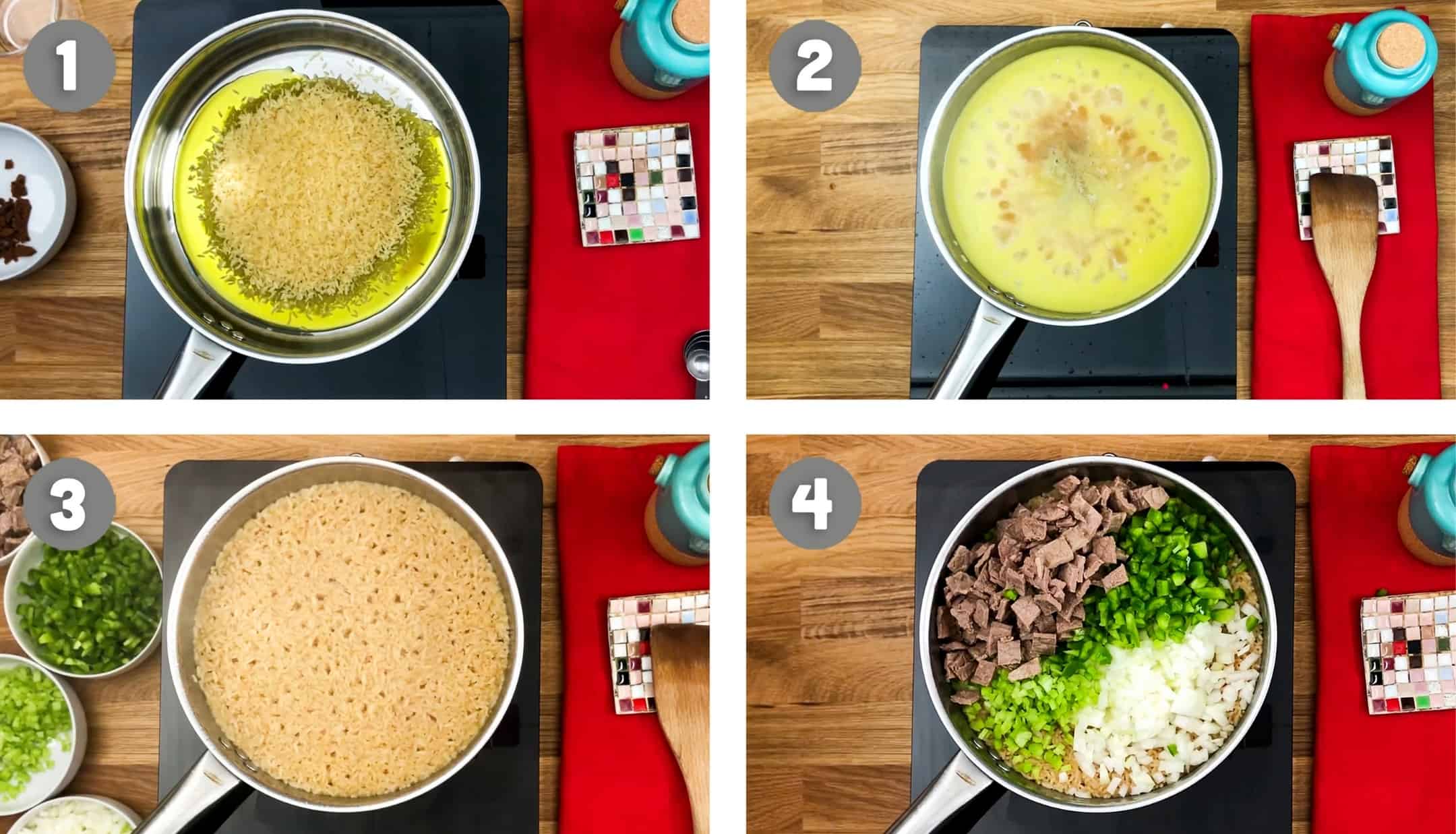 Start by heating oil in your large skillet or saucepan over medium heat. Swirl to coat, then add your drained white rice. Stir for about 3 minutes or until it turns a nice golden brown.
Pour boiling water, then add salt, bouillon cubes, soy sauce, and stir. You can add the marinade or any additional spices and herbs that you like.
Reduce heat to low, cover, and simmer for about 20 minutes.
Add onions, celery, green pepper, cooked beef, and stir. Cover and let it simmer for another 10 minutes or until the rice is tender and liquid is absorbed.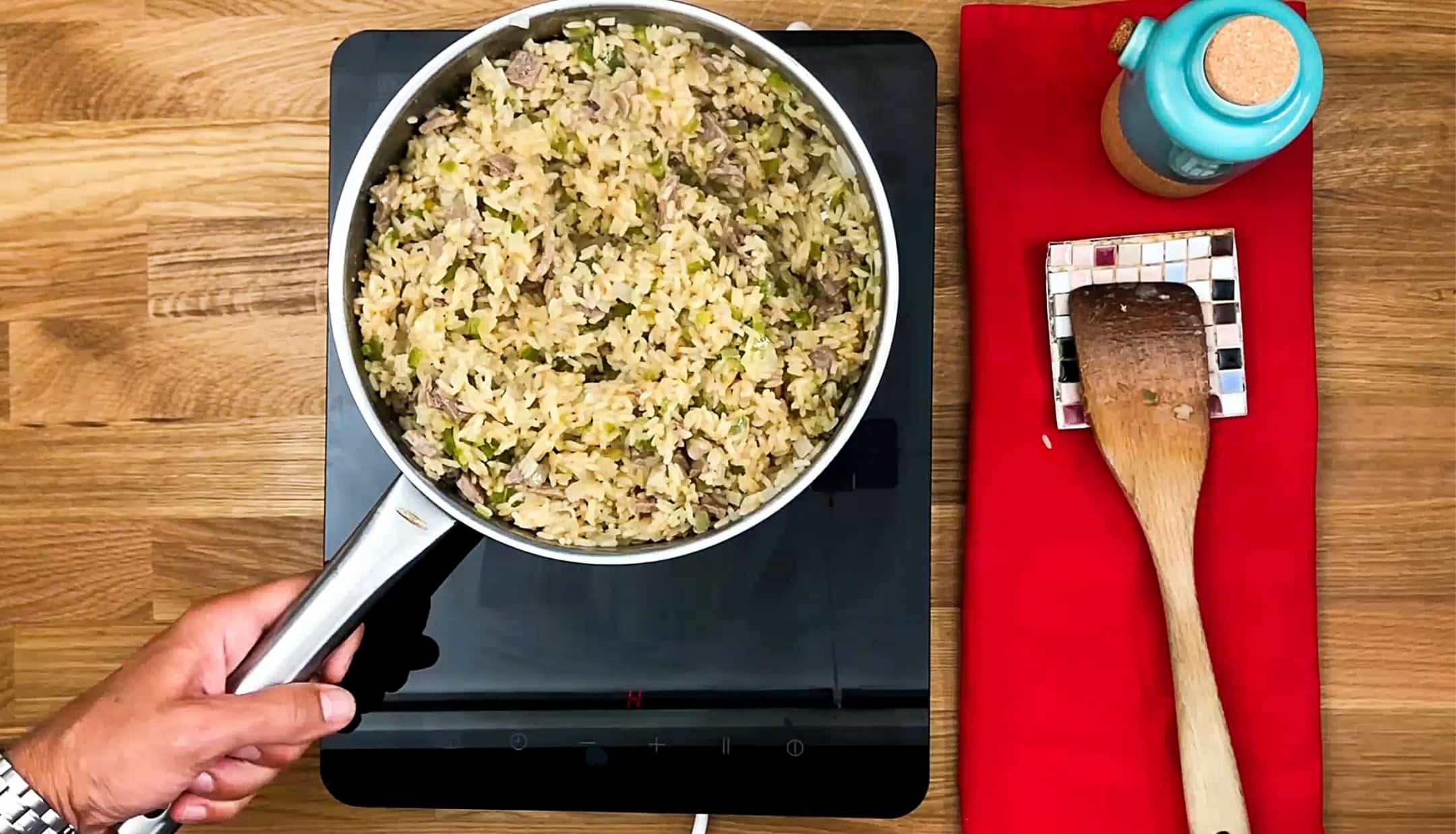 💭 Cooking Tips
Don't use high sodium soy sauce, especially if you're conscious about your salt intake. Low sodium products have about 600mg sodium per tablespoon. Always read the labels and alter the amounts accordingly. I usually use Kikkoman low sodium soy sauce for my fried rice recipes.
To prevent your rice from clumping together or becoming sticky, give it a good rinse before cooking. This is particularly important if you're using long grain rice. The rinsing helps to remove the excess starch.
Up your cooking game by being adventurous. Add your favorite spices, herbs, and veggies to the mix. If you love your meals hot and spicy, turn up the heat. Crushed red pepper flakes or sriracha can help you do just that.
If you want a nice meaty flavor, do not overcook your steak. This cut of steak can go from tender and juicy to tough and dry real quick. The meat tends to firm up as it cooks, so the longer you cook it, the tougher it becomes.
Don't go hog-wild with the soy sauce and sesame oil. These two have an intense flavor, and adding too much can easily overpower other flavors in your fried rice.
📖 Recipe Variations
This is just a simple traditional Chinese beef and rice recipe. There are so many ways to prepare this flavorful dish, so feel free to switch things up. Here are a few add-ins that can take your meal to another level:
Add veggies: If you're a veggie fanatic, throw them in the mix. You can add some carrots, bell peppers, pea pods, bean sprouts, zucchini, bok choy, broccoli, or bamboo shoots -whatever you love or have in hand. If you have frozen peas, the better, toss it in as well.
Swap rice: Instead of making a fresh batch of rice, use leftover rice if you have any. And when using leftover rice, you don't need to add it when you first start cooking. Otherwise, you'll have a mushy mess. To avoid this, add it towards the end because it only needs to heat through and absorb the flavors.
This means chopping off the 20 minutes of simmering. Also, if you want a dose of superfood nutrition, you can use cauliflower, quinoa, or even brown rice instead of white rice.
Substitute flank steak: If you can't get flank steak, you can substitute it with flat iron steak or skirt steak. Or, switch from beef to chicken, shrimp, or crab if you're on restricted calorie intake. These substitutes have a lower saturated fat compared to many cuts of meat. If you also have leftover pork, make use of it -it will turn out amazing.
Add stir fry sauce: Use the marinade sauce on the cooked rice for a more intense flavor.
Add eggs: This is a simple way of adding texture, protein, and a burst of flavors to your dish. Most Chinese-inspired beef fried rice recipes include eggs in the mix. To incorporate eggs into the recipe, scramble the eggs, set aside, and add them at the end of cooking.
🙋 What is the best rice to use?
When it comes to fried rice, I prefer using long-grain white rice or jasmine rice. Both are tender, but white rice has a fluffy texture, while jasmine rice is clingy, making them ideal for fried rice.
🙋 Can I use ground beef?
Yes, absolutely! There's no dicing, slicing, or marinating ground beef. Plus you also don't have to worry about overcooking ground beef. Give it a try and see how it goes in your next beef fried recipe.
🙋 Can I use butter instead of oil?
Yes, you can use butter for this recipe. Butter will not only add more flavor to the dish but also help brown the rice to perfection. Or, you can opt to use it in conjunction with oil. I prefer a 50% butter, 50% oil combination.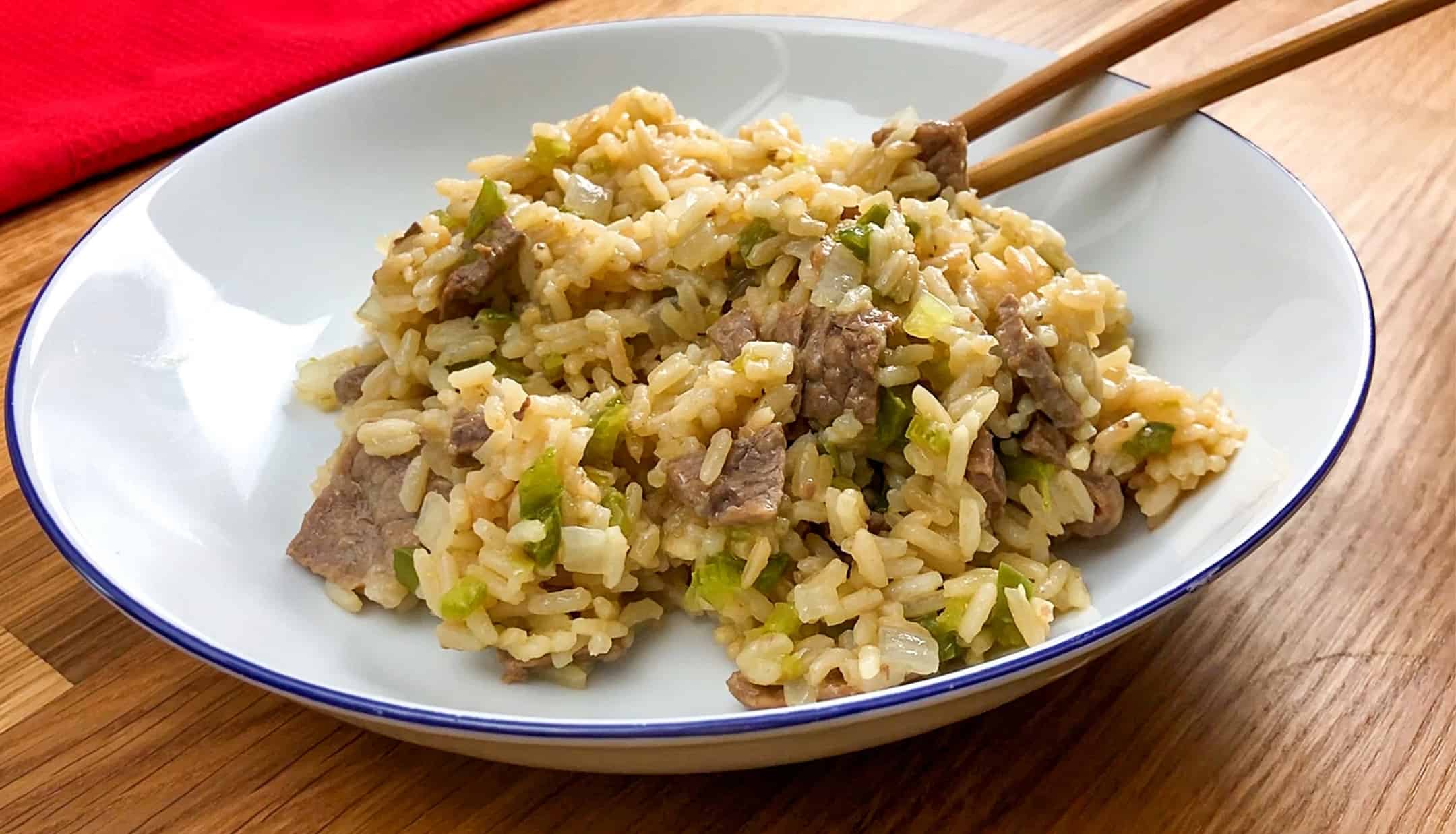 🥗 What to serve with Fried Rice?
This beef fried rice is a fantastic meal by itself, and you can enjoy it as it is. But you want to throw a side dish into the mix; here's a few amazingly delicious ideas:
Chinese-Style Broccoli Salad - packed with color, flavor, and nutrients, is a perfect accompaniment to the main dish.
Paneer chili gravy - this finger-licking Indian-Chinese cuisine pairs well with fried rice. The spicy, tangy, and sweet combination will give your fried rice a delicious twist.
Garlic green beans - if you want to sneak extra veggies onto your meal, this is an incredible option. It's bright, flavorsome, and adds a whole lot of crunch to your plate.
Chinese dumplings and egg drop soup are also standout side dishes that can transform any meal.
🥫 How to store leftovers
Store your leftover beef fried rice in an airtight container and put it in the fridge. It should last for about 5 to 7 days when stored properly.
You can as well freeze the leftover if you want it to last longer. When stored in an air-sealed container or freezer bag, it should last up to 6 months.
When you want to serve, thaw in the fridge overnight and reheat in a microwave. If you didn't know, cold fried rice is also enjoyable!
Looking for leftover rice recipes inspiration? Check out my collection of the best leftover rice recipes for any day of the week.
🍳 Related Beef Recipes
Learn more about my Asian soup recipes collection that are absolutely delicious!
🎥 Video
If you're looking to impress without slaving in the kitchen all day, this Chinese beef and rice is the perfect feed-the-family meal. It's heavy on the flavor and light on the dishes. Everyone in your family will love it, so it's a win-win! If you are looking for more Asian recipes I recommend you to explore my collection of best japanese comfort food recipes.
Love this recipe? Please leave a 5-star 🌟rating in the recipe card below and/or a review in the comments section further down the page.

Try one of my comfort dinner recipes for your next family meal! And if you have any questions, I'm here to help!
📋 Recipe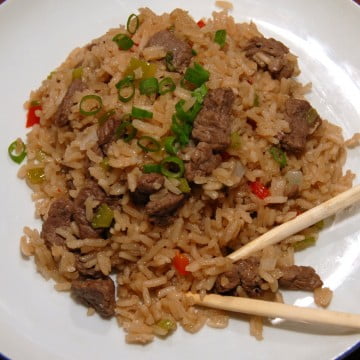 Easy Beef Fried Rice
This easy Chinese beef fried rice will get you in and out of the kitchen within minutes! What's more, you can customize it however you want to fit your preference.
Print
Pin
Rate
Share
Ingredients
1 ⅓

cups

white rice

¼

cup

vegetable oil

½

teaspoon

salt

3

cups

water

-

boiling

2

cubes

beef bouillon

1

tablespoon

soy sauce

-

extra 1 tsp

2

medium

onions

-

chopped

4

stalks

celery

-

chopped

2

green peppers

-

chopped

3

cups

beef

-

diced and cooked
Instructions
In a large skillet, cook and stir the rice in oil over medium heat, until golden brown.

Add salt, water, bouillon cubes and soy sauce.  Cover tightly and simmer for 20 minutes.

Stir in the onion, celery, green pepper and meat.  Cover tightly and simmer 10 minutes more, or until all the liquid is absorbed and the rice is tender.
Nutrition
Calories:
543
kcal
|
Carbohydrates:
39
g
|
Protein:
24
g
|
Fat:
32
g
|
Saturated Fat:
16
g
|
Trans Fat:
1
g
|
Cholesterol:
80
mg
|
Sodium:
474
mg
|
Potassium:
550
mg
|
Fiber:
2
g
|
Sugar:
3
g
|
Vitamin A:
267
IU
|
Vitamin C:
35
mg
|
Calcium:
59
mg
|
Iron:
3
mg