Few foods are more inviting and comforting than crispy panini sandwiches perfectly grilled or toasted, overflowing with delicious fillings and oozing with gooey cheesy goodness.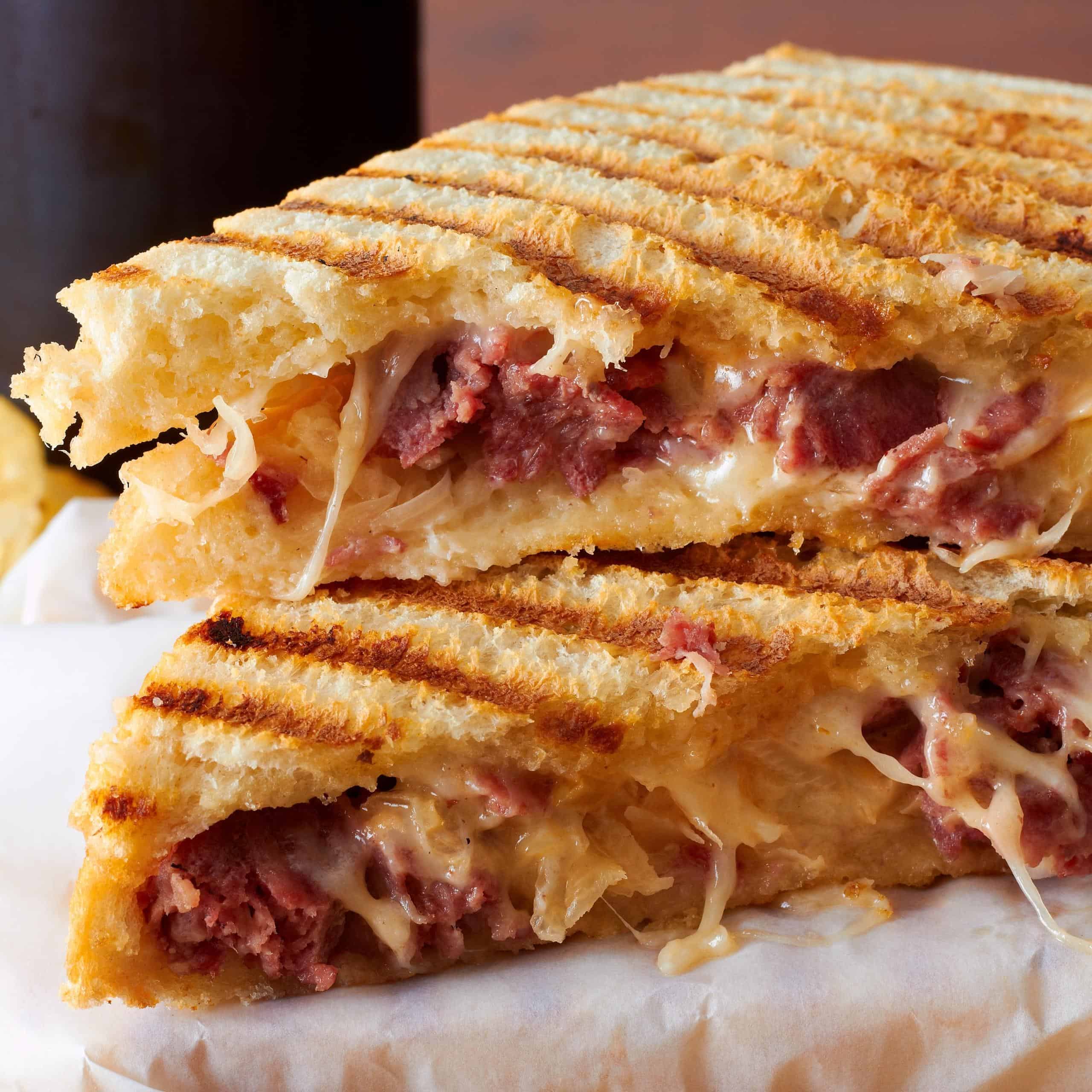 Whether sweet or savory, I'm loud and proud about my love for these versatile and tasty handheld goodies. That's why I've compiled this list of the best panini recipes.
Some are simple; some are borderline gourmet. Some are vegetarian spins on meaty classics, while others are childhood classics. I am pretty sure you will find a panini recipe in my list of best american comfort food per state.
🙋 Common Ask Questions
What kind of bread is used for a panini?
The best bread for panini sandwiches are  focaccia, ciabatta or a whole grain baguette. Bread that is light and airy, such as sourdough, shouldn't be used. It doesn't grill as effectively, and it can flatten and become dry.
What is the best cheese for paninis?
Goat cheese, parmesan, gruyere, cheddar, monterey jack, and mozzarella are the greatest cheeses for paninis.
These panini sandwiches are easy to make and deliver big on flavor- you're sure to find something you love in this panini recipes collection.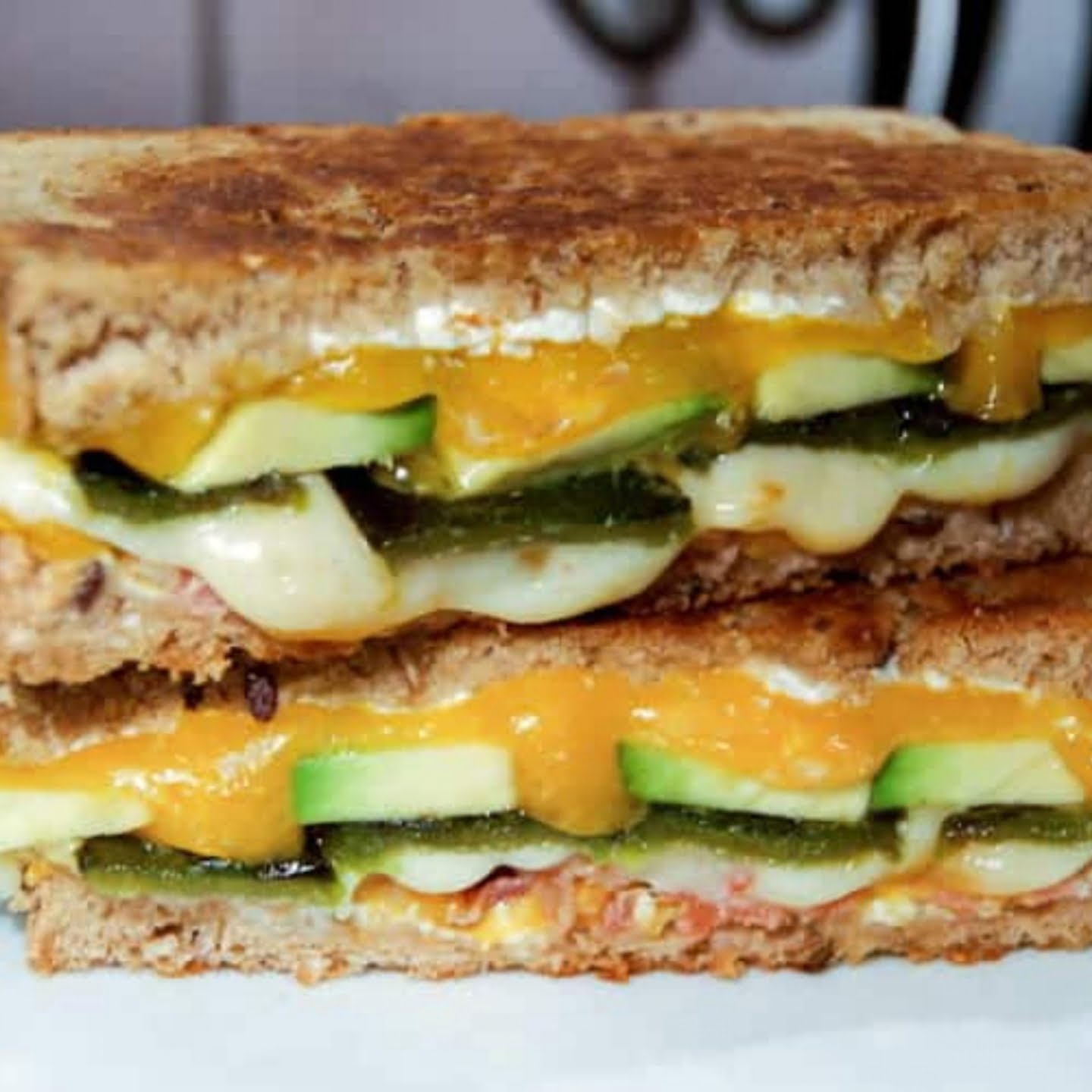 Classic jalapeno popper elements are transformed into a cheesy, creamy, delicious sandwich.
Roasted jalapenos and avocado goodness sit on a layer of creamy spread, melty cheddar, spicy pepper jack cheese, and crispy bacon - what more could you ask for in a sandwich?
This crave-worthy grilled sandwich panini recipe is perfect for breakfast, lunch, or dinner.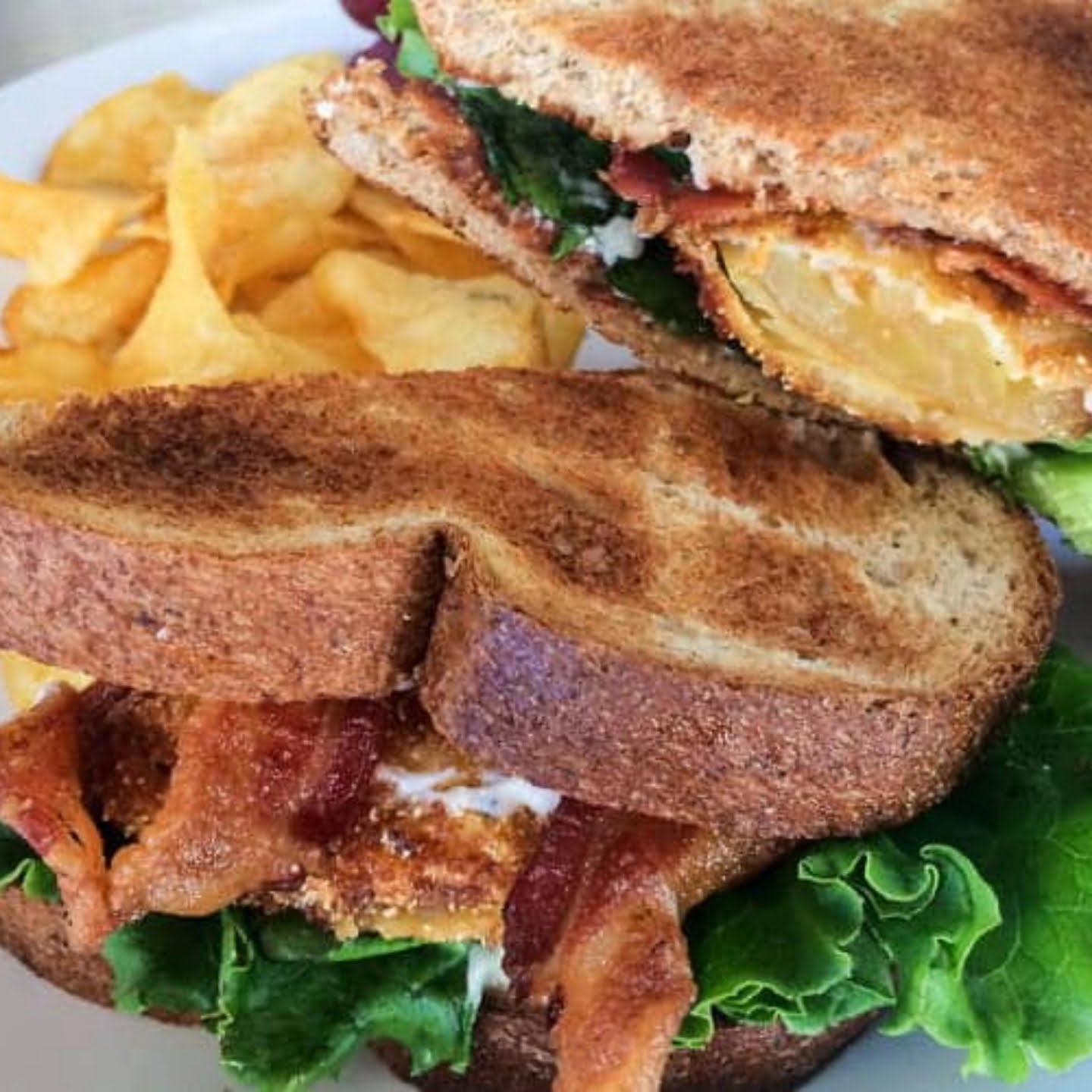 2. Bacon, Lettuce and Tomato Sandwich with Garlic Aioli
If you're a sucker for a classic BLT sandwich, you're going to love this version.
Instead of the usual (red) tomatoes, we used fried green tomatoes for a delicious twist. It adds a nice tangy flavor and a satisfyingly crunchy aspect to the toasted bread.
It's soo good; you'll probably be having it on the regular.
This gouda cheese panini is sure to become a staple in your home. It packs so much flavor, uses just 4 simple ingredients, and comes together in a snap.
It's perfect for those on a tight budget or days when your pantry is almost empty.
Feel free to add any cold cut for extra punch of flavor and texture.
When classic Pepperoni pizza gets reincarnated as ooey, gooey melty panini sandwich, you're guaranteed a delicious treat.
The combination of spicy crushed red pepper and oregano's woody and robust taste adds a nice zing we all crave in a sandwich. This will be an instant hit with kids and adults alike.
As for the crust, homemade or ready-made pizza dough works just fine. Cut it into triangles or as per your preference.
Coat with a thin layer of olive oil and a pinch of salt and bake at 425° F for about 15 minutes for a nice crispy finish.
Full of Italian flavors, this pesto panini sandwich is guaranteed to bring joy to anyone who tries it.
It's cheesy. It's meaty. It's juicy, and it's crunchy. It has everything we all love and crave.
This panini sandwich pairs well with chicken parm soup or lasagna soup.
This veggie panini is stuffed with mouthwatering flavors that will please even the most staunch meat lovers.
You'll especially love the rich, briny bell pepper olive tapenade spread, which combines beautifully with the veggies and cheeses.
The filling can be made ahead of time, and when you want to indulge, just assemble and toss in the panini press.
This is the ultimate comforting indulgence. It's next-level delicious courtesy of the melty fontina and full-flavored garlic-gorgonzola mayo spread.
Serve with a side salad for a satisfying lunch or dinner.
If you can't find gorgonzola cheese, Roquefort, Blue d' Auvergne, or cheddar cheese work as a nice substitute.
Homemade pesto is the crowning glory of this Caprese panini recipe that features fresh slices of mozzarella cheese and tomatoes sandwiched between two slices of sourdough bread.
The basil leaves the base of this spread which adds a huge punch of flavor. The pine nuts give it a rich, buttery texture.
The parmesan adds a layer of luscious richness. Garlic lends bite while the olive oil and creamy goodness of avocado bring in all together.
You can't go wrong with this simple 4-ingredient panini. Sweet, caramelized onions provide a great counter to the tangy goat cheese on grilled bread.
The absolute best way to enjoy this panini is with a bowl of hot soup and a side of green salad.
Bring a taste of Philly to your kitchen by whipping up this classic Philly cheesesteak sandwich.
Tender thinly sliced chuck roast dripping with earthy sweetness of caramelized onion and melted provolone cheese is served on two slices of crusty bread.
One magnificent bite of this wonderful-tasting panini will have you head over heels in love.
This is one of my family's fix-it-quick panini recipes. It's nothing fancy but packs incredible flavors and couldn't be easier to whip up.
Buttery and creamy Havarti cheese melts into gooey goodness that holds the juicy tomatoes, turkey, and salty bacon.
Enjoy it right away as a snack or easy dinner. Give this crowd-pleasing panini a try when you're in the mood for quick and easy comfort food.
Give the grilled cheese an autumn twist with this mouthwatering panini recipe.
Balsamic vinegar caramelized onion is layered between two slices of whole-grain bread with lightly sautéed pears, peppery arugula, and melted cheese.
The sweet bite of honey mustard nicely complements the piquancy of blue cheese.
You'll want to make this all season long.
Oven-roasted turkey and fresh tomatoes are made special with fresh basil, lemon juice, and the tangy, creamy flavors of mayo & Greek yogurt.
The addition of rich Parmigiano Reggiano really takes it to the next level.
You're guaranteed not to have any leftovers when you serve these flavor-packed panini sandwiches at a party.
Recreate a tropical vacation with this Hawaiian chicken panini recipe.
With the perfect medley of sweet and savory flavors from the teriyaki glaze, grilled pineapple, and Maui onions, this tropical treat is sure to be a crowd-pleaser.
It makes a perfect appetizer or afternoon snack.
Bring the flavors and allure of Paris to your kitchen with this lip-smacking brie sandwich.
The honey butter spread, a combo of French-style butter mixed with honey, makes this sandwich absolutely irresistible.
If you're a meat lover, feel free to throw in some ham or thin slices of tender roast beef for a French foodie affair.
Bacon and waffles on a sandwich? And topped with yummy Swiss cheese? This flavor combo will knock your socks off.
It's crunchy, sweet, savory, and downright delicious. Sautéed bell peppers and red onion add another layer of texture, flavor, and color.
You can make this veggie panini ahead of time and assemble it quickly for a fast-fix lunch or dinner.
Italian bread and meats team up with tomatoes, roasted peppers, pepperoncini, melty cheese, and Italian dressing to deliver a wholesome indulgence.
This panini recipe delivers everything you want from a classic Italian panini.
It's a perfect easy dinner or a midnight snack for a cozy night in.
Something magic truly happens when Nutella combines with banana and strawberry. It's big on flavor and nutrition for the ultimate treat.
This recipe is great appetizer or breakfast to entertain guests and feed a crowd, and kids especially will love the amazingly scrumptious bite of the melty chocolaty goodness.
If you're out of Nutella, chocolate chips are fantastic subs. You could also swap the Nutella for peanut butter for a nuttier version of this sandwich.
When it comes to easy panini recipes, it doesn't get much easier than this chicken and prosciutto panini with melty provolone cheese.
It comes together in just 35 minutes and is a breeze to prepare.
Besides, all you need for this meaty, cheesy dish is just 5 ingredients and two cast iron skillets - no panini maker required.
You're going to love this irresistible panini recipe, especially if you're a fan of artichoke spinach dip.
Fresh mozzarella melts into gooey goodness that holds the chicken strips, marinated artichoke hearts, and baby spinach.
Add some savory garlic spread, and you've got yourself a ridiculously tasty sandwich.
Cranberry sauce, ground mustard, cider vinegar, and olive oil create an ultra flavorful spread for this turkey panini.
Add creamy brie slices and sprinkling sage leaves, and you have a treat oozing with deliciousness.
Not a fan of brie cheese? Use cheddar cheese or any melty cheese you like.
For a remarkably simple recipe, the flavor of this eggplant parmesan panini is anything but.
A fun mix of tomato, garlic, and pesto sauce spread really packs a huge flavor punch.
Along with the gooey richness of fresh mozzarella, it cuts through the slightly bitter taste of eggplant cutlets.
This results in a delightful balance of flavors your family will rave about for days!
Meaty Portobello mushroom takes center stage in this meatless panini recipe.
Seasoned mushroom and red pepper are oven-roasted, slathered between two slices of French bread with fresh basil, cheese, and mayo spread, then grilled to crisp perfection.
It's so good even meat lovers are going to enjoy this.
A classic combo of pesto, mozzarella cheese, and sun-dried tomatoes is a match made in food heaven.
It's mouthwateringly delicious; no one will guess how easy it is to put it together.
For vegan paninis, replace the sliced turkey with sautéed peppers or any veggie(s) of your choice and remove the cheese or use a dairy-free option.