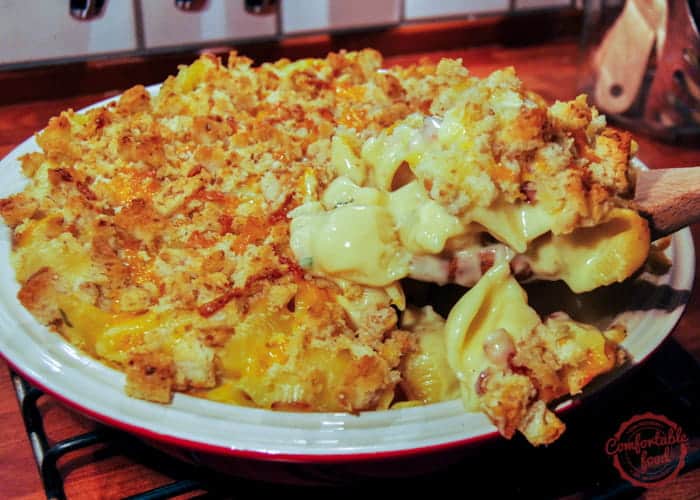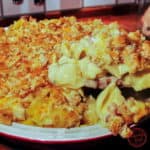 This mac 'n cheese is over the top delicious.  It's super creamy, a little bit spicy and the bacon gives it a supreme smokiness.  The flavors of the aged cheddar and the green of the jalapeno blend together perfectly.   Make this for dinner by itself, or serve it in smaller portions as a delicious side.

Check out these kitchen essentials helpful in making this recipe:



[adinserter block="1"]
[adinserter block="2"]
here's a video showing how to make it:
Ingredients
how to
Pre heat your oven to 350 F (175 C) and grease a medium baking dish. (I used a large pie pan)
Melt 2 tbsp of the butter and in a small bowl toss it with the bread pieces then set aside.
Cook the bacon in a heavy bottomed pot.   When cooked, remove it to a paper towel lined plate to drain.
Remove most of the bacon grease from the pot, but leave any bits that are stuck to the bottom.
Add the 4 tbsp butter and jalapeno and cook over medium heat for about 2 minutes, scraping up the bacon bits.
Whisk in the flour, and cook - whisking constantly - for about 3 minutes.
Slowly whisk in the milk and cook, stirring constantly, until thickened and just about to simmer - about 5 minutes, then remove from heat.
Generously add salt and pepper and stir in the white cheddar and two cups of the sharp cheddar - stir until melted, then fold in the bacon and the pasta.
Pour the pasta into the prepared dish, toss the bread pieces with the remaining 1/2 cup of sharp cheddar and spread over the top.
Bake for about 25 - 30 minutes, until bubbly and the breadcrumbs are golden brown.