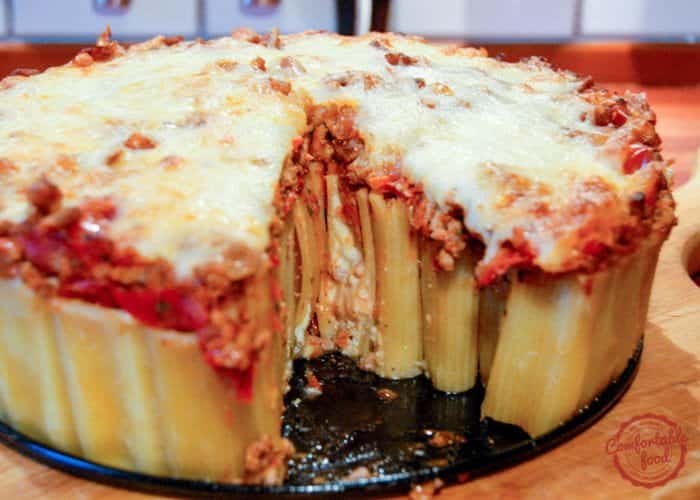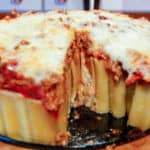 This impressive rigatoni pasta pie is a bit labor intensive, but totally worth it.  The presentation of the stuffed rigatoni standing up, held together with meat sauce and cheese is really something.  It's guaranteed to get oohs and awws at dinner time.
Ingredients
how to
Preheat oven to 400 F (200 C).
Cook the rigatoni in boiling water, about 1 minute less than package directions.  Drain then toss with the parmesan cheese in a large bowl.
Lightly oil a 9" springform pan and pack the rigatoni in tightly, standing on their ends.
to make the filling:
In a medium bowl, mix together the ricotta, mozzarella, parmesan, eggs and parsley until well combined, then set aside.
to make the sauce:
Heat the oil in a large skillet over medium high heat, add the ground turkey or beef and cook until browned.
Season with salt and pepper, then stir in the garlic, italian herbs, and crushed red pepper.  Cook for another minute or two.
Add the crushed tomatoes and simmer over medium heat until most of the liquid has cooked away - about 20 minutes.
While the sauce is cooking, fill the rigatoni with the cheese filling.  Use a pastry tube to pipe the filling into the noodles, filling each one about 1/2 full. (if you have a problem getting the mixture through a pastry tube, you can blend it with a hand held blender to make it smooth enough to pass through.)
When the meat sauce is done, ladle it on top of the rigatoni, pushing it down a bit to fill up the remaining space in the noodles.
Bake in the oven for about 15 minutes, then remove and sprinkle over the mozzarella cheese.
Return to the oven and cook for about 15 more minutes, until the cheese is bubbly and beginning to brown.
Let rest about 15 minutes before removing the form and serving.