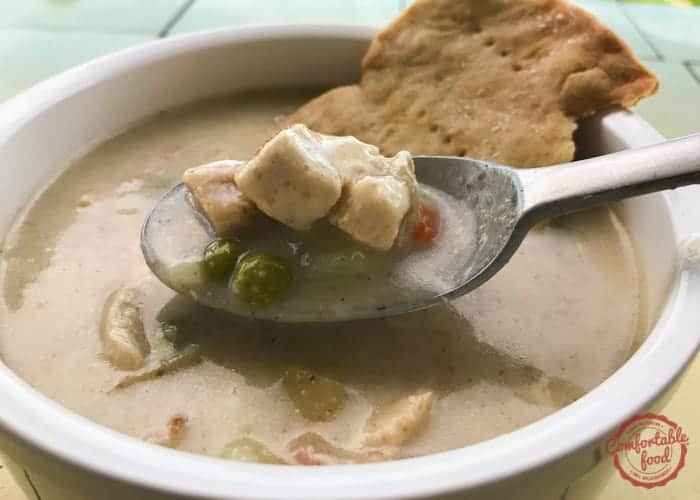 I'm always on the lookout for new, easy interesting dinner ideas, and this one absolutely hits the spot.  I love chicken pot pie – it's one of my favorite dinners – and this is an easy way to get the exact same flavors, with a twist on the form.
This soup is rich and hearty and absolutely delicious.  I served it to adults and children and everyone came back for seconds.  If you don't want to make your pie crust from scratch (but you totally should) you can buy something pre-made in your grocery store and cut down on the cooking time for this recipe.
(This recipe was originally published here on 12/19/2016)
Ingredients
how to
make the pie crust:
Preheat the oven to 350F.
Rub the butter into the flour with your fingers, until small crumbs form.
Add the egg and sour cream and mix well using a spoon until it comes together into a ball - (it will be very sticky in the beginning).
Put the dough on a floured surface and knead well for about 2-3 minutes.
If necessary add more flour (just enough for the dough not to stick to the surface).
Form a ball and let the dough rest for around 10 minutes.
Roll the dough out into a large rectangular shape, then put on parchment paper and put on a cookie sheet, poke holes all over with a fork.
Bake for 20 - 25 minutes, or until golden brown, then remove and allow to cool, then use your hands to break up into large pieces.
make the soup:
In a large, heavy bottomed pan melt 2 tablespoons of the butter, then cook the chicken and bacon over medium heat until cooked through - the bacon shouldn't get too crispy.
Use a slotted spoon to remove the chicken and bacon to a bowl, leaving the fat in the pan.
Add the remaining butter and melt over medium low heat. Add the garlic and celery and cook until fragrant - about 2, 3 minutes.
Sprinkle the flour over the melted butter, and use a whisk to combine. Allow to cook - stirring constantly, until the flour begins to brown.
Add the chicken stock and milk, and increase the heat to medium high. Stir constantly until the mixture begins to thicken, then stir in the salt and pepper.
Add the potato, carrots and peas and cook for about 25 minutes, or until the potatoes are tender.
Stir in the chicken and bacon and allow to simmer for about 10 more minutes, until the flavors are combined.
Serve the soup with the chunks of the pie crust for dipping.