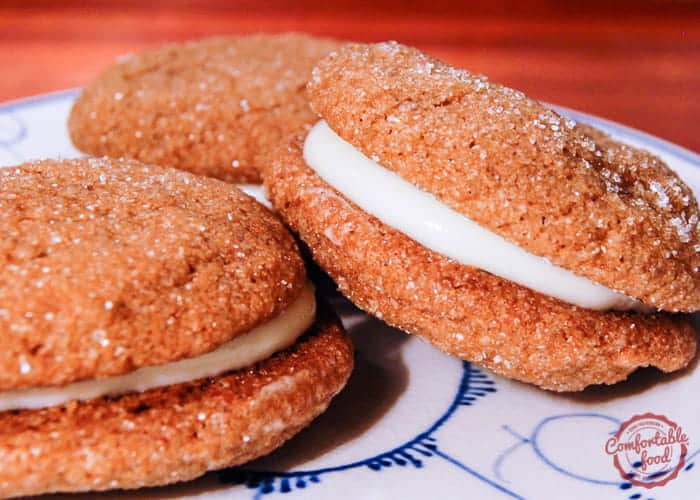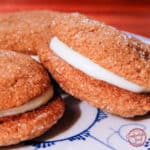 I have been making these ginger snaps for years - they are one of my favorite cookies.  I wanted to do something with them that was a little more special for the holidays, and had been seeing a lot of these 'sandwiches' popping up all over, so I decided to check it out.  I'm not sure I would have ever paired these with lemon, but turns out the combination is fantastic.  The crunch and sweetness from the sugar goes so well with the tart lemon, and the ginger is not lost - but blends in perfectly.  I will definitely do this again.  These cookies are a great thing to have around by themselves - but if you want to impress someone, (yourself included) - whip up this cream cheese filling and serve a delicious sandwich.  : )
Ingredients
how to
to make the filling:
Use an electric mixer and mix together the cream cheese and butter until light and fluffy, then mix in the lemon juice and salt.
Add the sugar, a little at a time, until you get the right consistency and flavor, the more sugar you add, the thicker the cream.
Let the filling rest, covered, in your fridge until the cookies have baked and cooled.
to make the cookies:
Pre heat the oven to 350 F (175 C).
In a medium bowl, sift together the flour, baking soda, cinnamon and ginger, then set aside.
In a larger bowl, use an electric mixer and blend the butter and sugar together until pale and fluffy, about 3 minutes, then add the egg, then the molasses; mixing well after each.
Using the mixer on low speed, mix in the dry ingredients in 2 or 3 batches, and mix until just combined.
Use a 2 tsp or tbsp measure and form uniform balls from the dough.  Roll them in sugar, then place on baking sheet covered in baking paper, about 2 inches apart (they will spread).
Bake in heated oven about 10 - 12 minutes, or until golden brown.
Let the cookies cool for about 5 minutes on the sheet before removing them to a wire rack to cool completely.
Use a small spoon to put a little filling between the bottoms of two cooled cookies and gently press together until the filling reaches the sides.