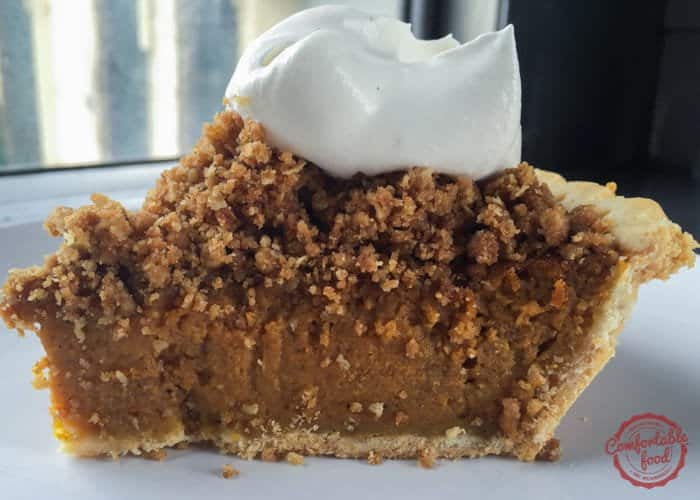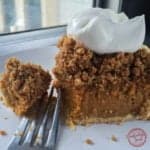 This is the week for pumpkin pie, and there are so many different variations on this delicious holiday dessert.  This recipe is from my friend Jes, and it's one of the best pumpkin pies I've had.  There are so many different flavors in this pie and they all blend together absolutely perfectly.  The texture is perfect, it's not too firm – it's perfectly creamy.  The streusel topping adds fantastic texture and just the right touch of sweetness.  The whipped cream is so soft and luscious, it really completes the experience.
If you haven't found the perfect recipe for this holiday dessert staple, you can stop looking now – because this is the one.  You will have everyone at the table asking for more, I am sure of it.  Happy Holidays!
(This recipe was originally published here on 11/26/2014)
Ingredients
how to
make the pie:
Preheat the oven to 300 F.

 Put the eggs, egg yolks, sugars and molasses in a large mixing bowl and use a whisk to blend them together well. Add the pumpkin and spices and whisk to blend.

Scrape the seeds out of the vanilla bean into the bowl, and whisk in the milk. Add the butter and bourbon and stir to incorporate.
Pour the mixture into a pre-baked pie crust and bake for 45 - 60 minutes, or until the edges are set.
make the crumble topping:
In a medium bowl, mix the flour, oats, brown sugar and cinnamon together. Add the cold butter and use a pastry blender or your fingers to mix it in until incorporated.
Spread onto a greased baking sheet and bake in a 350 F oven for 15 minutes. Sprinkle the topping onto the pie while warm, then allow to cool completely before adding the whipped cream and serving.
make the whipped cream:
Put all the ingredients in a mixing bowl, and beat with an electric mixer until stiff peaks form.