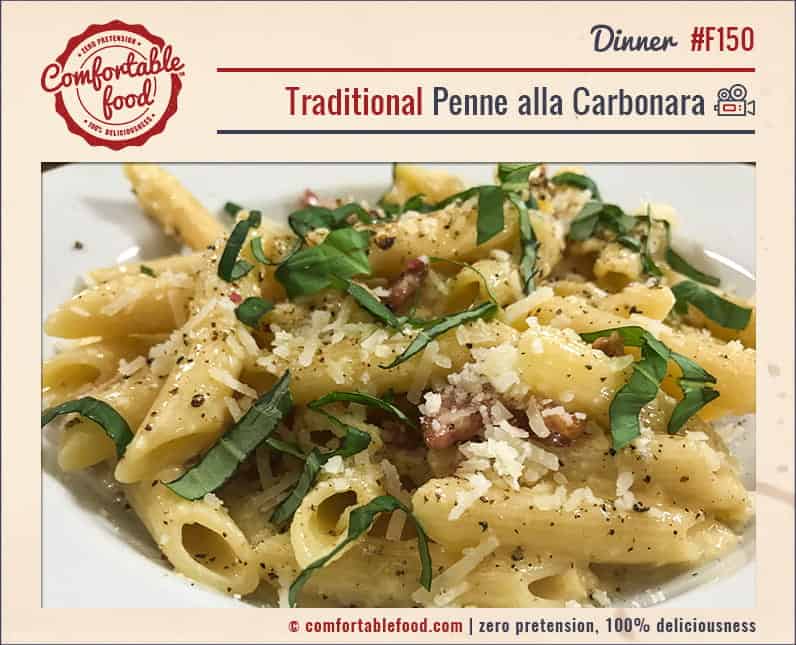 My method of making Penne Carbonara is sort of traditional. I did have an Italian friend look at this video and she was horrified by my method, but I swear eating this dish is equivalent to some of the best I've ordered in restaurants.  You can use a variety of pastas, but I really prefer using Penne Rigate pasta as it holds the sauce perfectly in its ridges.  Making a carbonara from scratch isn't as hard to make at home as you might think, it's actually very easy.  The only thing you have to pay attention to is the addition of the eggs to the hot pasta.  Add them quickly and stir immediately so that they do not scramble, but make a perfectly silky smooth sauce.
I make this dinner all the time when I don't have a lot of time to cook because it's so easy and so fast.  It's perfect for a busy weeknight, but it's also so delicious it can easily work for a special evening dinner – especially when you want something great and don't have a lot of time to prepare it.  🙂
The prep time on making this Penne alla Carbonara is minimal – about 5 minutes, it takes only about 15/20 mins to cook, so it's the perfect solution for a quick weeknight dinner. It makes about 4 – 6 servings, depending on how hungry you are.
got pasta on the brain?  check these other great recipes out:
here's a video showing how to make this penne carbonara:
Traditional Penne alla Carbonara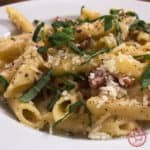 Print
Nutrition facts

(per portion)
Nutrition facts
(per portion)
Calories: 712
Carbohydrate Content: 58.4g
Cholesterol Content: 196mg
Fat Content: 36.1g
Fiber Content: 2.7g
Protein Content: 39g
Saturated Fat Content: 15.6g
Serving Size: 6
Sodium Content: 1476mg
Sugar Content: 4.2g
Ingredients
how to
Bring a large pot of salted water to boil for the pasta.  (while the water is heating up, you can start preparing the bacon and the eggs.)
When the pasta water has begun to boil, cook it until al dente.
Whisk the eggs, cream and 1/2 of the Parmesan together in a small bowl, add some salt, then set aside.
Melt the butter and olive oil over medium high heat in a large skillet.  Add the bacon and cook until it is browned and beginning to turn crisp, then use a slotted spoon to remove the bacon and drain on a paper towel, reserving the fat in the pan.
When the pasta is ready, drain it, reserving some of the pasta water (about 1/2 a cup).  Do not rinse the pasta.
In the pasta pot, above a high heat, put about 2 tbsp of the pasta water and 1 tbsp of the bacon fat.  Add the drained pasta and toss together well, then remove from heat.
Quickly pour the beaten eggs and bacon over the pasta, and toss together quickly and evenly for about 1 minute - until the sauce begins thickens.  (if the sauce is too thick, just slowly add a bit more of the pasta water)
Serve immediately with a lot of cracked pepper, and garnish with remaining Parmesan and basil leaves.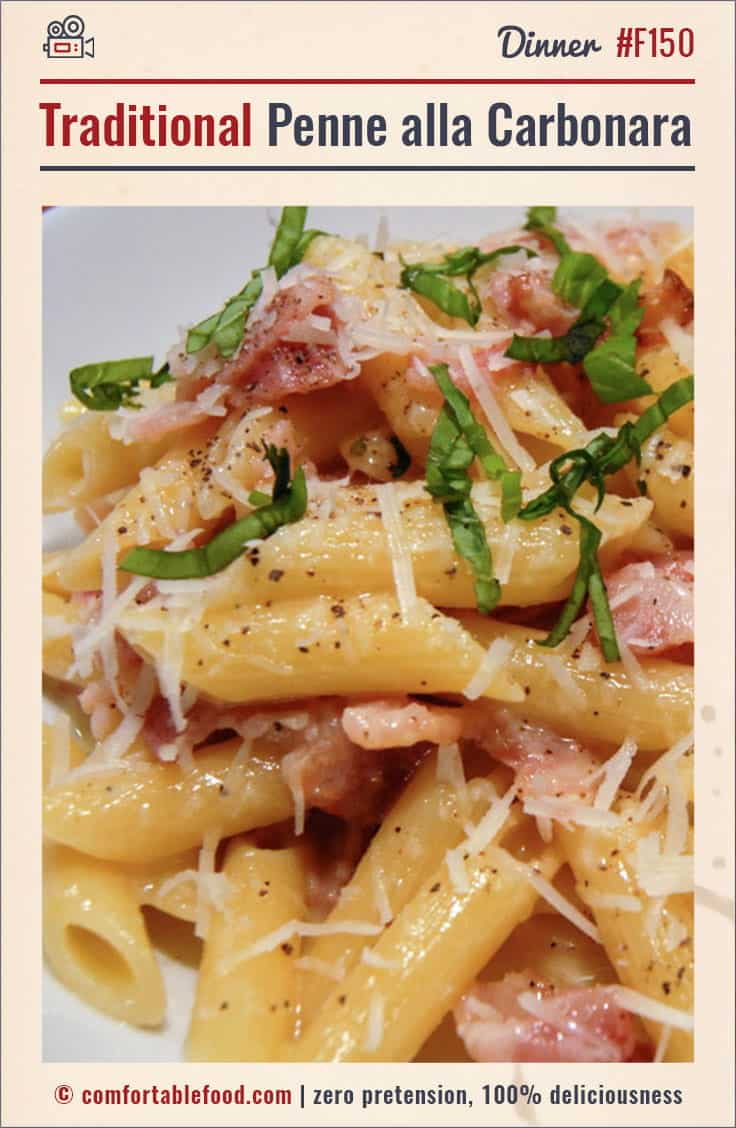 this post contains affiliate links