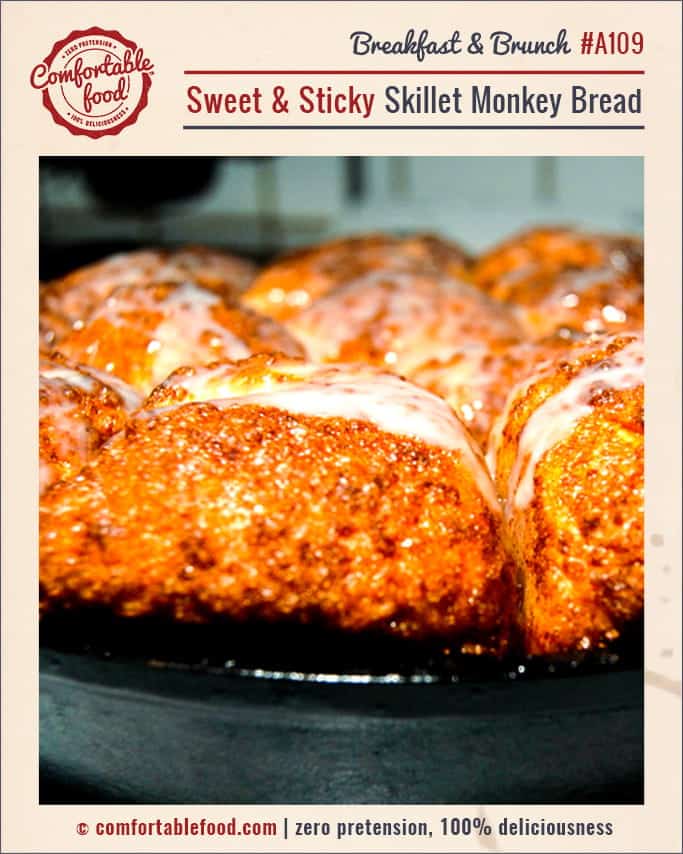 This Monkey Bread Recipe is the perfect eye opener. It's perfectly sweet and delicious, basically a sizzling pan of inside out cinnamon rolls.  This recipe works equally well for baking this in a ring pan, but the way the cast iron caramelizes the sugars is unbeatable.  Not only will your house smell SO good while these are baking, but I'm pretty sure it's the only alarm clock you're gonna need as your family will be stumbling to the kitchen like zombies to get a handful of this deliciousness.  🙂
If you don't want to make your own dough, you can use store bought biscuit dough.
Prep time is about 30 minutes, and it bakes for about the same time, so in about 1 hour you can be serving up this sticky, sweet deliciousness.
here are some other deliciously sweet breakfast options:
Sweet and Sticky Skillet Monkey Bread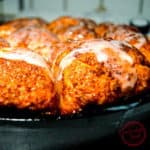 Print
Nutrition facts

(per portion)
Nutrition facts
(per portion)
Calories: 617
Carbohydrate Content: 97.8g
Cholesterol Content: 80mg
Fat Content: 12.1g
Fiber Content: 3.1g
Protein Content: 12.8g
Saturated Fat Content: 12.1g
Serving Size: 6
Sodium Content: 368mg
Sugar Content: 43.9g
Ingredients
how to
Heat the butter and milk together in a small saucepan over medium heat (or in the microwave), until the butter is melted - then allow to cool to lukewarm.
Stir in the honey, then the yeast, and allow to sit until a foam has formed on top of the liquid.
In a large bowl, whisk together 2 1/4 cups of the flour with the sugar and salt.
Add the vanilla, water, egg and cooled milk and mix well with an electric mixer.  Use a wooden spoon and stir in the remaining cup of flour in two additions, stirring well after each.
When the dough comes together, turn it out onto a lightly floured surface and knead until smooth, about 5 minutes.
Lightly oil a large bowl, put the dough in it, cover with plastic wrap and allow to rise in a warm, draft free place for about 1 hour - or until doubled in size.
When the dough has doubled, punch it down and divide it into golf ball sized pieces.
In a shallow bowl, stir together the cinnamon and sugars and place the melted butter in another bowl.
Spread about 1 tbsp of melted butter in bottom of your cast iron skillet, then sprinkle over about 2 tbsp of the sugar mix.
Dip each ball in the remaining butter, then roll in the sugar/cinnamon mixture and place in the skillet.  Pour any remaining butter and sugar over the top, cover lightly with plastic wrap, and allow to rise again for about 30 - 40 minutes.
Heat the oven to 350 F (175 C) and bake for about 25 - 30 minutes, until golden brown.
Drizzle the condensed milk over while still hot, then allow to cool for about 30 minutes to let it absorb before serving.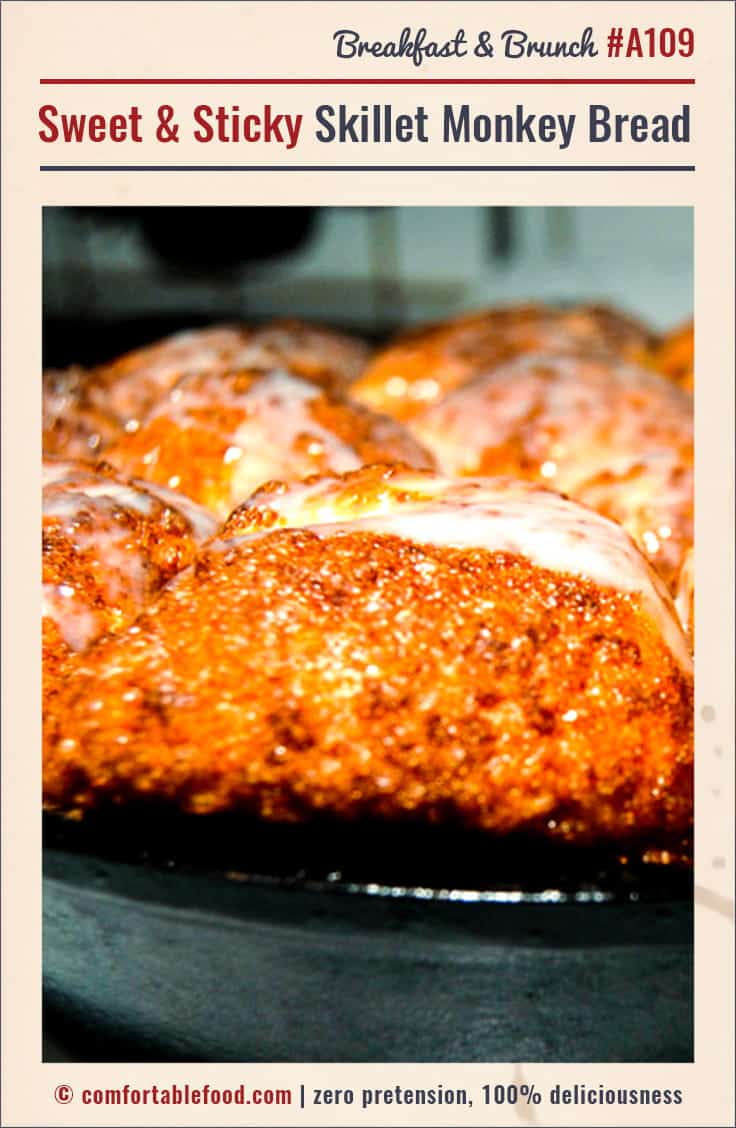 this post contains affiliate links