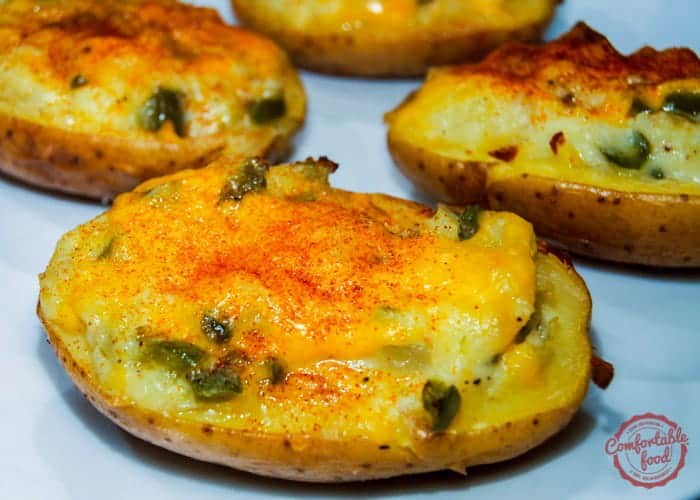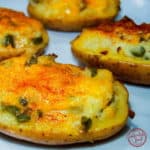 These are the ultimate twice baked potatoes.  The potato is scooped out, then mashed with sour cream and peppers before it's stuffed back in and re-baked - these spuds are to die for.

Check out these kitchen essentials helpful in making this recipe:
here's a video showing how to make it:
Ingredients
how to
Preheat the oven to 350 F (175 C).  Pierce the potatoes a few times with a fork, rub with a little olive oil and salt and bake until tender, about 1 hour.
While the potatoes are baking, heat the butter in a medium skillet over medium low heat and cook the pepper and onion together until soft, about 5 minutes.  Generously salt and pepper and set aside.
When the potatoes are soft, cut them in half and scoop out most of the cooked insides into a bowl.  Add the peppers and onions to the bowl and stir together well, then stir in the sour cream, milk, and about 2/3 cup of the cheddar until well combined.
Stuff this back into the hollowed out potato skins and top with the remaining cheese.
Put the potato halves on a baking sheet and bake in the top third of the oven for another 15 minutes, or until the cheese is melted and beginning to brown.  Sprinkle with paprika and serve.