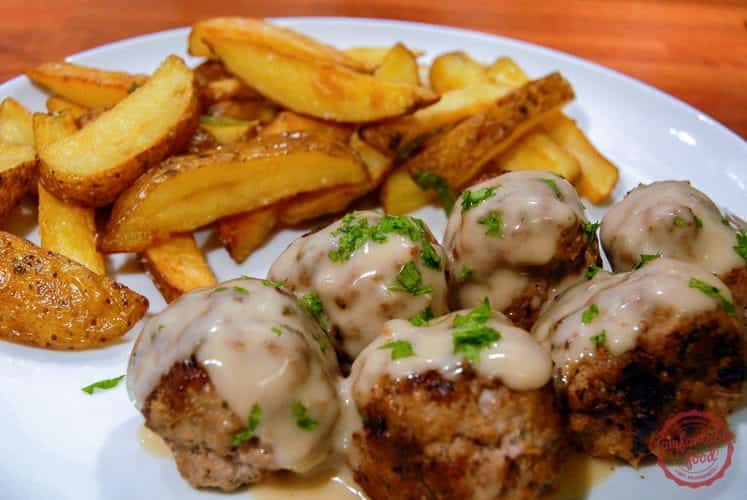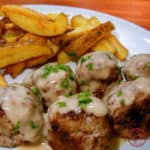 These Swedish meatballs are actually pretty easy to make, and they are incredible!  I love to serve them (as pictured) with french fries - it's like being at IKEA, but better.  These are great for dinner, or you can also serve them as passed appetizers at a party - just be prepared,  because any meatball lover is going devour them en masse, I guarantee it.
Check out these kitchen essentials helpful in making this recipe:
here's a video showing how to make it:
Ingredients
how to
to make the meatballs:
In a small bowl, soak the bread in the milk until very soft.
In a larger bowl, combine all the meatball ingredients (except the butter), then add the soaked bread, and mix together well with your hands.
Shape the mixture into golf ball sized balls, you should end up with about 2 dozen.
Heat the butter in a large skillet (I use cast iron) and add the meatballs.
Cook a batch at a time, until very browned on the outside, but cooked through, about 10 minutes per batch.  shake the skillet from time to time so the meatballs roll around, and brown evenly.
Place the cooked meatballs in the oven to keep warm.
to make the gravy:
Pour 1 cup of stock into the hot pan that you used to brown the meatballs, let it simmer for about 5 minutes while scraping the bottom of the skillet with a spatula to release any stuck bits from the meatballs.
Strain that 'gravy' into a clean saucepan, then stir in the remaining cup of stock.
In a small bowl, whisk the flour into the cold water until smooth, then whisk this mixture into the warm gravy.
Let this simmer for about 5 minutes, whisking constantly, until it thickens, then add the cream and salt and pepper.