Whether fresh, smoked, or cooked, kielbasa sausages are delicious with lots of meals thanks to their garlicky flavor. We've rounded up a bunch of easy kielbasa recipes that'll please everyone- from sandwiches to soups and chili.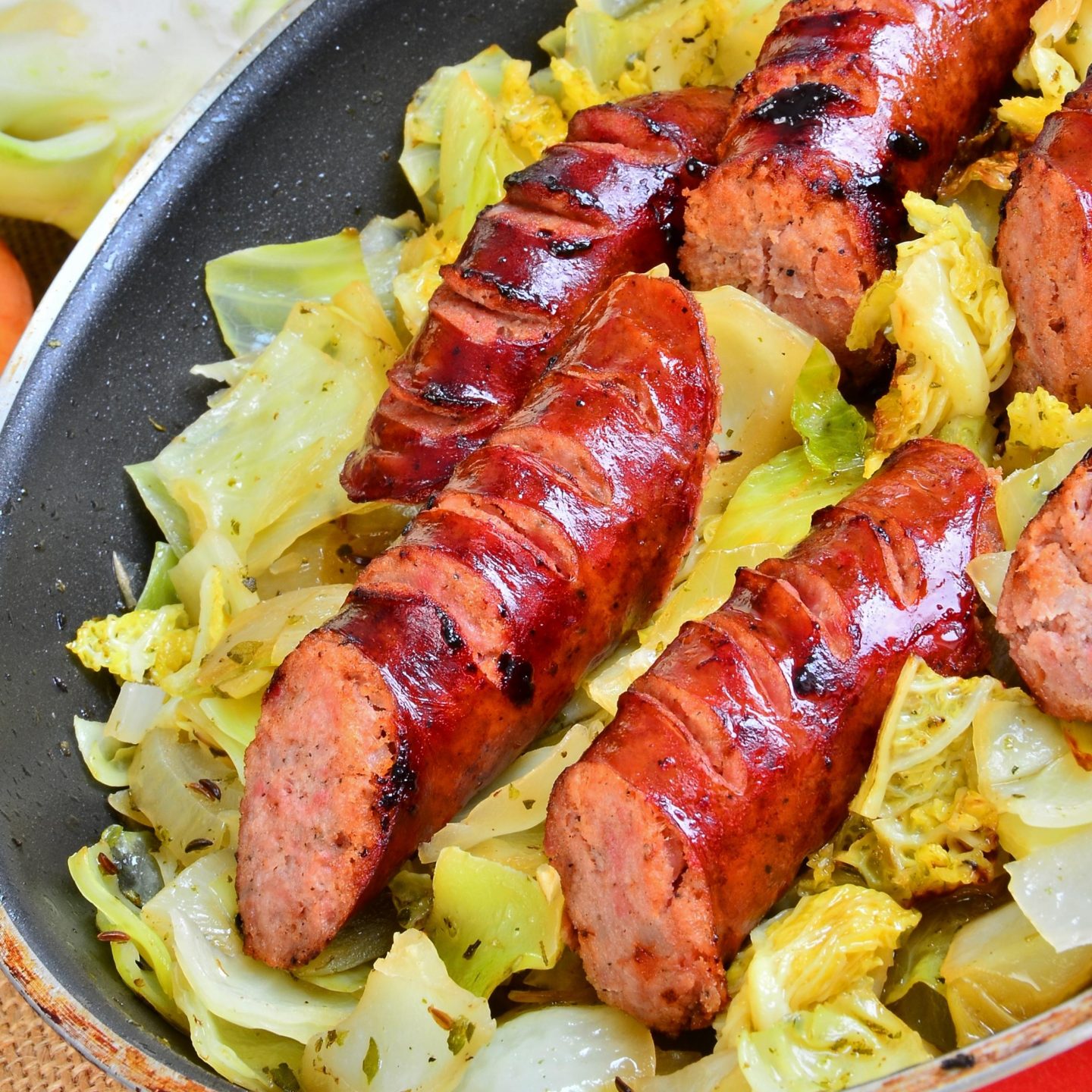 If you're a fan of this Polish dish, you're in for a special treat.
This kielbasa sausage also brings out rich flavors in salads and pasta dishes. You can even enjoy it on its own or make tasty sausage bites which are perfect starters for any party. The possibilities are literally endless!
🙋 Frequently Asked Questions
What is kielbasa?
The name "kielbasa" (KEEL-bah-sah) is derived from the Polish term for sausage, which means "sausage."
What animal is kielbasa made out of?
For many years, kielbasa was made with pork, pepper, salt, marjoram, and garlic. The Polish government created a new variety in 1964 that contained 80% pork and 20% beef.The meat in polish sausage is cured before it's combined with the spices.
How long is kielbasa good for in the fridge?
A vacuum-sealed bag or container that has not been opened will keep kielbasa fresh for 3-4 weeks. An opened package will keep its flavor for 1-2 weeks.
Can you freeze kielbasa?
Dried kielbasa is similar to salami in taste and texture. You can store kielbasa in the freezer for up to six months if you follow our recommendations carefully.
So if you're looking for an easy way to spice up your breakfast, dinner, or party, try one of these easy kielbasa sausage recipes.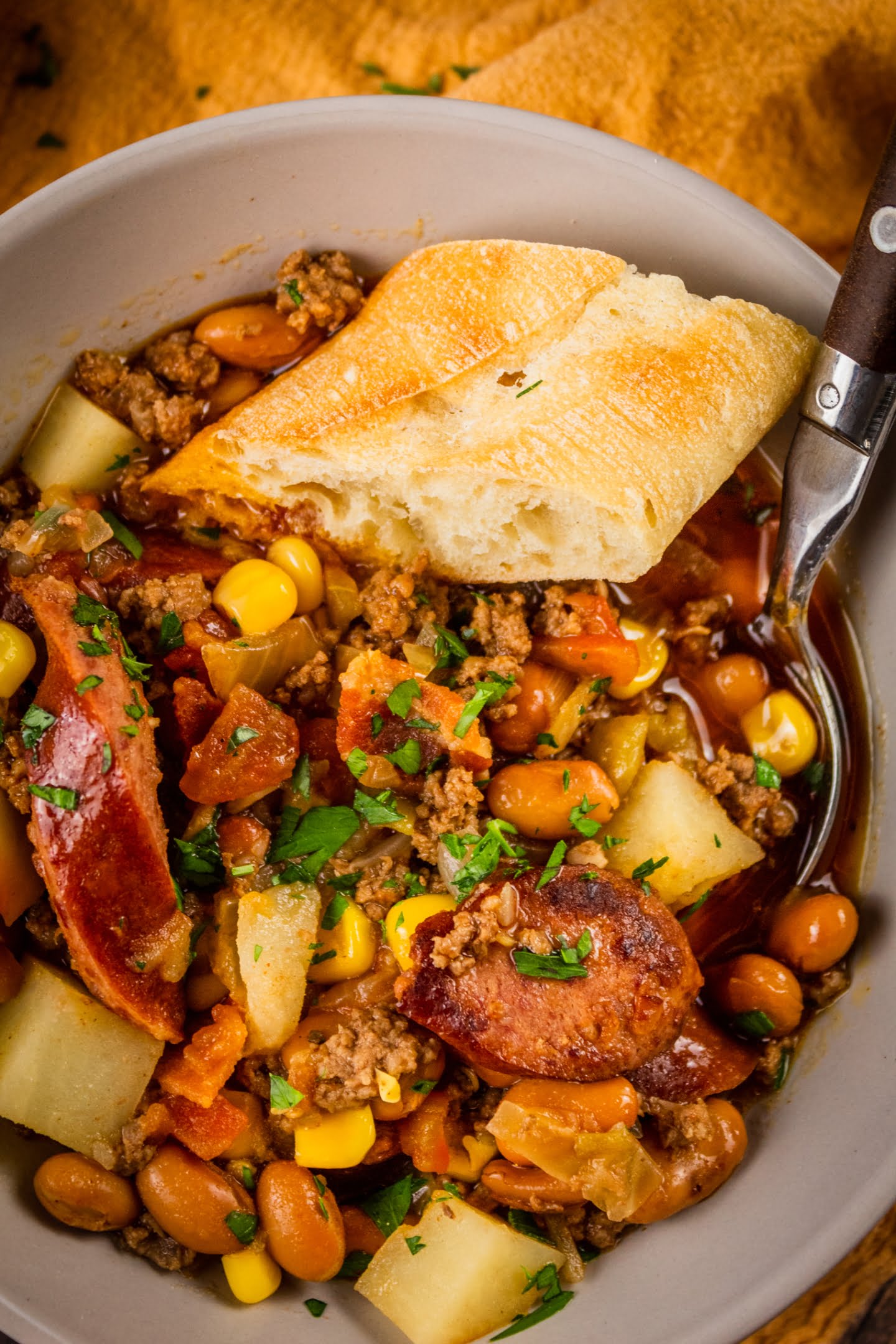 This hearty Texas style cowboy stew recipe is super easy to make. There's literally no prep-just dump the ingredients in one-pot and voila!
It's packed with kielbasa sausage, ground beef, veggies, and tomato-flavored broth, which is utterly delicious. This cowboy stew recipe is guaranteed to be a favorite with your family, and it's easy to make!
Serve alongside easy fried cabbage, homemade cornbread, or salad.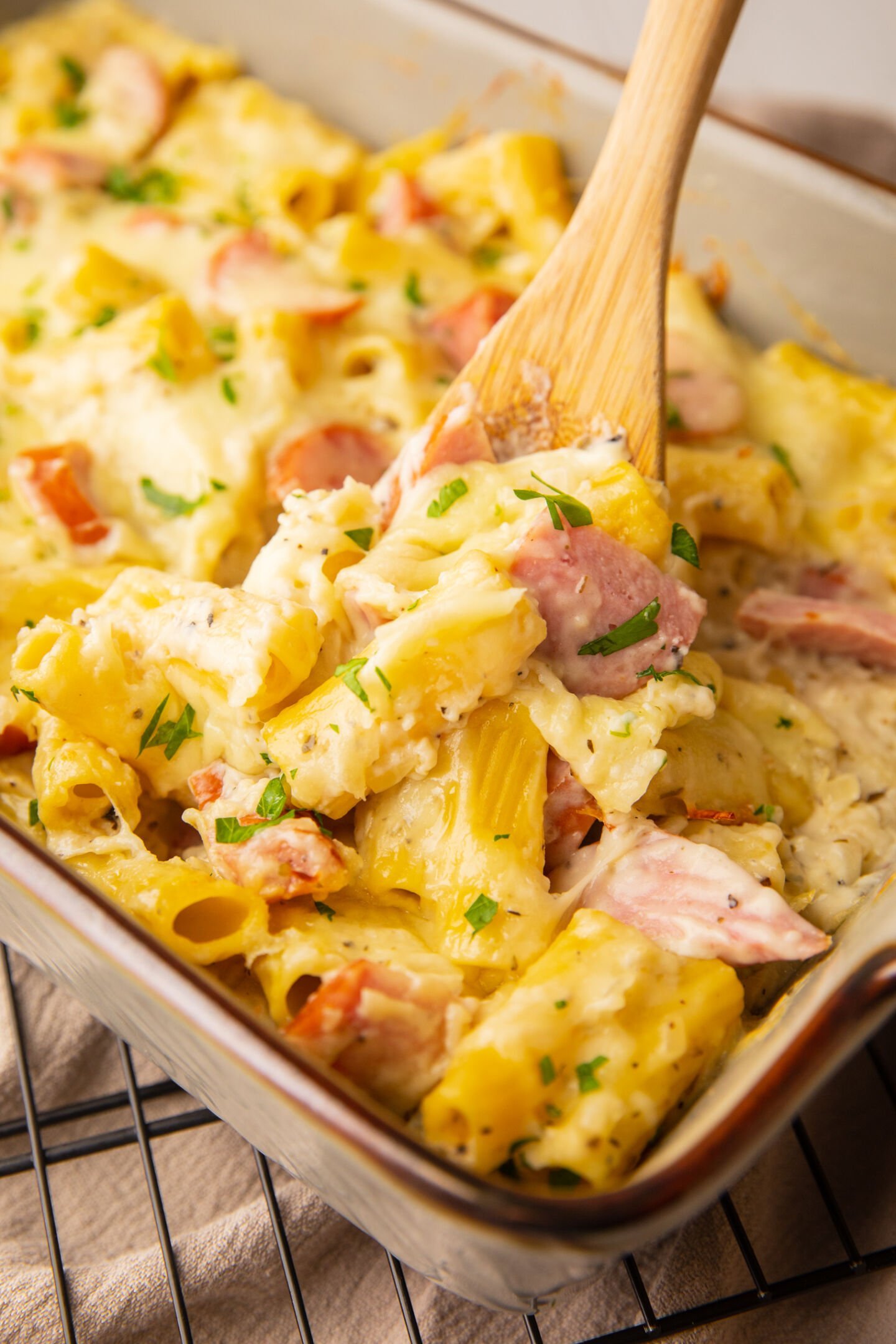 You only need a few simple ingredients to throw together this turkey kielbasa pasta bake, including rigatoni pasta, milk, flour, mozzarella cheese, and vegetable broth.
Ready in just under an hour, this speedy pasta dish is perfect for busy weeknights.
And with an added bonus of minimal cleanup, you can spend more time relaxing with your family after a hard day's work.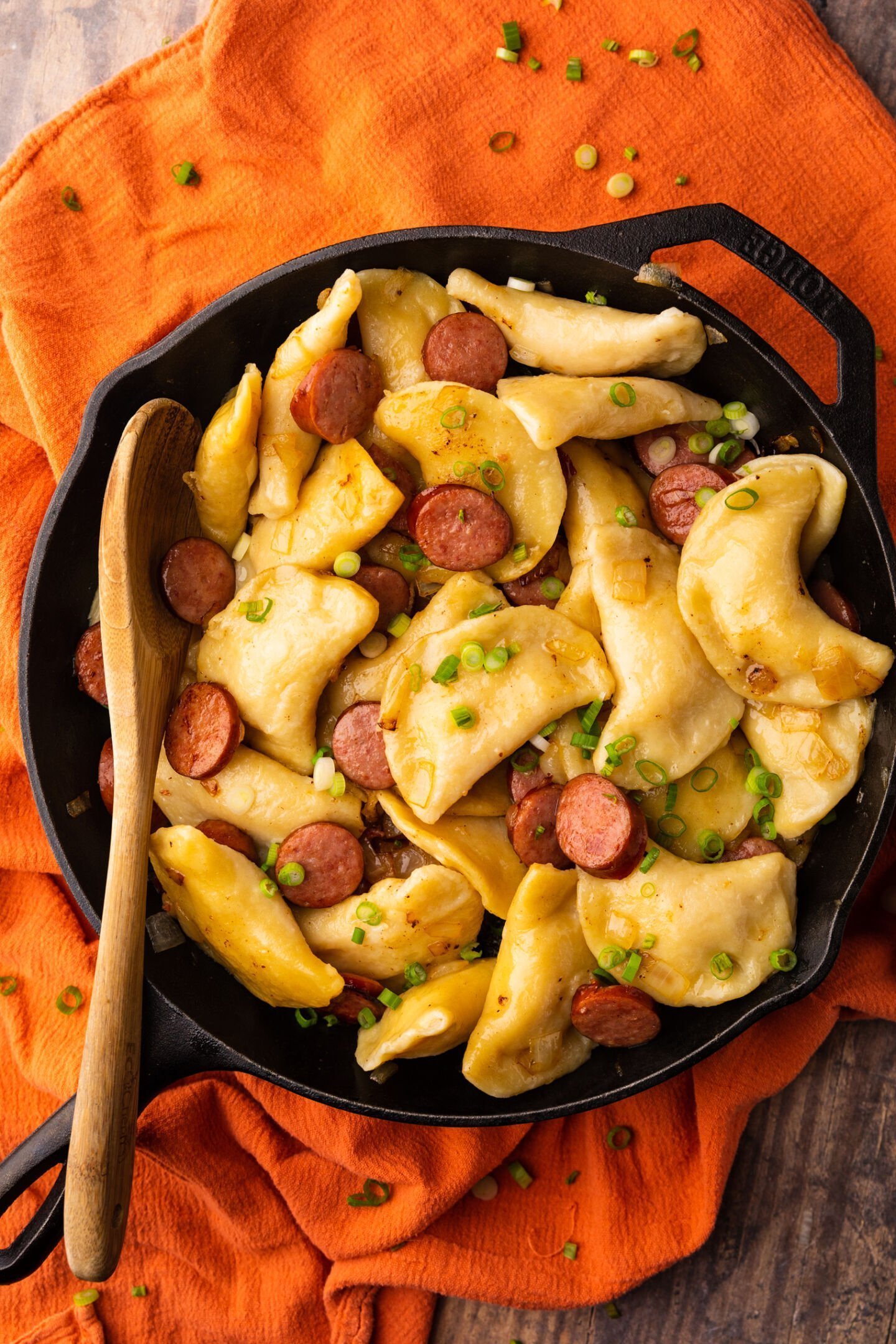 Indulge in a savory and easy-to-prepare classic Eastern European dish with this pierogies and kielbasa recipe.
With homemade pierogies made with sour cream mashed potatoes and Kielbasa sausage, the skillet dish can be cooked in just 10 minutes and requires only 3 ingredients.
Perfect for a delicious meal with loved ones!
Kielbasa recipes don't get any easier than these brown sugar-glazed sausage bites. There are many versions of this dish, but I find some of them a bit too sweet.
So I added a few tablespoons of Dijon mustard to counterbalance the sweetness of brown sugar and Coca-Cola.
This version is soo good; you'd be tempted to eat a whole batch yourself. A great appetizer to serve at get-togethers or parties.
My obsession for kielbasa and potatoes is now pretty evident.
This one-skillet recipe is one of my family's favorite dinners - it's healthy, easy to throw together, and packs so much flavor.
The best part? It's ready in just 40 minutes- perfect for hectic weeknights.
This is truly the best potato kielbasa soup I've ever had. It's now my go-to soup recipe when I crave something deliciously cheesy, amazingly rich, and indulgent.
You can make this recipe in less than an hour using pantry staples.
Parmesan cheese is the secret ingredient that imparts richness and flavor to the soup. Don't skimp!
Always a crowd-pleaser, these smoked pig shots never disappoint. Small rounds of sausages are wrapped with bacon then filled with cubed cheddar, cream cheese, and onions.
They're then seasoned with a flavorful rub and smoked over applewood until golden brown and cheese is ooey-gooey. So irresistible and just melts in your mouth!
Spice up your next summer get-together or tailgate party with this meaty cheesy goodness.
Skip the burgers and make these kielbasa sausage hot dogs slathered with tangy mustard sauce, spicy baby arugula, and sautéed bell peppers.
Feel free to let your taste buds lead the way by putting your own spin on it.
If you don't feel like throwing down an elaborate breakfast for your family, this easy recipe is perfect for those lazy days.
It's simple, full of punch flavors, and makes a hearty meal with sautéed sausages, crispy fried potatoes, caramelized mushrooms, green bell pepper, and onions. This recipe calls for Yukon gold potatoes, but red or russet potatoes will work just fine.
You can serve it as it is or with soft-boiled/fried eggs on top and garnished with finely shredded cheese and a flurry of chopped fresh parsley or cilantro.
A drizzle of olive oil, sriracha mayo, or ketchup also tastes amazing.
Slices of smoky kielbasa sausage, chunks of fresh pineapple, and minced shallots covered in sticky, sweet, and spicy sauce. What's not to love?
If you'd prefer to tone down the spice, simply leave out the red pepper flakes. The spicy brown mustard has a wonderful flavor that gives quite the kick to the 'candy' bites.
These are sure to be the star of any party. The irresistible combo of sweet and savory will have everyone raving and wanting more.
There's nothing better than a bowl of incredibly rich and full of flavor potato kielbasa soup on cold and rainy days.
The earthy, subtly sweet flavors of cabbage, potatoes, and Italian seasoning and the garlicky flavor of fresh kielbasa are balanced perfectly with the savory chicken broth. It really doesn't get any better than this!
Don't forget to serve it with slices of crusty bread to soak up all the deliciousness.
Unlike brown sugar glazed kielbasa bites, these bacon-wrapped sausages are slathered in barbecue sauce and baked to golden brown perfection.
This 4 ingredient recipe is ridiculously easy to prepare and will appease even the pickiest eaters.
It can double as an appetizer or side dish served with garlic roasted potatoes.
If you're looking for an easy, healthy, budget-friendly, and delicious meal that everyone will gobble up, this is it.
It's loaded with turkey sausage, potatoes, green, red, and yellow peppers, seasoned with olive oil, salt, and pepper ...perfect for breakfast, brunch, or midnight snack.
You can fry up some eggs to top the hash for a complete meal. This easy hash also makes a delicious side to any protein -pork chops and fish included!
These cheesy, creamy smoked sausage sandwiches are always a hit anytime I make them.
Serving the juicy sausage on marble rye bread with creamy gouda cheese, cream cheese, and melty cheddar cheese makes these grilled sandwiches extra special.
This recipe is a definite keeper if you're looking for a quick, lighter dinner or when you want to satisfy your midnight munchies.
As the temperatures drop, a pot of hot kielbasa chili is one of the most comforting foods. It will not only warm your body and soul, but it's also flavorful, filling, and incredibly easy to make.
And the beauty of it all is that it tastes just as good, maybe better the next day.
To really level up the fun, let everyone top their chili with whatever they like - hot sauce, sour cream, jalapeños, cheddar cheese...and everything nice!
Try this delicious honey garlic kielbasa recipe for a satisfying brunch or breakfast for dinner.
Sweet honey, tangy Dijon mustard, umami garlic, earthy oregano, fragrant basil dress up broccoli, kielbasa, and potatoes in this easy one-pan meal.
If you don't have broccoli on hand, feel free to sub in whatever veggies you want. Baby carrots, brussel sprouts, and asparagus pair well with kielbasa and potatoes.
Bean soup with kielbasa sausage is the ultimate comfort food. This recipe is insanely delicious, vibrant, and creamy.
It's filled with nicely browned kielbasa, white beans, kidney beans, green pepper, carrots, milk, and umami-flavored Worcestershire sauce.
Kosher salt is preferred in this recipe, but if all you have is regular table salt, half the amount of salt.
Quick, easy, yummy, and filling! This perfect weeknight dish is ready for the table in just 35 minutes.
The recipe calls for brown sugar, but feel free to swap it out with maple syrup or honey for a healthier option.
This healthy breakfast hash of sweet potatoes, spicy sausage, onions, yellow, orange, and Hungarian peppers then garnished with parsley is a breeze to make and incredibly yummy!
Simply heat oil in a large skillet over medium heat, add the potatoes and cook for 5 minutes.
Add the rest of the ingredients, cook properly for another 5 minutes, stirring occasionally, and your dish is ready! Easy peasy. Also try my easy hashbrown casserole in your next meal. Yum!
These grilled sausage and pineapple skewers are such a crowd-pleaser.
Bite-sized pieces of cooked kielbasa, red onion, pineapple, red, orange, and green peppers are lined up on skewers, brushed with pineapple BBQ sauce, and grilled to perfection. Yum!
If you're using frozen peppers, allow them to thaw slightly before threading onto the skewers.
I usually serve these skewers with seasoned white rice or Mediterranean salad. They're also fun appetizers for any party.
Heavy cream, sharp cheddar, and Monterey Jack cheese combine for an extra creamy mac n cheese -all made on a stovetop for a kid-friendly meal.
The Kielbasa adds a great depth of flavor; you'll relish each bite of this cheesy, creamy meaty meal.
What more could anyone want in a bowl of macaroni?
A one-pot meal that's elegant enough for company, but simple enough for a busy weeknight.
Tasty pieces of smoky kielbasa and seasoned shrimp smothered in tomato cream sauce with bold, spicy Cajun seasoning over fettuccine for a comforting meal.
This will definitely join your regular dinner rotation. A dressed green salad is a great accompaniment.
This cheesy tortellini soup is a great recipe that warms you from the inside out!
It's full of fresh kale, fennel bulb and thyme, kielbasa, cannellini beans, cheese tortellini, chicken broth, olive oil, and topped with rich parmesan cheese.
If your family doesn't like spicy food, skip the crushed red pepper flakes.
Serve it with a nice crusty Italian bread for a perfectly cozy, light dinner.
Feeling uninspired or lazy at dinnertime? This no-fuss kielbasa pasta salad recipe is just for you. It's quick, easy to whip up, lip-smacking delicious, and kids will love it.
You can jazz up the salad with any number of add-ins if desired.
You'll love everything about this slow cooker barbecue kielbasa and beans. It's a cinch to make; cleanup is a breeze and packs with tons of flavor.
It's everything you want and more for a BBQ or potluck party.
Serve with crusty bread, cucumber tomato salad, or over rice.
If you love lentils, you're going to love this beef- broth-based sausage and lentil soup. It's soothing, cozy, and filled with everything nice.
It's one of my favorite dishes for healthy comfort food recipes.
This hearty soup is darn good; you'll want a batch in the freezer at all times.
Pasta sauce, Italian seasoning, parmesan cheese star in this easy 7-ingredient meal with a gooey mozzarella top layer.
Ready in less than 30 minutes from start to finish, this classic Italian dish is perfect for a quick meal on a busy night.
Enjoy on its own or serve with your favorite salad.
Kielbasa and sauerkraut combo is a surefire hit. This recipe is deliciously low carb, but its flavor is off the charts thanks to the butter, sour cream, yellow mustard, and flavorful kielbasa.
It's so good; people will devour this easy dish.
Feel free to add your favorite seasonings to suit your cravings. Garlic powder, onion powder, smoked paprika, kosher salt, and pepper are perfect for seasoning this dish.
This tasty goulash is one of my favorite potato recipes. I love the smoky flavor kielbasa adds to this goulash, but I've also made it with Italian sausage; it's delicious too.
Skip the butter, replace the sausage with peppers, green beans, carrot, and other vegetables of choice for a vegan option. Also, swap out the chicken stock for vegetable stock.
This Hungarian goulash is best served with noodles or mashed potatoes, but spaetzle, cucumber salad, a dollop of sour cream would also be great accompaniments.
This one pot of goodness not only tastes good but also looks good. It's loaded with tons of veggies, meat, and seasonings, presenting a healthy and satisfying meal.
With a cooking time of just 35 minutes, this recipe is a plus on a busy day.
The beauty of this recipe is that you can easily switch it up, depending on the veggies you have on hand.
Related Recipes
Looking for more pork sausage recipes? Check out my chorizo recipes and ground sausage recipes collection. And my best american comfort food recipes per state.
Do not have time to cook? Check out my collection on best crock pot recipes and slow cooker meals.
Try one of my comfort recipes for your next family meal! And if you have any questions, I'm here to help!