If you want to have quality time with your family over dinner on Sundays, these are some of the best Sunday dinner soul food recipes to try! These recipes bring the best of southern cooking to your dinner table and provide your soul with desired comfort food.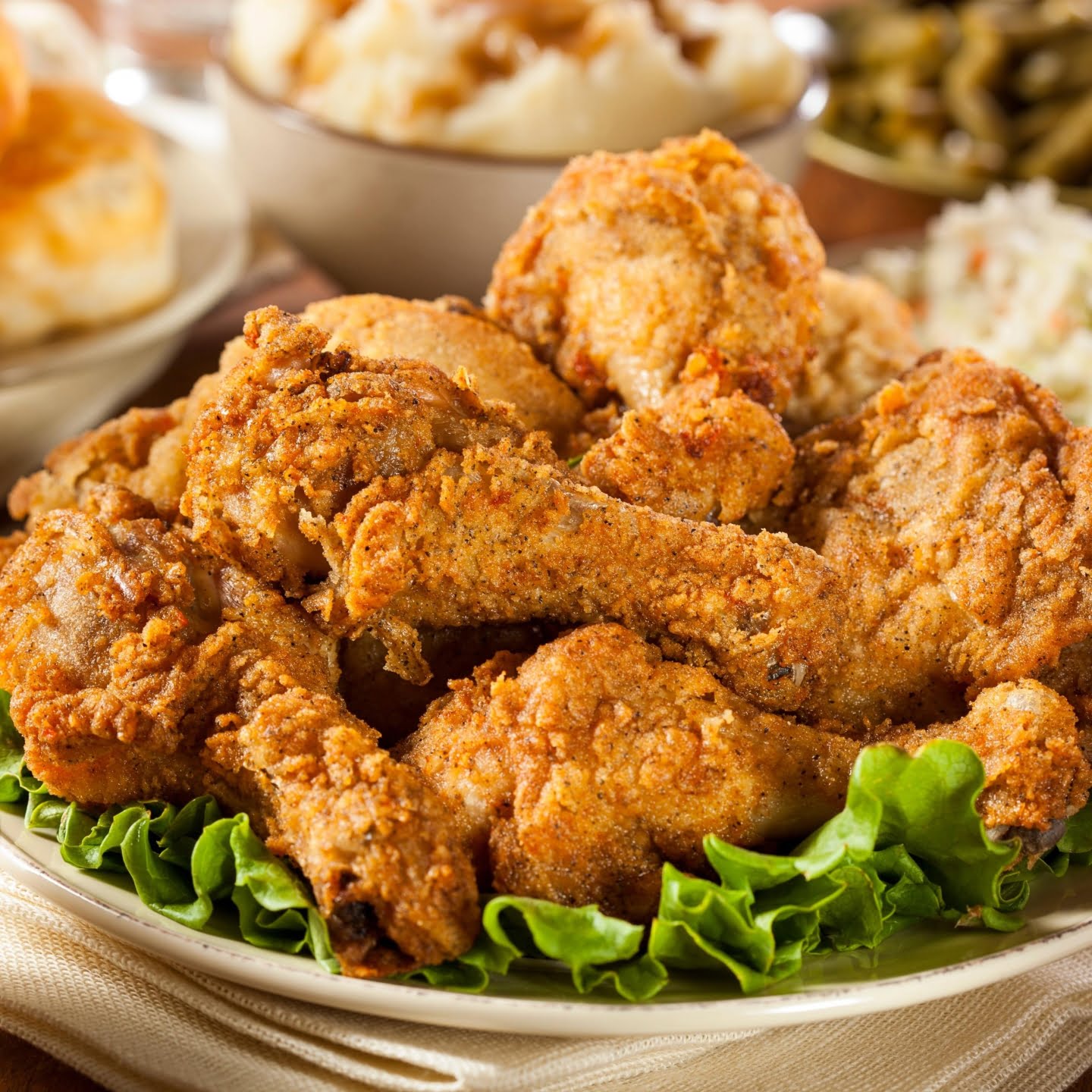 Cook these Sunday dinners soul food from a place of love and compassion, and you'll get the best soul food dish for family gatherings and special occasions.
These recipes will appeal especially to African Americans, and we'll bet you'll enjoy every bit of cooking technique and flavor that these dishes have to offer. Learn more about Southern food in my article about Southern seasonings that you must have in your pantry.
To kick off our list of authentic soul food Sunday dinner recipes, we have famous and super tasty smothered chicken.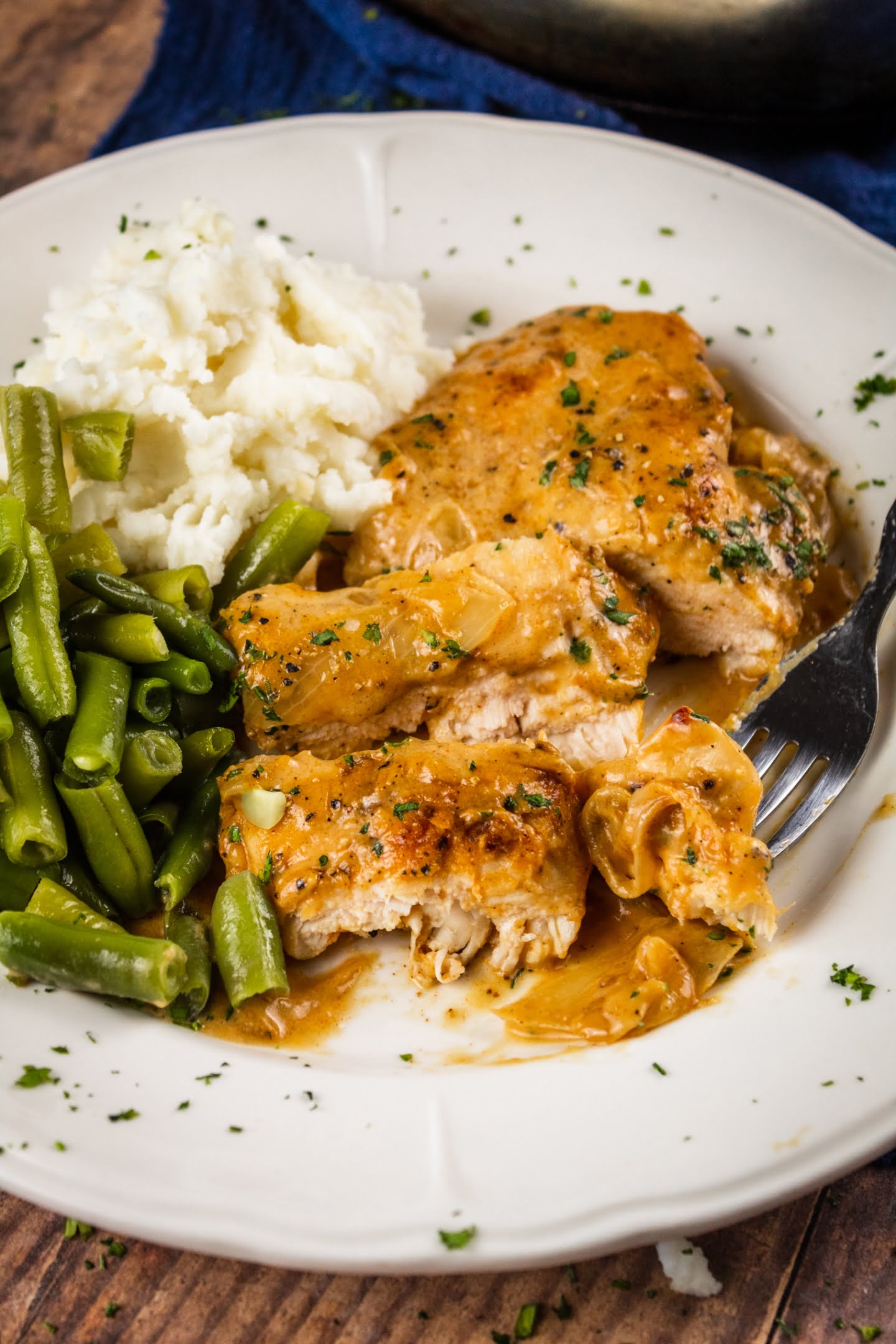 This one-pan recipe is super tasty, rich, and gives a creamy texture from the delicious gravy. Everything about this soul food favorite will remind you of home, from the aroma to the flavors that melt in your mouth as you take bites.
Get your flour mixture with spices and seasoning in a big bowl to dredge the chicken, and cook in chicken broth and Worcestershire sauce and stir until the flour has dissolved. Ensure o serve with cornbread or buttermilk biscuits.
And if you loved that, you'll love this chicken and biscuits casserole.
This classic southern food is a favorite in many families for its incredible flavors and easy cooking methods.
At any time of the year, the chicken and dumplings are the Sunday soul food that gives comfort and provides amazing bonding time with the family.
The soul food dish is an easy meal with minimal ingredients, including whole chicken, flour, butter, water, buttermilk, shortening, and milk. However, it takes about three hours to get it done, but the richness and deliciousness of the dish make the wait absolutely worth it!
A soul food dinner idea that's always well-received is the lobster mac and cheese. With the addition of bacon bread crumbs, you have yourself an unforgettable southern dish for your Sunday nights.
The mac and cheese take over an hour to get done, and it incorporates ingredients including macaroni, lobster meat, Italian bread crumbs, butter, evaporated milk, half & half, sharp cheddar cheese, Monterey jack cheese, gouda cheese, and sour cream among other ingredients.
Your secret ingredient to getting a crisp topping is the bacon bread crumbs. Garnish with fresh parsley, and enjoy! If you loved this casserole for dinner, you should try this breakfast casserole with bacon for your busy mornings.
This southern corn casserole is a quick and easy meal to assemble with about ten minutes of prep time.
When baked to perfection, the soul food recipe brings absolutely fantastic flavors to your taste buds and will have all cornbread lovers coming for more.
The corn pudding requires minimal ingredients, making it an excellent side dish during holidays and family gatherings.
This southern staple is loved by many, and it's a classic that any family will love on a Sunday night.
The casserole is creamy, rich, tasty, and gives different amazing textures to satisfy your cravings.
The soul food Sunday dinner incorporates three types of cheese, heavy cream, eggs, spices, and seasoning. It's also flexible as you swap out the spices and seasonings with ones to suit your taste.
Southern fried chicken is famous in the southern United States for the juicy, tender bits of the chicken and super crunchy skin.
The spices and seasonings play an essential role in the taste of your fried chicken, and you should not be in haste to have it on a plate.
Spices you want to make up your seasoned flour and marinate your chicken include kosher salt, garlic powder, paprika, onion powder, black pepper, and hot sauce. You also want buttermilk for the juiciness and peanut oil for frying.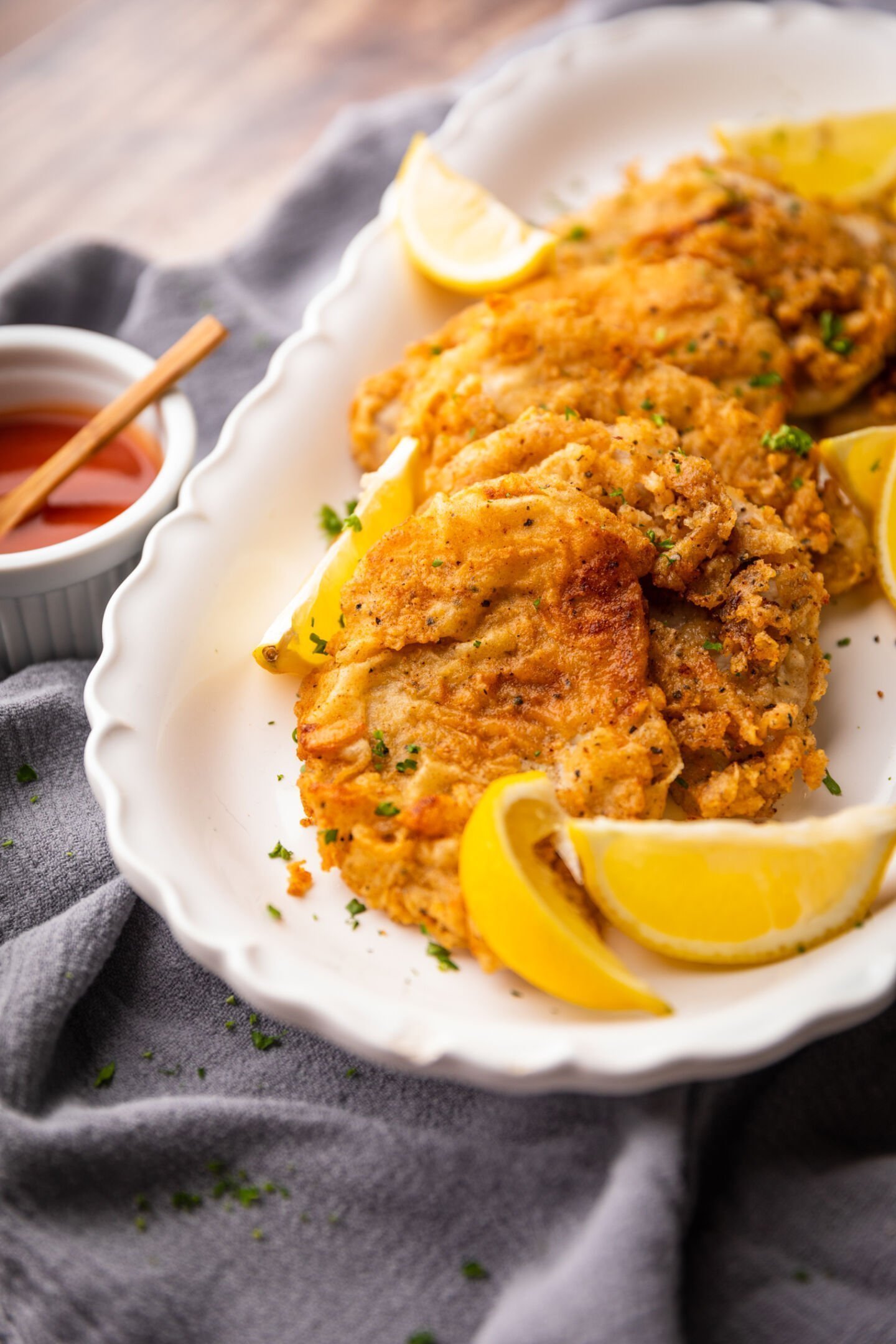 Save your seasoned flour to dredge some pork chops and make delicious, golden brown, pan-fried pork chops.
This is one southern specialty you will appreciate on a Sunday night for the absolute fact that it is scrumptious and super easy to make.
The soul food recipe requires minimal ingredients, including bone-in pork chops, cayenne pepper, black pepper, butter, seasoned salt, flour, and vegetable oil. This delicious soul food will be ready to eat in under 30 minutes.
The Southern tea cakes are a great dessert to have on any day, and they can be easily made with ingredients you only have to get from your kitchen.
It's perfect after your soul food Sunday dinner and takes under an hour to make.
So, get your baking ingredients outs with buttermilk and start baking!
If you've ever wondered what it takes to make a restaurant-quality southern-style fried catfish, look no further.
The delicious three-step recipe takes about 20 minutes to cook, and you can have yourself a wonderful southern Sunday dinner.
It's also gluten-free with loads of crispiness and flavors to go perfectly with tartar sauce. Get your catfish, buttermilk, spices, and seasoning to start cooking!
If your family loves fried pork chops, you should give the smothered pork chops a shot. It's bone-in pork chops sufficiently seasoned and seared till it's golden brown.
The seared pork chops are then simmered in creamy and rich gravy.
You can choose to garnish with fresh parsley or thyme and serve over white rice.
This southern dish can be made in your instant pot or slow cooker machine and still give fantastic flavors for your family gatherings.
It's great comfort food that incorporates corned beef brisket, sweet potatoes, coriander seed, ground pepper, carrots, onions, and cabbage.
Depending on your preferences, you can add your favorite veggies, including collard greens, with the cabbage.
This delicious dish is super easy to make, and it's filling with the assortment of ingredients used in its preparation.
You'll get creamy textures with the Velveeta cheese and flavors from the spices and seasonings, including Rotel tomatoes, hot sauce, cream of chicken soup, cumin, and grated cheese.
Bake till the cheese is bubbling, and the bread crumbs have browned. Garnish with red pepper or parsley, and enjoy!
The deviled eggs are perfect as appetizers but also make for a light dinner for yourself. They're super easy to make and require a few ingredients.
The light meal will only take about 20 minutes of your time, but it also depends on the number of eggs you're planning to make.
Your ingredients include large eggs, sweet relish, mayonnaise, dijon mustard, jalapenos, salt and pepper, and paprika.
Southern baked beans are the perfect side dishes for barbecued chicken and grilled corn with the added flavor they bring to your palate.
The baked beans dish is super tasty and incorporates bacon, onions, green onions, canned pork and beans, brown sugar, dijon, cider vinegar, and barbecue sauce.
Bake till it thickens, and serve hot!
The key to a savory shepherd's pie is the filling you can customize with your choice of veggies and meat.
Select and season ground beef (or lean ground beef), lamb, chicken, or turkey as it works for you; pick your vegetables and top them with mashed potatoes crust.
Bake the delicious goodness for 30 to 35 minutes till golden and bubbly, and let it cool for five minutes before you serve.
If you're having crispy fried fish, shrimp, or chicken and seeking the ideal side dish, the hush puppies are your go-to!
They're super tasty morsels made with flour, eggs, cornmeal, onions, sugar, and Kosher salt.
They're also easy to make, with a total cooking time of 20 minutes.
Whether as breakfast or dinner on a Sunday, sausage gravy with biscuits is the dish that aptly describes the south.
It's satisfying and filling and helps create long-lasting memories with your family and friends.
You can use any type of sausage you want, and with a few other ingredients, you'll have this dish ready in less than an hour.
The peach cobbler will have you coming for seconds with the amazingly rich and tasty ingredients that make the dish.
It also gives depth and texture with a load of fresh peaches, spices, and crusty cake toppings.
Ensure to bake till the top is golden and the peaches are well-cooked before serving.
Cajun cooking comes in handy on special occasions, and the seafood gumbo is the dish you want to make to leave a smile on your family's faces.
It's packed with an assortment of seafood and creole flavors to make the ultimate soul food.
The dish requires several ingredients but takes about 40 minutes to cook.
Okra and tomatoes are utterly satisfying, and nothing says Sunday dinners soul food better than this recipe.
It's comforting and satisfying with the array of ingredients used in its preparation. You can also tweak it to accommodate the meat or veggies you want.
Serve hot, and enjoy!
Cooked red beans in seasoned tomato sauce with smoky sausage is a soul food dinner idea you won't ever regret trying.
It's flavorful, thick, creamy, and goes amazingly with white rice.
Garnish with parsley, serve hot, and come back for seconds!
The banana pudding has layers of deliciousness that take soul food to another level with its rich banana flavors.
It's super easy to make and can be served hot or cold, depending on your preference.
It requires minimal ingredients, including bananas, eggs, vanilla wafer cookies, milk, cornstarch, sugar, and a hint of salt. The yummy dish takes under an hour to get ready and serve.
After a delicious soul food kick, it's only right to follow it up with an equally delightful dessert, and the peanut butter fudge is an excellent choice.
It's flavorful, rich, and chewy with minimal ingredients to its making.
These ingredients include marshmallow cream, crunchy peanut butter, margarine, vanilla, evaporated milk, and powdered sugar.
The appearance, aroma, and taste of these baked turkey wings rank them high on our list of soul food recipes for Sunday nights.
There's no way you can go wrong with this recipe, and you can be sure to leave your family asking for more when served over rice.
Your spices and seasonings are the key ingredients to making these savory turkey wings, and you want to get them in the right measurements.
The southern black-eyed peas are a favorite after the holidays as they let you use up your leftover turkey, ham, or sausages.
The soul food can be cooked for Sunday dinners morally or with a slow cooker.
You can add veggies as you want and tweak the seasonings to suit your taste.
Southern fried corn is a traditional dish of fresh corn deep fried in bacon grease and butter.
The taste of this simple dish lies in the spices, and it serves as an excellent light dinner option for your Sunday dinner soul food.
The Jambalaya is a soul food dinner with Cajun flavors from a mix of shrimp, chicken, and Andouille sausage (you can customize your protein options as you desire).
The dish is totally satisfying and will have your family coming for more.
Garnish with toppings of your choice and serve hot!
This soul food is soft, buttery, and savory and can be easily made from scratch to incorporate ingredients of your choice.
They make for excellent companions with your chili or soups on cold nights.
Share with the family and watch their faces light up as they pull the bread rolls apart. And if you'd love to explore more bread recipes, see this healthy and delicious Ezekiel bread recipe.
Salmon croquettes used to be everyone's favorite growing up, and now you can pass the delicious tradition on to your kids with this amazing recipe.
They're made in the form of patties packing loads of flavors and crunchy bread crumbs.
This meatloaf is tender, juicy, and flavorful with the pack of ingredients it's baked with.
And it's the wholesome soul food that leaves room for leftovers to be refrigerated and reheated.
You want to ensure your meat is well-cooked and has absorbed your spices and seasoning before settling to cut. Regardless, this dish will be ready to serve in under an hour!
Conclusion
Soul food is the food of love, compassion, unity, and everything good about life. These recipes provide all of these and more with the warmth and comfort you derive from each scoop or bite. Of course, there are more soul food recipes to try, but this curated list guarantees satisfaction to all of your cravings!
🍳 Related Recipes
Check out these delicious comfort foods including my collection of best chicken cutlet recipes.
Love this recipe? Please leave a 5-star 🌟rating in the recipe card below and/or a review in the comments section further down the page.

Try one of my comfort dinner recipes for your next family meal! And if you have any questions, I'm here to help!