From the eastern Mediterranean to southern Europe, we bring you the most popular phyllo dough recipes! The phyllo dough is a convenient flaky pastry option for people who love making savory dishes and sweet desserts. It's loved for its thin dough and very little fat that fits perfectly into various dishes.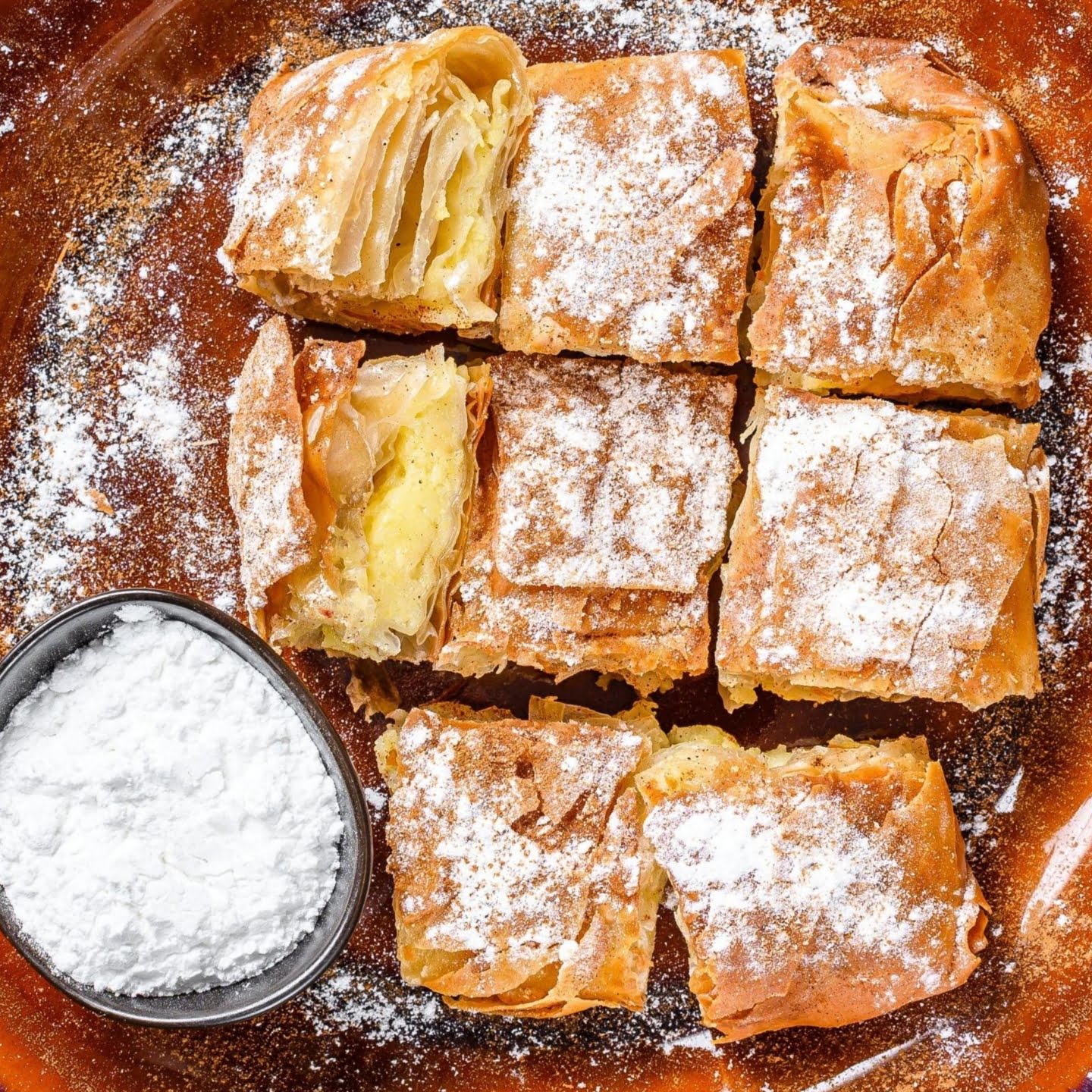 You can choose to make your homemade phyllo dough or explore the store-bought phyllo dough in these recipes.
With these, you'll always have an option for what to make with phyllo dough, from sweet phyllo dough desserts to complete meals.
You can also make some delicious meals with phyllo dough and these canned chicken recipes that are totally worth to check them out.
Frequently Asked Questions
Is phyllo dough gluten-free?
Phyllo dough is not gluten-free and will not suffice in any gluten-free diet.
Is phyllo dough the same as puff pastry?
Phyllo is different from puff pastry in a significant way. Phyllo is a thin dough made with oil, while puff pastry is layers of thin dough made with butter.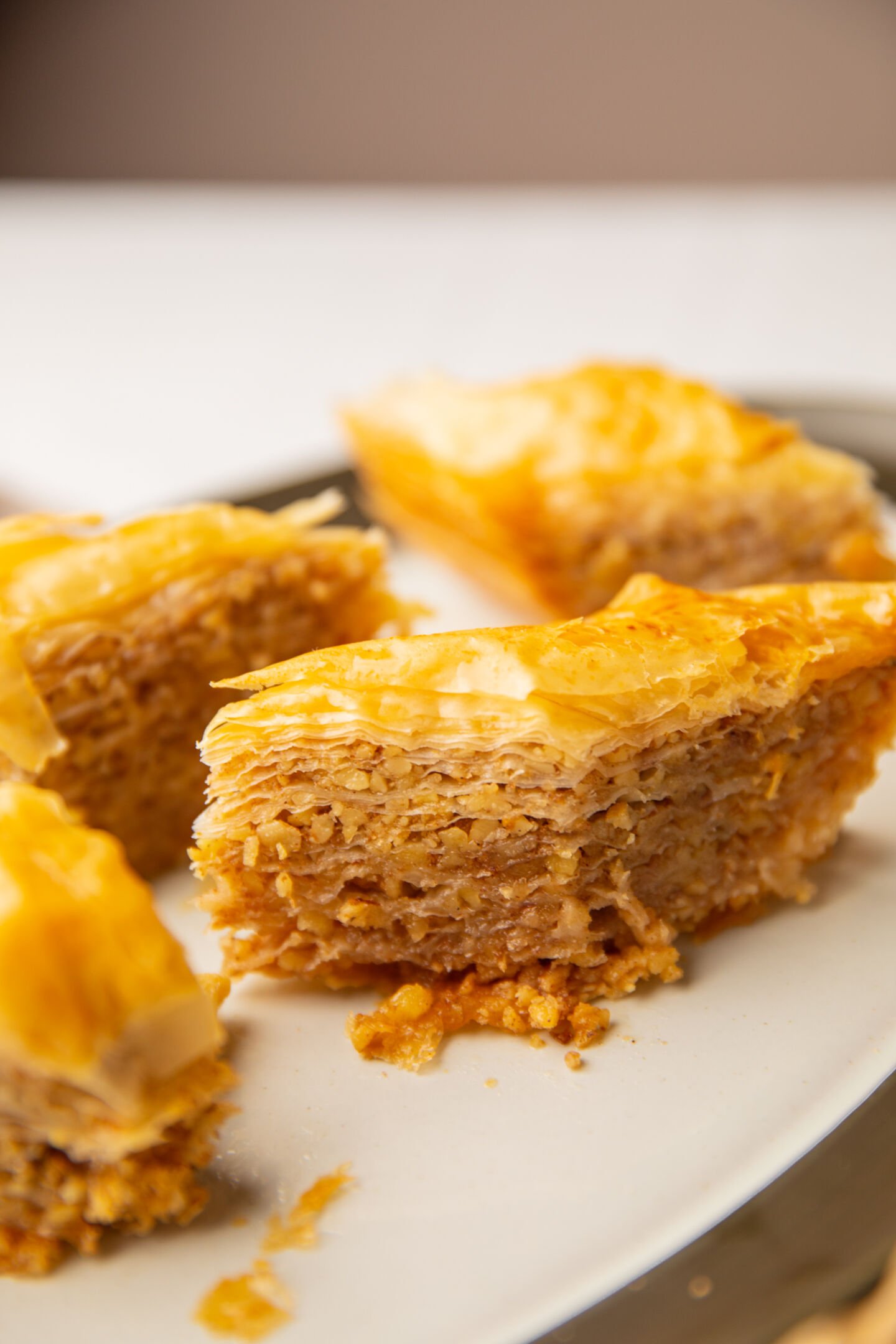 The Greek Baklava is the definition of a sweet dessert. It's baked cinnamon and walnuts between phyllo dough coated with melted butter.
The delicious treat is then drizzled with sugar and honey syrup to give a mind blowing dessert.
Get phyllo dough, butter, walnuts, and ground cinnamon for the phyllo pastry. The syrup takes powdered sugar, lemon juice, honey, and water.
Only a few dishes beat the chicken pot pie as comfort food. And with the phyllo dough twist, it makes a savory and healthier substitute for the regular puff pastry!
Simply add your phyllo dough sheets before and after your chicken pot pie creamy filling, and bake to golden brown perfection.
The recipe is flexible, as you can add as many veggies and seasonings as you want.
This phyllo pastry is known in Bosnia as the burek. It's basically meat filling in filo dough kneaded and rolled super thin.
It comes with savory flavors from the ground beef and seasonings that make the filling.
Bake for about 45 minutes till its top, and bottom layers are crisp and golden brown. Serve with sour cream, buttermilk, or plain yogurt. If you loved this, you'd definitely love this baked beef empanadas recipe with chimichurri.
This delicious dessert requires only five ingredients and no form of baking!
It's a sweet dessert made from phyllo cups, vanilla greek yogurt, whipped topping, vanilla creamer, and diced strawberries.
They're bite-sized and make a colorful and healthy addition to your dessert platter. Serve immediately or refrigerate till you're ready!
This is one of the most delicious ways you can serve chicken breasts! Get your filo dough sheets to coat with butter and wrap around your chicken breasts to make a sweet and savory dish.
Marinate the chicken breasts in seasonings and spices of your choice before wrapping, and bake till golden brown.
Sprinkle parmesan cheese and serve with the veggies of your choice!
Galaktoboureko rolls are a classic Greek pie of semolina custard in flaky filo pastry. They're absolutely delicious and make for great snacks or light evening meals.
The ingredients can be fetched from your pantry, including vanilla extract, semolina flour, cornstarch, orange, eggs, milk, and a few others.
Bake the savory pie till golden and drench in honey syrup.
Baklava rolls are a delight at parties with the amazing tastes they add to the menu.
It's one of the decadent desserts from the Mediterranean, and it features spiced, nutty filling in flaky phyllo dough.
Drizzle them with maple syrup or honey, and enjoy it hot!
These flaky pastries are a great addition to your filo dough recipes appetizers.
The creamy and tangy flavors from the goat cheese mixed with the sweet honey and flaky crust of the phyllo pastry are everything you need to satisfy your craving.
They're simple to make with minimal ingredients, and you should let them cool on a baking sheet for at least ten minutes before serving.
Cheese lovers will enjoy this dessert the most of the filo dough recipes.
The cheesy goodness comes with feta cheese, mozzarella cheese, and ricotta cheese in a phyllo sheet coated in melted butter.
The cheesy combination goes in with spinach, shallots, fresh parsley, pepper, and salt to make an irresistible snack. Serve warm with honey syrup, and enjoy!
Tiropita is one of the phyllo dough recipes with origin in Greek cuisine. It's popularly known as the Greek pie, a flaky pastry filled with feta, parmesan, and cottage cheese.
It's a great appetizer to set the mood right for a food fest!
Bake till they're puffy, and serve with a syrup of your choice! If you want more baked cheesy appetizers, you should try this baked jalapeno pinwheels recipe.
If you want flavors from using phyllo dough, you want to try these curry lime chicken phyllo rolls! They're simply amazing with the delicious flavors rolled up in crispy phyllo dough with flaky layers.
Prepare your cooked shredded chicken with breadcrumbs, cilantro, scallions, olive oil, lime, garlic, curry powder, lime juice, and melted butter. Bake till it's golden, and serve hot!
Try this chicken wellington recipe if you want more baked chicken in puff pastry dishes!
Want to make a great appetizer for the holidays? The pepper jelly apple bacon brie bites should be your first choice!
They're bite-sized phyllo cups filled with brie cream cheese, apples, smoked bacon, and holiday pepper jelly.
It's a simple five-ingredient appetizer you can put together in about ten minutes. Serve warm, and enjoy!
The BLT phyllo pizza is a delicious mix of the classic BLT sandwich and cheesy pizza. It's refreshing, tasty, and perfect for any day of summer!
Its ingredients are minimal, and they come together in under an hour to make a savory dish.
These ingredients include bacon slices, plum tomatoes, lettuce, phyllo sheets, a cheese mixture of parmesan, mozzarella, provolone, and herbs cheese. You have oregano, garlic, salt, and pepper for your seasoning.
This is one of the best filo dough desserts you can have on a summer day to brighten your mood!
It's a simple dessert of baked filo cups filled with mascarpone cream, blueberry sauce, and fresh blueberries.
Your blueberry sauce will have lemon zest and juice, and powdered sugar. Top the dessert with mint leaves or edible mini flowers, and enjoy!
Chopped bacon, pimento cheese, and green pepper jelly in filo cups make a delicious appetizer you can make in about 20 minutes!
Get the filo cups and other ingredients on your baking sheet and bake for 5 - 8 minutes.
Serve warm, and enjoy!
Whether as an appetizer or brunch, the ham and cheese filo cups are an excellent choice to entertain your family or guests. They're super easy to make and require only a few ingredients you can grab from your pantry.
These ingredients include frozen filo cups, shredded cheddar cheese or cheese blend, baked ham, and softened cream cheese. Add chopped chives to taste.
Try this stromboli recipe for a more hands-on experience with ham and cheese!
These cute versions of the Baklava are everything you need to get the festivities going at a food gathering.
They're filo cups filled with spiced nuts and baked to perfection with a drizzle of honey.
It takes less than 30 minutes to get this phyllo dough recipe together and ready to eat!
This is a Turkish recipe with a load of flavors to make the perfect cheerful breakfast. It goes well with a simple salad, soup, and meat dish.
The phyllo dough makes the top and base of the dish, holding a filling of onions, baby spinach, feta cheese, egg yolks, black pepper, kosher salt, olive oil, and sesame seeds.
It's a flexible dish as the filling can take substitutes and more ingredients. Bake till it's golden and serve it warm.
Phyllo dough recipes seem to only get better with this amazing twist of chocolate in Baklava.
The dessert is chopped walnuts and cinnamon between crunchy layers of phyllo dough soaked in honey.
It's the sweet and savory dessert that definitely leaves an impression!
This is one of the healthy recipes you can explore with phyllo dough. It's filled with flavors and great texture from its mix of ingredients.
The dish combines zucchini, eggs, herbs, onions, and feta cheese wrapped in flaky phyllo dough.
It's vegetarian-friendly and will be ready to eat in about an hour.
The Bougatsa is a Greek classic, and it's a simple dish of phyllo dough with cream filling sprinkled with cinnamon and icing sugar.
It's a bit similar to the Galaktoboureko, except that it has no syrup drenching it.
Seafood lovers also have something to look forward to with these seafood filo cups.
They're filo sheets stuffed full of shrimp, green onion, crab, and cream cheese. These are the perfect appetizers for mini gatherings and parties!
Bake till the sheets are golden in color, and your cheese has melted for the best flavors.
The mozzarella shrimp bites are another fantastic appetizer with crispy filo cups filled with cooked shrimp, mozzarella, and cream cheese.
They're perfect at parties, and you can get them ready in under 30 minutes.
The recipe calls for shredded mozzarella cheese, phyllo tart shells, seafood seasoning, Worcestershire sauce, minced onion, fresh parsley, sour cream, and cream cheese. Serve cold or warm, and enjoy!
These are another filo cup treat for chocolate lovers!
It's big on taste with its ingredients and requires very little work to put together.
With dark chocolate chips, chopped pecans, pecan halves, heavy cream, filo cups, and cream de cacao, these treats will be ready to serve in no time!
Filo cups are a big deal in appetizer recipes, which continues with this roasted grape and ricotta recipe.
It's simple to make, requires minimal ingredients, is super tasty, and is vegetarian-friendly.
It's an amazing appetizer that gets the party going with a cook time of minutes. Drizzle with honey or agave nectar, and enjoy!
The apple strudel is a classic with layers of flaky phyllo dough and delicious apple filling.
It's the dessert that calls to your family and friends immediately after it's out of the oven, and it's quite easy to make.
You can serve and enjoy this with frittata, yogurt parfait, oatmeal, and breakfast casserole.
This puff pastry dessert is quite amazing, with flavors from peaches, berries, and cream cheese.
Whether for brunch or a light evening meal, it'll leave a smile on your face with each bite.
It's also easy to make and will be ready to eat in about 30 minutes.
The orange cake or pie is a hit dessert in Greece and could make a livelier difference to your food menu.
It's a blend of filo pastry and orange syrup (made chiefly from orange juice) to give a refreshing and irresistible dessert.
Although it takes time to make, the ingredients are easy to get and quick to assemble!
This pizza version is a much livelier alternative to the classic pizza. It's with layers of flaky filo topped with many vegetables, shredded chicken, and fresh herbs.
With these ingredients, you have the opinion to substitute your ingredients as much as you want and even add extras!
The dish is perfect as a light dinner or flatbread appetizer.
If you're wondering what you can make this thanksgiving with filo dough, look no further!
The pumpkin turnovers are quick snacks you can make with only seven ingredients, including fresh or canned pumpkin, filo dough, walnuts, brown sugar, butter, cinnamon, and nutmeg.
Bake till they're golden and allow to cool before eating!
Get in here if you fancy Lebanese cuisine! These phyllo pastries are made with layers of filo dough filled with the delicious cream filling of Lebanese Ashta.
Then, they're drizzled with sugar syrup to give even more sweetness to satisfy your cravings.
Refrigerate for at least two hours for the best taste!
This decadent vegan dessert is made with shredded phyllo layers and melted cheese filling.
It's then soaked in an orange blossom syrup to make the best vegan dessert you can ever imagine.
It's super simple to make, but you might need to visit the grocery store for its ingredients.
Do you want to try something different from the already famous pies? This salted greek honey nut pie with filo dough will surely blow your mind!
The pie is black walnuts, pecans, pistachios, brown sugar, and cinnamon wrapped in filo sheets.
Drizzle it with honey syrup and have a wonderful dining experience.
If you want to try your hands on a dish with phyllo dough and heirloom tomatoes, this recipe is for you.
This appetizer takes only a few minutes to give you a flavorful dish that's creamy, juicy, and crispy.
It's a tart to be enjoyed hot and garnished with basil leaves.
The last of our phyllo dough recipes is the Baklava cheesecake. It's a special dessert that will serve well for special occasions.
The dessert is a pecan shortbread and pistachio crust, topped with Baklava and filled with honey cheesecake.
It doesn't get better than this dessert at any event with the fantastic flavors it brings to the menu.
Takeaway
These phyllo dough recipes are super delicious recipes that will serve many events. The recipes are relatively inexpensive, quick to make, and satisfying with the array of ingredients. Try one today and explore a new world of delicious possibilities!
🍳 Related Recipes
Try these fantastic comfort food recipes in your next meal. Including my homemade fried dough recipe.
Love this recipe? Please leave a 5-star 🌟rating in the recipe card below and/or a review in the comments section further down the page.

Try one of my comfort dinner recipes for your next family meal! And if you have any questions, I'm here to help!