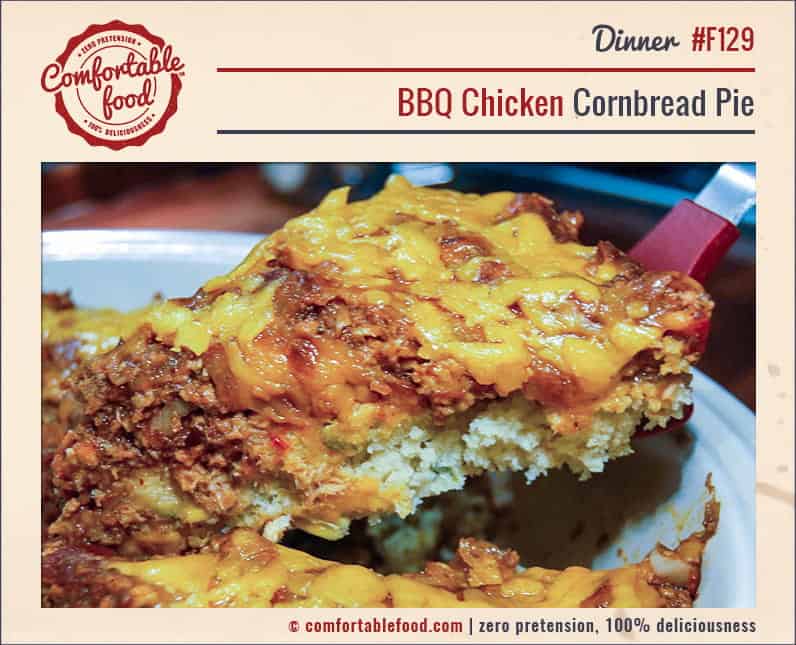 This BBQ Chicken Cornbread Pie is so easy to throw together and the flavors are just great.  The bbq sauce is just sweet enough, and the added salsa gives the perfect zip.  Use a cornbread mix to make this even easier, or make your own from scratch.
The sweet and spicy chicken topping is perfect on top of the crispy cornbread crust.  The combination makes for a super unique, ridiculously delicious dinner, any night of the week.  A total yum-fest.
This Cornbread Pie is really quick and easy to make. There's about 20 minutes of prep time and it's in the oven for about an hour, so yeee-haw – dinner on the table in under an hour. And an incredibly delicious dinner at that. 😉
looking for some other chicken dinners?
check these out:
BBQ Chicken Cornbread Pie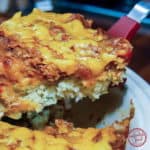 Print
Nutrition facts

(per portion)
Nutrition facts
(per portion)
Calories: 479
Carbohydrate Content: 36.3g
Cholesterol Content: 125mg
Fat Content: 23.1g
Fiber Content: 3.3g
Protein Content: 33.8g
Saturated Fat Content: 10.8g
Serving Size: 6
Sodium Content: 704mg
Sugar Content: 10.6g
Ingredients
how to
to make the cornbread:
Preheat the oven to 400 F (200 C) and grease a 9" pie pan.
In a large bowl, mix the flour, cornmeal, sugar, baking powder and salt together well.   Whisk in the egg, butter and milk, until the batter is smooth then stir in the corn and jalapenos.
Pour the batter into your prepared pie pan and bake for about 15 minutes, or until set and golden brown.
to make the bbq chicken:
Heat the olive oil in a medium skillet over medium heat.  Add the onion and cook until beginning to soften, about 3 - 5 minutes.  Add the garlic and cook for another minute or two.
Stir in the chicken, salt and pepper, chili powder, cumin and hot sauce then cook for about 3 more minutes.
In a small bowl, mix together the worcestershire, salsa, water and brown sugar.  Stir this into the chicken then reduce the heat and simmer until the mixture thickens, about 7 - 10 minutes.
Pour this over the cornbread then sprinkle the cheese on top.  Put it back in the top third of the oven with the broiler on high until the cheese is melted and begins to brown.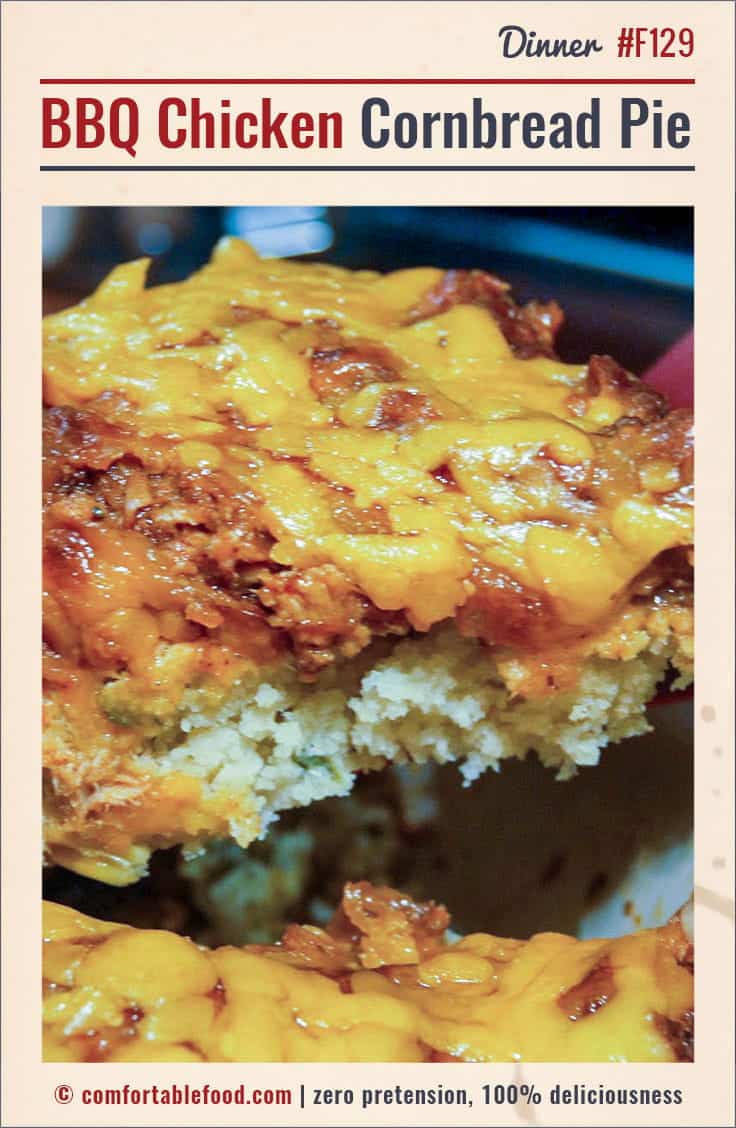 this post contains affiliate links