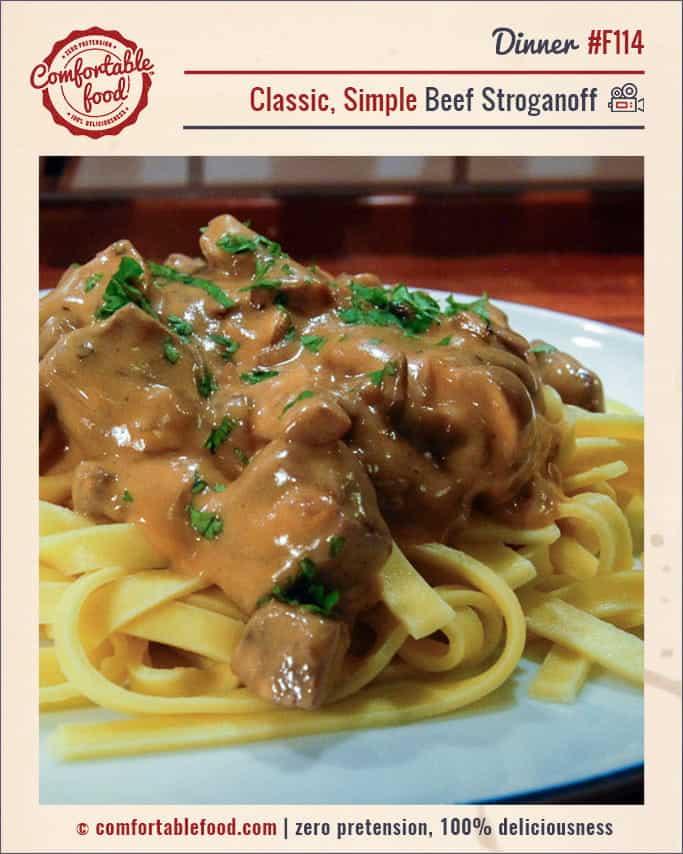 This is a Classic Beef Stroganoff Recipe!  Beef Stroganoff is one of the best comfort foods, and it is really simple to make. The beef gets so tender and flavorful simmering in a sauce that is sooooo creamy and delicious. This dish is really quite possibly one of my favorite dinners.  It is super rich and hearty and it tastes like it's been cooking for hours, when in reality you can make this dish in about 30 minutes.
There are tons of variations to making Stroganoff, but I think this is the most simple way possible to make it.  If you want to jazz things up a bit you can add some fresh dill – it gives it some more dimension in flavor, or some paprika.  Adding some crushed red pepper has never hurt anything either.  This 'stew' is really really good, and goes great over pasta or potatoes, or just in a bowl with a spoon.
It only takes about 20 minutes to prep this dish and it cooks for about the same time so this is some incredibly delicious comfort food that you can have on the table in under 45 minutes. The recipe serves 2 people with a hearty appetite, or up to 4 with a smaller portion size.
looking for other great beef recipes? check these out:
here's a video of me making this classic beef stroganoff recipe:
Classic, Simple Beef Stroganoff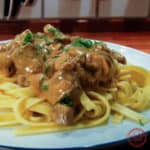 Print
Nutrition facts

(per portion)
Nutrition facts
(per portion)
Calories: 376
Carbohydrate Content: 14.2g
Cholesterol Content: 87mg
Fat Content: 21g
Fiber Content: 1.8g
Protein Content: 27.8g
Saturated Fat Content: 8.8g
Serving Size: 4
Sodium Content: 630mg
Sugar Content: 3.4g
Ingredients
how to
Heat the vegetable oil in a skillet over medium-high heat.
While the oil is heating, dust the beef on all sides with the flour, generously salt and pepper it, then place it in the hot skillet and saute until mostly cooked and brown on all sides, about 3 – 5 minutes.
When the beef is cooked, lower the heat to medium-low, then remove the beef with a strainer, leaving any juices and oil; put on a plate and set aside.
Add the butter and onions to the skillet and cook until starting to brown, about 4 minutes.
Add the mushrooms,  increase heat to medium-high, and stir frequently until the mushrooms are cooked through, gradually increasing the heat as they release their liquid, until all the released liquid has evaporated, about 5 minutes.
Maintaining the high heat, add the wine, scraping up any brown bits from the bottom of the skillet, and boil until about half of the wine has evaporated, about 4 minutes.
Stir in the tomato paste, mustard, and beef stock, generously salt and pepper, then continue to boil over high heat until the liquid has reduced by half, about 3 minutes.
In a small bowl, use a fork and whisk the flour into the sour cream until smooth.
Use a spoon, and take some of the sauce from the pan and whisk it into the sour cream, bringing it to a lukewarm temperature.
Reduce the heat to low, return the beef to the skillet, and gently stir in the sour cream, then gradually increasing the heat and bring it to a slow simmer, stirring frequently until the sauce comes together and thickens, about 2 - 3 minutes.
Remove from heat, and let rest about 10 minutes before serving.  (if serving with pasta, make it while the sauce rests)
Serve with a wide, flat pasta or over rice or with potatoes.  Delicious.  🙂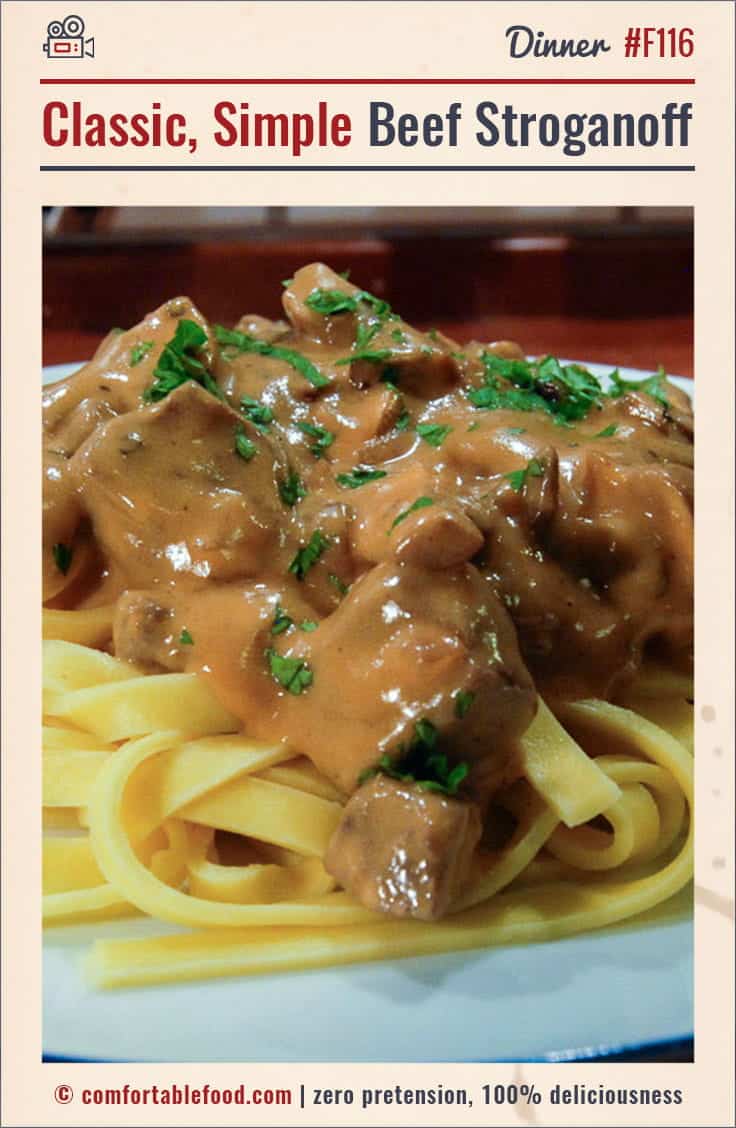 this post contains affiliate links