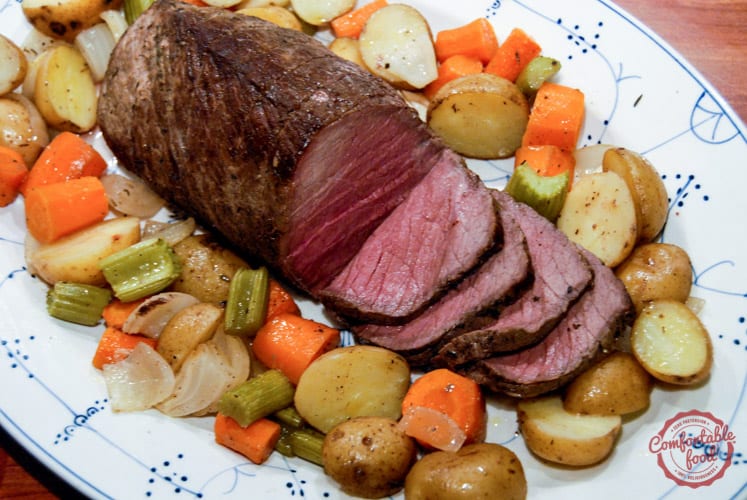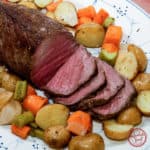 I found this amazing piece of beef at the grocery store and decided it was the perfect time to make some delicious roast beef. Making a perfect roast is super-easy—just make sure you get a good cut of beef, season it properly, and pay attention to your oven temperature, and it will come out great. I always sear my roast in a skillet before baking it—I love it crispy on the outside and I think it really helps trap the juices inside.
Be sure to use an oven thermometer to make sure the beef is cooked to the appropriate temperature. Don't rely just on the given oven times—everyone's ovens are different, and you want to slice into a perfect roast.  I love roast beef au jus, with horseradish sauce and my very easy Traditional Yorkshire Pudding—perhaps it's my British ancestry, or maybe I'm just a traditionalist.
(This recipe was originally published here on 10/10/2013)
Ingredients
how to
for the roast:
Preheat the oven to 425 F (220 C).
Drizzle the beef with a little olive oil, then season all over with salt, pepper and thyme.

 Heat a cast iron skillet over high heat, and sear the beef on all sides until browned, but not burned, about 3-4 minutes per side.

Put the vegetables and bay leaves in the bottom of a roasting dish. Drizzle with olive oil and place the roast on top.
Place the roast in the oven and bake for about 15 minutes, then reduce the heat to 375 F (190 C). Roast for about 13-15 minutes per pound for rare, 17-19 minutes for medium, and 22-25 for cooked through. Check the meat with a thermometer to make sure it is the temperature you want it--145°F for medium rare, 160°F for medium. (Baste the roast a couple times while cooking, and keep an eye on the vegetables. If they begin to burn, you can cover the pan with a foil tent.)
When the beef is cooked, remove it from the oven and allow it to rest on a board, covered with foil and a kitchen towel, for about 15 - 30 minutes. (Remember, the meat will continue to cook as it rests, so remove it from the oven when it is about 5°F below the temperature you want it to be. Also at this point if the vegetables aren't cooked through, return them to the oven until cooked while the beef is resting.)
make the au jus:
Drain the roast drippings from the pan through a mesh sieve into a medium saucepan, keeping out any vegetable pieces or skins. Cook over high heat until it begins to boil, but be careful not to burn it.
Pour in the red wine, and allow to cook and reduce for about 5 minutes, stirring often. Add the stock and stir together well, then add the butter and allow to melt. Keep warm and serve over the beef and puddings.