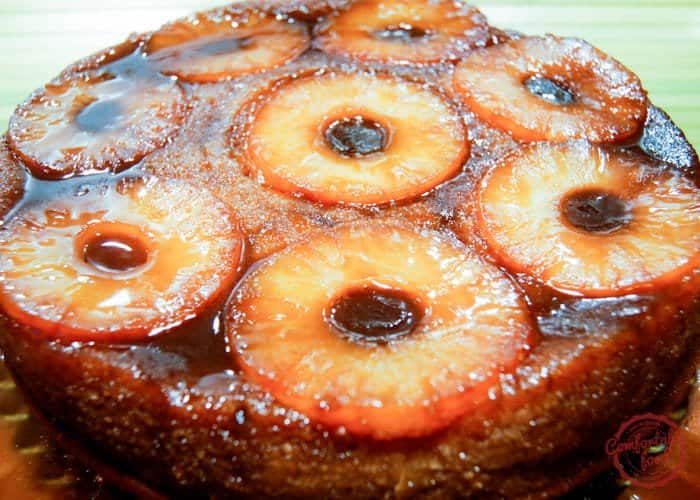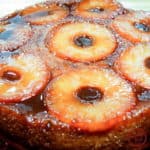 This coffee cake is a twist on traditional upside down pineapple cake. It's so rich and delicious, it practically demands a good cup of coffee to go with it.  It's very dense, much more so than a typical upside down cake.  The sour cream gives it great texture, and the pineapple juice really brightens up the flavors.

Check out these kitchen essentials helpful in making this recipe:
Ingredients
how to
Preheat oven to 350 F (175 C) and grease a 10 inch regular or springform pan.  (if using a springform, wrap a ring of aluminum foil around the bottom to prevent leaking)
Remove the pineapple rings from their can and set aside to drain, reserving their juice.
In a medium bowl, sift together the flour, baking powder, salt, cinnamon and allspice then set aside.
Whisk the sour cream and the reserved pineapple liquid together until combined and set aside.
In a small saucepan over medium heat, bring the brown sugar and 1/3 cup (75 g) butter to a boil, then pour into the bottom of the springform pan.
Arrange the pineapple rings neatly on top of the caramel sauce in the bottom of the pan.
In a large bowl, cream the remaining 2/3 cup (150 g) butter with the sugar until light and fluffy, about 3 - 5 minutes.  Add the eggs, one at a time, mixing well after each one, then stir in the vanilla.
Mix in the flour mixture in two additions, alternating with the sour cream and juice mixture.
Pour the batter into the pan over the pineapples and bake for about 90 minutes, or until a toothpick test comes back clean.  (after about 1 hour, check about every 10 minutes - if it starts browning too much on top, cover with a foil tent)
Allow to cool on a wire rack for about 15 minutes before carefully inverting over a serving dish.  (if you used a springform pan, remove the ring after you invert the cake over your serving dish - if your cake rises too much in the center, just use a sharp knife to slice off the mound before inverting it so it will lay flat)