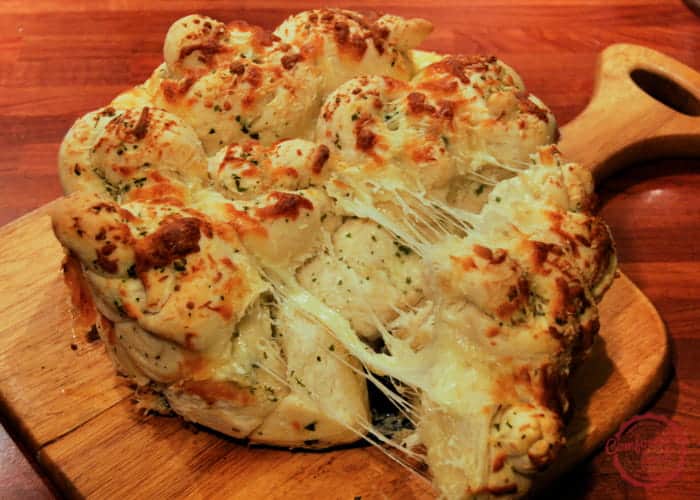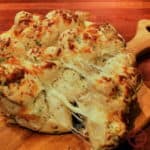 Rolls brushed with melted butter and garlic, sprinkled with cheese then baked together make these pull apart cheesy garlic knots one the best breads you can put on your table.  Serve these as a side to any saucy dish or pasta and see how quickly they disappear.
Ingredients
how to
Dissolve the sugar and yeast in the water, and let sit until foamy, about 5 minutes.
In a large bowl, stir together the flour and the salt, then stir in the yeast mixture and olive oil and combine well.
Turn out onto a floured surface and knead for about 6 - 8 minutes, until smooth and elastic.
Form the dough into a ball, and return it to the large bowl, drizzle a little olive oil over it, roll it around to coat well, then cover with a towel and allow to rise in a warm place until doubled in size - about an hour.
Mix the melted butter, parsley and garlic in a small bowl and set aside.
In another small bowl mix together the cheeses and set aside.
Punch the dough down and separate into small, golf ball sized balls - you should end up with about 20 balls.
Roll each ball into a rope and tie into a knot.
Dip each knot into the melted butter mixture and place half of them on the bottom of a spring form pan, not quite touching.  Sprinkle half of the cheese mixture over them, then stack the remaining knots on top and sprinkle on the rest of the cheese.
Cover the pan with a towel and allow to rise again, this time about 30 minutes.
Heat the oven to 350 F (175 C) and bake for about 35 - 40 minutes, or until golden brown.