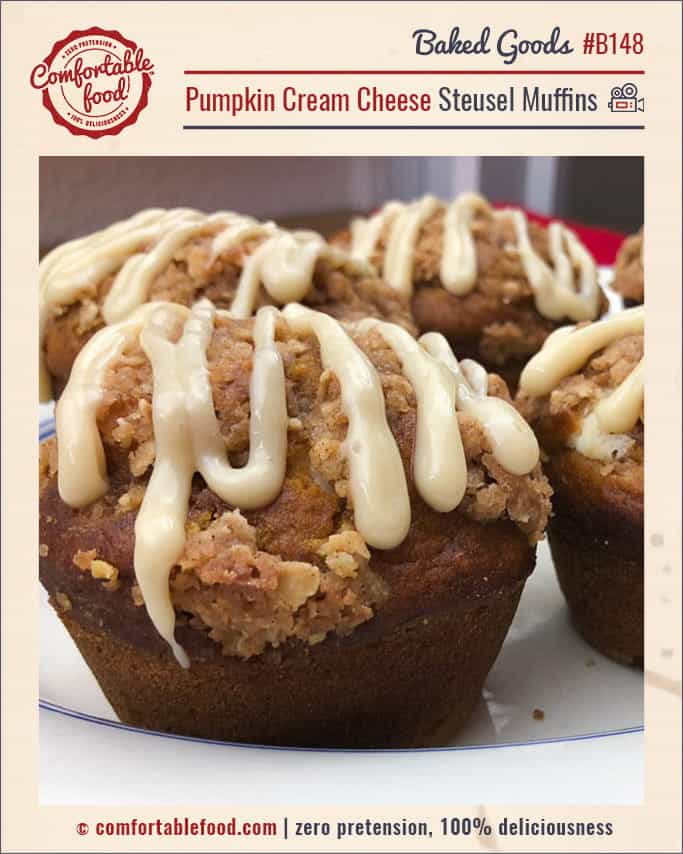 Pumpkin Cream Cheese Muffins with Streusel Topping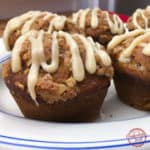 Ingredients
how to
Preheat oven to 400 degrees and grease a 12 cup muffin tin (or 6 cup jumbo tin).
make the cream cheese filling:
Put the cream cheese, powdered sugar and vanilla into a small mixing bowl, and use and electric mixer to blend together until smooth. Put the mixture into your freezer while you prepare the muffin batter.
make the streusel topping:
Put the brown sugar, cinnamon, butter pieces, oats and flour into a bowl. Use your fingers (or a pastry cutter) to blend until it comes together with the butter in as small of pieces as possible. Put the mixture in the fridge until needed.
make the muffin batter:
In a large bowl, whisk together the flour, pumpkin pie spice, baking soda, baking powder, salt, brown sugar and sugar and set aside.
Put the pumpkin, oil, milk, eggs and vanilla into a separate bowl, and use your hand mixture to puree until combined and smooth.
Add the wet mixture to the dry and use your hand mixer again to blend together until combined - do not over mix.
Spoon about 1/3 of the mixture into the bottom of each muffin tin, then use two spoons (or an ice cream scoop) to put a generous dollop of the cream cheese mixture on top. Cover with the remaining batter, making sure to not fill the muffin cups too full.
Sprinkle a generous amount of streusel topping on each muffin, then bake in the oven for about 15 mins, or until a toothpick test comes out clean.
make the cream cheese glaze:
While the muffins are baking, make the cream cheese glaze by using your mixer again to beat together the cream cheese, powdered sugar, vanilla and salt.
Allow the muffins to cool before removing them from the muffin tin, then drizzle the cream cheese glaze over the top, using a pastry bag or a zip lock with the corner snipped off.