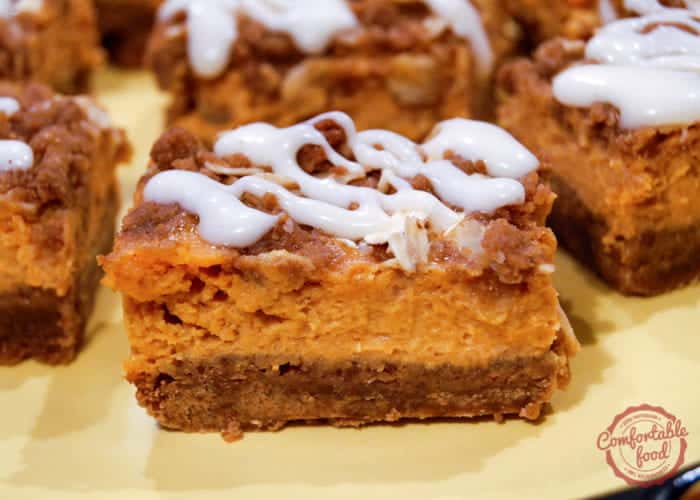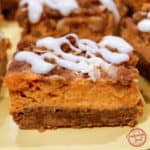 The flavors of fall blend together seamlessly in these perfectly spiced pumpkin bars.  The light and fluffy pumpkin filling is supported by a hearty gingerbread crust and the drizzled icing give just the right amount of extra sweetness.
Ingredients
how to
Preheat oven to 350 F (175 C) and grease a 9" x 13" baking dish.
make the bars:
In a medium bowl, whisk together the flour, baking soda, salt, cinnamon and ginger until well blended.
In a larger bowl, beat the butter together with the molasses and sugar until it is creamy.  Add the dry ingredients, and mix together until it resembles coarse bread crumbs.  Reserve about 1 cup of this for the topping - in a separate bowl combine it with the oats, and set aside.  Press the remaining crust into the bottom of the prepared pan, flattening out as evenly as possible.
make the topping:
In a large bowl, beat the cream cheese together with the condensed milk, until combined and smooth.  Add the pumpkin and maple syrup, and blend to combine.  Mix in the sugar, vanilla, cinnamon, ginger, nutmeg and cloves.
Add the eggs, one at a time, beating well after each addition.
Pour the pumpkin mixture over the unbaked crust, and sprinkle the reserved crust and oat mixture on top.  Bake until just set, and the topping is golden brown, about 30 - 35 minutes.  Allow to cool completely on a wire rack before cutting into bars.
make the drizzle
Whisk the sugar, spices, butter and vanilla together, then slowly add milk in tiny increments, until the mixture reaches a consistency where it can easily be drizzled from a spoon over the cooled bars.