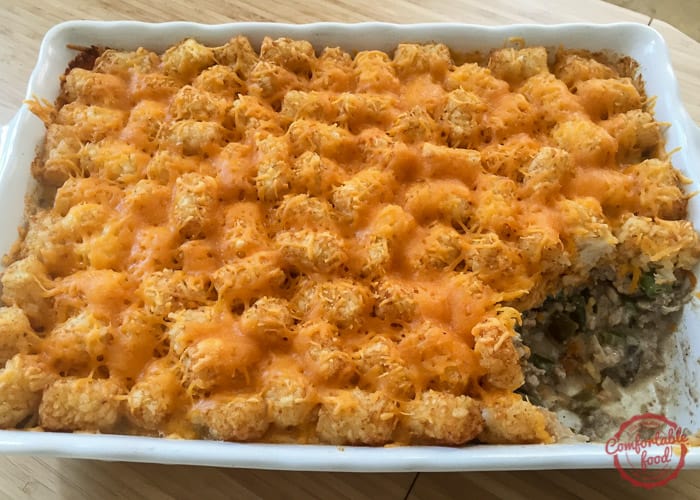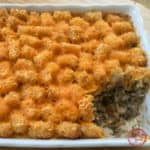 Tater tots are one of my favorite things to eat, and have been since I was a kid.  This casserole is not hard to make, it doesn't use canned soup, and it's absolutely delicious.  This dish is easy to modify – you can use whatever vegetables you want. You can also use canned soup if it's your preference…just replace the milk/sour cream mixture with one can of condensed cream of chicken or cream of mushroom soup.
This is a perfect casserole to make with or for kids, but I guarantee that when you put it on the table, people of all ages are going to be asking for seconds!
(This recipe was originally published here on 09/15/2015)
Ingredients
how to
Preheat your oven to 350° F and grease a 9x13 casserole dish.
In a large, heavy-bottomed skillet, heat the oil over medium heat. Add the onions and green peppers, and sautée until softened. Add the garlic and mushrooms and cook for about 3 - 5 more minutes, or until the mushrooms have begun to release their liquid.

 Add the ground beef, salt, and pepper and increase the heat to medium high. Cook, stirring often, until the beef is browned. Remove from heat, and drain most of the grease.

Melt the butter in a medium saucepan over medium heat. When it is completely melted, whisk in the flour and cook for a minute or two, whisking constantly. Slowly add the milk, whisking the entire time until the mixture is smooth and begins to thicken, then remove from heat and whisk in the sour cream.
Pour the creamy mixture over the ground beef, add the green beans, and stir to incorporate.
Pour the beef mixture in the bottom of the prepared casserole dish and flatten with the back of a spoon. Add half of the shredded cheese on top, then layer the tater tots on the cheese.
Bake in the oven for 30 - 40 minutes, or until the tater tots are browned, then remove and sprinkle the remaining cup of cheese on top. Put back in the oven for 10 more minutes, or until the cheese is melted.
Allow the casserole to cool before serving.