Caramelized onions are delicious. They are slowly cooked onions and, as the name suggests, caramelized, which makes them sweet. Onions have naturally high sugar and water levels, making them one of the best ingredients to caramelize.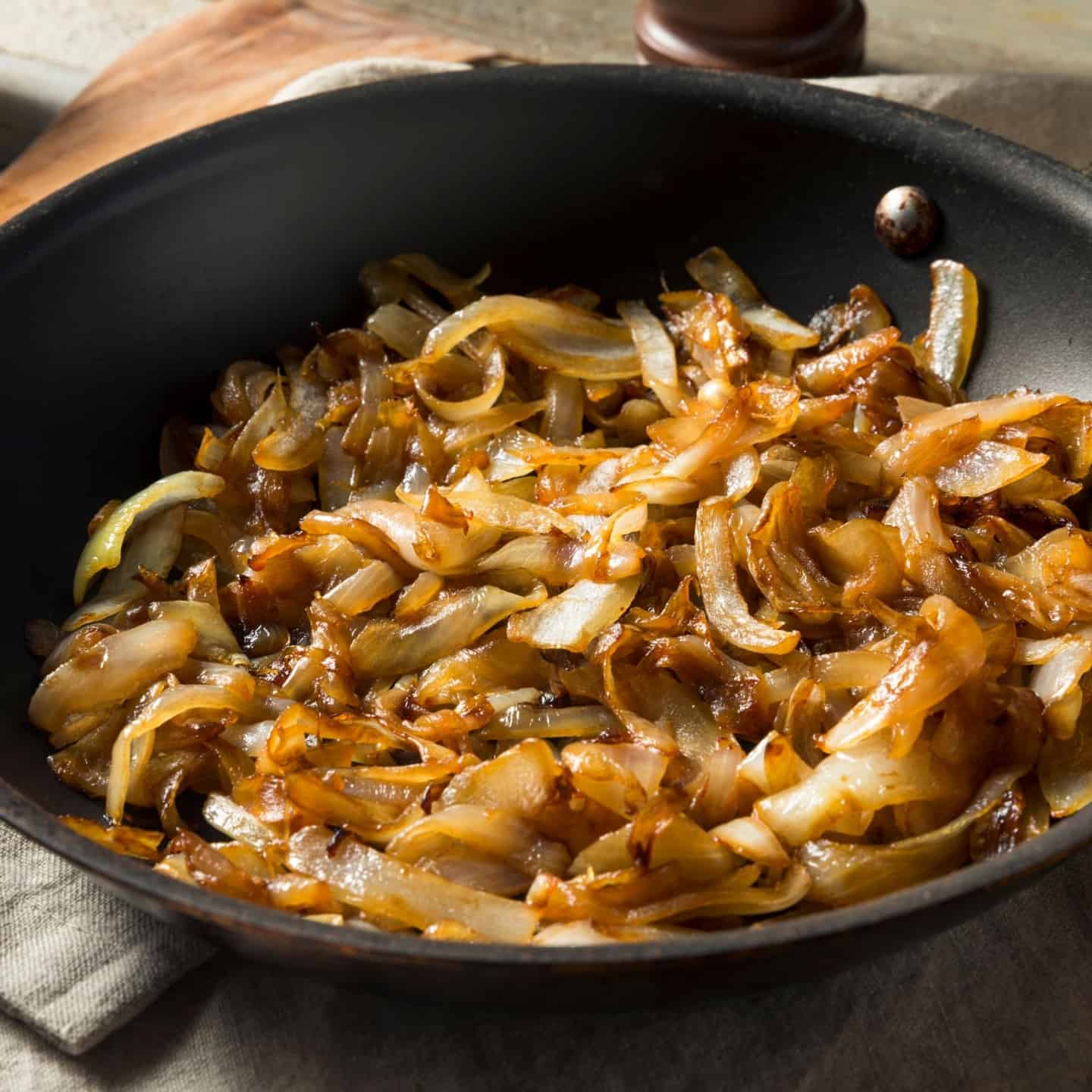 When they are gradually warmed, they start to sweat - the water first, then the sugars. As the water evaporates, the heat caramelizes the sugar resulting in sweet golden brown onions.
Contents
Making Caramelized Onions
There are six great ways to caramelize onions, but none are quick. The quickest method takes around 15 minutes, however typically expect around 30-40 minutes.
To make caramelized onions perfectly requires time and patience. Something we all struggle with when we're hungry. However, in this case, it is definitely worth the wait.
Cooking Tips
Don't use a non-stick pan if you can help it - the caramel needs to adhere to the pan.
Always deglaze the pan - add one or two tablespoons of water at the end of the cooking process will help release the flavor and clean your pan.
Don't cut the onions too thin - they will burn before getting the chance to caramelize, so ⅛th of an inch is a good size for the slices.
You can use butter or oil - butter gives a better taste, but both work perfectly fine.
You can add balsamic vinegar or brown sugar to help the onions brown and caramelize. However, the flavor changes slightly as a result. Because of this, adding sugar or balsamic vinegar might not be the best option for you if you're in love with the natural flavor of the onions.
You will always need four things to make caramelized onions: time, a stainless steel pan, a source of fat, and onions. Because of this, the ways to make these are limited. Different methods will yield similar results, but some are certainly better than others.
Caramelized Onions 6-Ways
Here are six of the most common ways to caramelize onions. Each method yields slightly different results but still results in amazingly caramelized onions.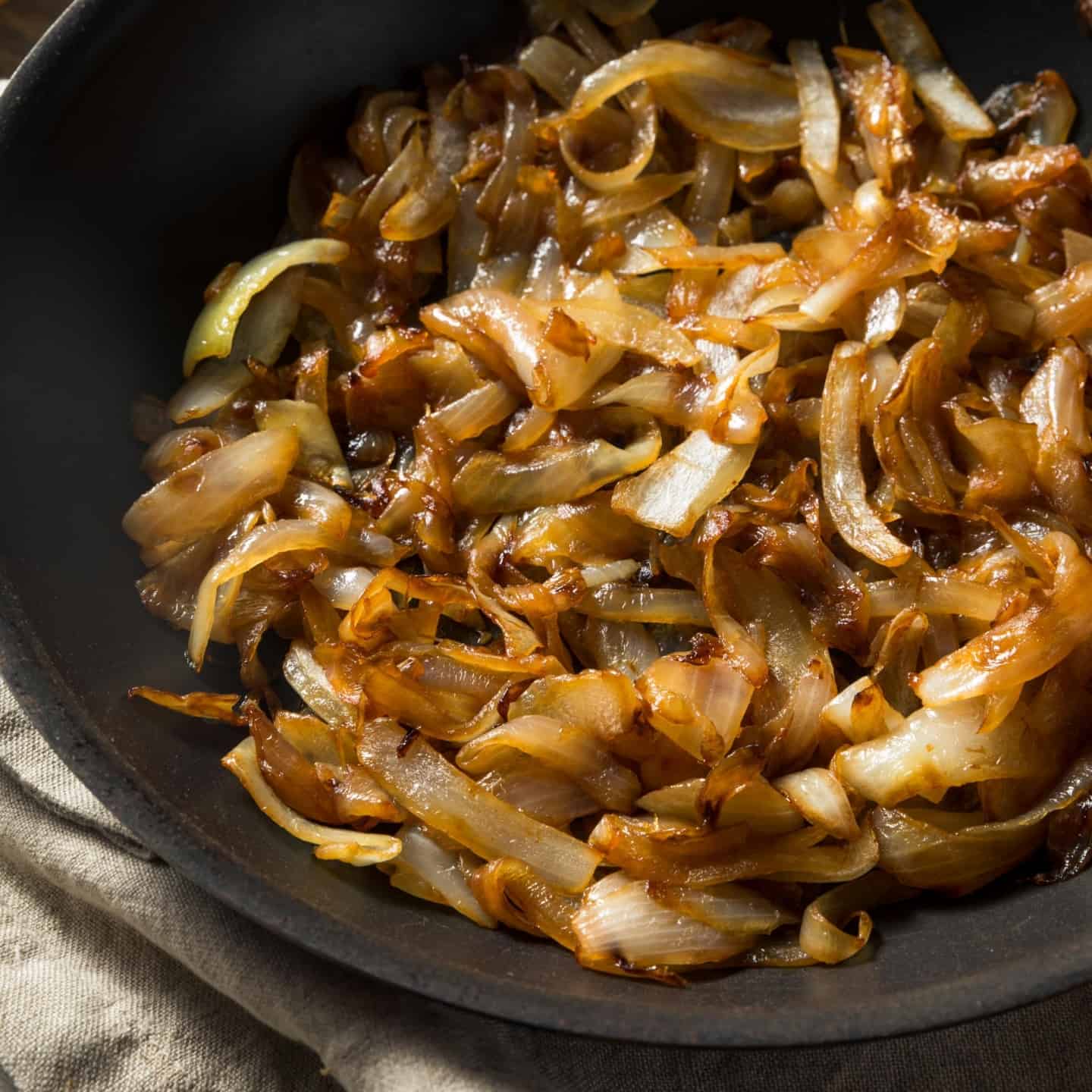 Stop Top Method
The stop top method is one of the more traditional methods for making caramelized onions and takes around 40 minutes.
Grab three medium-sized onions. Chop into ⅛ inch slices.
Add 1 tablespoon of butter or enough to cover the bottom of the pan.
Add the onions, distribute them evenly throughout a stainless steel pan, and coat them with butter.
On low heat, cook the onions for 5 minutes and stir.
Repeat the process for about 40 minutes or until the onions are tender, sweet, and a beautiful caramelized brown.
Note: Deglaze the bottom of the pan with 1 tablespoon of water to release the small brown bits as necessary.
15 Minute Stove Top
This method is similar to the one above but takes a third of the time or 15 minutes. Cut your onions into thin slices and put the butter (or oil) into a high-heat pan for this method. You should be on high alert as you deglaze the pan with the water, ensuring that the onions don't burn as you are cooking.
Note: While this is the fastest method for caramelized onions, it is not the best or the easiest cooking method.
Baking Soda Method
The baking soda method takes around 10-15 minutes to complete. For this cooking method, you'll need a pan with a lid.
cook for 5 minutes on high heat with the lid on
reduce to medium heat, add ⅛ teaspoon of baking soda
stir every 2-3 minutes and press the onions down into the pan
repeat until perfectly caramelized
Note: many have noted that they can taste the baking soda and dislike this cooking method, while others love it. Also, baking soda increases the PH level, causing the onions to break down faster. Cooked longer than 30 minutes results in a consistency similar to onion jam.
Grilled Onions
This method uses your barbecue instead of an oven or stove. For this, preheat your grill to around 300 degrees Fahrenheit and chop your onions into ⅛ inch slices. Put 2 tablespoons of butter into your cast iron pan, and place it on the grill.
You need to stir regularly, around every 5 minutes, and leave the barbecue lid open when needed to keep the heat down. This method will help you get fantastic caramelized onions with a hint of smokiness.
In the Oven
This is an excellent method if you need to caramelize a lot of onions in one go. For this, preheat your oven to 300 degrees Fahrenheit and chop your onions into ⅛ inch slices. To ensure that the onions caramelize uniformly, spread them over a large baking sheet and drizzle around ¼ cup of melted butter or vegetable over them.
Ensure that they are fully coated with the oil or butter and put them into the oven to cook for around 10 minutes. Repeat the cycle of stirring every 10 or so minutes for around 1 hour, or until the onions look tender, sweet, and gorgeous golden brown color.
This method does take longer than the other methods but is the only reasonable option to make big batches of caramelized onions. At least this way, you aren't laboring over the stovetop.
Note: You can also apply the baking soda method when cooking your onions in the oven.
Slow Cooker Caramelization
The slow cooker method takes the longest to complete, with 12-14 hours being the standard time. It is an excellent method if you have other things to do and want your onions caramelized, hands-free. Like most other methods, chop your onions into ⅛ inch slices and add some butter into the slow cooker.
Make sure that you stir now and then to ensure that the heat is distributed evenly. You won't get golden brown onions as you do with stovetop methods, but these slow cooker onions will come out sweet and delicious - perfect for soups.
Note: This is another excellent way to make onion jam, onion spread, or extremely soft caramelized onions that perfectly fall into the nooks of bread.
What are Caramelized Onions Used For?
You can use caramelized onions for a lot if you like them. They are popular on hot dogs, cheesesteaks, burgers, or just on bread or toast. You can go a step further and incorporate your caramelized onions into soups, stuffings, dips, or pizza toppings. For the true lovers out there, you can make caramelized onion jam and enjoy it that way - whatever works for you.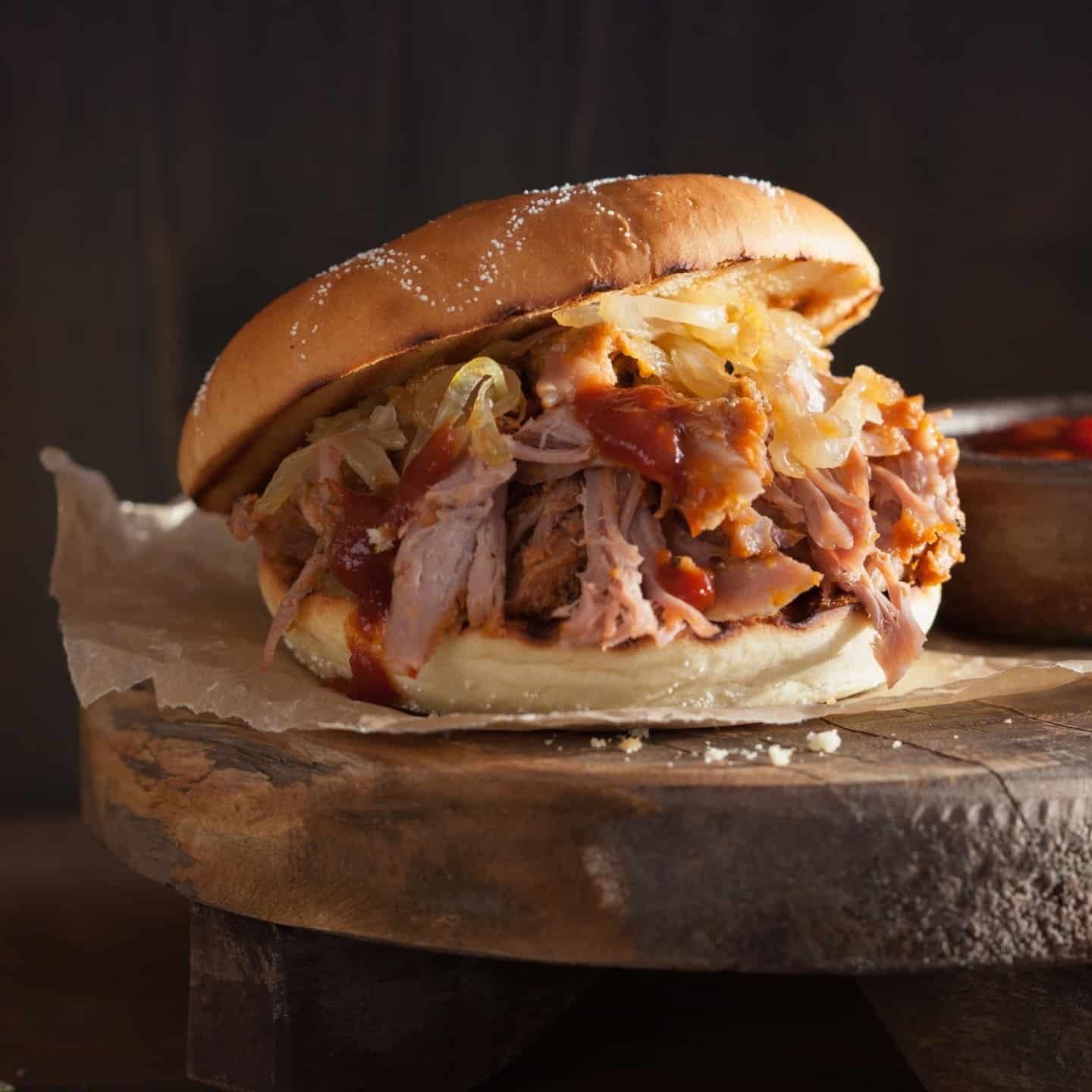 Related Cooking How Tos
Do you love ingredients, delicious comfort food recipes and learning? Check out these fantastic cooking kitchen how tos and always keep learning something new.
Perfectly Caramelized Onions
No matter where you are, you can make perfectly caramelized onions using one of the 6 cooking methods listed above. As with all good things in life, take the time to cook the best-caramelized onions you've ever had.
If you're in a hurry, consider the quick method, or try something new and see what you think about caramelized onions with baking soda.
Each cooking method has its place, and I've personally used all of the methods listed above. If you love your caramelized onions, give these methods a try and see which one is your favorite.