Soups can be thickened in so many ways. So if you're here to learn how to thicken your soup, you've come to the right place.
This helpful guide will show you the best methods I know for thickening soup. Soups vary a lot in terms of flavors and thickness, so as you can imagine, I have a lot of different methods to go through!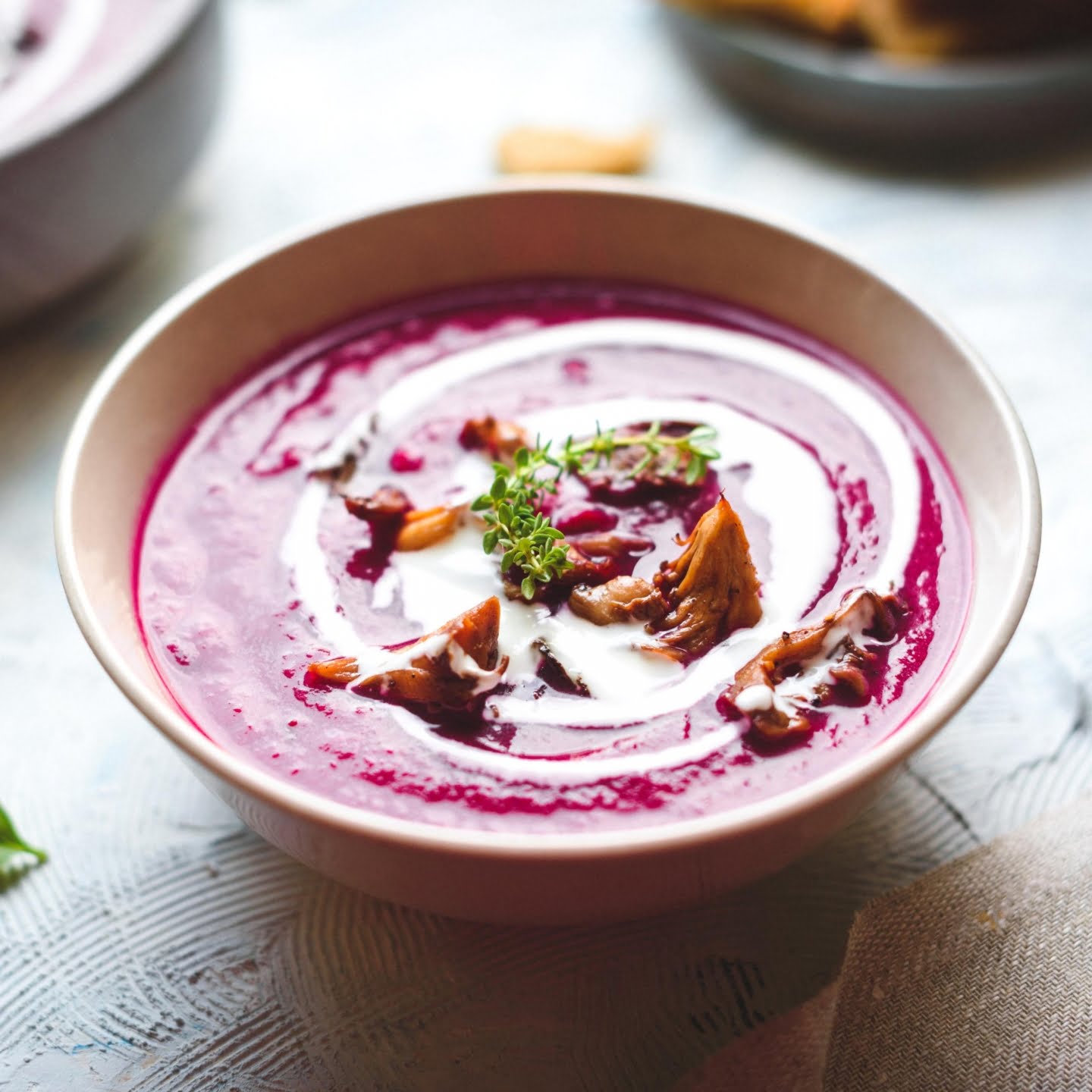 Contents
When it comes to planning quick and easy meals on a weeknight, soup doesn't typically meet expectations. You very rarely see soup on a list of 30-minute meals.
Soup is a delicious, hot, hearty meal great throughout the year, but it can require a lot of simmering time for the flavors to combine and the liquid to cook down.
Only then are we left with a flavorful, thick soup. However, only part of this problem is true.
Yes, we have to wait for the flavors to develop, but by using the right ingredients, we don't have to wait hours for the water to cook down and for our soup to thicken.
So, buckle yourself in and be sure to read on.
How To Thicken Your Soup Right Now?
If you've come here in a rush because you already have a delicious soup on the stove and don't have time to read the full article, use the following method to thicken your soup.
It is worth noting that you should use cornstarch if your soup is clear.
Bring the soup to a simmer.
In a bowl, mix ¼ cup flour with a single cup of cold water. Mix until smooth.
Add approximately two tablespoons of the mix to the soup while stirring.
Wait until your soup is simmering once more so you can check the thickness.
Repeat the process, adding the flour mix until you are happy with the consistency of the soup.
What Is The Best Way To Thicken Soup?
In all honesty, there isn't one perfect way to thicken your soup. As soup varies so much, your method to thicken your soup will also vary.
Having said that, if I were to pick one reliable method to use every time that works well with most soups, I would use cornstarch.
Cornstarch is one of my favorite soup thickeners because it is so versatile, working in almost every type of soup.
Cornstarch works so well because it brilliantly handles cold and hot temperatures, instantly thickening the soup. On top of that, it won't make your soup cloudy, and it's very inexpensive.
How To Thicken Soup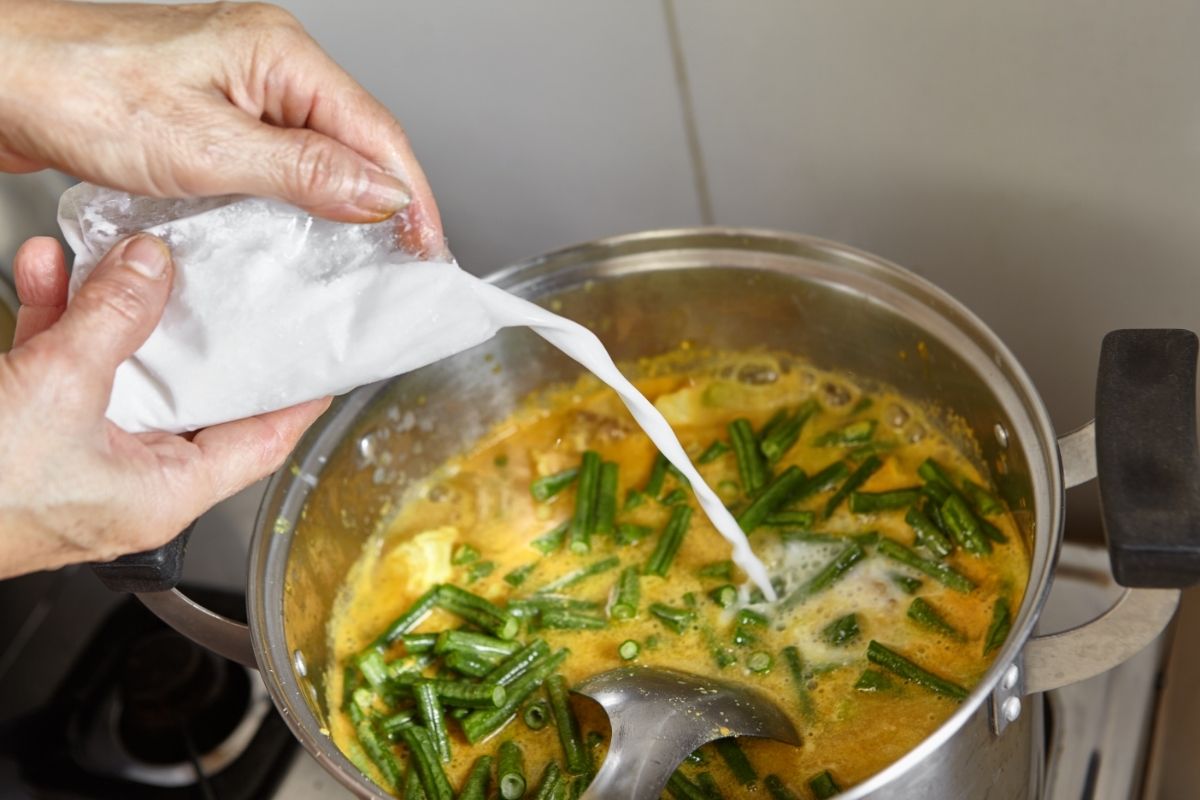 The following methods are all ways in which I thicken my soup. Not every method will suit your needs, but the chances are you will find precisely what you're looking for. If you use one of the following methods, your soup will thicken in no time.
Flour
Using flour is probably the most commonly used method to thicken the soup. While it does a fantastic job, this is also down to the simple fact most of us have flour in the kitchen all year round.
To use flour, start by mixing one tablespoon of flour with two tablespoons of cold water. Once this is done, you can slowly whisk the mixture into a simmering pot of soup.
Do this until your soup has reached its desired thickness. Then, you should add the flour to the soup in small batches to determine whether you need to add more.
Roux
The following method on our list uses roux to thicken the soup. Though this takes more time to prepare, it is an excellent option if you are making a soup with a browned color and flavor.
To prepare the roux, add flour and oil to a saucepan over medium heat. Then, cook the mixture until it has the color you want. I like to go for a chocolate color, but you can go for an off-white color too.
Bear in mind that the darker the roux, the less thickening impact it has. Once cooked, you can start adding it to your soup.
Cornstarch
As I mentioned before, cornstarch is my favorite ingredient when thickening soup, especially when making a clear soup. It works wonders in my noodle soup.
Like the flour method, mix one tablespoon of cornstarch in a bowl with two tablespoons of cold water.
After this, slowly whisk the mixture into your simmering soup until you reach a consistency you are happy with. Again add this in batches to avoid over-thickening the soup.
Beurre Manié
Adding beurre manié to your soup is a good choice if you want to thicken it and add richness.
You first need to mix equal parts flour and butter to use this method. Once the mixture is thoroughly blended, whisk it into your soup in small amounts until the soup is nice and thick.
Coconut Milk or Cream
This one may seem out there, but it is a fantastic option. Not only does coconut milk and cream thicken the soup, but it adds a beautiful creamy taste to it too.
The beauty of using coconut milk or cream is how effortless it is to add it to the soup. Coconut milk is typically a more stable product than cream, and it can be added at any part of the simmering process.
However, I like to add one of these ingredients towards the end of cooking. Then, pour the desired ingredient into the soup slowly, stirring as you go.
Potatoes
The last method on my list is to use potatoes to thicken your soup. Potatoes are great at thickening the soup, adding thickness, extra flavor, and more texture. They work best in soups already containing potatoes or creamy chowders.
One way to use potatoes in the thickening process is to blend any leftover potatoes with some of the liquid from the soup. Then add the mixture to the soup before waiting to see its impact.
Repeat this process until you reach the desired thickness. You could also use potato flakes to do this.
Comfort Soup Recipes
If you're looking for top-notch comfort soup recipes, you're in the right place. Check out these fantastic soup recipes!
In Conclusion
The methods above are all quick and easy ways to thicken your soup. Each technique varies slightly in what it brings to the soup. Some thickening ingredients thicken the soup and add extra flavors, textures, and richness.
If you want a versatile ingredient to thicken any soup in the quickest way possible, I recommend cornstarch or flour. These two ingredients thicken soup almost instantly, with little stirring being required.
Cornstarch is my desired choice out of the two, but I am always happy to use either. If I want to add more elements to my soup, I will use a different thickening ingredient.
Hopefully, this article on how to thicken soup has given you a good idea of what to do next time you're pushed for time and need a quick fix.