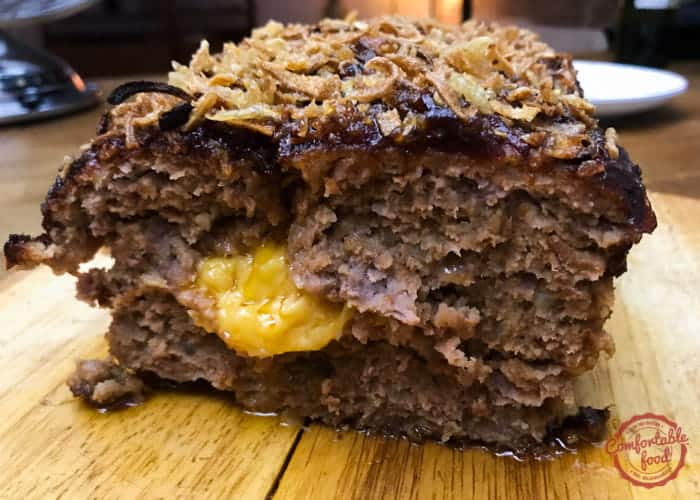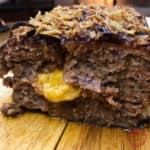 There are few things I love more on this planet than a BBQ bacon cheeseburger topped with gooey cheddar and a fried onion ring.  I know, I know it's not so good for you, but it's not something I eat all the time.  But when I do, boy do I go to town.  That 'sandwich' was my inspiration for coming up with this meatloaf.  It's got all that zesty bbq flavor, all that gooey cheese and the crispy onions on top give  it some great texture.  This meatloaf was insanely delicious.  If you're a fan of that cowboy burger, then check this out.  It's SO good.
here's a video showing how to make it:
Ingredients
how to
Preheat oven to 350° F, spray a 9x5 loaf pan with cooking spray and set aside.
In a medium pan, cook the bacon until almost crispy, then remove to drain on a plate.
Cook the onion and garlic in the bacon grease until softened, then also remove to a plate to cool.
Put the ground beef in a large mixing bowl, add the eggs, salt and pepper, worchestershire, dijon, bread crumbs, the bacon, onions, garlic and about 2/3 of the bbq sauce.  Mix together well until completely combined, then spread about 1/2 of the mixture into the bottom of the loaf pan.  Make an indentation in the middle of the beef leaving a 1 inch rim of meat all around.  Fill it with the cheddar, then pack the remaining meat over the top, pushing down lightly to seal.
Bake for about 35 - 40 minutes, then remove and brush on the remaining bbq sauce.  Return to the oven for another 15 - 20 minutes, or until no longer pink - an instant read thermometer should read 160° F.
Let it rest for about 10 - 15 minutes, then slice and serve.